Roadhouse San Francisco
November 16, 2022 (Wednesday), 7:00 p.m. - Online!
$10 General public, $5 for Friends of Woody
(Friends, email me if you didn't receive the discount code.)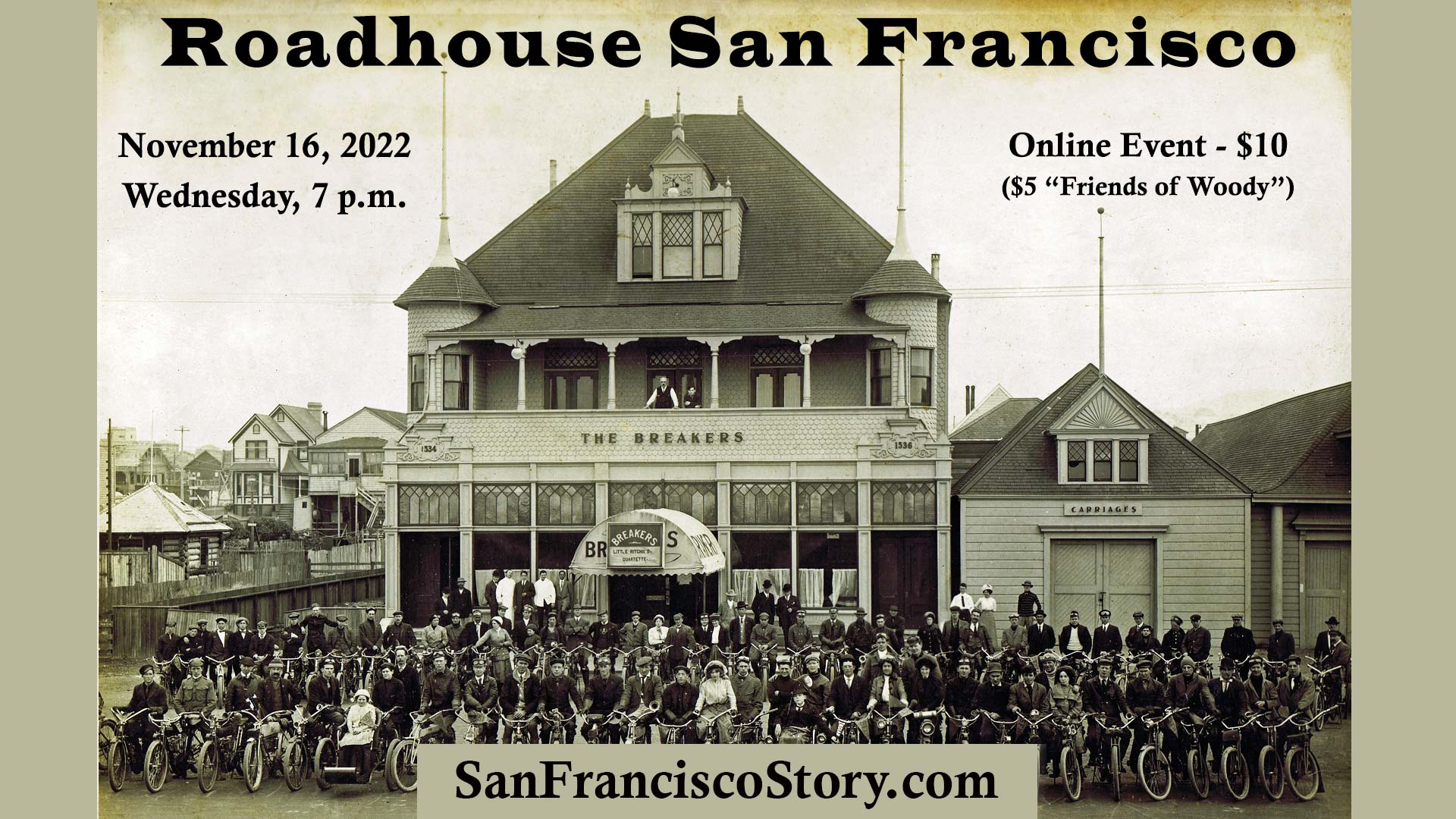 When the Mission District was pastureland and the Outer Sunset trackless sand dunes, roadhouses catered to "sporting men" interested in fast horses, fine dining, convivial company, and the occasional duel. Using historical images and stories ranging from the restful to the riotous, Woody LaBounty will share the history of drinking establishments that operated on the open roads and countryside of early San Francisco. His old comrade David Gallagher will join to provide color commentary.
Roadhouses used to line today's Geary Boulevard, Great Highway, Ocean Avenue, Portola Drive, Mission Street, and roads out of town down the peninsula, providing refreshment to travelers and day-trippers. When San Francisco filled in its sand dunes and farmlands with houses and paved streets, surviving roadhouses became "cafes" both posh and seedy until Prohibition quashed the partying.
We'll review some of the best-known stops on the old "Circuit" and take a look at the roadhouses buildings still surviving!
Note this is an online presentation! I'll send you the Zoom link after registration.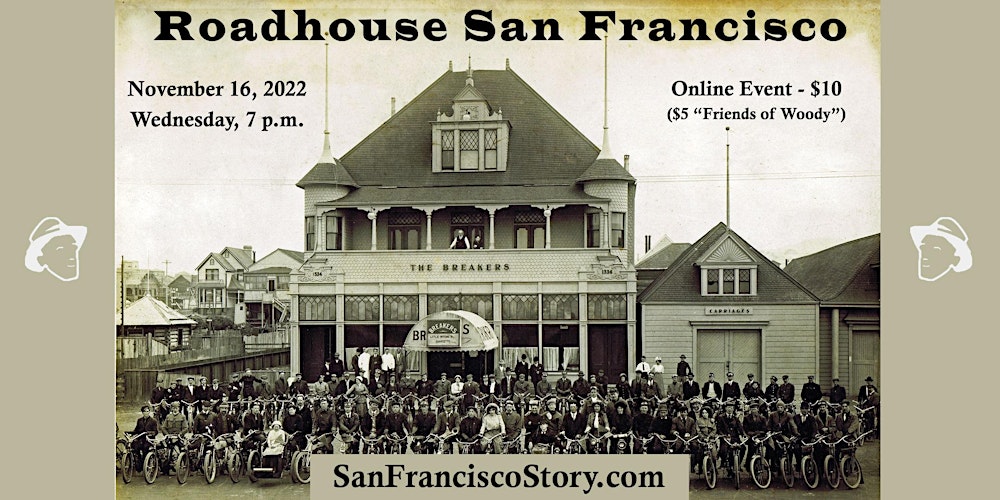 ---
Past Events
Lone Mountain Cemeteries Walk
October 22, 2022 - In Person!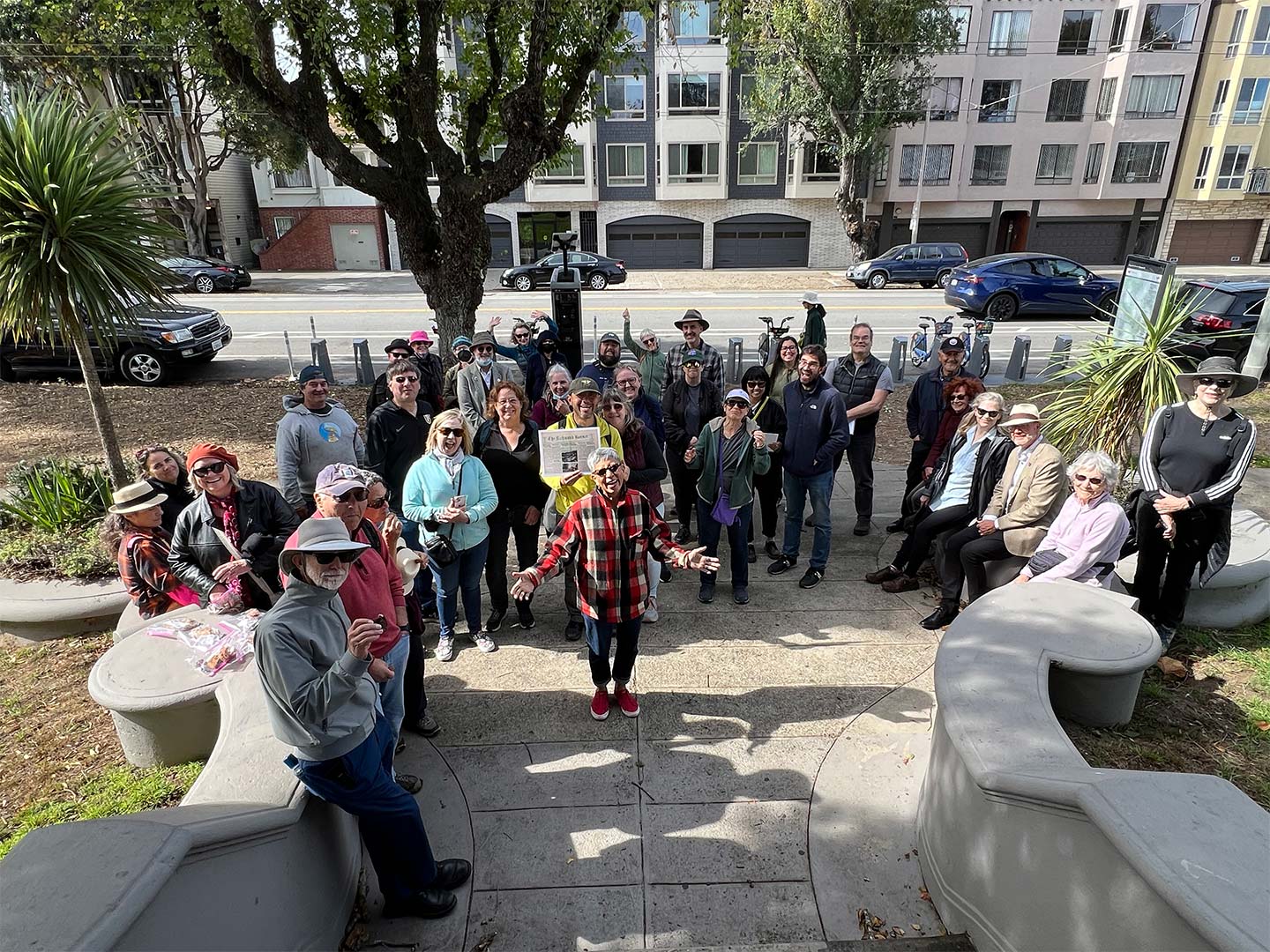 We took a tour of the land once occupied by four big San Francisco cemeteries around Lone Mountain. Now the site of shopping centers, housing developments, and the University of San Francisco, the hills separating the Western Addition and the Richmond District were the final resting place (not!) of more than 100,000 people from the 1850s to the early 1940s.
Refocused: San Francisco Stories in Institutional Images
September 14, 2022 - Online
Throughout the twentieth century, San Francisco city agencies and private corporations documented infrastructure and construction projects, fairs and festivals, dedications and groundbreakings, buildings and businesses through photography. The people and places in the background or on the margins of these images are often as interesting as the intended subject.
Woody LaBounty and guest David Gallagher shared odd and interesting San Francisco stories revealed in photographs taken by the United Railroads, the Department of Public Works, the Assessor-Recorder, the San Francisco PUC/Water Department, and the Municipal Railway.
---