Grab Bag #013
A writing, reading, and watching San Francisco history round-up.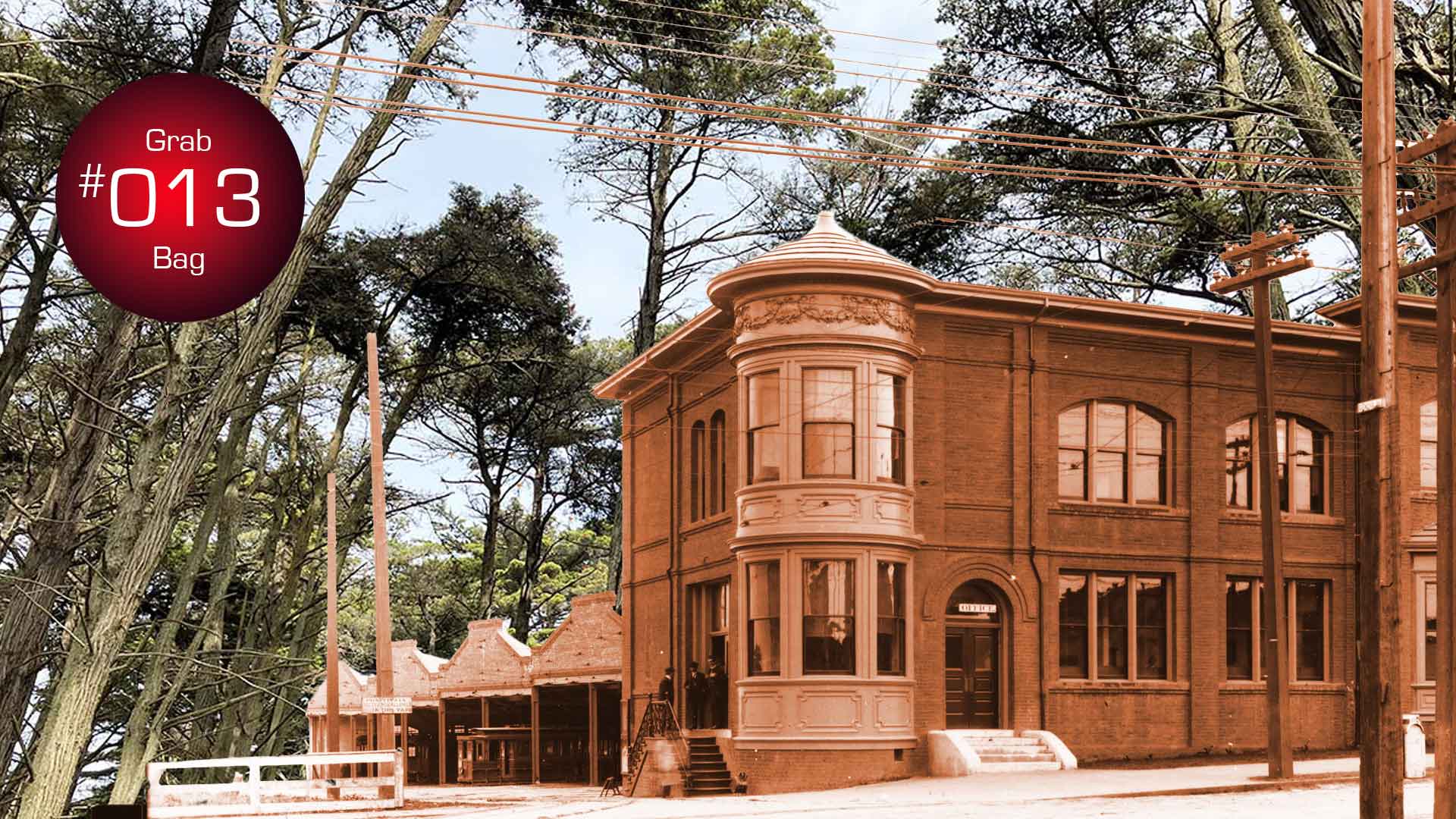 Geneva Office Building and Power House: the Book
In a cacophonic traffic and transit nexus at Geneva and San Jose Avenues—roars from Highway 280, squeals from Balboa BART station rails, squeaks, rattles, and ding-a-lings from the Municipal Railway Curtis Green streetcar facility—a distinctive red brick building stands silent.
This is the Geneva Office Building and Powerhouse, a relic built in 1901 with ties to the first electric streetcar line in San Francisco. I have called it the Geneva Car Barn my whole life and have to work very hard not to call it that now. The actual barns that held streetcars were torn down in the early 1980s and what stands today is the turreted office building and former powerhouse built for the old San Francisco and San Mateo Electric Railway.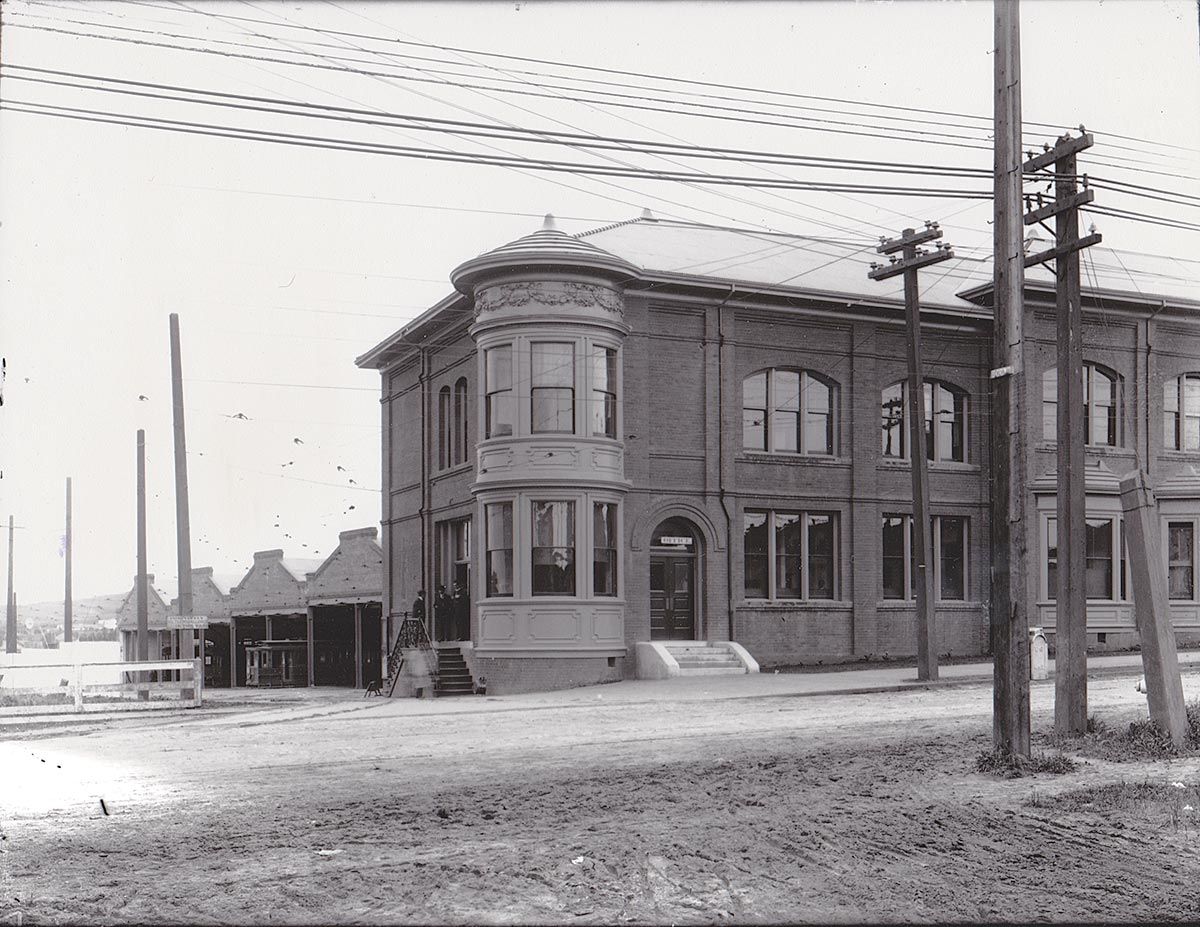 The complex is on the National Register of Historic Places and is City Landmark #180. After ownership by the private United Railroads and Market Street Railway companies, it became part of Muni in the 1940s. The 1989 earthquake did a number on it and despite its historic significance the city planned to demolish it.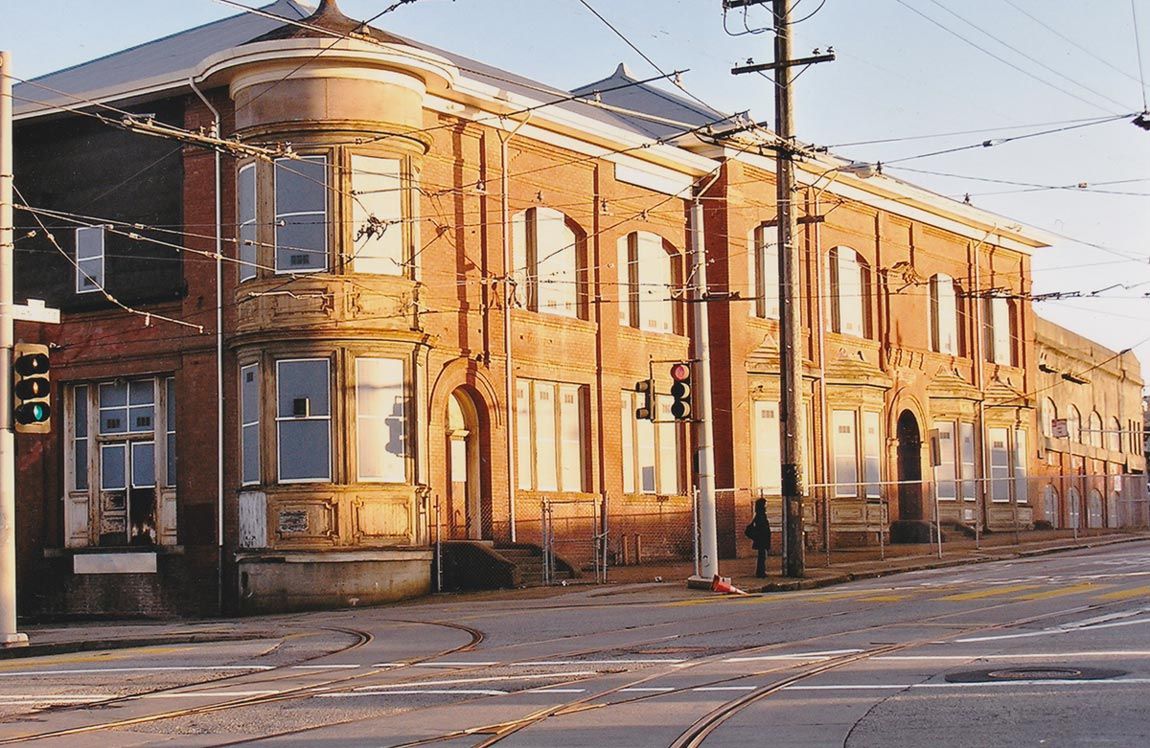 A group of neighbors formed a nonprofit for its preservation, the Friends of the Geneva Office Building and Powerhouse, and for almost 30 years Friends has fought to get this landmark between the Ingleside and Excelsior neighborhoods restored and re-adapted for community use.
Demolition plans were stopped and the property transferred into the hands of the Recreation and Parks Department with a plan to create a center for arts education and performance. Some progress has been made in recent years, with the powerhouse stabilized, but millions are needed to finish the job.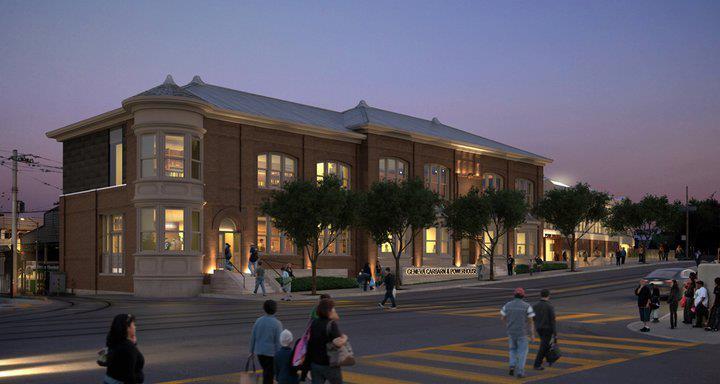 Unfortunately, the southern neighborhoods of our city are so out of the consciousness of wealthy philanthropists and political power brokers that they might as well be mythical, an Atlantean rumor, or worse, part of Daly City.
The Friends group has long thought that a weighty, definitive, beautiful book on the significance of the Geneva complex could elevate its profile and introduce policy makers and funders to its significance and potential.
Now, thanks to a generous contribution from the Bland Family Foundation, the book is happening. I have been honored by the Friends to pull it together, using a lot of wonderful research already done. While we will make it a tribute to the building's 125th anniversary in 2026, I expect the publishing date to be sometime next year.
Do you have memories of the Geneva Office Building and Powerhouse? Did you buy bus tokens at the window? Have a relative that worked for the Muni and hung out in the gilly room? I want to hear it all.
---
My Lobos Creek Valley Walk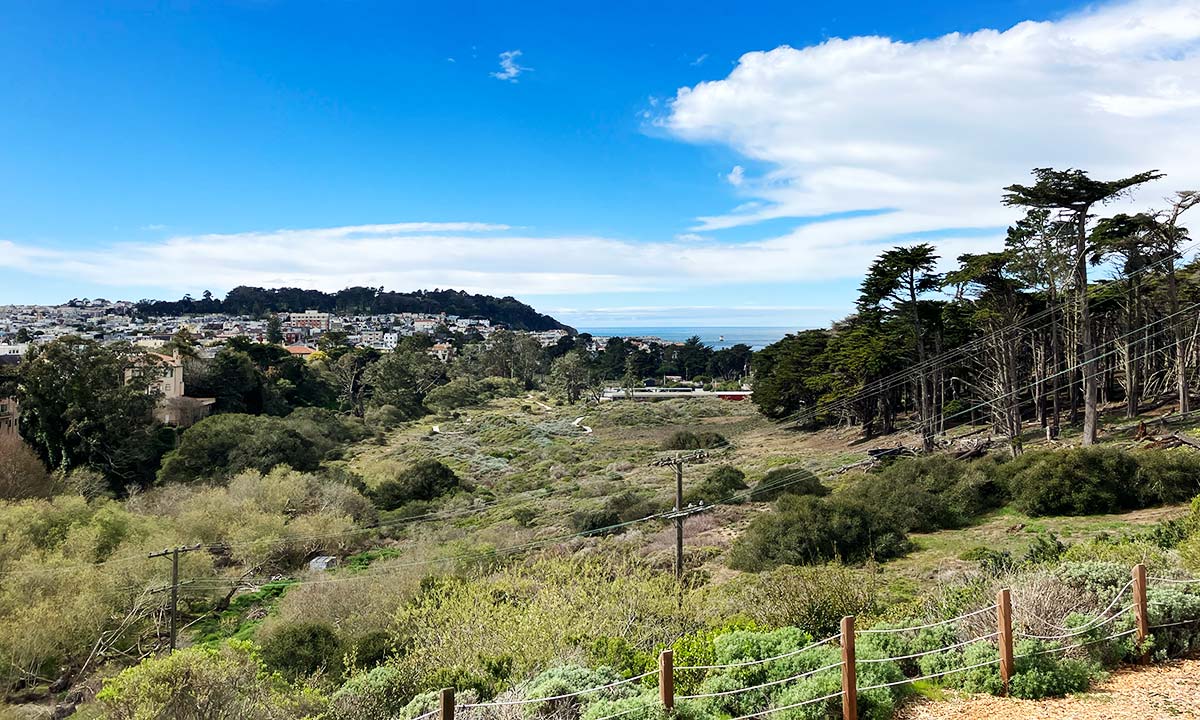 I established my go-to daily walk during March 2020's Covid-19 shelter-in-place order. Forced to work at home, forced to pretty much stay at home, my emotional release valve was a loop through the center of the Richmond District and into the natural beauty of the Presidio national park.
It's a routine I have pretty much kept now that I am unemployed, or under-employed, or whatever I can say about my present situation. I usually get a coffee from Nick and Tim at Royal Grounds at 17th and Geary, walk north to "slow" Lake Street, head east to 5th Avenue, go up one block through a pedestrian gap in the Presidio wall, and then skirt my childhood stomping grounds at Mountain Lake Park. Dog-watchers, birds of all kinds...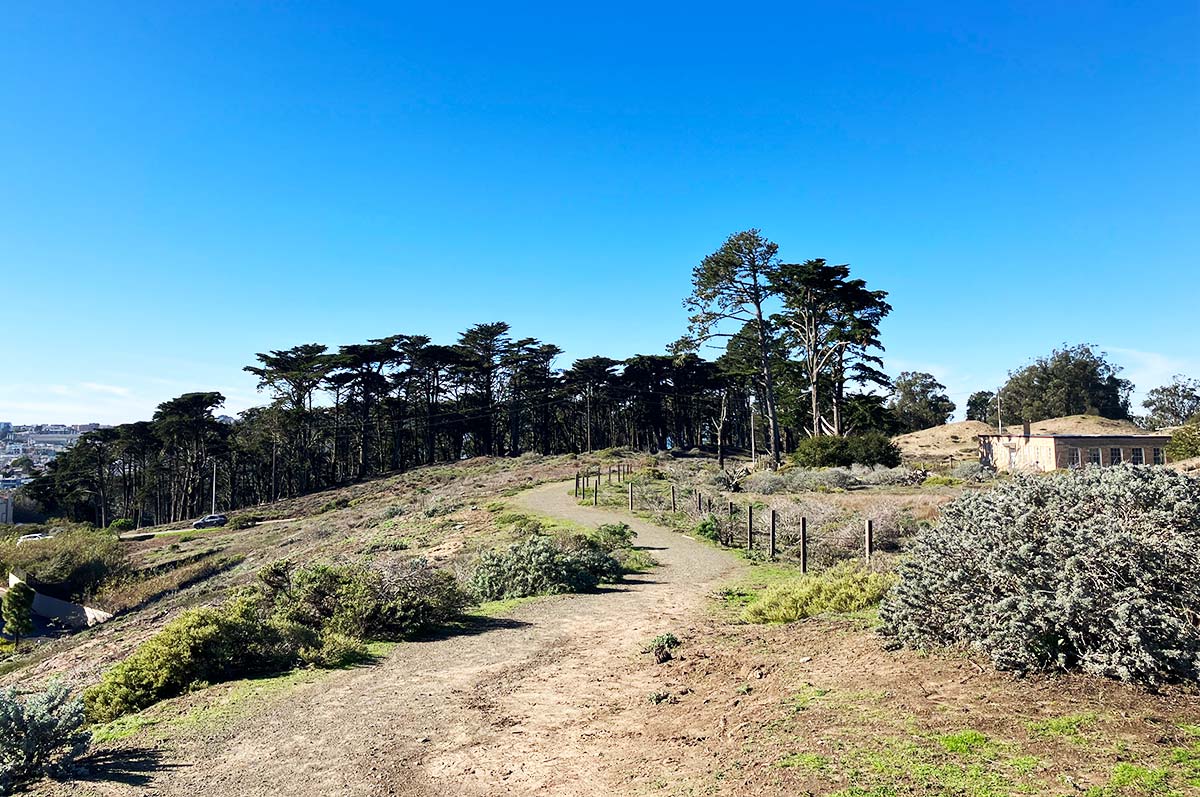 After crossing under the auto-speedway running in and out of the Macarthur Tunnel, I climb steps up the old Marine Hospital Cemetery, go past the old public health hospital, and then down a sandy, pine-filled hill to a winding boardwalk running through Lobos Creek Valley. More birds, lizards, caterpillars, and an occasional coyote... After heading up the slope from Baker Beach past the old childhood home of photographer Ansel Adams, I return home on city streets from 25th Avenue.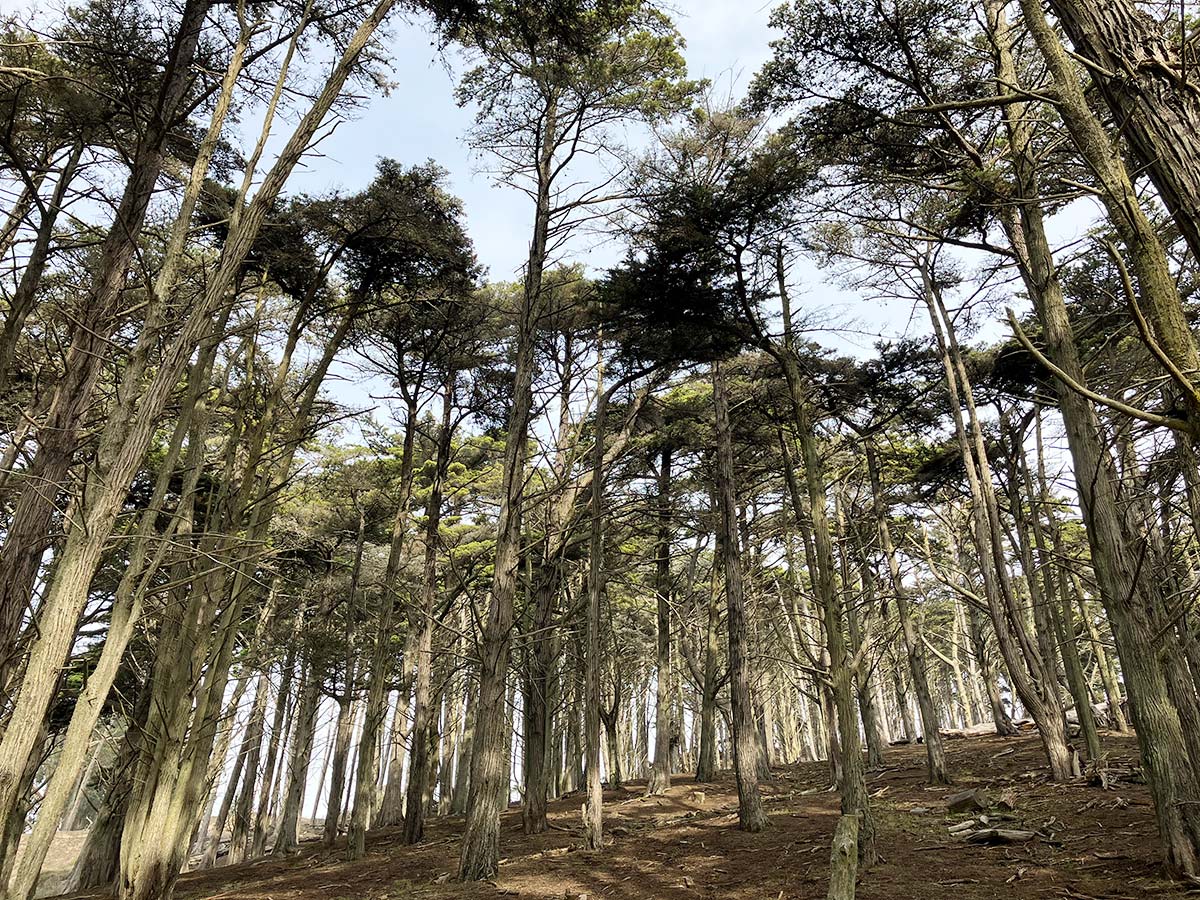 As evidenced by how many times I used the word "old" in the preceding paragraph, this simple little walking loop has a great deal of history attached to various parts of it, and not just my personal kid history of teasing the men playing cards in "Old Man Shack" or being chased off the Presidio golf course for playing pepper.
I'll share some of my favorites in upcoming San Francisco Stories, but in the meantime, if you're free for a midday walk, let me know.
---
This Just In, Part I: Armory Parties
This always happens: I write or research something, put it out in the world, and immediately find something new that I wish I had known or seen. Just a few days after posting about the old National Guard armory on Union Square I stumbled on an ad in the 1894 San Francisco Directory for the successor building on Ellis Street. It helps bolster the point I made that these structures were as much social halls and clubhouses as martial strongholds:
Also, Peter Field, friend and great researcher of the Tenderloin, sent me some details on what happened with the Ellis Street lot and the very independent Nationals after the the destruction of the armory:
"Following the 1906 earthquake and fire, the Nationals cleared the debris from the lot and leased it to a furniture firm—Joseph Fredericks & Co. After Fredericks moved back downtown, the building became an automobile dealership. While it's unclear who financed the construction of the new building on the lot, the Nationals or the furniture company, the Nationals did dedicate the building upon its completion. In the meantime, two of their companies declined an invitation to be housed with other National Guard California units and instead re-established themselves in a three-story building at 1160 Eddy Street, across from Jefferson Square."
At some point the Nationals finally gave up their clubhouse life. The Jefferson Square building, a grand old residence, was demolished after World War II.
---
This Just In, Part II: Goat Carts Galore
If that wasn't enough, in organizing some family photos I found another photograph of the King of Goat Carts in San Francisco: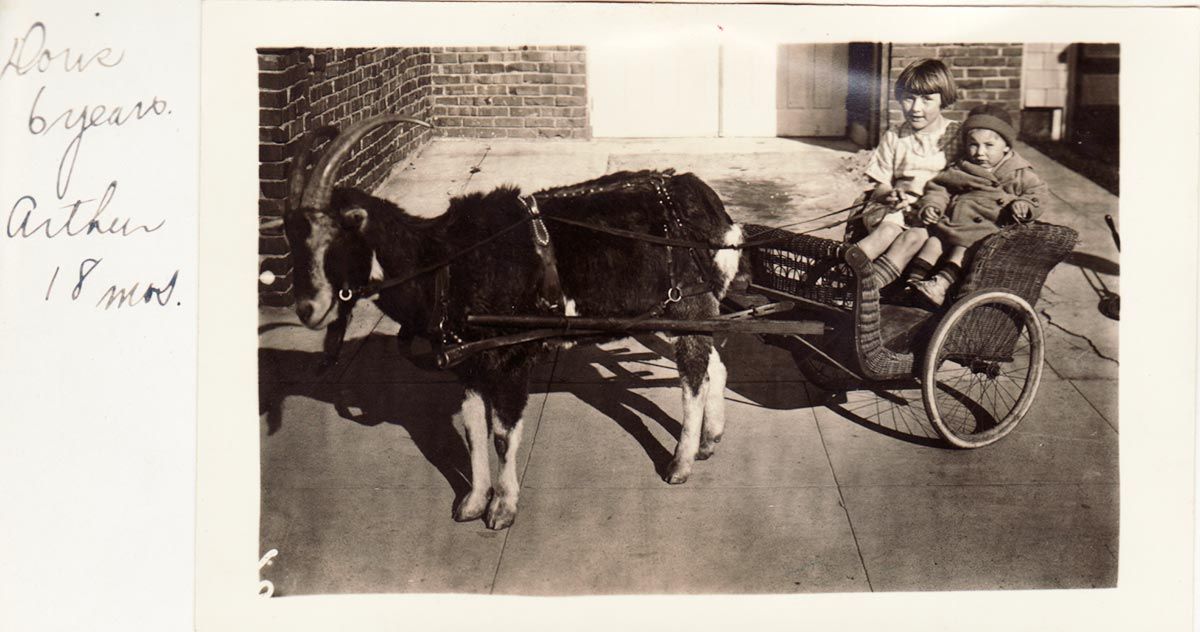 Yep, it's the same famous goat and wicker chaise found in every San Francisco goat cart photograph. Based on the ages for my grandfather's cousins, this was take in 1925. We're gonna figure out who this photographer was someday and maybe even get the name of our goat!
---
This Just In, Part III: The League of the Cross Cadets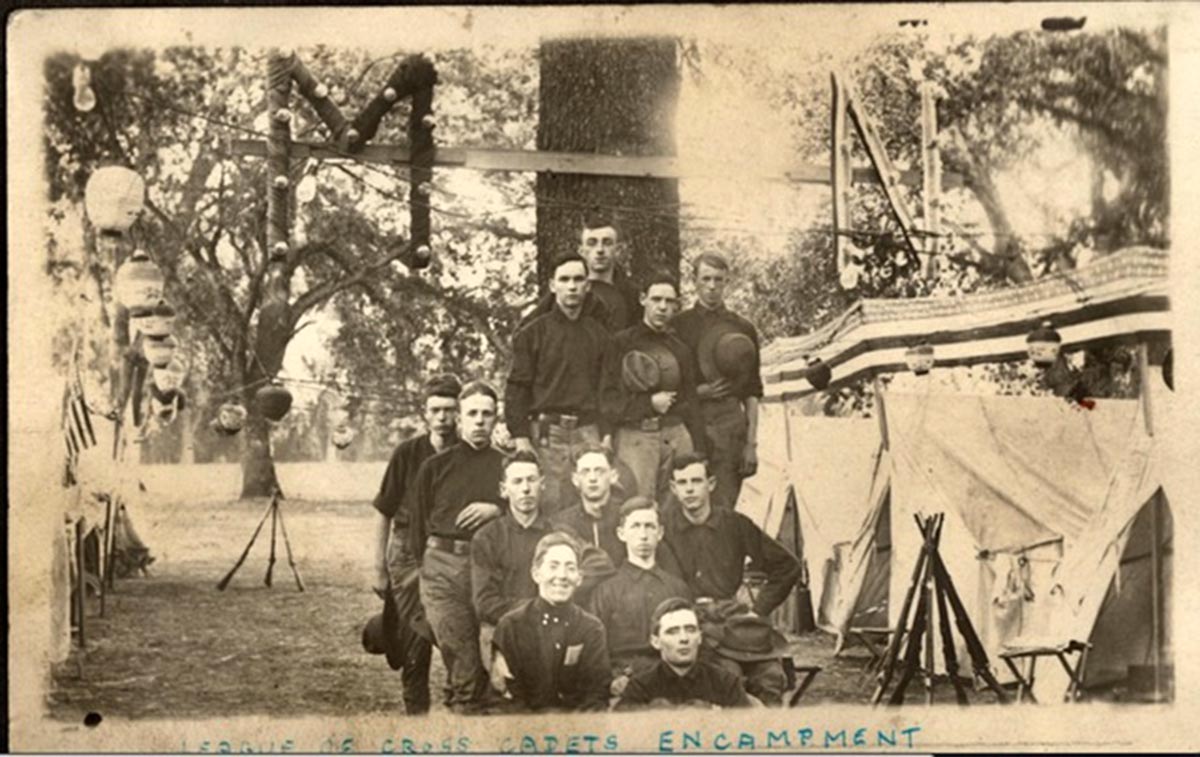 After reading about the Nationals militia, Paul Judge (a Friend of Woody, of course), sent me some family snapshots of an independent San Francisco military organization I hadn't ever heard of, "The League of the Cross Cadets." (Sounds like a title of the latest Marvel superhero movie.) Seems to have been a Catholic, and mostly Irish, outfit, perhaps originating out of Old St. Mary's Church at California and Grant Streets.
Looks like they had a good time, however, with their camp stringing Japanese lanterns and their company's letters studded with light bulbs. Anyone have more information on the League?
---
Long Watch, Long Read
Wendy H. (Friend of Woody) sent me a link to this video by Glenn Lym on the history of San Francisco's old City Hall, a complex which took 30 years to build and something like 30 seconds to crumble in the 1906 earthquake. I watched it years ago, but so enjoyed seeing it again.
Glenn has made some truly great videos on San Francisco history and brings real insight into stories you think you know. This one is no exception, with Glenn exploring late 19th century issues of politics, business, labor, and race through one (very long) building project.
So when you have a cup of tea and a comfortable hour to yourself, take a look.
Another renewed delight this week: I reread Amy O'Hair's great 2021 post on Geneva Cottage, which was a roadhouse and part-time residence of Mary Ellen Pleasant before the property was purchased to build the Geneva Office Building and Powerhouse.
Writers, researchers, playwrights, documentarians, and scholars of all stripes understand the important roles Pleasant played in San Francisco history, in civil rights history, and in African-American history.
But historical sources and past biographies on her life are mucked up with institutional racism and newspaper sensationalism. Pleasant's squishy narrative-making and cover stories to both own her story and benefit her causes and personal enterprises didn't help. Most writers, past and present, can't resist focusing on Voodoo Queen tales and salacious rumors of secret murders and blackmail. (As how else, the white men think, could a black woman get power, property, and money?)
Things have begun to look up, however. While lazy history is still being put out (I won't name names) some well-researched and thoughtful work is too. First I read a terrific unpublished article by Excelsior resident Lisa Dunseth on Geneva Cottage, written as a contribution for the Geneva Office Building book. Then, in 2021, Amy did this magnificent job transcending platitudes and derivative narratives to look at Pleasant's legacy through her ownership of the very same piece of land.
---
Woody Beer and Coffee Fund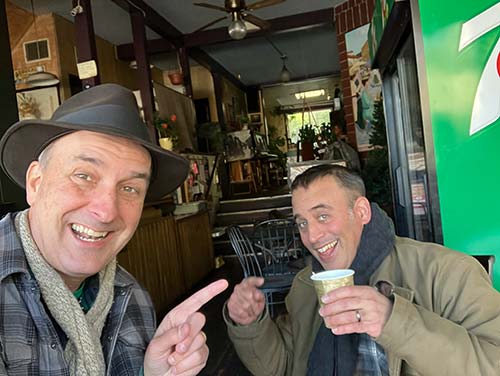 Great thanks to Richard C. and Terry W. for their contributions to the Woody beverage slush fund... (Really, nothing illicit happens with the money. It's more of a slushy fund and, man, I haven't had one of those in years.) Help get me out of the house and let me know when and where I can buy you a drink!