Grab Bag #015
Earthquake, fires, and true love found... all in one Woody LaBounty Grab Bag.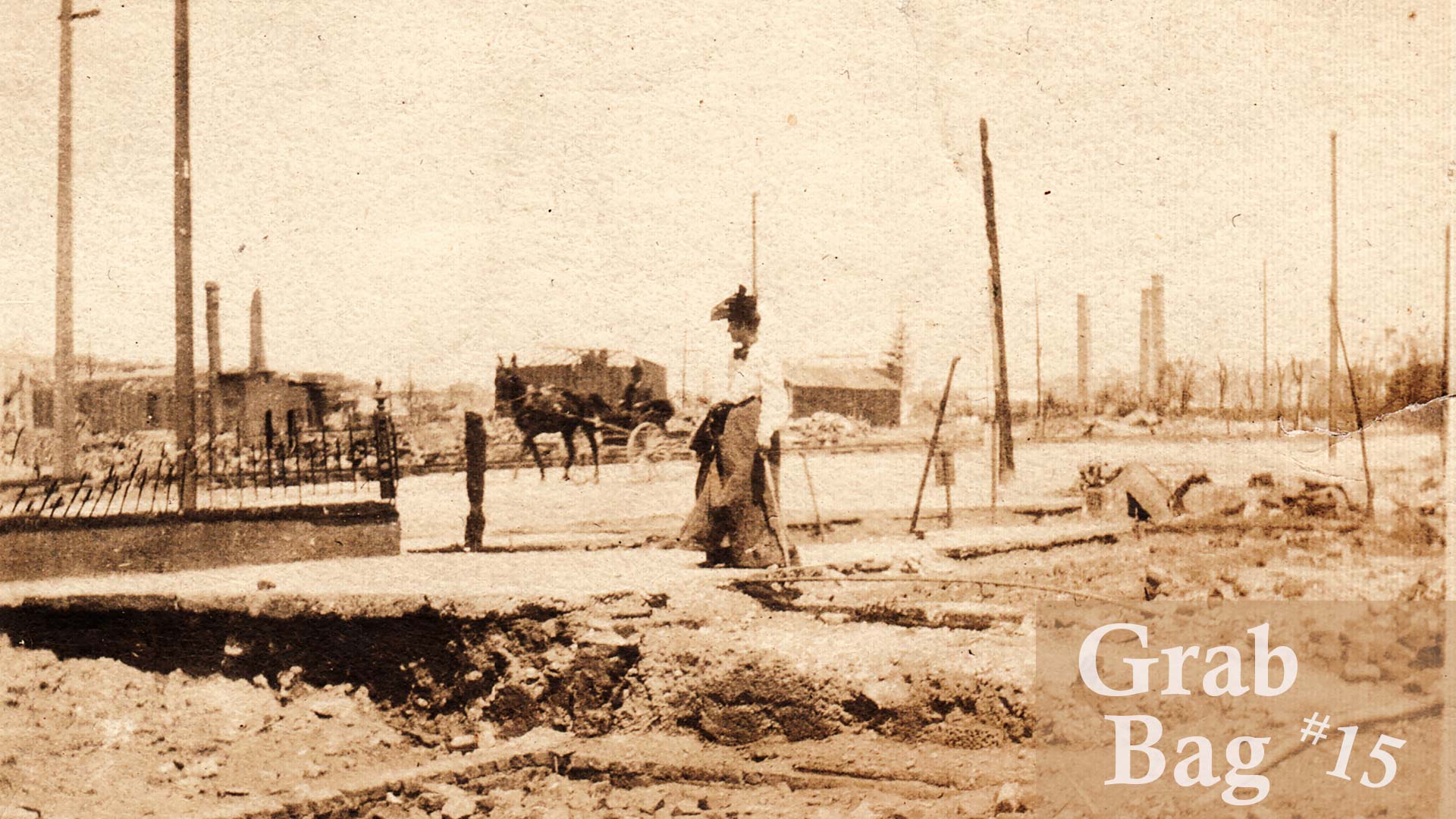 An Earthquake Love Story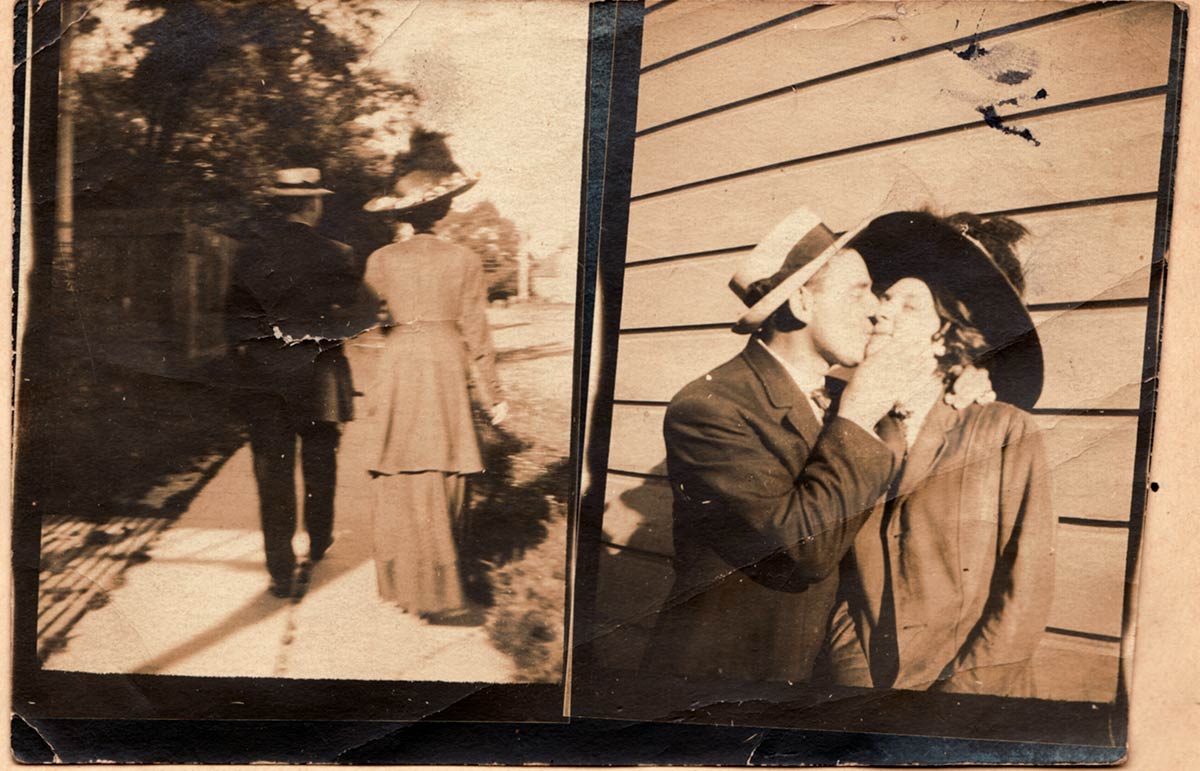 My great-grandparents were probably sleeping. Or perhaps they had just gotten up, Milton Slinkey in a flat at 866 Ellis Street just off Van Ness Avenue, and Ethel Neate, crowded with her sister, brothers, parents, and a couple of boarders a dozen blocks south at 1755 Howard Street on the edge of the Mission District. It was 5:12 in the morning when the world began to shake.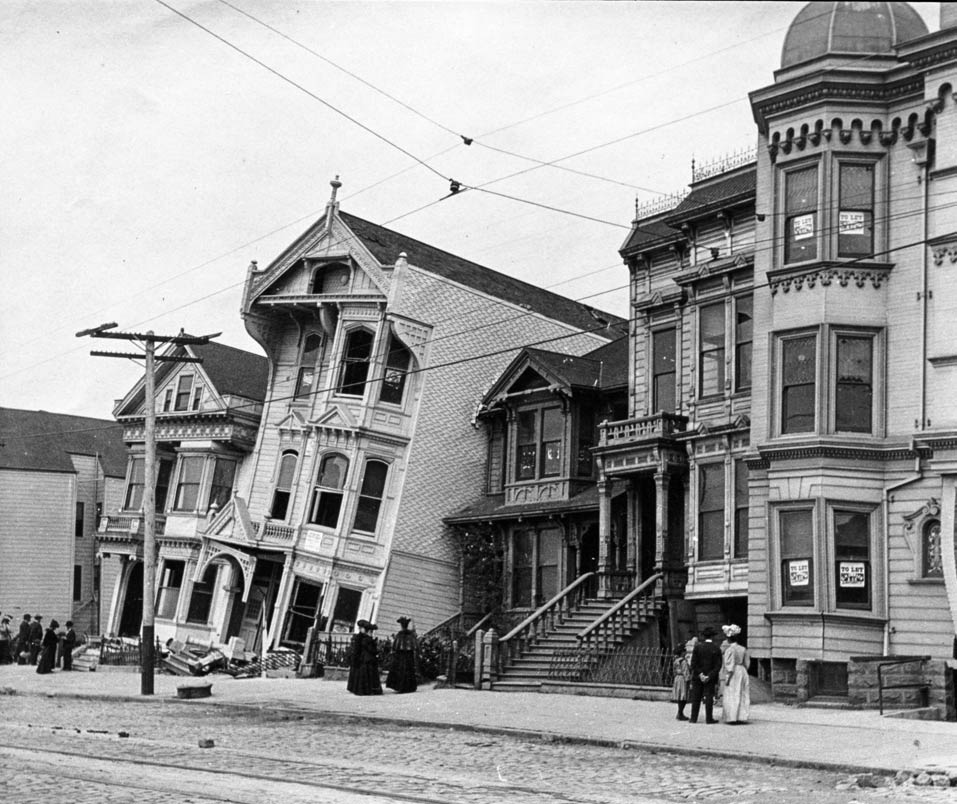 Tuesday, April 18th, will mark the 117th anniversary of the biggest thing ever to happen to San Francisco. On that morning in 1906, a massive earthquake hit the Bay Area. Stone buildings shed their skins. Chimneys and brick walls collapsed on streets and into adjoining buildings. Roadways split and sunk. People were injured or killed by crumbling rooming houses, apartments, and warehouses.
Both Milton and Ethel's buildings remained upright when the shaking finally stopped, but Ethel's just barely. Anything and everything probably lay around the floors and plaster dust hung in the air. Neighbors on the other side of Erie Street had to escape their slumped home by ladder. Adolph Schwinn's grocery three houses down from the Neates' had cracked in the middle.
Milton was in in his early 20s and likely went out right away to tour the local damage or help neighbors. Houses had collapsed nearby on Golden Gate Avenue. He may have checked on his father, Colonel J. E. Slinkey, who with his new wife Hattie, lived just four blocks away at 593 O'Farrell Street on the corner of Leavenworth Street. Like many people who thought the show was essentially over, he may have even tried going to work.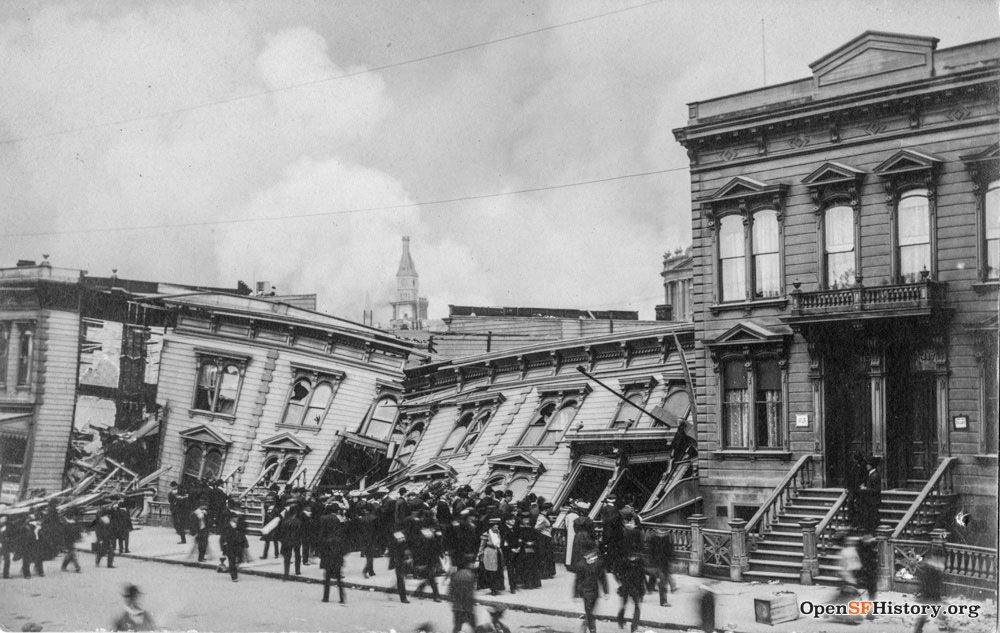 Act II of the disaster then commenced. Fires broke out from busted gas mains and upset boilers in the industrial zone south of Market Street and began moving west.
Mid-morning, a family at Hayes and Gough Streets attempted to make breakfast on a stove connected to a damaged flue and started the "Ham and Eggs Fire." Flames consumed the wood-frame building and spread through Hayes Valley.
Around noon, with dark clouds of smoke approaching from the east, and houses being steadily consumed to the west, both Milton and Ethel's families must have begun packing.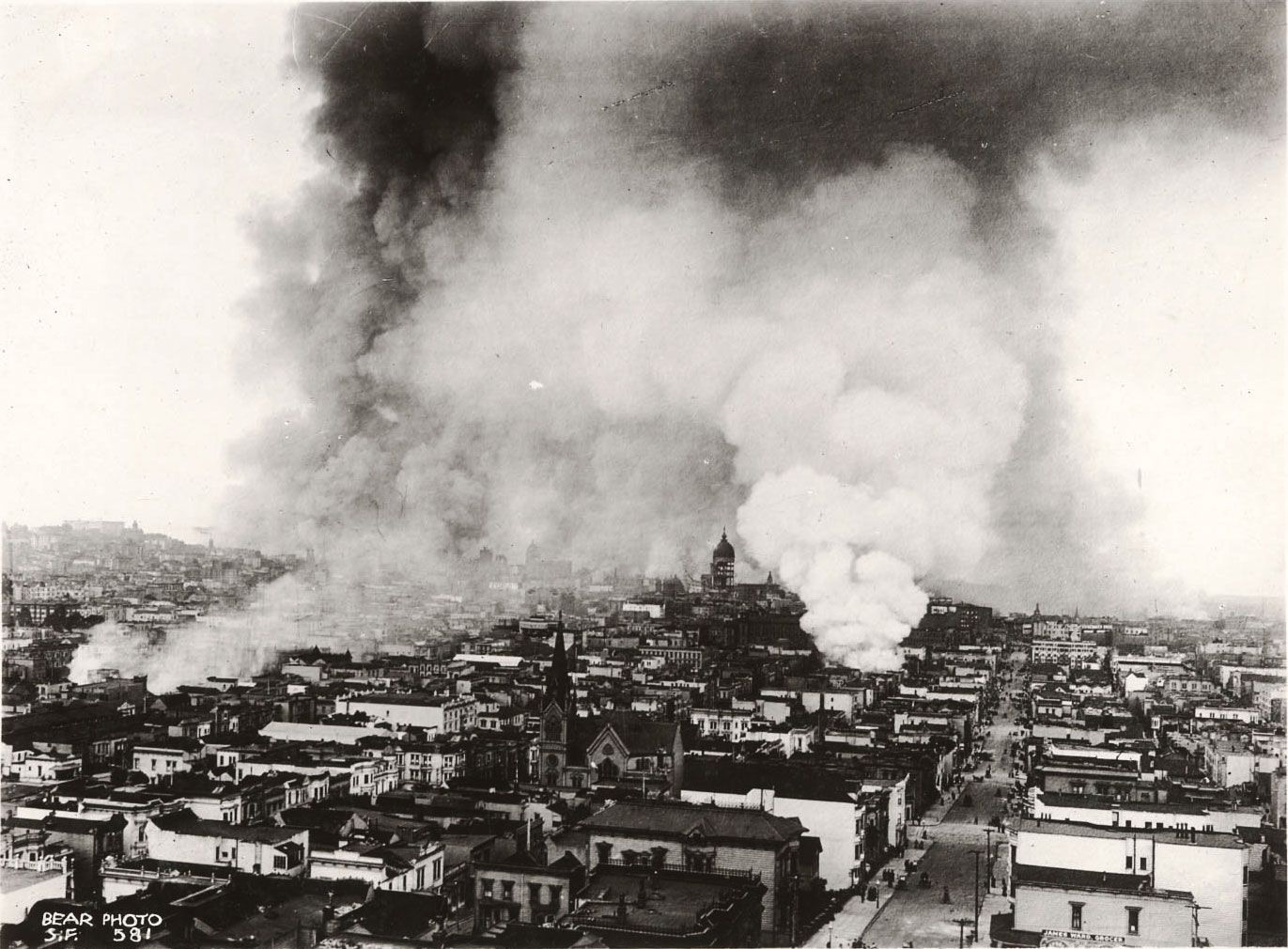 The Neates and Slinkeys fled, carrying or dragging whatever they could salvage. They probably headed west up broad Market Street or south on Mission Street, joining their neighbors and thousands of others in a jumble of displaced humanity.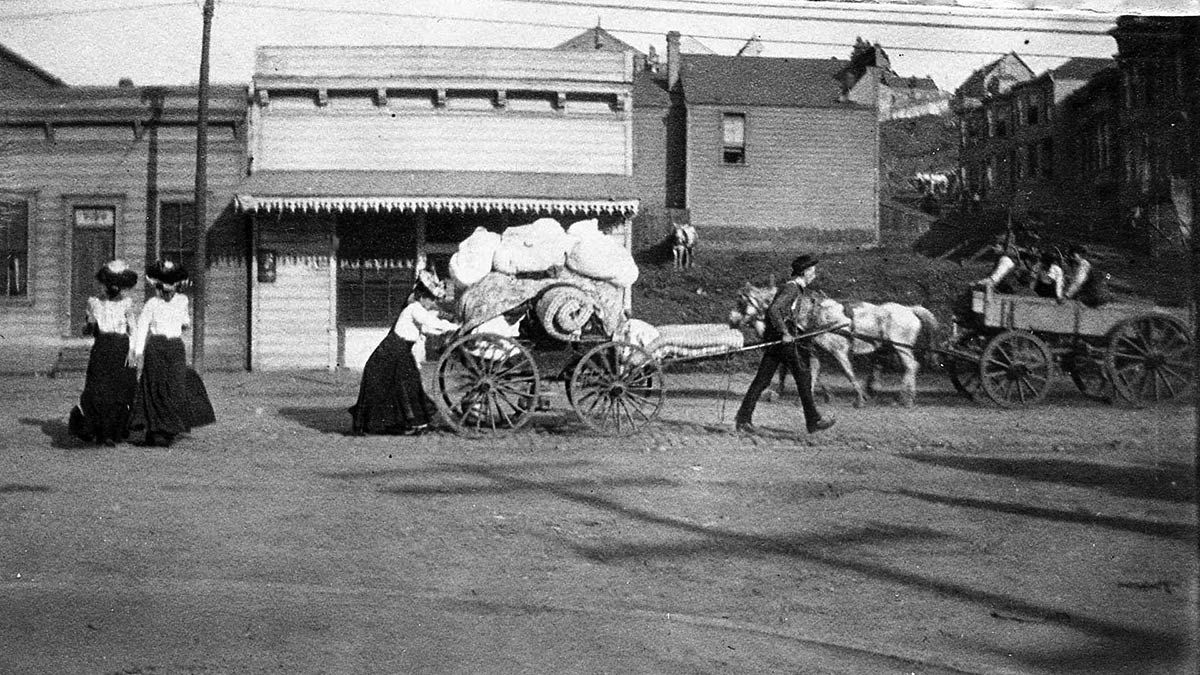 Aided by capricious wind and inept attempts to create fire breaks with explosives, the fires merged into large maelstroms that eventually gobbled up almost 500 city blocks of cottages, factories, tenements, hotels, stores, banks, and government buildings over the next three days.
The former homes of my great-grandparents were incinerated on the second day, the Slinkey residence cremated just a hundred yards from the fire line.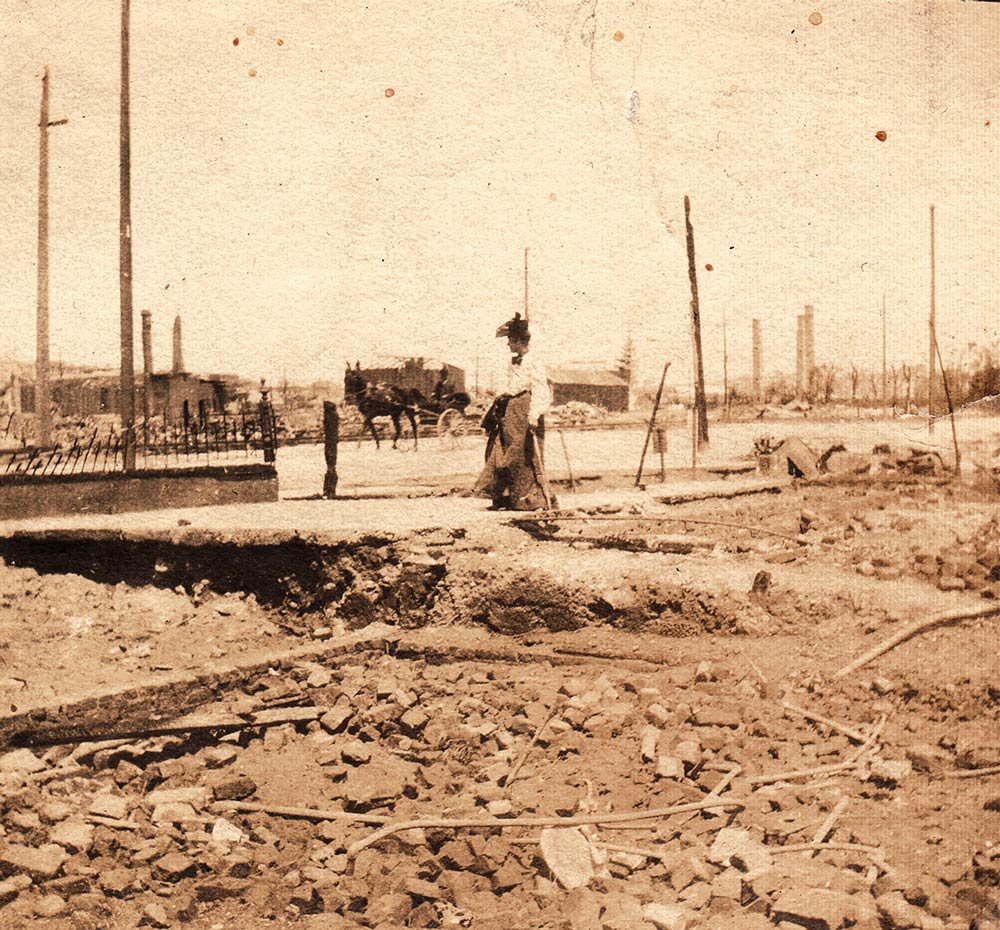 Sometime in those first few days of sleeping outside, perhaps in Dolores Park or Jefferson Square, my great-grandparents met. The Slinkeys were able to get lodgings within a week at 1653 Greenwich Street. The Neates, not as fortunate, would remain in an earthquake refugee camp for a much longer time.
But the connection had been made. Milton and Ethel married on November 28, 1906. I am here writing this today.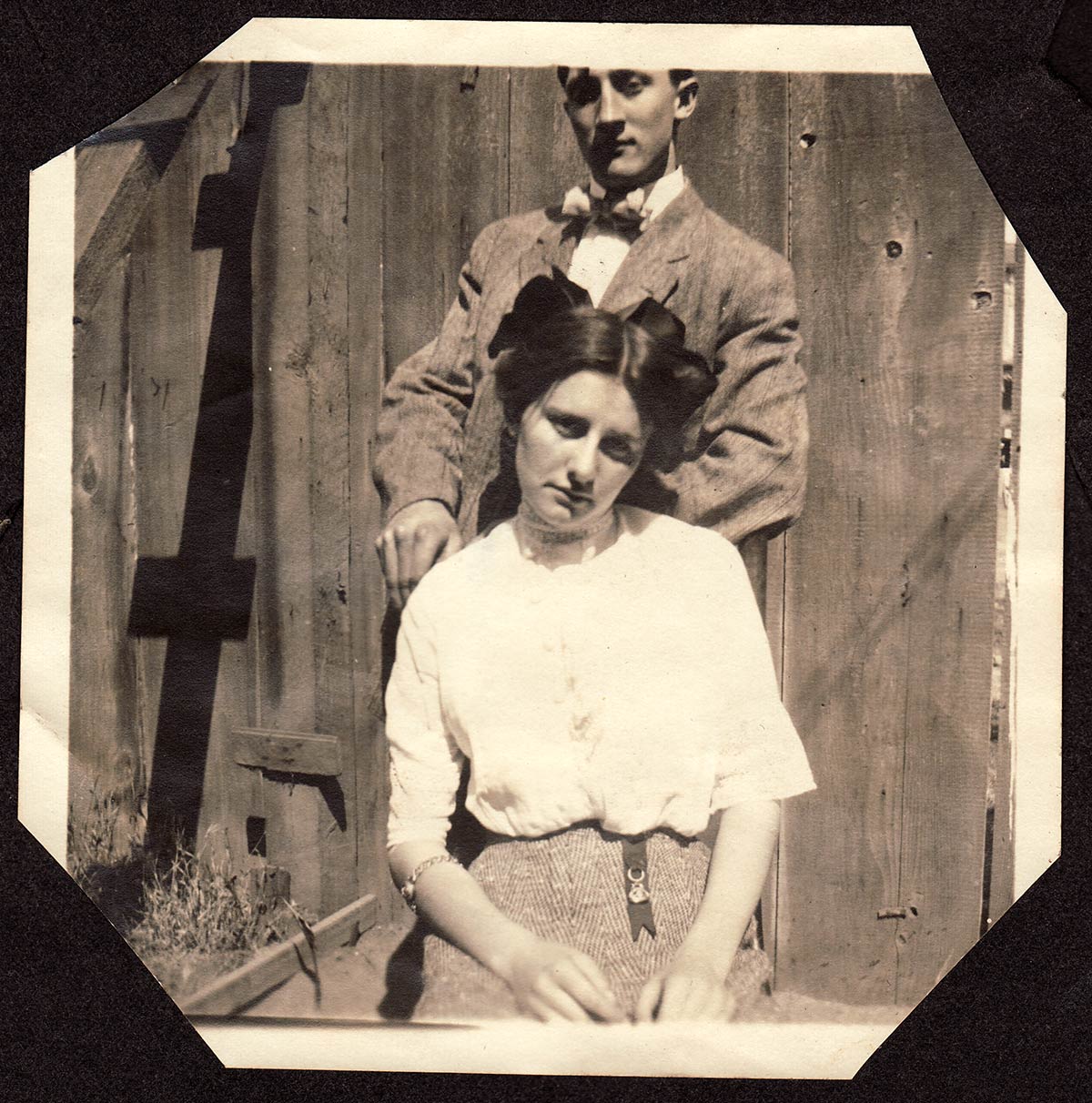 ---
Rise of the Phoenix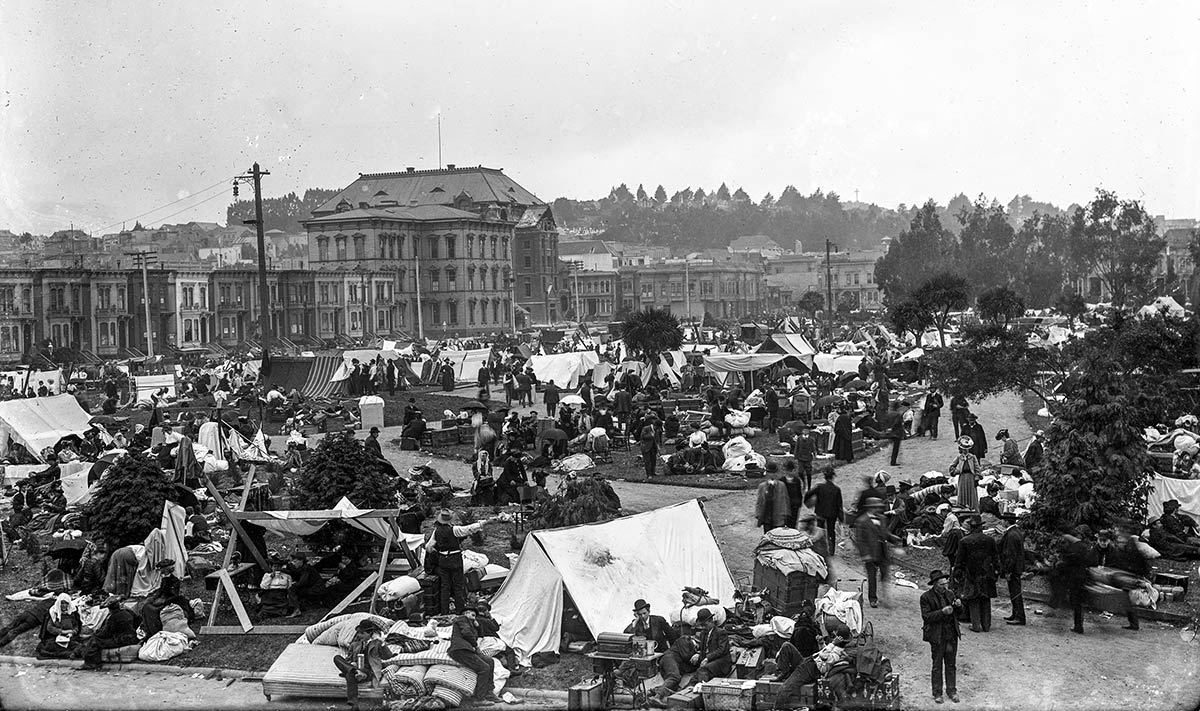 There are many 1906 earthquake-related photographs online, including a large gallery on OpenSFHistory. One of the most impressive images to me isn't one of fire or rubble, but of a crowd of refugees gathered in Hamilton Square in the immediate aftermath of the earthquake and surrounded by the few belongings they could drag with them. In their faces you can see shock, worry, and bewilderment.
San Francisco knew fire from its start, with seven major conflagrations destroying swaths of the boom town from 1849 to 1851. Each time, the city speedily recovered. William Shaw, in his 1851 book, Golden Dreams and Waking Realities, wrote that "…ere the ground had cooled, the charred mass of cinders had disappeared, contracts were made, and hundreds employed in laying the foundations of new edifices."
The central element of the city seal and flag is a phoenix reborn from ashes. San Franciscans pride themselves on their resilience and after the 1906 disaster humble encampments and street kitchens gave themselves humorous nicknames like "Camp Cheerful," "House of Mirth," and "Hotel St. Francis."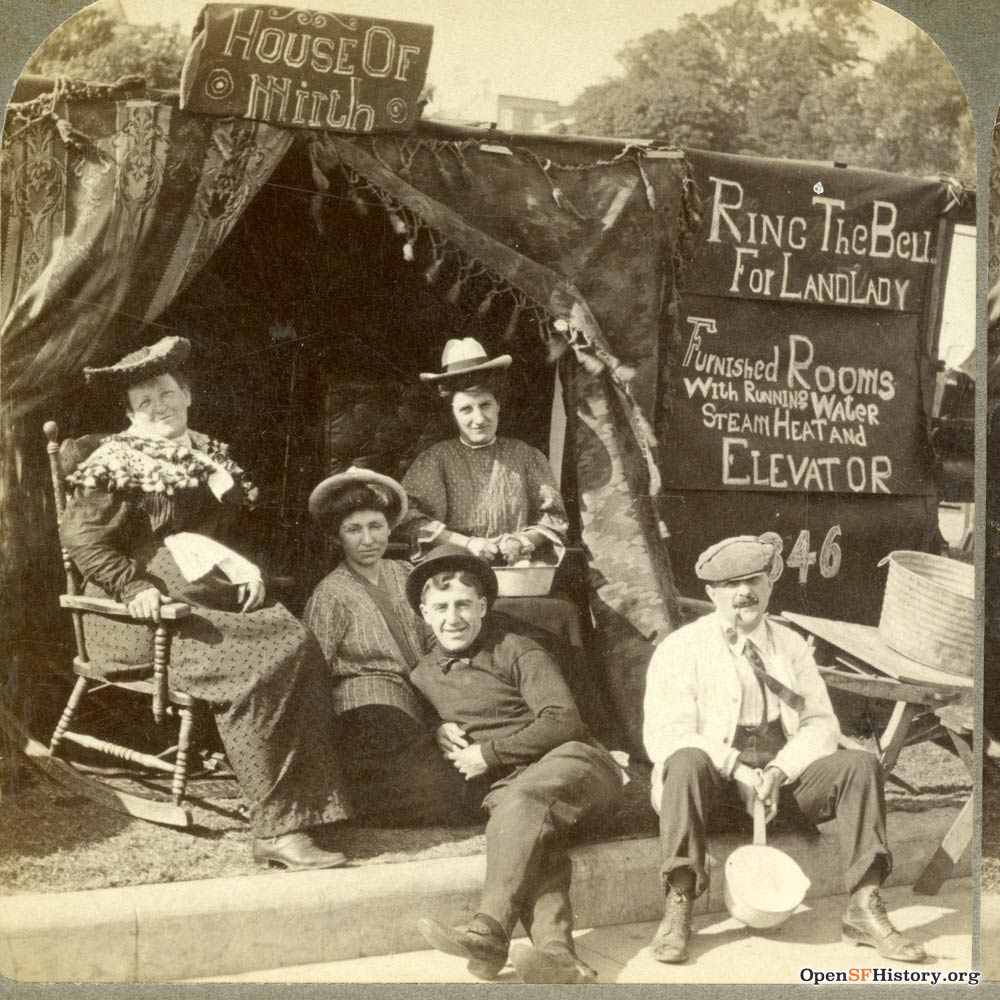 We admire and remember fondly the optimism and fortitude of our ancestors (see at top), who had so much pride in being San Franciscans that they preferred to stay and rebuild a city of rubble and ashes instead of starting life over in Oakland, Portland, or Los Angeles.
Yearly commemorations are still held at Lotta's Fountain on Market and Kearny Streets and at 20th and Church Streets, where participants paint the "golden hydrant" that produced water to save the Mission District and Noe Valley from the flames. These gatherings celebrate the city's enthusiasm to endure.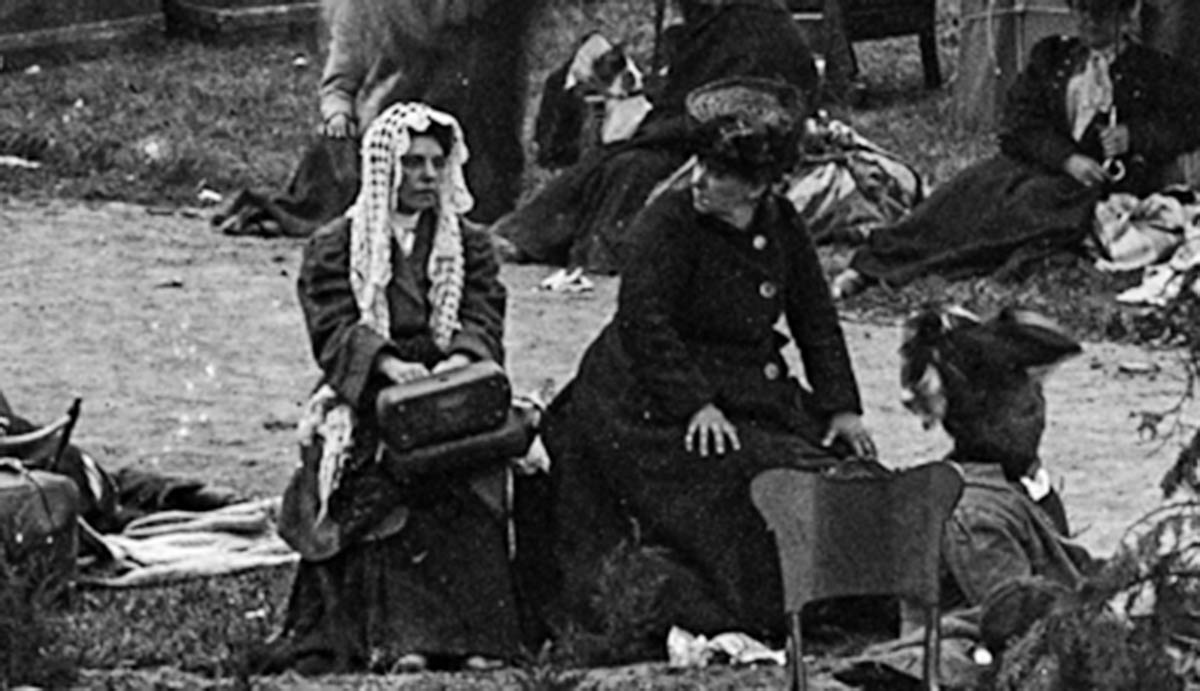 But it's important to remember that the 1906 earthquake and fire was a real disaster that killed thousands and left many more homeless. We should remember disaster and deprivation alongside the can-do spirit of rebirth because what happened in 1906 will happen again.
A massive earthquake is coming, as early as this afternoon. Attendant woes of destructive fires, landslides, inundation, and disease from broken sanitation systems are all possible, even likely. (The earthquake anniversary is a reminder to refresh and replenish your personal earthquake kit. Go to www.sf72.org to get a supplies checklist.)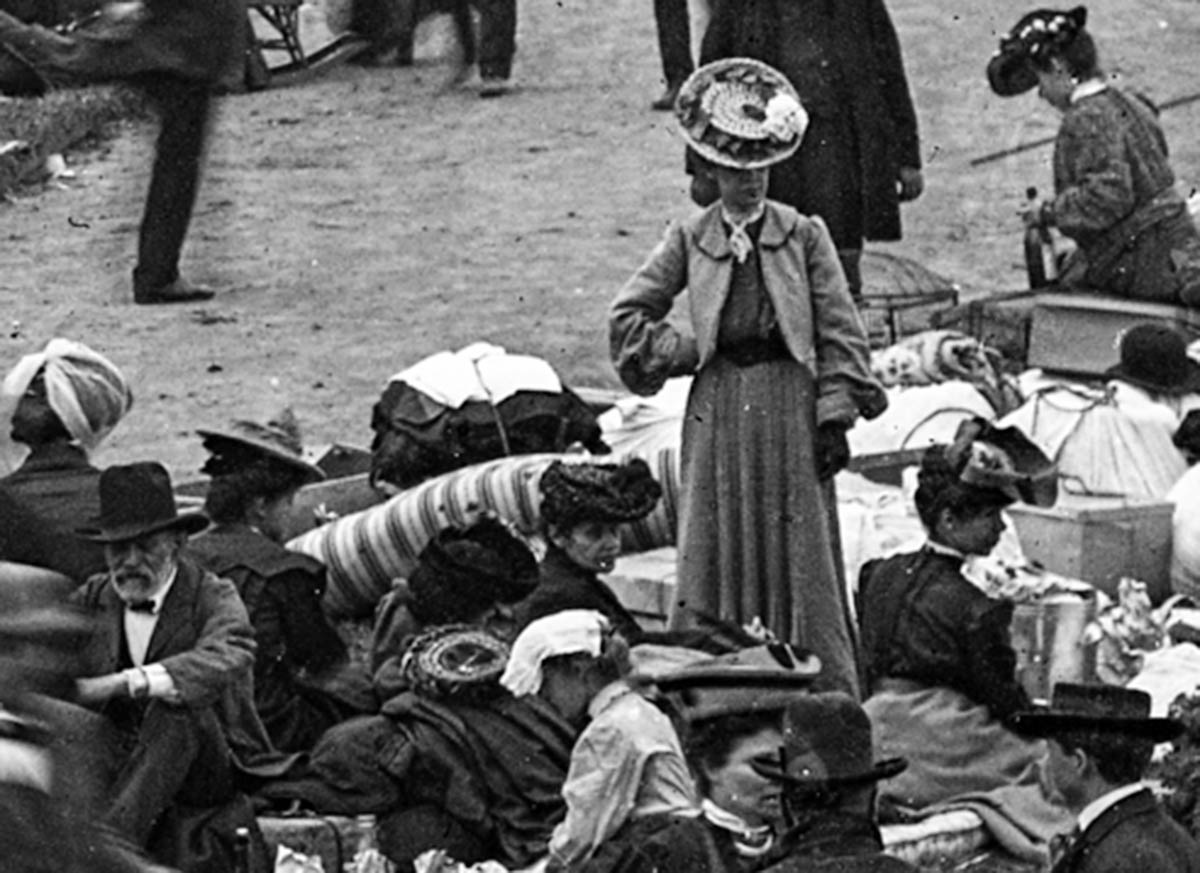 We must be prepared to not only rebuild the city of San Francisco, but to aid the destitute, the injured, and the displaced. The phoenix needs to rise from the ashes not only as new buildings, streets, and businesses, but also as new life for the poor, helpless, and the not to be forgotten.
---
More on the League of the Cross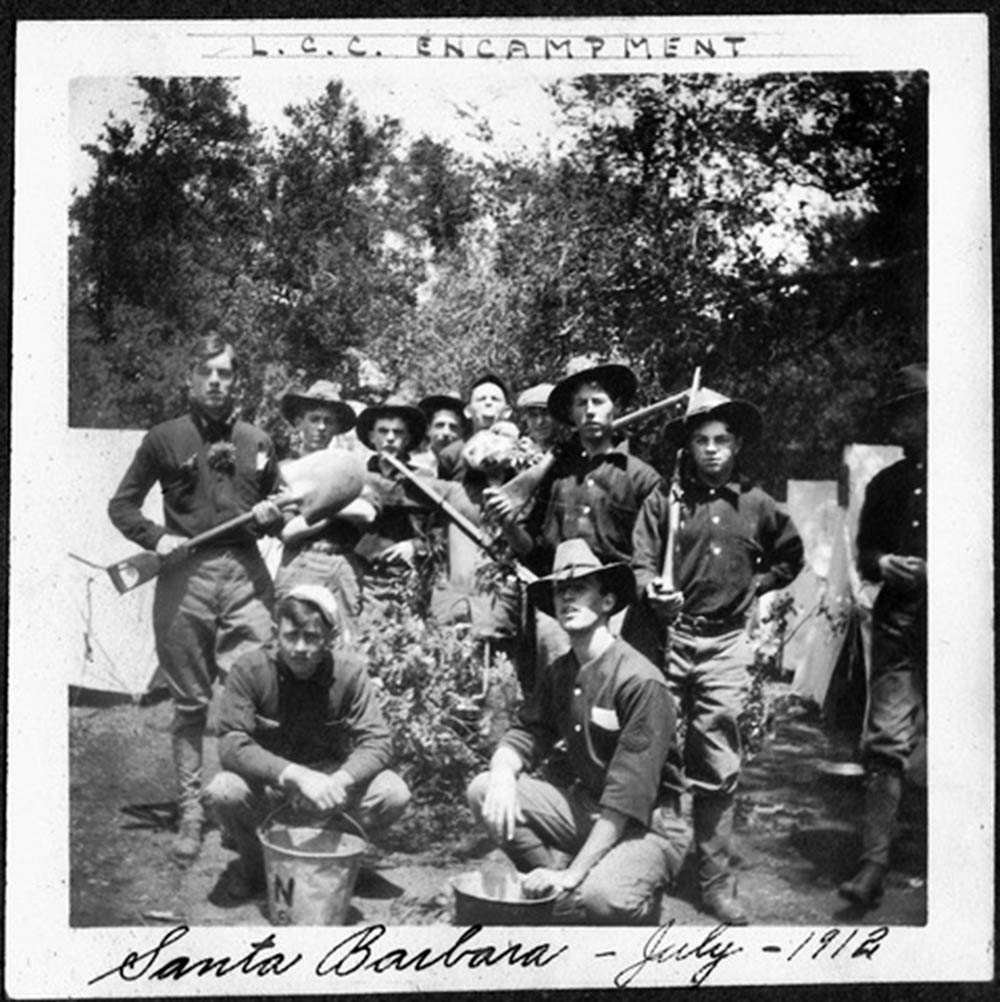 In Grab Bag #13, I showed off a great photo Paul Judge sent me of his uncle, Elton Bernard "Mike" Judge, with League of the Cross Cadets. I asked if anyone knew more about the organization. Great researcher and correspondent Peter Field came to my rescue once again:
"[I]n England the League of the Cross was begun in 1873 as an all-male Catholic temperance movement and began spreading around the globe. In 1886 it came to San Francisco, where it was seized upon by the local Catholic clergy as a way to revive the then moribund temperance movement.
"[It] grew from the more basic temperance belief that much of the world's family poverty and strife came from men drinking away their earnings, and that prohibition would solve this problem. Pretty much every major religious denomination in the United States had some sort of temperance organization.
"The League of the Cross Cadets were what the 15–21-year-olds were called. This was a uniform and military rank organization that capitalized on 19th century boys' attraction to all things military. The different companies spent their time drilling and had competitions with prizes for the most skillful drill teams. [...] This was seen as a healthy alternative to other social opportunities."
Thanks Peter and Paul! (Hmm, that sounds like a combo the League would endorse.)
---
Adding to the Pennant Collection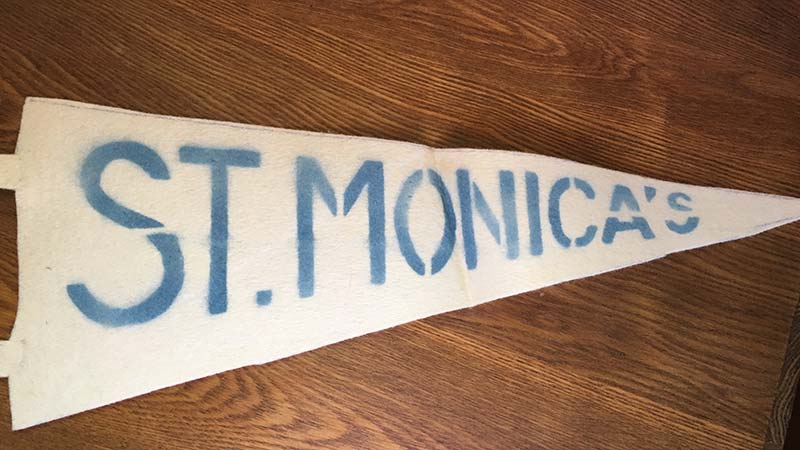 I showed off a couple of mini felt-pennants from West Portal School in Grab Bag #14 and asked if there were any other school examples out in the world. Kate Friman quickly sent me hers from St. Monica's: "I attended from Kindergarten thru Eighth Grade. Graduated in 1963! It was always Richmond against Sunset... Keep up your great work, I look forward to Wednesdays!"
Thanks Kate. I look forward to Wednesdays too. :)
---
Havin' a Ball 'til they Tore down the Walls
Paul Judge also sent me this nutty music video made inside Playland's funhouse, I wanna say...1970? Anyone know more? There's a great shot of how long and steep the Giant Slide was and the tune is kind of catchy. We can all agree the mime is perhaps unnecessary.
---
Woody Beer and Coffee Fund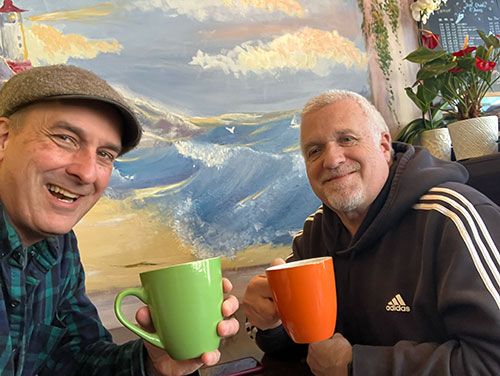 Thanks to Linda G. and Angus M. for tithing this week to the essential-service that is my hydration!
To celebrate the start of baseball season, I dipped into the fund to buy Andre B. a coffee and some crumb cake at Royal Grounds on Geary at 17th Avenue. Andre the Basque is a longtime Friend of Woody and just started his 44th year vending at Giants games. Say hi if you see him at his stand on the 1st base side.
Thanks for the tips (a no-nonsense button is below) and let me know when you're free for a drink!