Grab Bag #025
Women of San Francisco's past in beauty pageants, on stage, in school, and led astray by drug-pushing New Yorkers.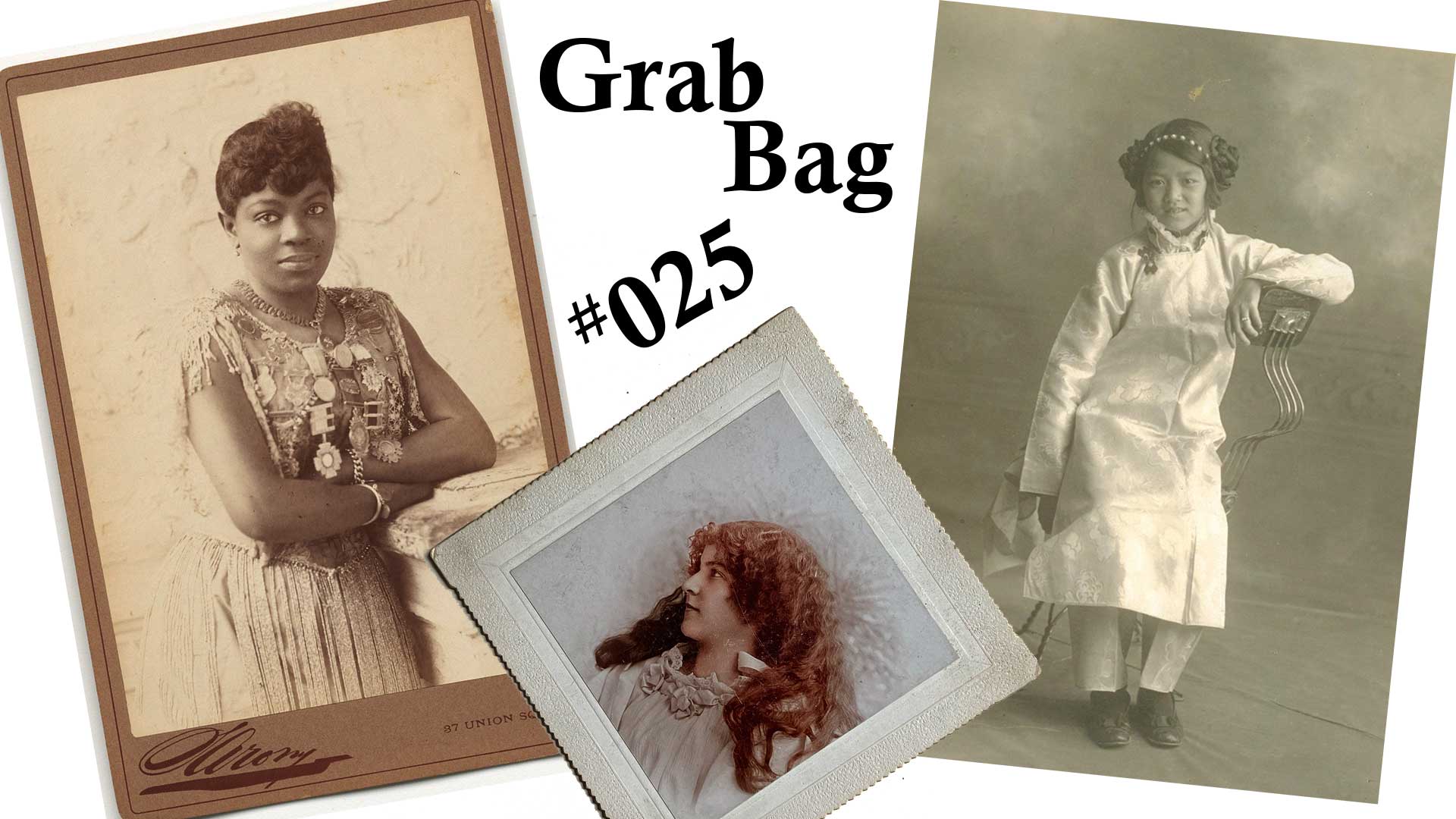 The recently delivered and discovered, all in one Woody Grab Bag, which, for no particular reason, I am opening up to everyone this week. Enjoy!
Chinatown Beauty Queen Wars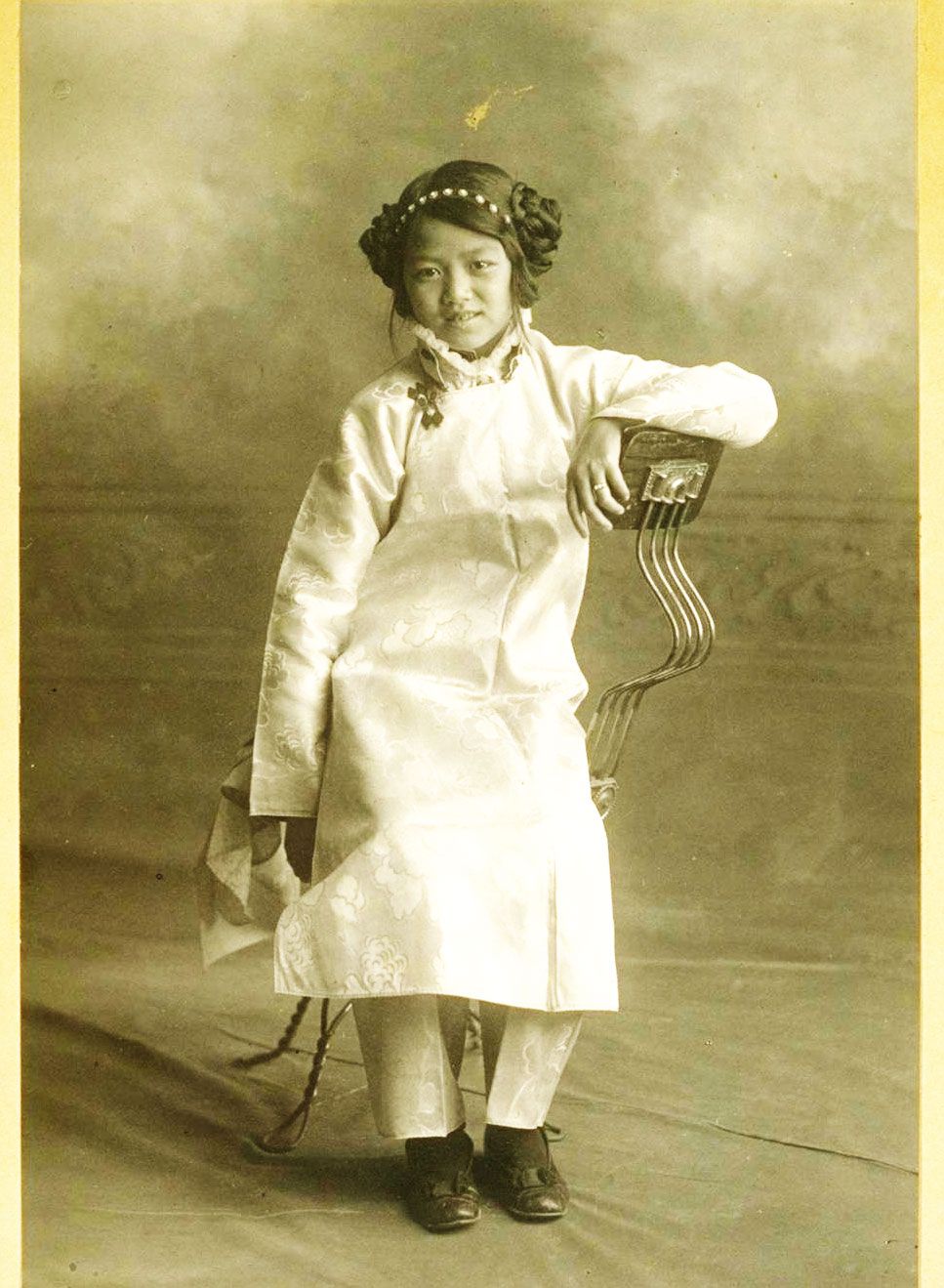 Recently, a change was made to make the Miss Chinatown U.S.A. pageant more inclusive. Now you can compete even if your dad isn't Chinese. Progress, I guess?
People take these things seriously. In 1915, Rosie Yuen, a dancing girl, won the most votes to be crowned queen of a Chinatown carnival. Yuen's win was boosted by a late pay-off from a non-Chinese group.
This was not looked on favorably, so the daughter of a vice-president at Canton Bank, Rosie Lew, was chosen instead. (The other Rosie was given a piano as consolation). But the switched decision drew even more ire. First there were threats of egging, then more serious murmurings of injury or even death if the vice-president's daughter was crowned (so said the San Francisco Examiner).
Rosie Lew ended up being crowned at the Fairmont Hotel, far from the actual Chinatown carnival, with a police guard.
As I said, people take these things seriously.
---
Sissieretta Jones Hits San Francisco
In July 1896, the great soprano Matilda Sissieretta Joyner Jones came to San Francisco. After singing for crown princes and presidents, her gig in the city by the bay was appearing at the opening of the Chutes Casino on Haight Street, listed on the bill with acrobats and trained dogs.
Why not the opera house? Perhaps because Sissieretta Jones was African American.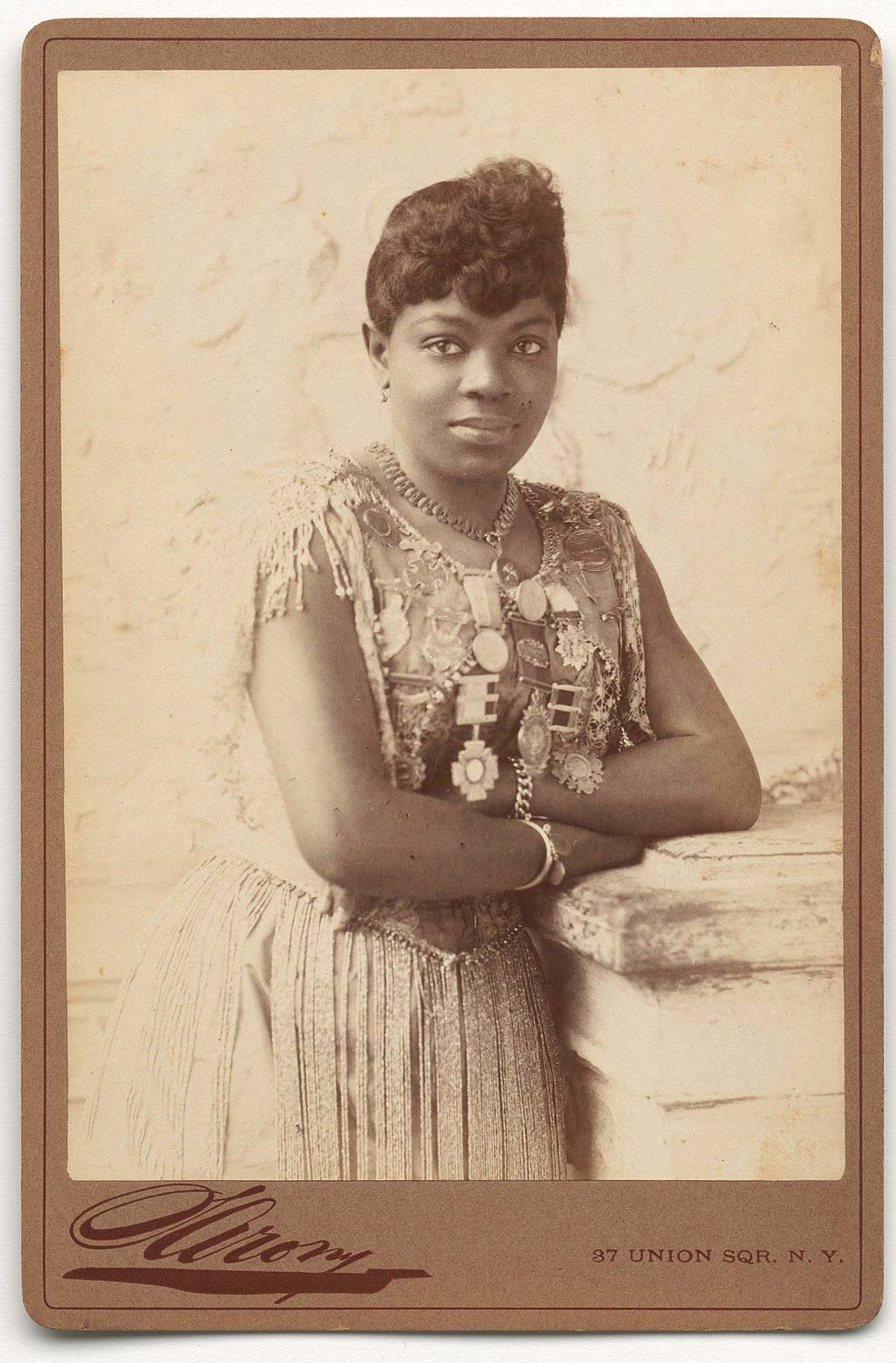 A San Francisco Call interview with the singer was pretty good, as in less cringey than most 1890s articles about anyone who wasn't a white man. The reporter primarily talked with Jones about her singing and her voice. When he asked why she didn't do more opera, Jones was frank that "she was not the color of most prima donnas, and some people might be prejudiced against her on that account." The reporter then suggested make-up and wigs could "effect marvelous transformations."
"Try to hide my race and deny my own people?" Jones replied, shrinking back. "Oh, I would never do that. I am proud of belonging to them and would not hide what I am even for an evening."
Sissieretta Jones sang for four consecutive United States presidents: Benjamin Harrison, Grover Cleveland, William McKinley, and Theodore Roosevelt. Only on the last visit to the White House was she permitted to enter through the front door.
---
Who was A. S.?
(A Minor Annoyance)
In twenty years of reconstruction and expansion after the 1906 earthquake and fire, hundreds of multi-unit buildings went up across the city. It was a golden age for apartment architecture.
Along with some great gilded lobbies, columned portals, crests, friezes, and even murals, a lot of apartment buildings were christened with names painted on transom windows, embedded in terrazzo entryways, or molded into metal plaques.
Some naming conventions are fairly mundane. The Jackson Apartments are in Chinatown at 605 ½ Jackson Street, duh.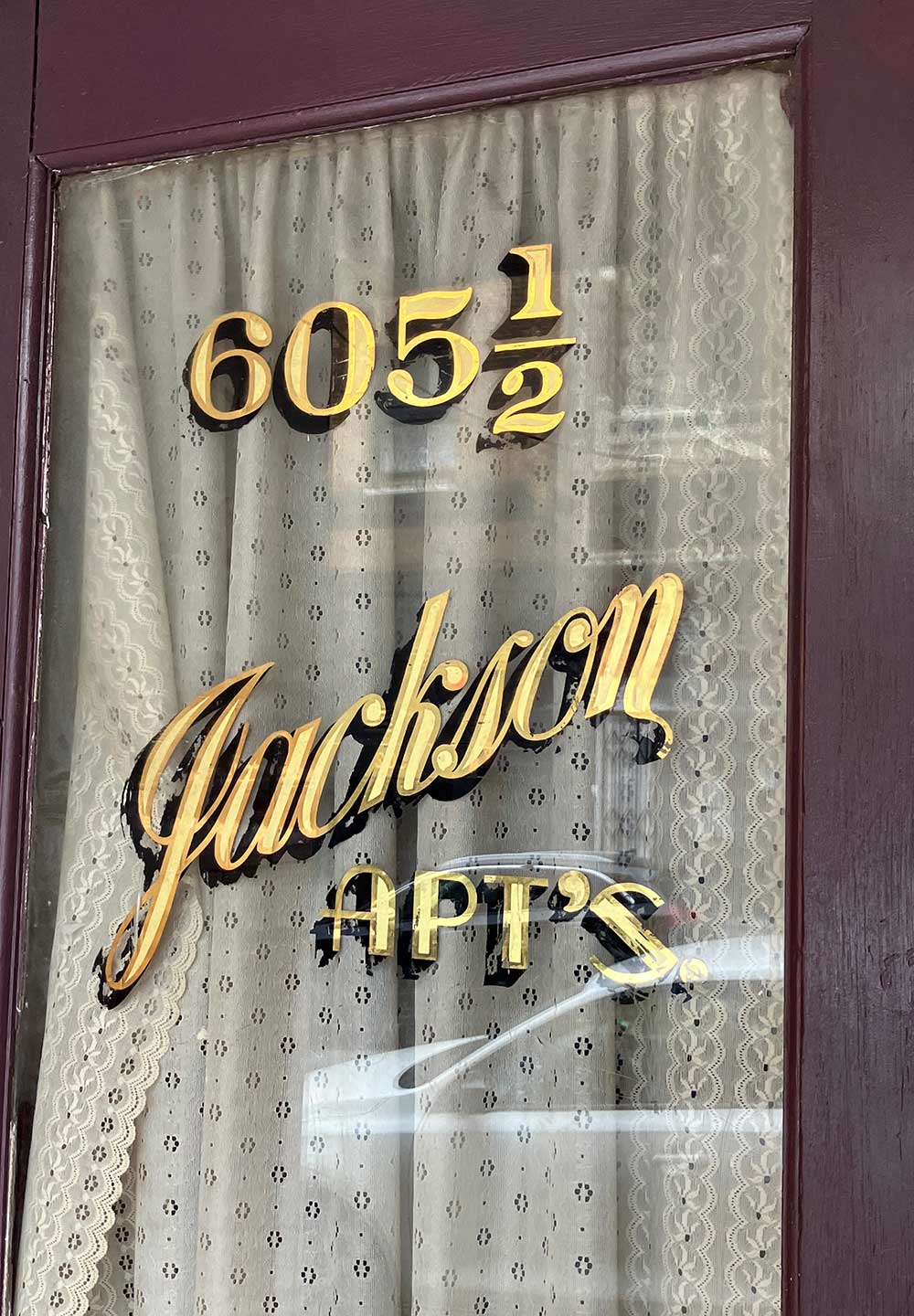 Other names recognize the history of the lot, such as the Spreckels Mansion Group Apartments, which were built on the site of the Spreckels mansion, gutted after the 1906 earthquake and fire: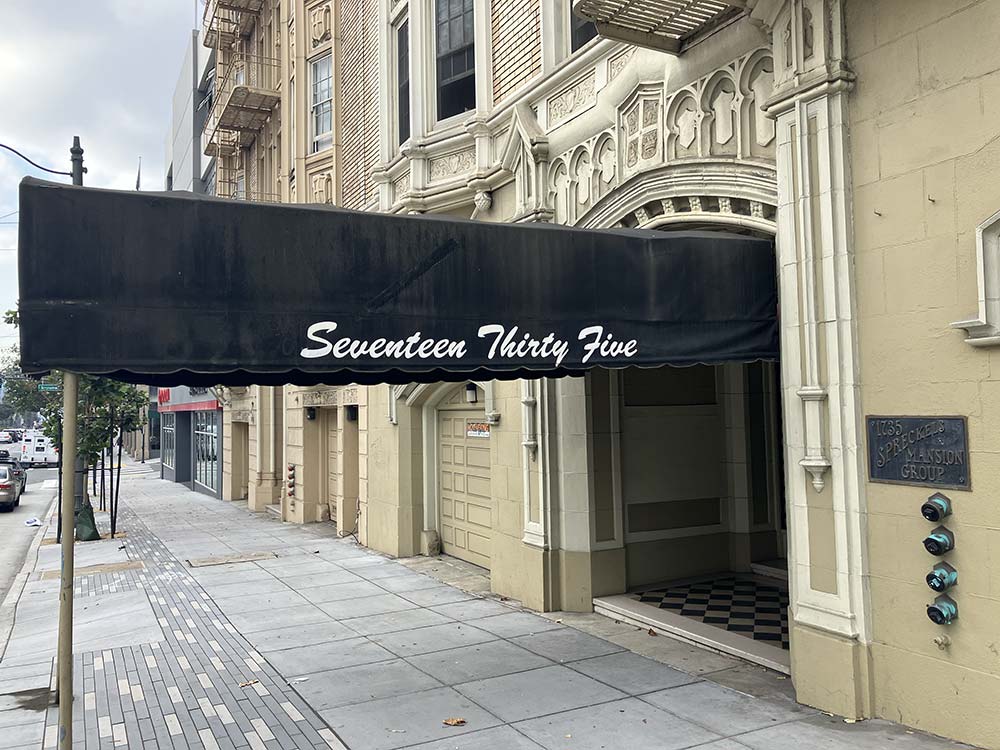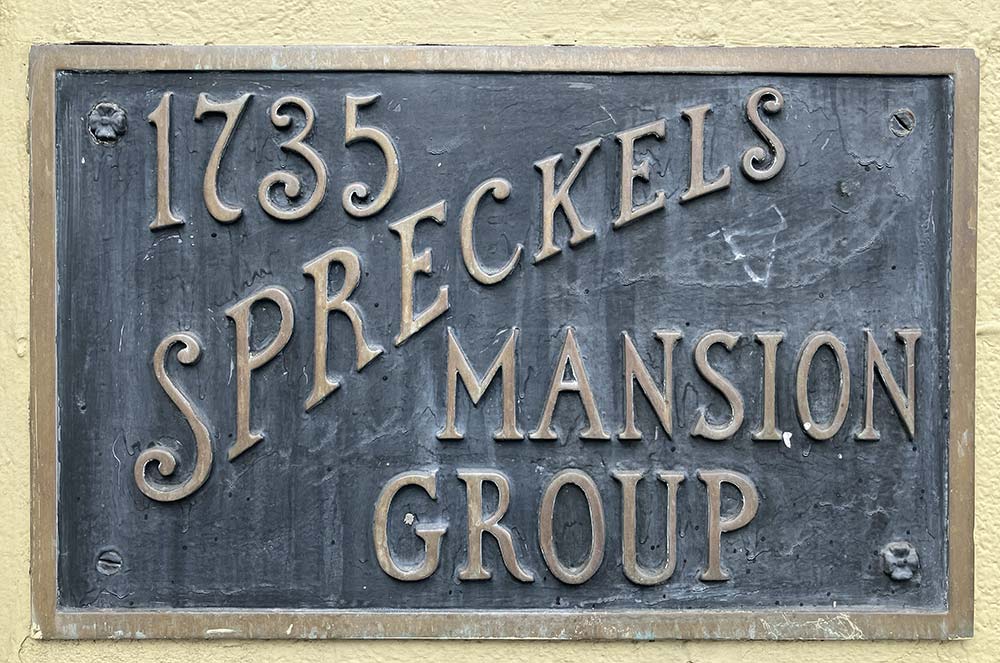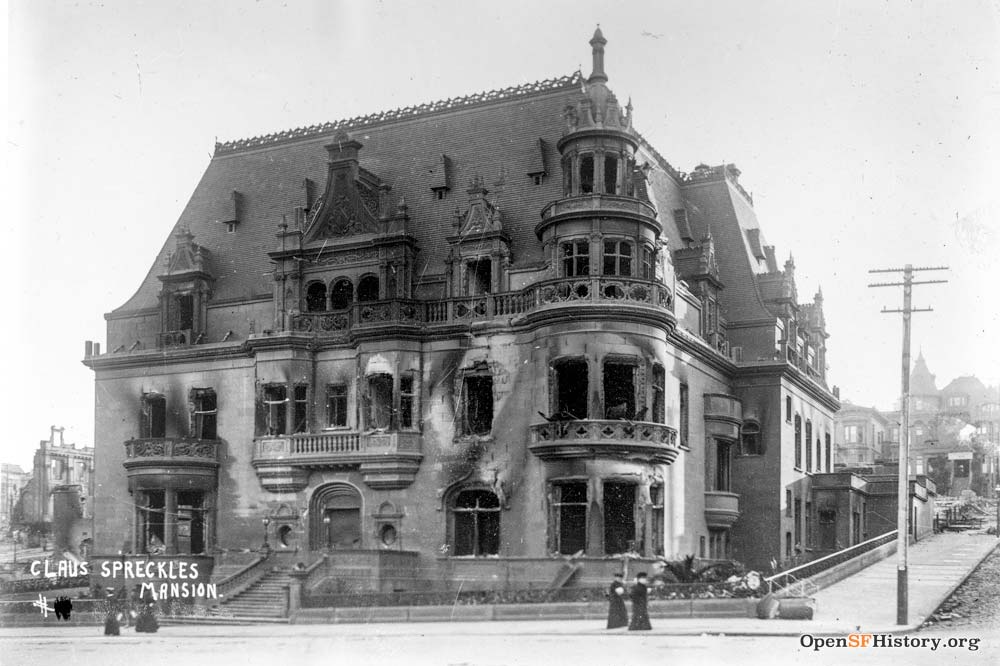 Other names give some love to the neighborhood, like the Sunset Apartments: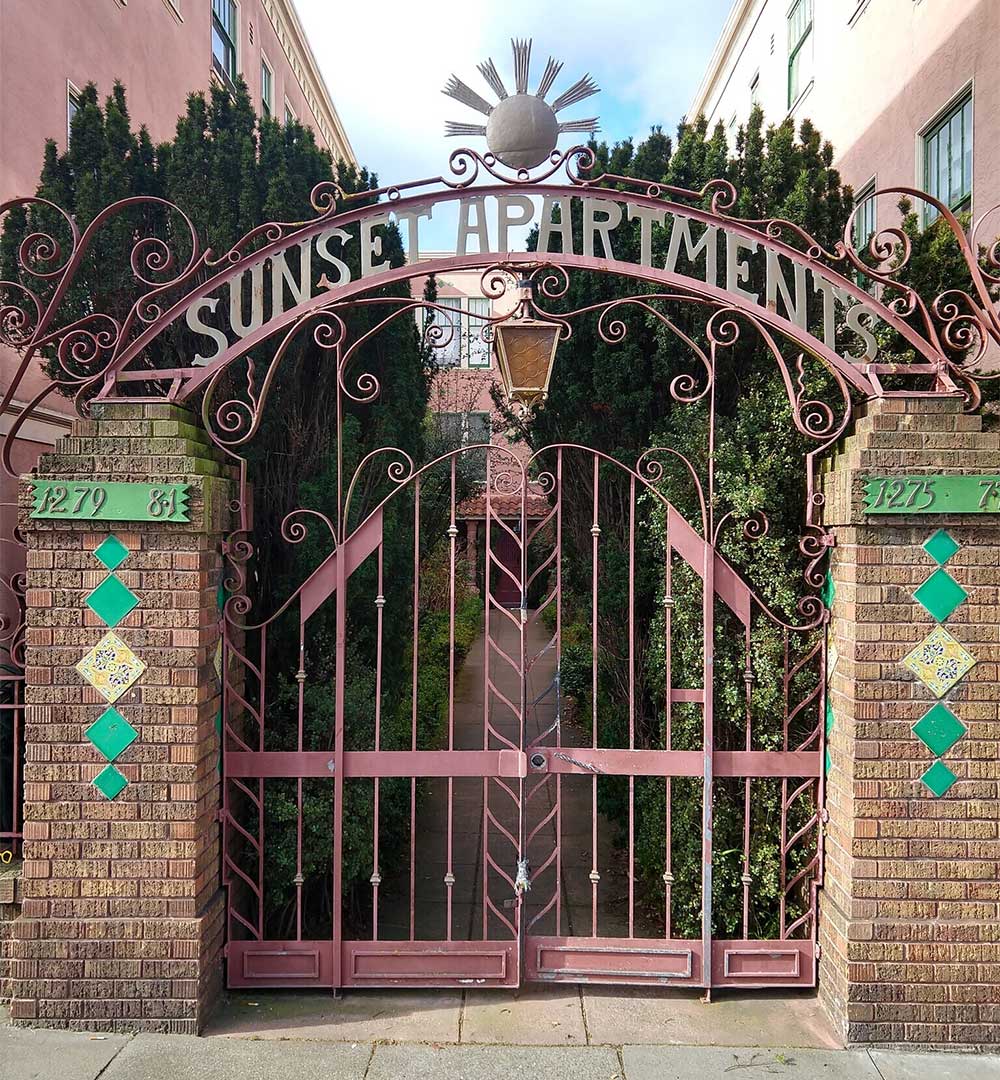 Others are mysteries, maybe named after owners, like the Casmar Apartments at 2378 Market Street: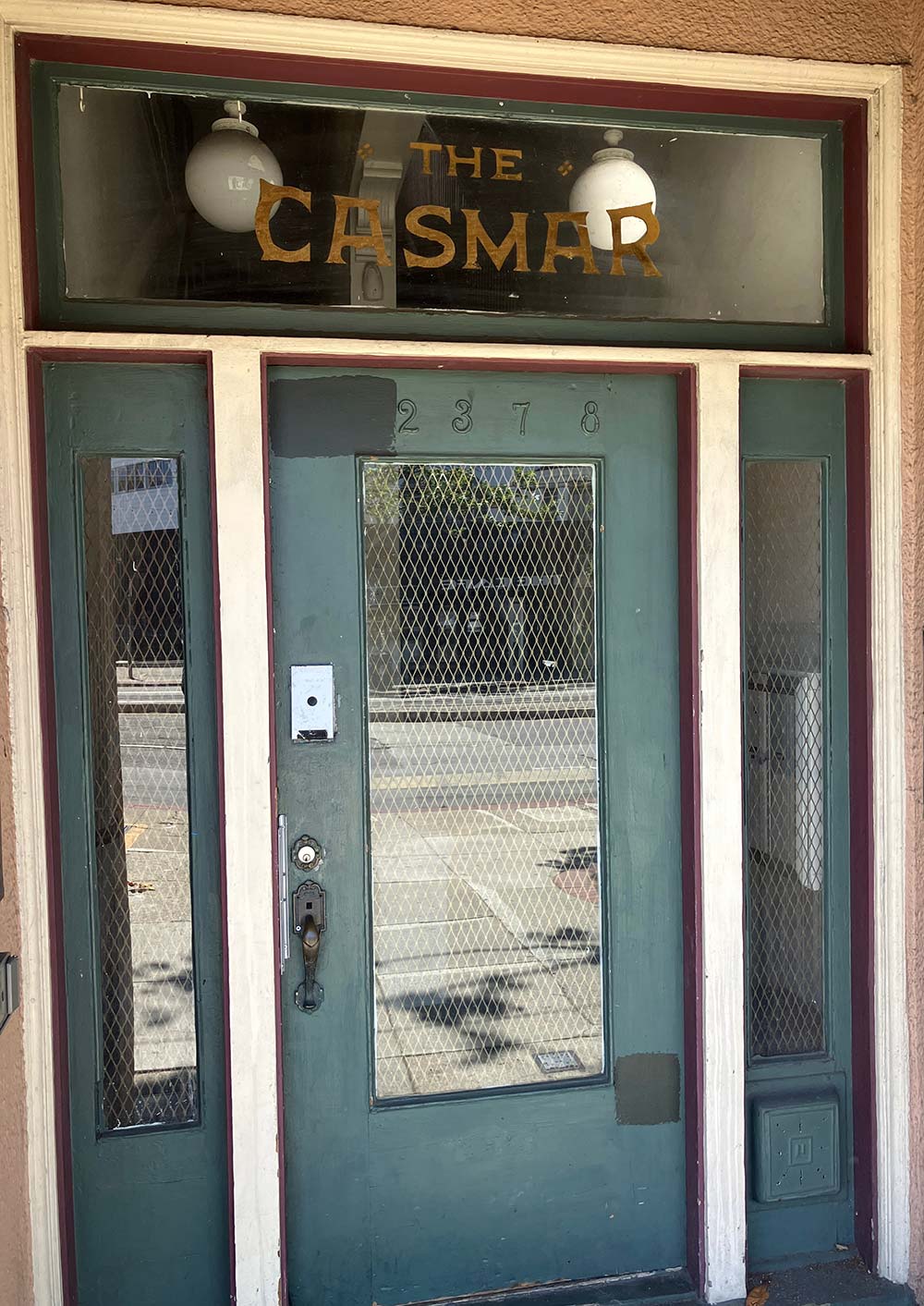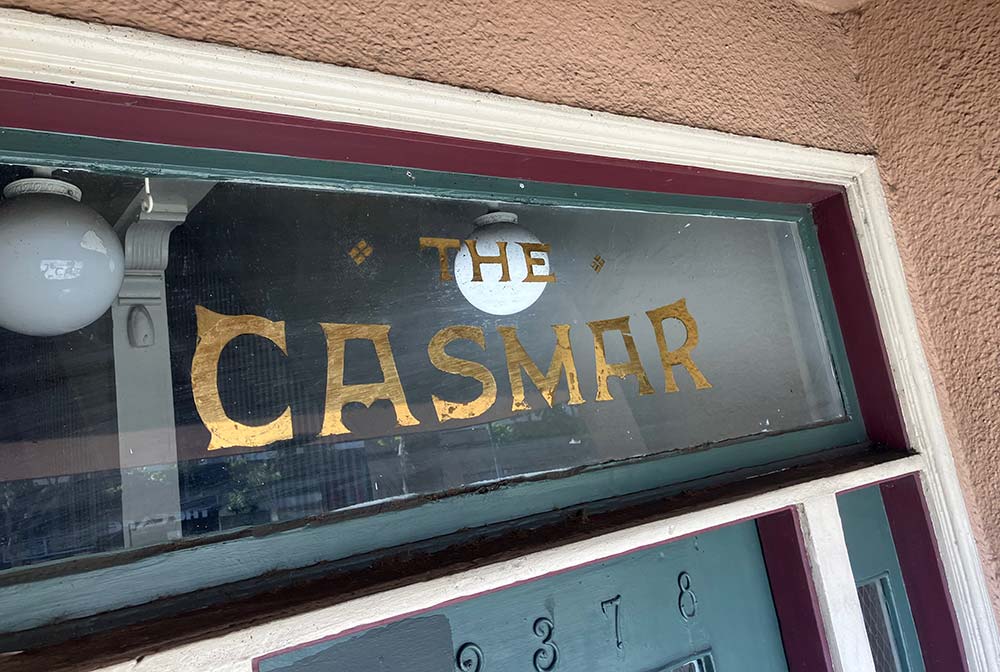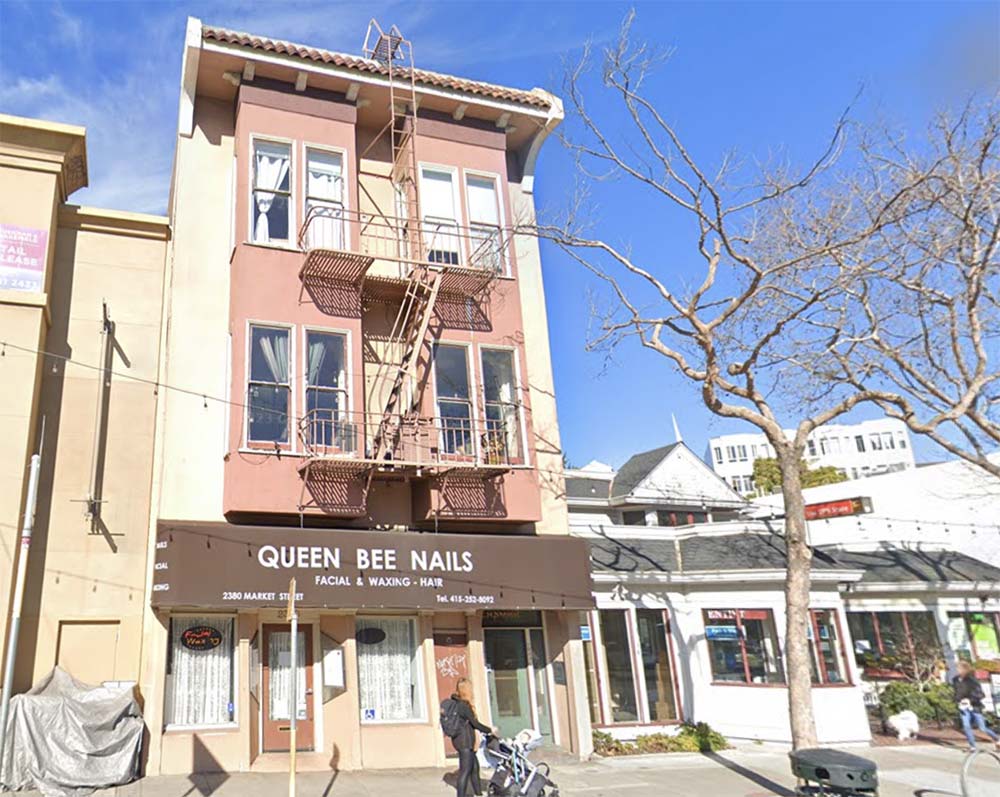 Daily, I pass a humble apartment house on the corner of 20th Avenue and Geary Boulevard. Daily, I am irritated by two letters flanking the doorway: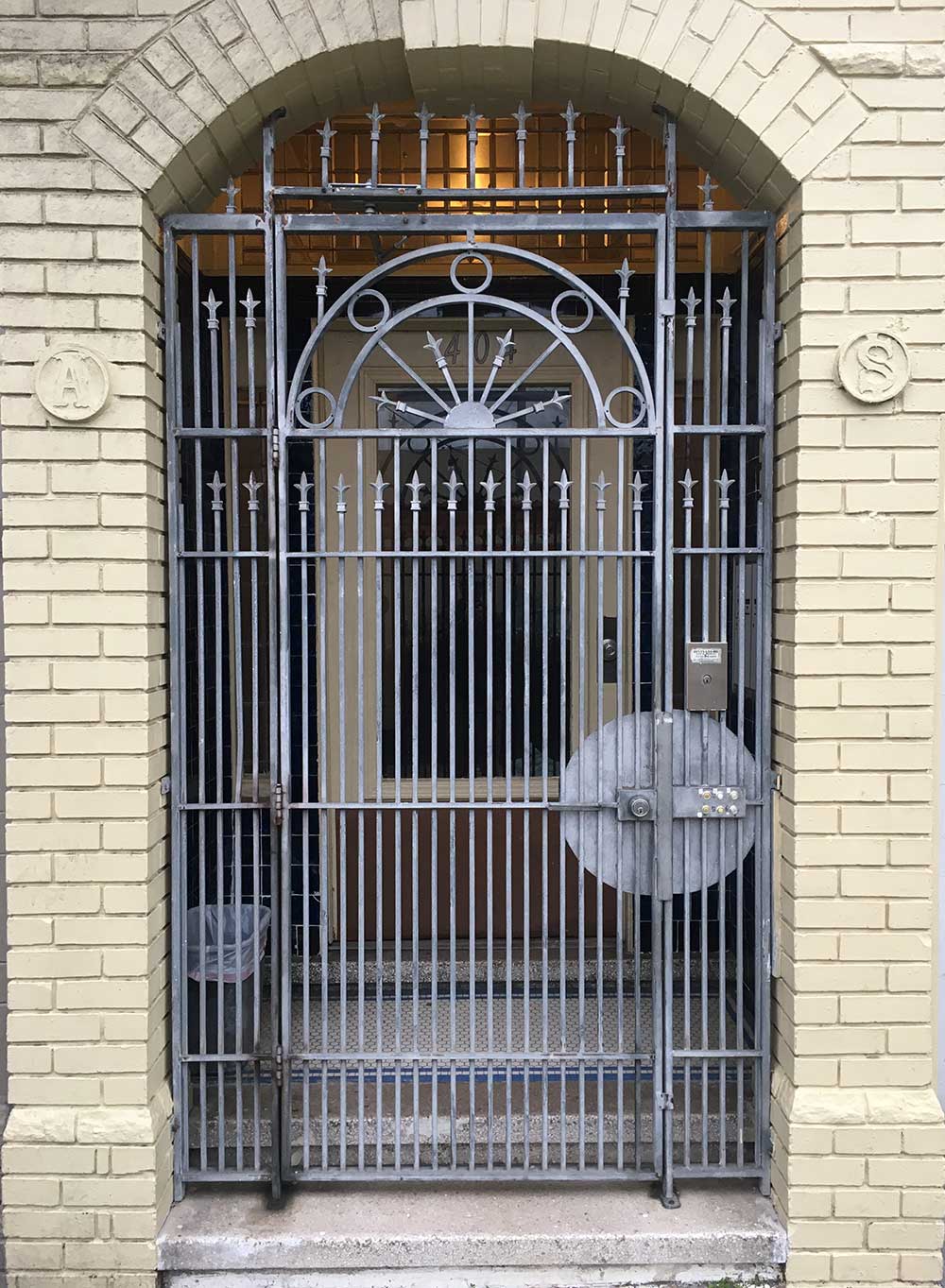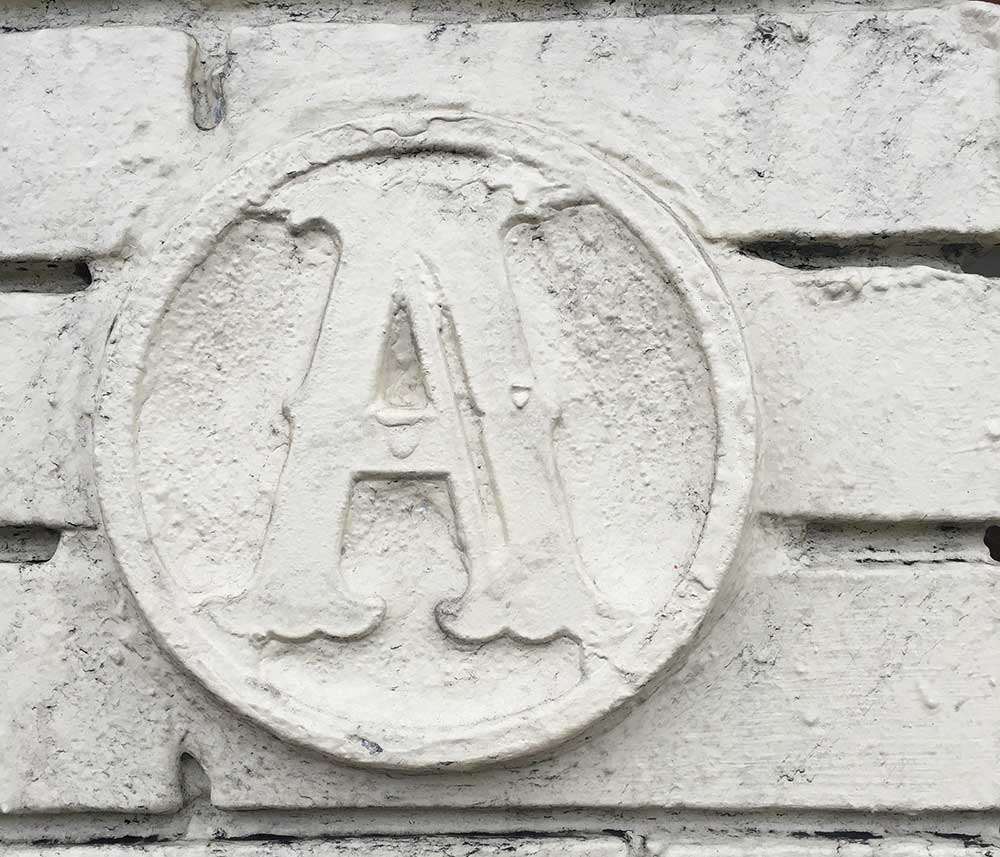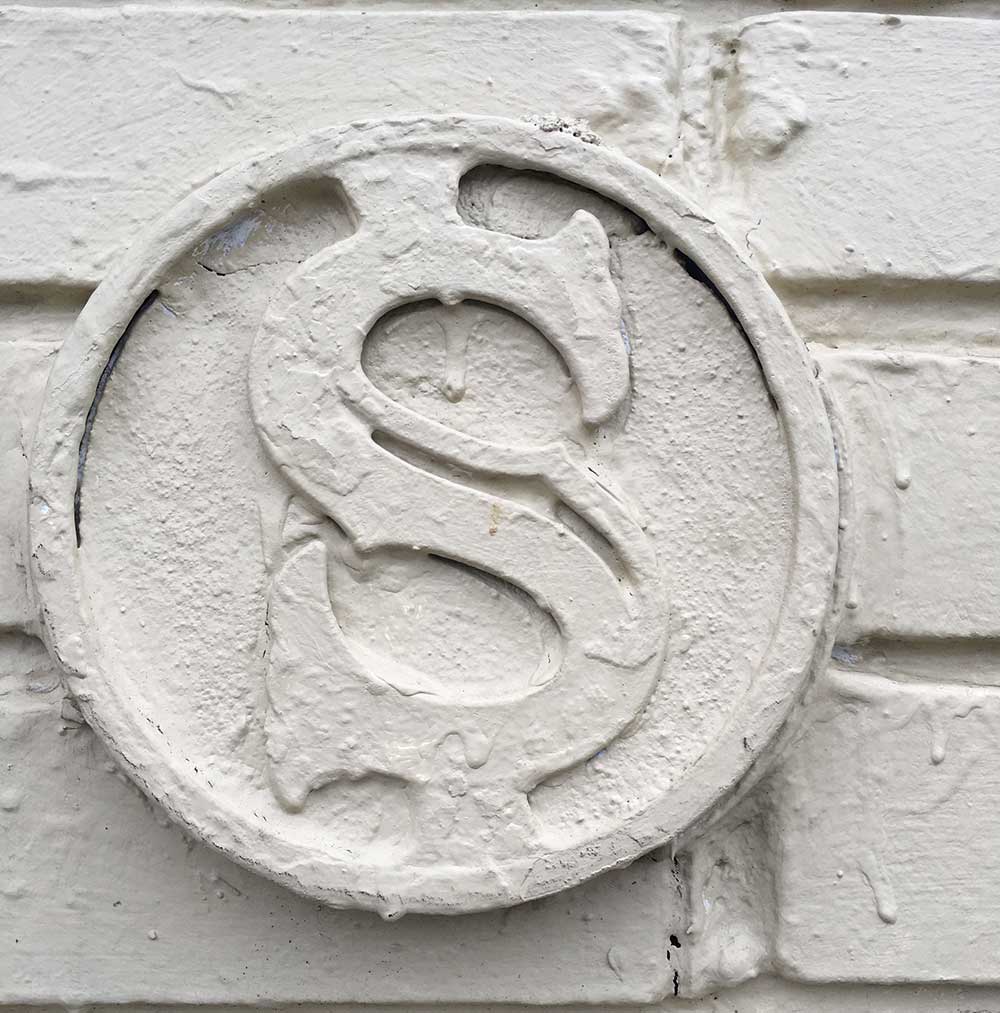 Initials of the owner perhaps? Let's see…the building was constructed in 1915 by contractor Thomas Hamill for Nathaniel and Annie Thompson. After construction completion in 1916, the lot was purchased by Annie F. Plymire, who seems to have been an early 20th century real estate mogul.
Are these Annies candidates for our "A?"
In a later block book, Charles Strub is shown as the lot's owner. Strub could be our "S," right?
Annie and Strub weren't a couple. (Charles, part owner of the San Francisco Seals minor league baseball club, was married to a woman named Vera.) They were definitely mixed up in the project together, however, as Annie named Charles in a suit foreclosing on the mortgage for the building in 1929.
Are they the "A. S." or do the letters point to some other naming convention completely?
A minor, minor mystery that bugs me. I am open to speculation here. Maybe it's named after a prominent Richmond resident, as in the Adolph Sutro building? "Awesome Spot" apartments? Athens and Sparta?
How about I solicit suggestions and submit the best to the residents of 404 20th Avenue for a vote?
______________________________________________________
Turf House
That corner was previously occupied by a roadhouse bar called the Turf House. The Richmond District had a couple of horse tracks in the second half of the 19th century and today's Geary Boulevard offered places of libation to quench the thirsts of sporting men, jockeys, hostlers, and folks out for a Sunday drive to the beach. With few other options, these bars also served as a polling places and community meeting halls for residents of the growing Richmond district.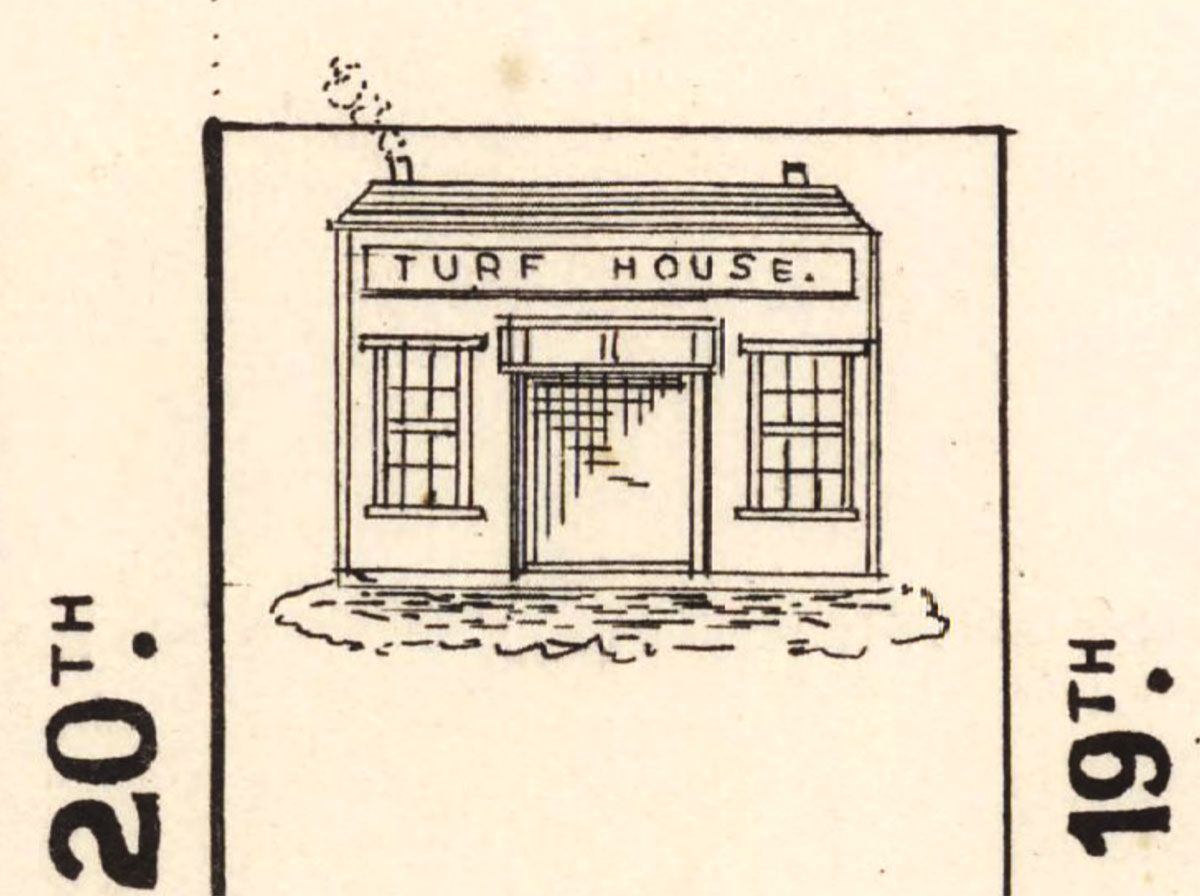 Pat Farrell, a horse driver and trainer, owned, lived in, and operated the Turf House for 40 years before his death on January 8, 1909.
A writer remembered in 1918 that "Farrell's Turf House saw many of the most extravagant wagers of a fabulously extravagant era lost and won, and also saw the arranging of a thousand different and famous contests and matches of every kind, from dog fights to marriages."
______________________________________________________
The Ladies of the Irving Institute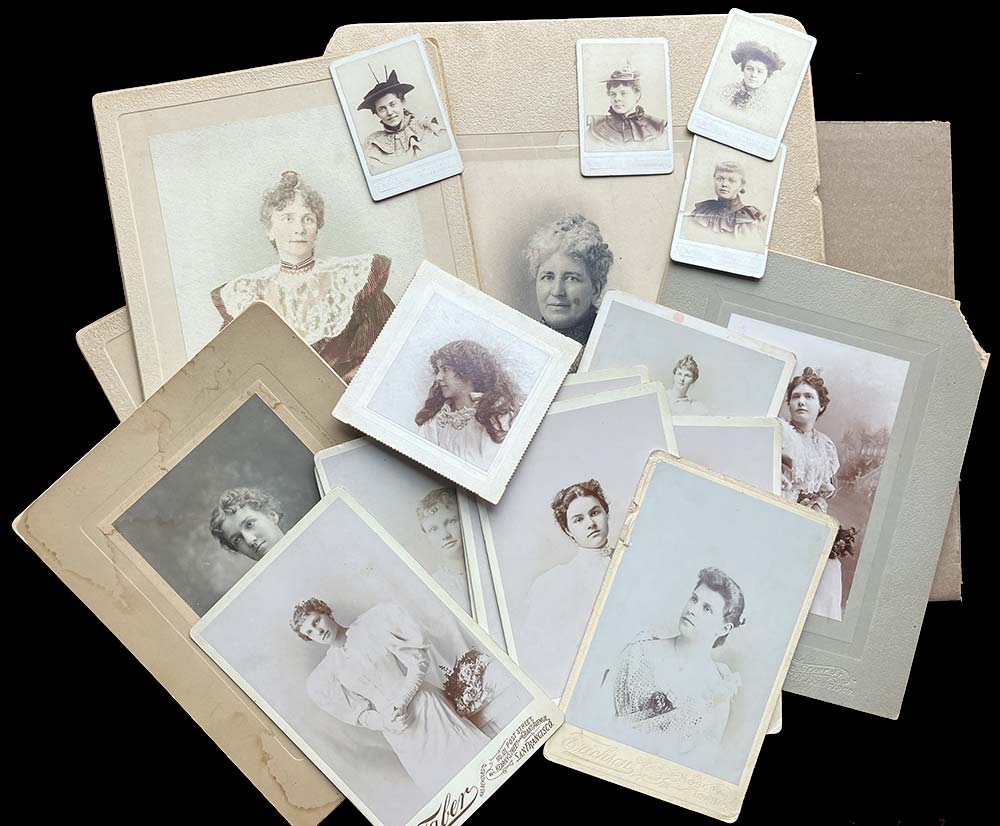 Months ago, I wrote about a finishing school for young women of means that once operated in a handsome residence at 2126 California Street. I was mostly fascinated by the surviving building. Now, thanks to Frances Lloyd, I am fascinated by the students.
Frances' grandmother, Melvina Olive Pogue, who went by her middle name at school, graduated from Irving Institute in 1894. From this grandmother, Frances inherited a dozen mounted and inscribed photographs of fellow students and large portraits of the school's operators, "Ma" and "Pa" Church.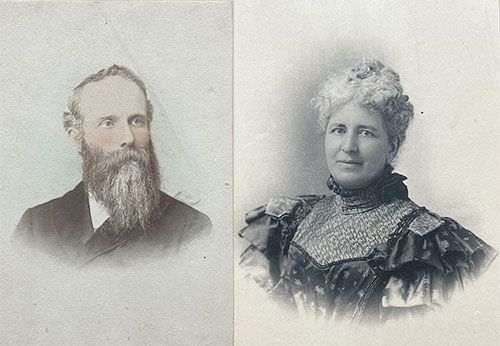 These cabinet cards arrived in my mailbox last week. What a surprise treasure trove. Frances wrote in an an accompanying card, "My grandmother used to tell me about her time at the old Irving Institute, where each girl had her own tea service and served tea each afternoon."
Ten other women graduated in 1894 from Irving Institute along with Olive: Annie Eva Bernhard, Sarah Ruth Coward, Amy Elizabeth Gunn, Lucy Katharine Jewett, Edith Mary Kennedy, Maria Louise MacNeill, Florence Adele Smart, Mabel Dear Southack, Lucy Henley Surface, and Mary Hanna Waterman.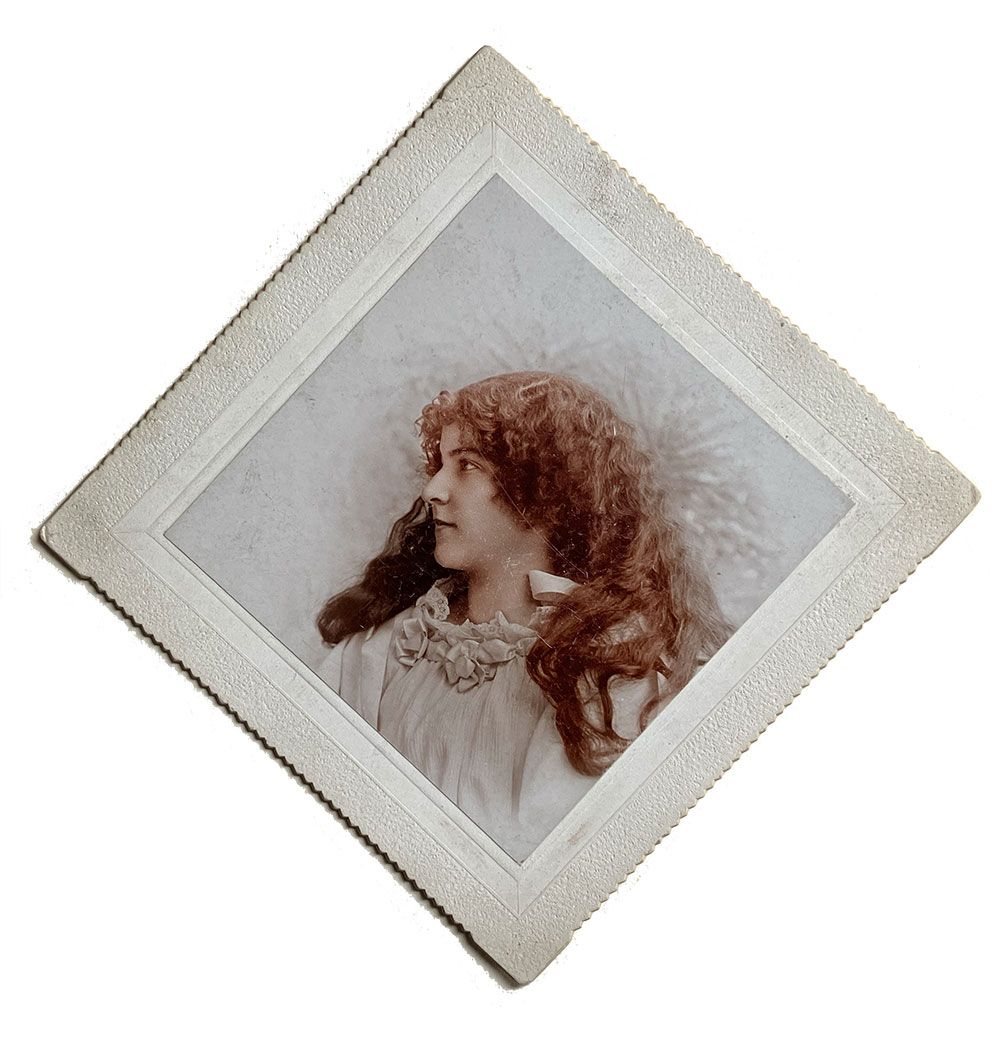 The images are in great condition and many are taken by the city's premier photographer at the time, Isaiah West Taber. Four of the younger students seem to have taken a trip to a photographer on Market Street for small portraits that are ridiculously cute.

I'll add some of these great images to the Irving Institute post. As for the original photographs themselves, I need to figure out the best longtime home for the class of 1894 and friends.
______________________________________________________
Demon Chloroform
I know none of the fine students of the Irving Institute would be involved in the foolish choices of another young woman published in the San Francisco Call in 1897: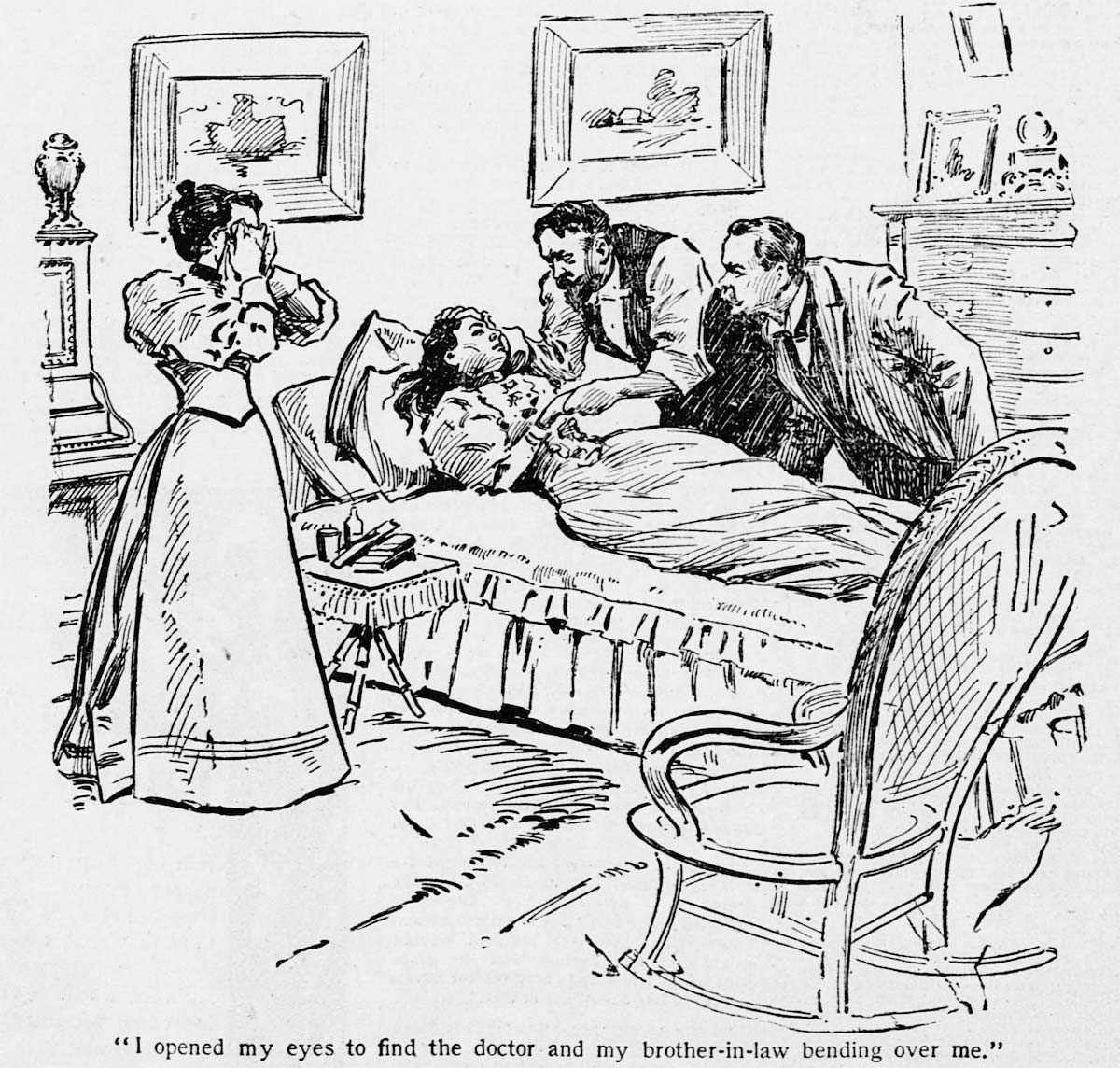 In no way do I want to make light of addiction, recovery, or drug abuse, but here is a story the media loved then and loves now: new popular drugs seducing the young, especially innocent girls.
In this piece, the pseudonymous author "Funegal McVahon" claims an acquaintance from New York pushes chloroform sprees as something "in vogue among some fashionable women in the East."
Off to the drugstore our heroine goes, "determined to indulge in one of these 'sprees' for 'an experience.'" She pretends she's buying the drug to do away with her cat (!), which makes it all ok with the druggist.
Typical titillating purple prose follows, with preparations made in "eager haste" to tip some drops on a handkerchief from the vial and recline on a divan. The author "snuggled down among the pillows to enjoy my 'bit of Nirvana.'"
Some Coleridge-ian descriptions of shimmering colors, rhythmic murmurs, and maybe Lucy in the Sky with Diamonds flips into a bad trip of "millions of earthworms […] wriggling, squirming, twisting, writhing, stretching out and contracting until the entire drapery was a revolting mass of incessant, loathsome movement."
The nightmare ends with her being slapped awake by her brother-in-law and a doctor. Her male guardians scold her and she truly learns her lesson when she is sick for three days.
"Thank heaven, our San Francisco girls do not feel the need of indulging in such dissipations! And as for the girl from New York, she can go to—New York, for all me, and spend the rest of her experimental existence there, and no tear of regret from my eye shall sadden her departure."
Kids, just say no to chloroform and watch out for East Coasters.
---
Woody Beer and Coffee Fund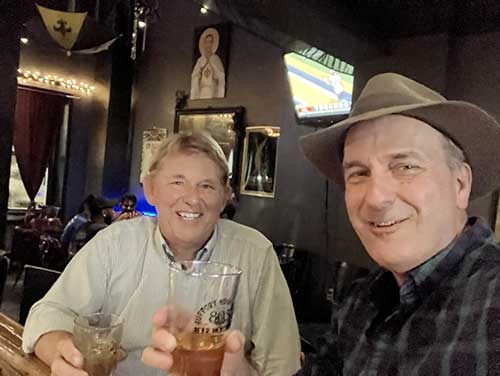 Thanks to generous donation to the Woody Beverage Bank, Ed F. (F.O.W.) and I hit the Black Magic Voodoo Lounge at Lombard and Van Ness and enjoyed ale, spirits, and conversation about what tourists really think of San Francisco when they visit. (Surprise! They love it.) Great thanks to Andre B. (F.O.W.) and Eric R. for contributing to the make-Woody-get-out-and-see-real-people-fund. Is it your turn? When are you free?
---
Sources
"Row Over Queen Ends Chinatown's Carnival," San Francisco Examiner, August 22, 1915, pg. 53.
"Is a Singer by Nature," San Francisco Call, July 4, 1896, pg. 5.
"Opening of the Casino," San Francisco Call, July 5, 1896, pg. 7.
"Dr. Strub Named in Mortgage Suit," San Francisco Examiner, May 8, 1929, pg. 19.
Richmond Banner, January 8, 1909, pg. 4; "Boundary of Eleventh Ward and Election Precincts," San Francisco Chronicle, June 18, 1878, pg. 4. "Real Estate," Evening Bulletin, August 2, 1889, pg. 1.
Edward A. Morphy, "San Francisco's Thoroughfares: Point Lobos Road," San Francisco Chronicle, September 22, 1918, pg. 9.
"Young Graduates," San Francisco Chronicle, May 25, 1894, pg. 8.