Mother Minerva's Fort
In 1926, a woman fought for her home made of three earthquake refugee shacks.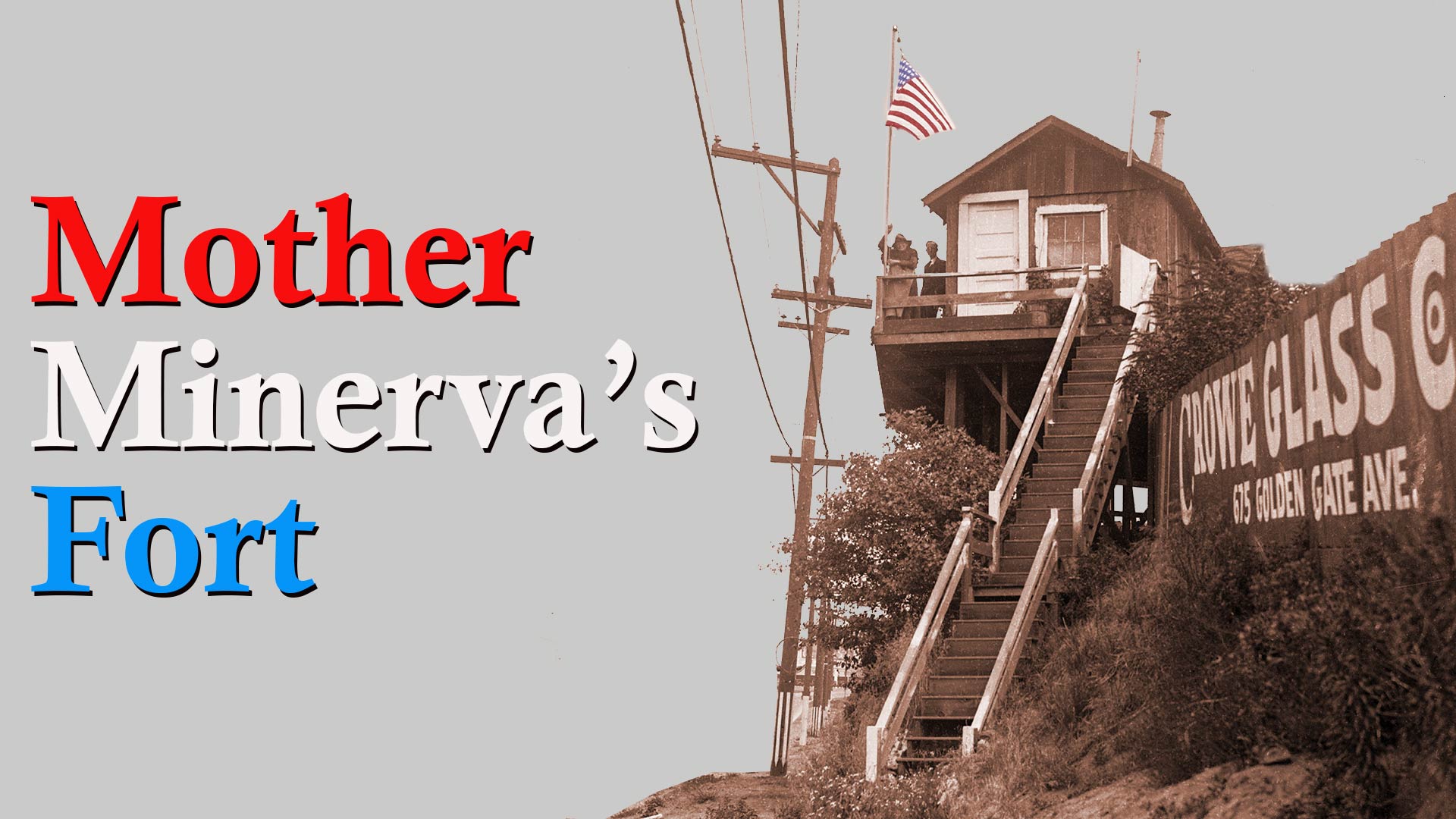 Following the April 1906 earthquake and fire, 5,610 cottages were constructed in San Francisco city parks, built to house more than 16,000 thousand people who needed shelter and services.
When the camps closed the following year, most of these relief cottages or "refugee shacks" were relocated to private property throughout San Francisco and beyond. In their new locations the humble green cabins were cobbled together, added onto, shingled over, and many can still be found today.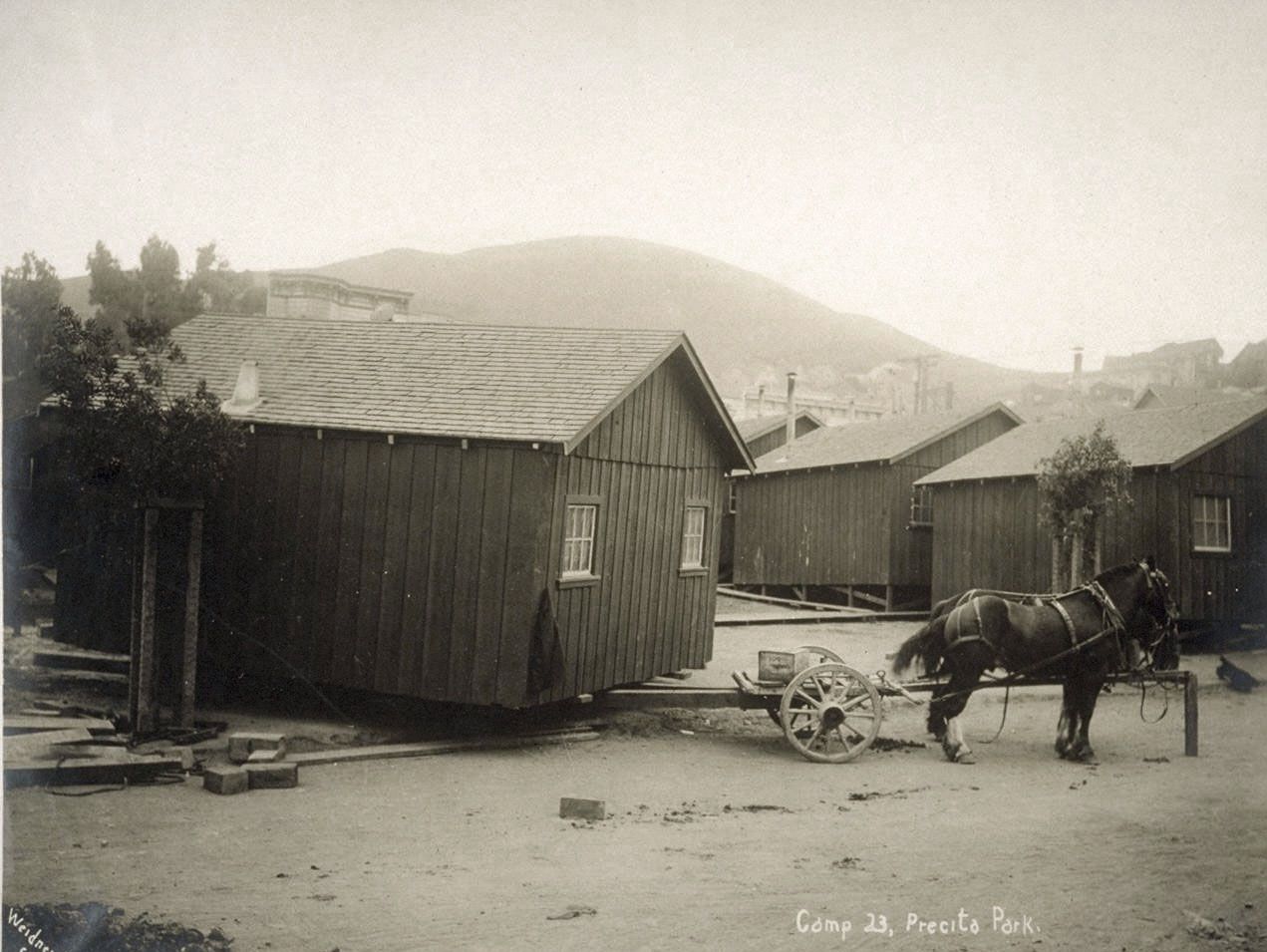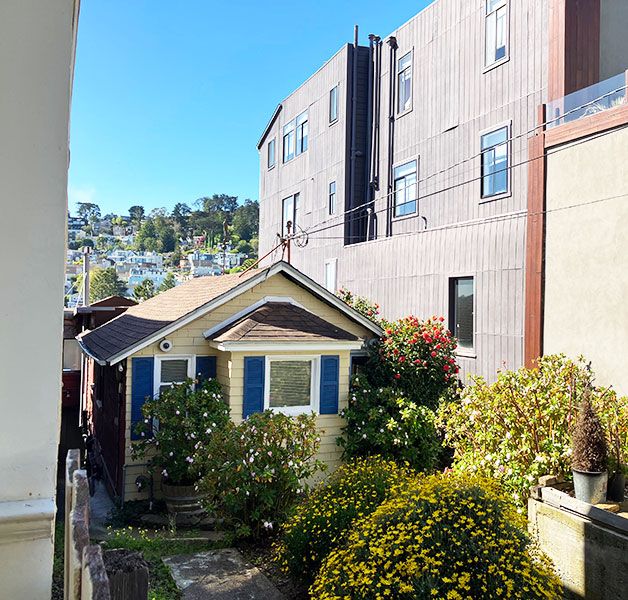 In 1926, twenty years after the earthquake, three former refugee cottages and one stubborn former refugee created a problem for the California Division of Highways, the predecessor agency of today's Caltrans.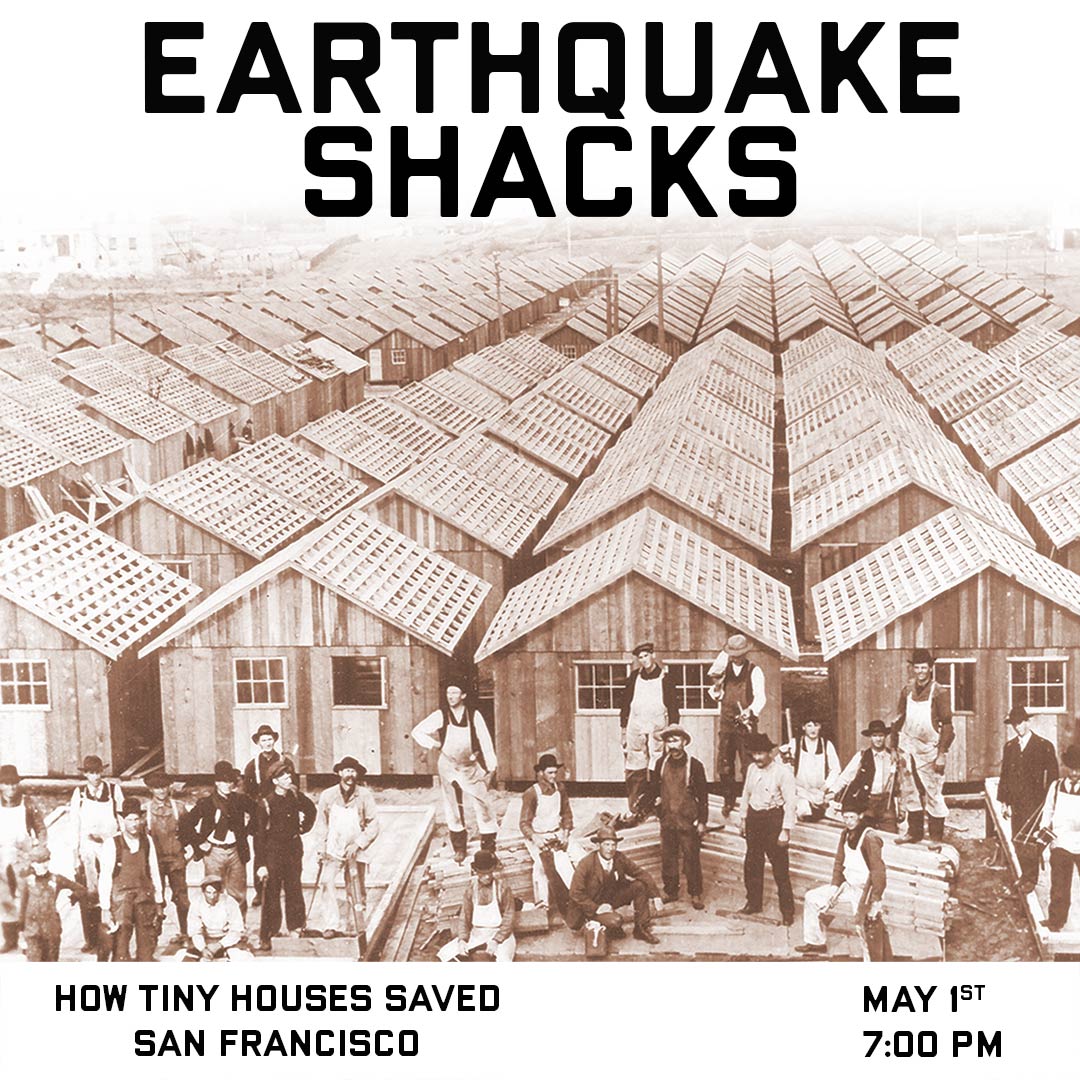 The state was widening El Camino Real at the Daly City/Colma border, a narrowing of the old road known as the "bottleneck." This required cutting into a hill where Mrs. Minerva Hartman's home of three connected earthquake shacks stood. The highway folks wanted her to take a buyout and move.
Hartman, who made her living by telling the fortunes of passing travelers, refused. She defended her property with a Colt revolver and a masterful public relations campaign featuring an implausible but colorful life story.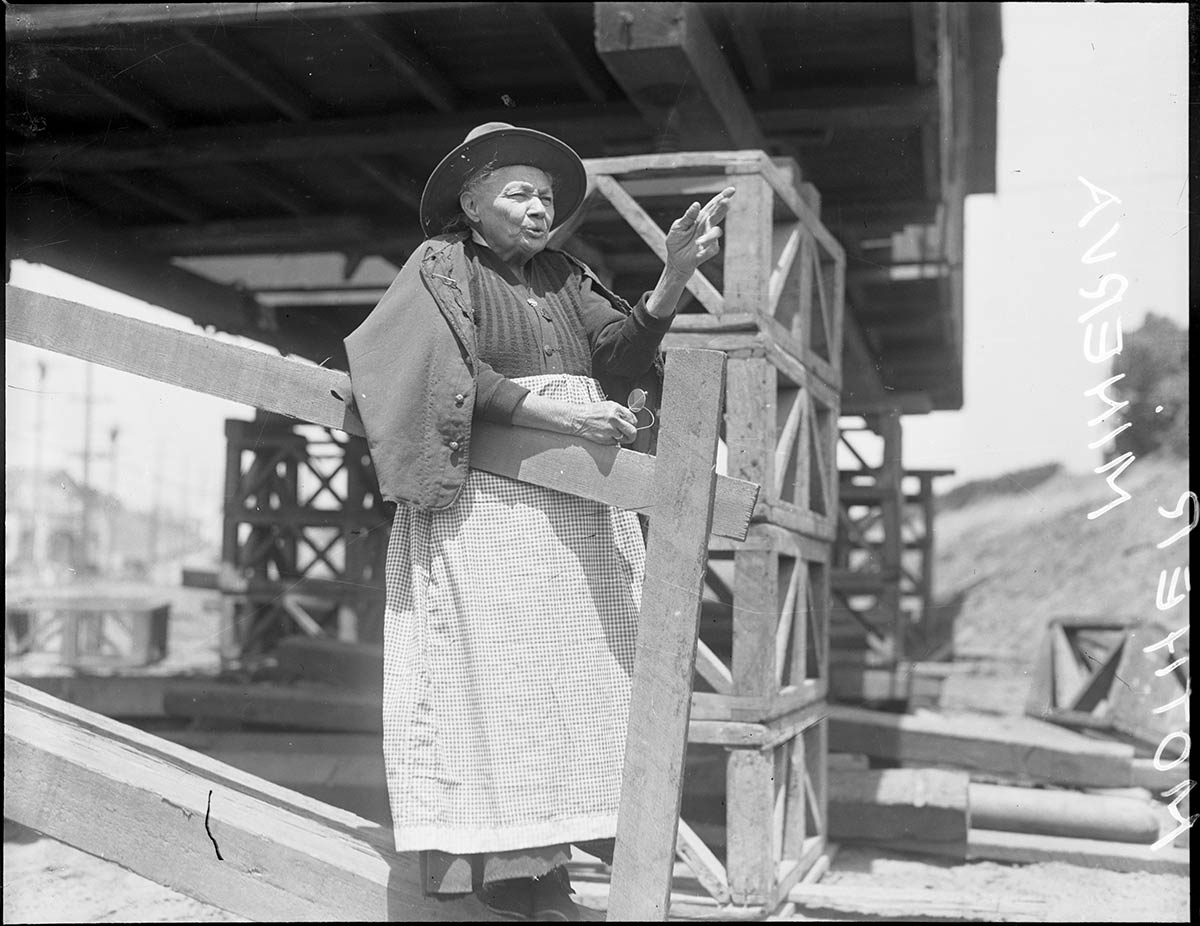 Minerva told reporters she was 94 years old and had lost all her belonging in the 1906 fire after arriving from Philadelphia just three weeks before the quake. She said she was a former nurse who had served in the U.S. Civil War, Spanish-American War, and even the Crimean War (1853-1856), where she befriended the world's most famous nurse, Florence Nightingale. She cast herself as a pension-less veteran because the two neglectful nations she served—Britain and the United States—didn't bother to keep records for nurses.
"Mother Minerva" wore an old Army campaign hat with faded cords of blue, yellow, and red to honor the infantry, cavalry, and artillery of the U.S. Armed Forces. Her oversized coat was strewn with ribbons and medals. Each morning she raised an American flag on a pole outside her door.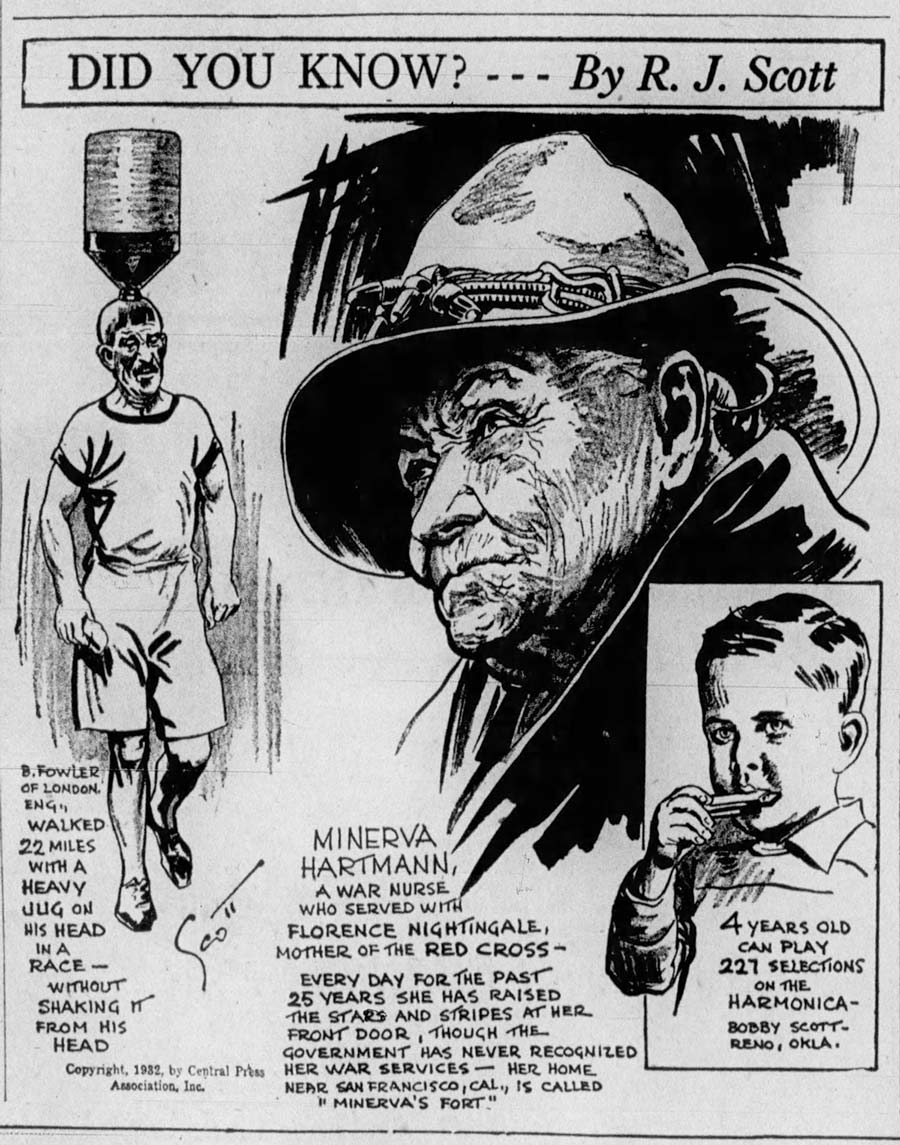 She told tales to schoolchildren and veterans about her experiences at the battle of Shiloh and how her late husband Louis Washington Hartman commanded the USS Cumberland for the North. She remembered sitting on Abraham Lincoln's knee as a girl and had a doll's chair which he whittled for her as a Christmas gift in 1835. She knew presidents Garfield, McKinley, Theodore Roosevelt, Taft, and Harding as children. She served with General Custer and just missed Little Big Horn because a storm detained her from joining him. In 1902, Congress gave a her a trip around the world for her service to the country and anointed her "Mother of the Army and the Navy."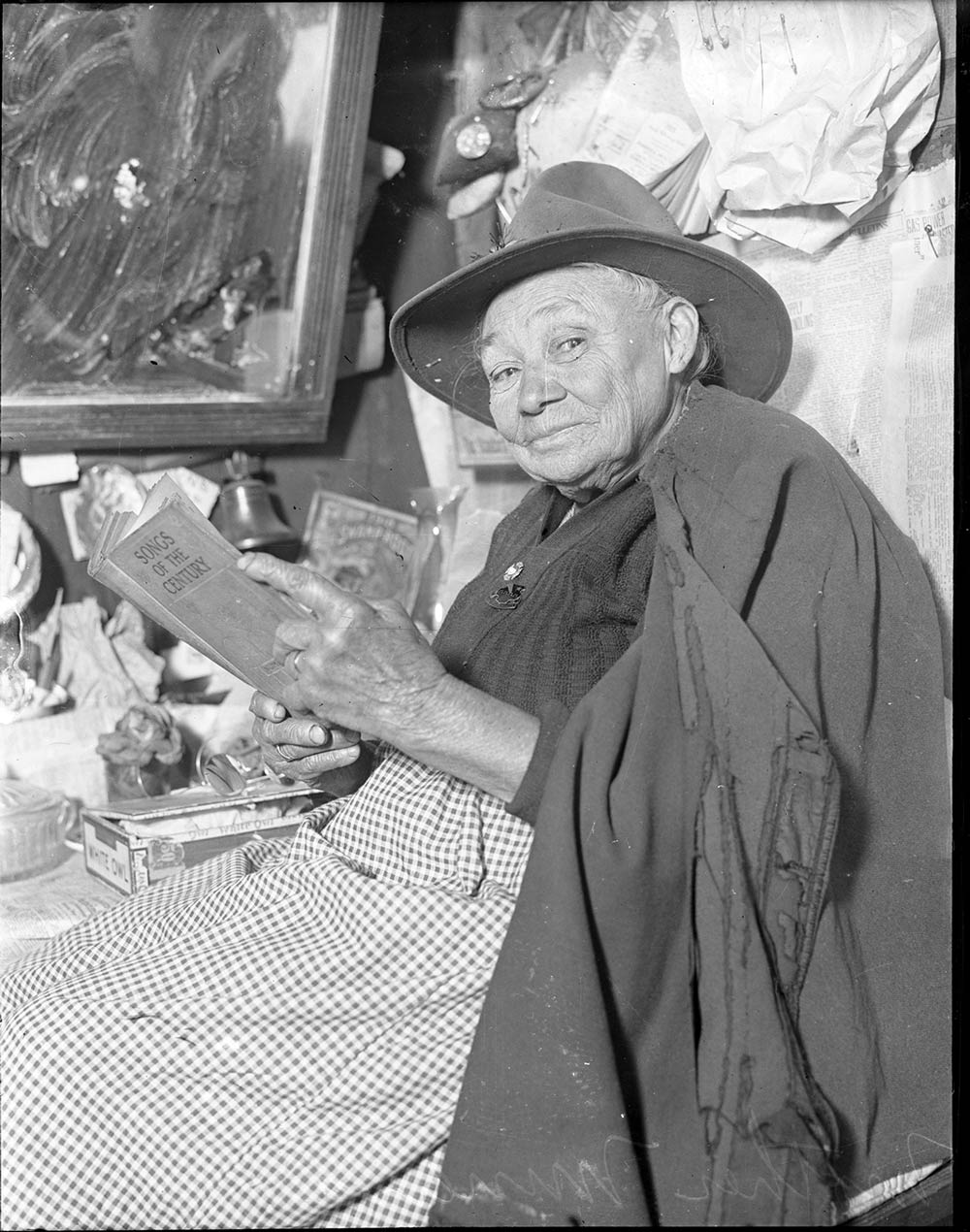 Or so she said... These stories were not fact-checked. They were too good for the newspaper reporters to try to disprove. Here was an old woman fighting for her home, which now had a sign reading "Minerva's Fort."
Minerva Hartman was probably really Minerva J. Hartzman. With that extra "z" in her last name she did seem to have done some private nursing and worked for the war department in the early 1900s as a seamstress. She reported her age as 46 years old in the 1900 U.S. Census, a bit young to have toiled alongside Florence Nightingale in the Crimea. Her maiden name may have been Ballou. She had been married at least twice, divorced at least once, and worked as a dressmaker in Philadelphia before showing up in San Francisco about 1903.
But the stories did the job. A compromise was reached, supposedly thanks to "longtime friend," Governor James Rolph. Hartman's home remained mostly in place, elevated above the excavated hillside on stilts. The arrangement certainly wouldn't comply with any modern building codes. There was a 39-step climb to get to her front door, and the rickety "shacks on stilts" hung three dozen feet above the roadside.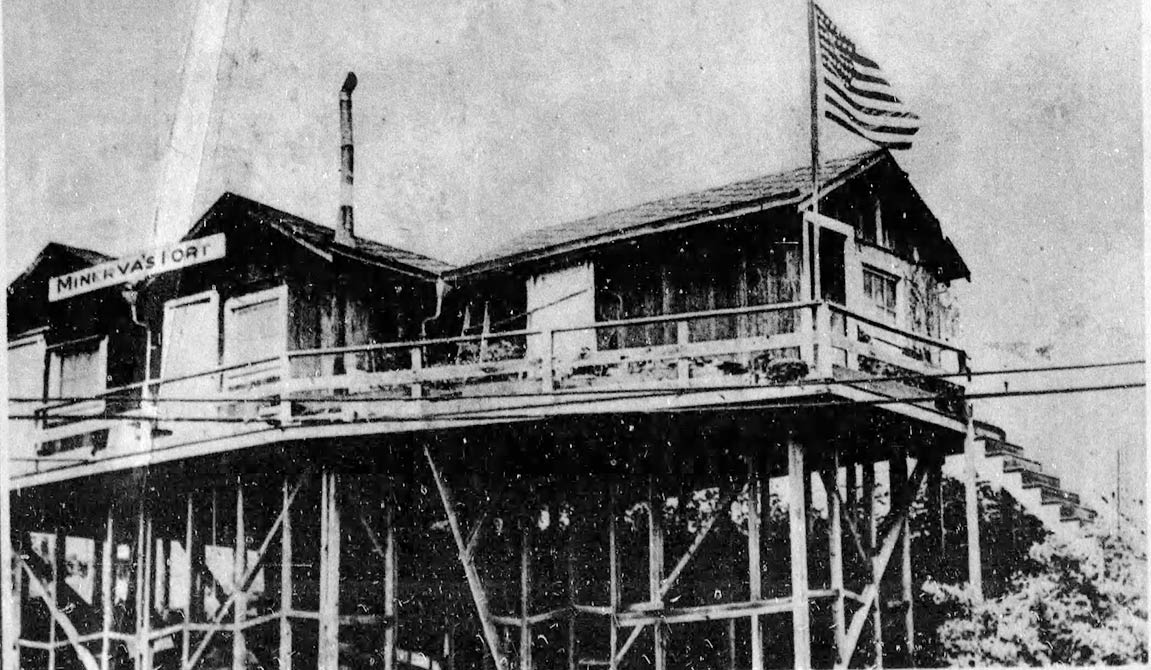 If she lost some of her fortune-telling customers who couldn't make the climb, the indefatigable Mother Minerva at least won her house. She became a folk hero and her elevated domicile a local tourist attraction. Of course, some complained that she had slowed down a nice highway-widening project. The Fort Worth Record-Telegram opined she had a "parasitic growth" on her disposition. The Los Angeles Times would have called her a NIMBY if the word existed then: "[S]he is the last stand of the barbarous in the way of progress."
The story of Minerva's triumph over the State of California, her unbelievable resume, and her—gumption seems the right word?—was retold from Connecticut to Australia. When she (purportedly) turned 99, then 100 years old, wire stories went out across the country.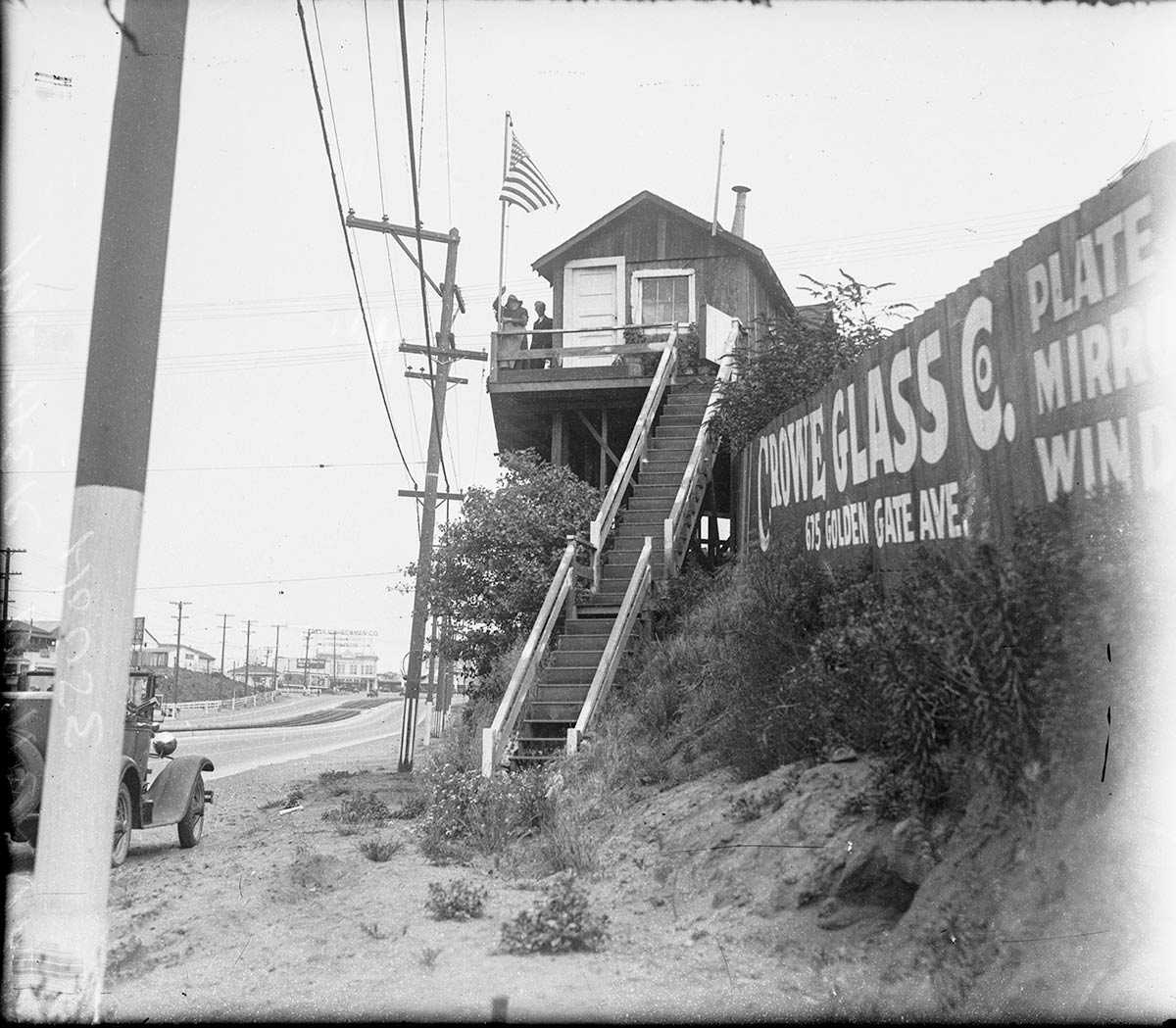 After a celebrated decade giving talks to women's clubs and school groups, being the guest of honor at mother's day breakfasts and veterans' reunions, Hartman died in her fort on March 25, 1937. An oil lamp tipped over, setting her house on fire, and she suffocated before the flames could be extinguished. Minerva was eulogized around the world with the life story she made up for herself: the oldest surviving war nurse, 104 years old, friend of many presidents, and the "Mother of the Army and Navy."
Plans to bury her in the Presidio's National Cemetery were balked when Washington said it could find no sign of her war record, so Mother Minerva was interred at Olivet Memorial Park, just a stone's throw away from her longtime home. A group of Spanish-American war veterans presided over her services.
San Mateo County, unable to identify any heirs, sold the parcel which once held Minerva's Fort at public auction for $200 in 1938.
---
Woody Beer and Coffee Fund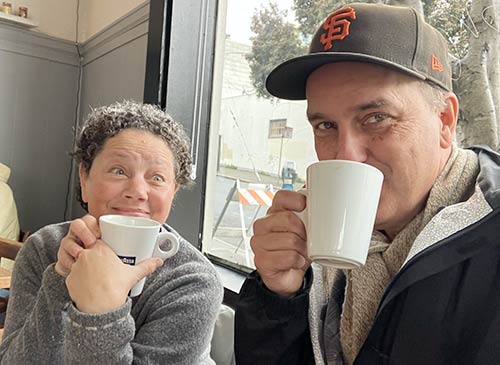 Great thanks to Mike P. for his generous contribution to the Woody Beer and Coffee Fund. His indulgence secures him a space with the San Francisco history angels. (Don't be late to choir practice, Mike.)
If you'd like to make sure I keep buying refreshments for the deserving and beautiful of this wonderful city, chip in a couple of bucks and let me know when you're free for a drink.
---
Sources
Thanks to the late Rich Higgins at Caltrans, researcher Russell Brabec, and our friends at the History Guild of Daly City/Colma for sharing Minerva history with me.
"Minerva's Fort," Los Angeles Times, August 21, 1928, Part II, pg. 4.
"You Can't Make Me!" Fort Worth Record-Telegram, October 18, 1928, pg. 6.
"'Mother of Army and Navy' Keeps Flag Floating High for 'Quarter of Century," The Angola Record (New York), July 9, 1931, pg. 6.
"Forgotten War Nurse," Omaha Bee-News, July 13, 1931, pg. 13.
"Mother Minerva One of World Celebrities," San Mateo Times and Daily News Leader,  October 7, 1936, pg. 34.
"'Minerva' Dies in Colma Fire," San Francisco Call-Bulletin, March 26, 1937.
"Mother Minerva, 104, Dies in Flaming Home," San Francisco Chronicle, March 26, 1937.
"Veterans to Bury Mother Minerva, 104," San Francisco News, March 26, 1937.
Ernest Rapley, "Minerva Mourned: Was Part of 'March to Sea," San Mateo Times and Daily News Leader, March 26, 1937, pg. 2.