The Orphaned Pillar
San Francisco's Pacific Heights has a 7-foot remnant from a moved house that escaped the 1906 earthquake and fire.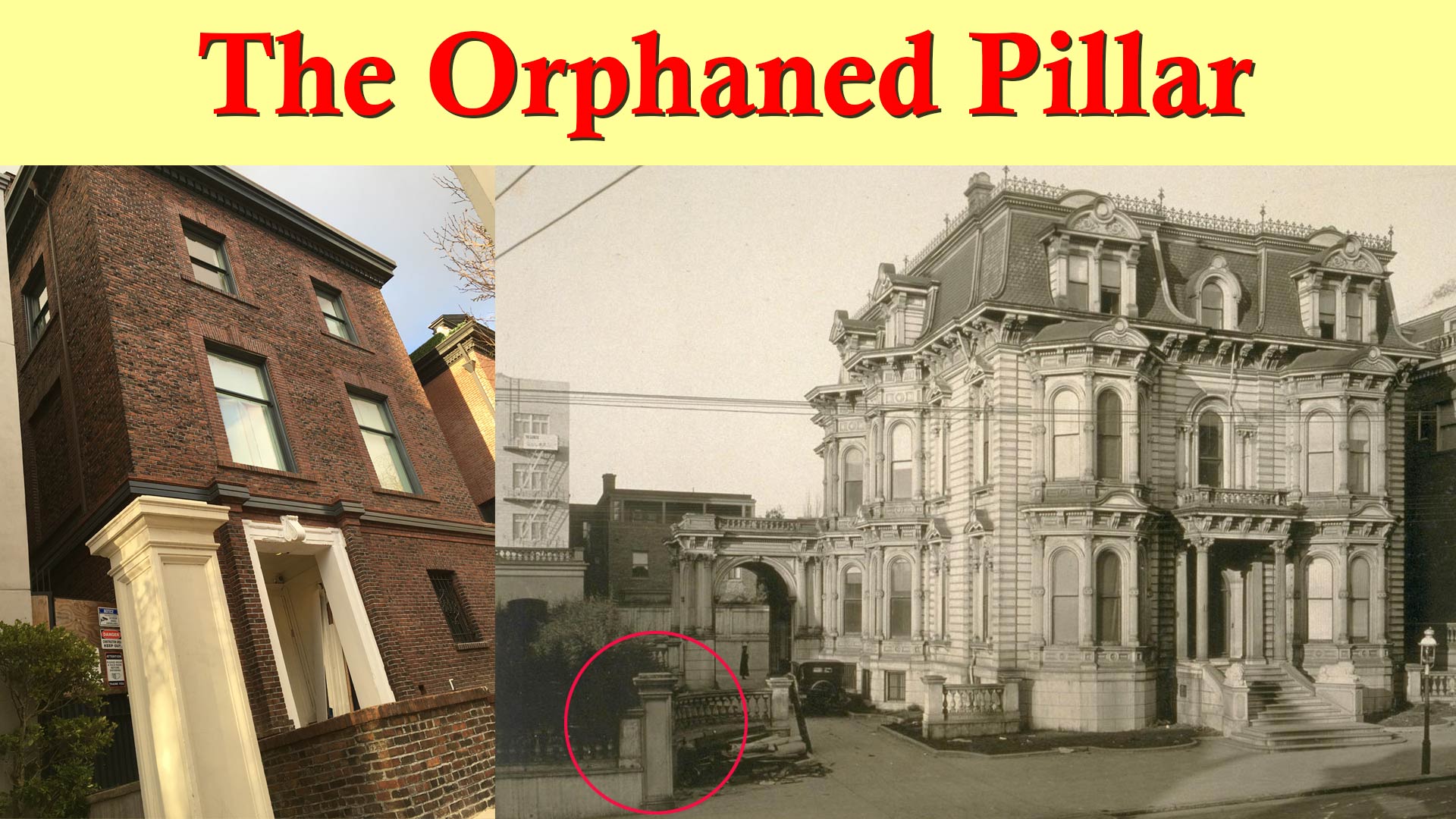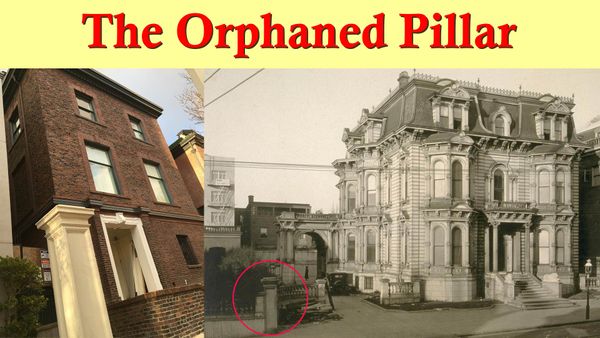 by Woody LaBounty
In October 1902, Congregation Emanu-El secured an option to purchase the southwest corner lot at Van Ness Avenue and Sutter Street from the Newhall family for $120,000 with an intention to build a new temple on the 120-foot-by 170-foot parcel.* It seemed like a good location for the prosperous congregation. At the time, Van Ness Avenue was the city's broad boulevard of stately homes and large houses of worship.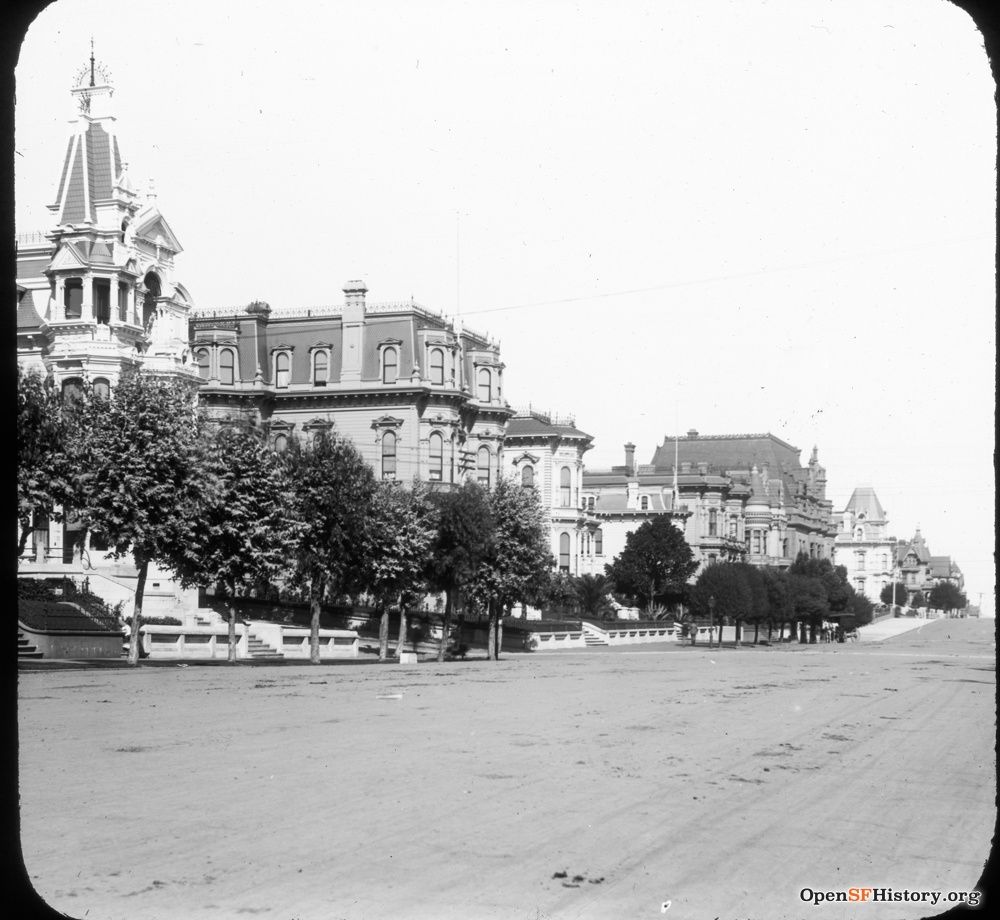 But the Newhall mansion that occupied the corner had to be dealt with before any work could commence on a new temple. Commission merchant Henry Mayo Newhall and his wife Margaret had their elegant home constructed around 1874 in the very popular Second Empire style, with a mansard roof and stacked bays on three sides. There were over 50 windows. While deemed "old," the residence was still worth around $100,000. George Newhall, one of Henry and Margaret's five sons, decided to have it for his own residence. After having the building cut in two for transport, he moved it to a new lot 15 blocks away on Pacific Avenue near Webster Street .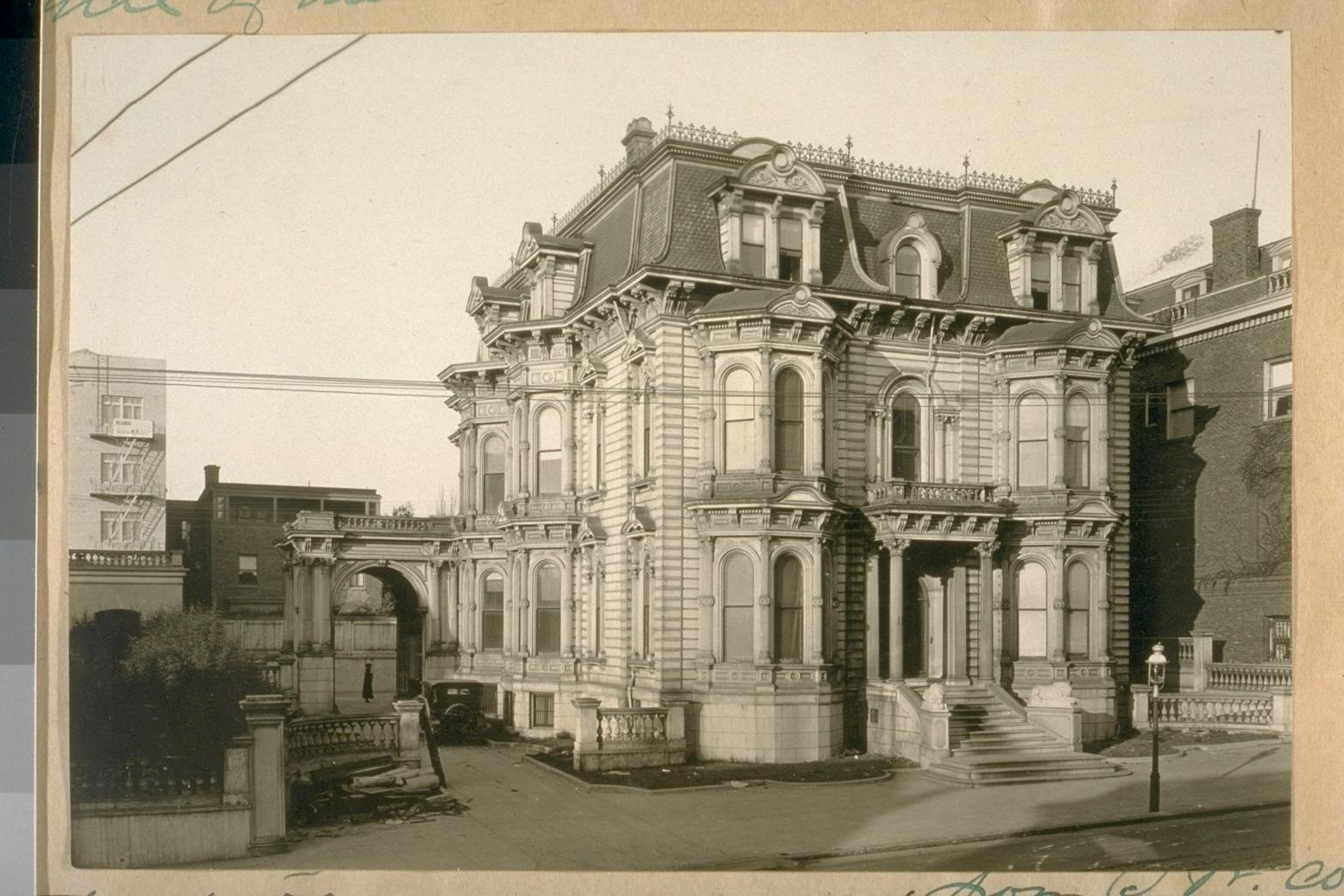 While being renovated and expensively refurbished in September 1904, the house's top floor and roof were accidentally set ablaze by workmen burning off old paint. Extinguished quickly, the fire caused a few thousand dollars in damage. Then after Newhall, his wife, and eleven servants moved in, a faulty chimney flue started another fire on January 13, 1906. George Newhall must have thought the move cursed the old family home. Was the building determined to burn down?
Evidently not. Three months later, the fires following the April 18, 1906 earthquake approached Van Ness Avenue. Mansions from Sutter Street north to Clay Street were dynamited by the military to create a firebreak. Having an empty lot where the Newhall house had once stood may have saved the houses of former neighbors farther south—including George's brother—from being destroyed. After the fires, the relocated house on Pacific Avenue served double-duty as George's residence and the offices of the San Francisco National Bank, of which Newhall was a director and major shareholder.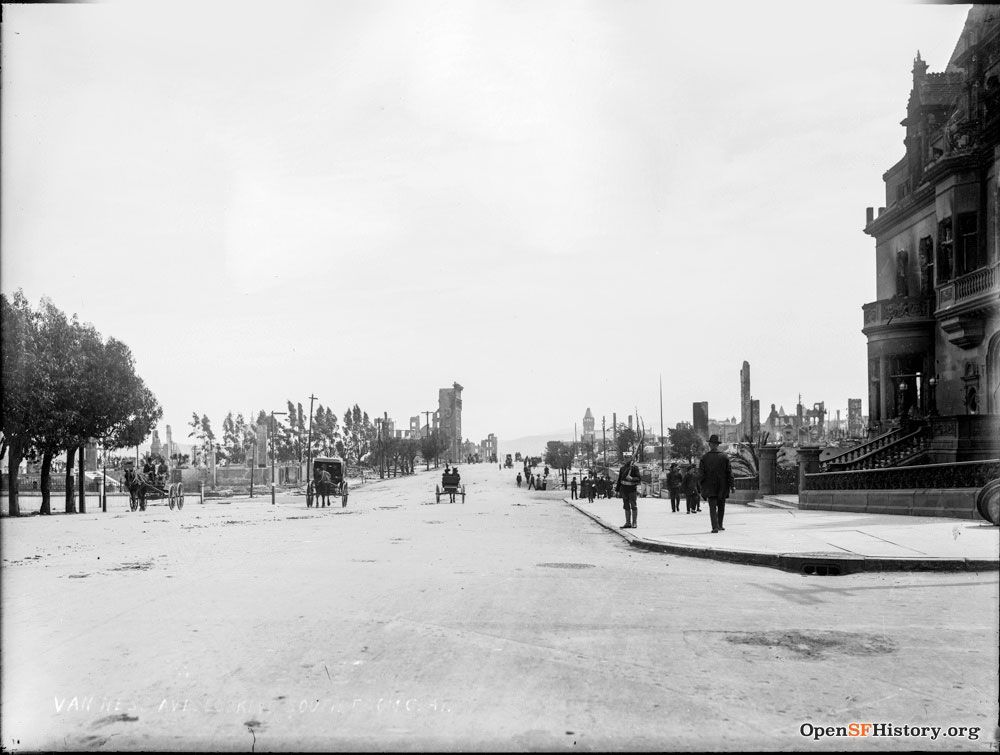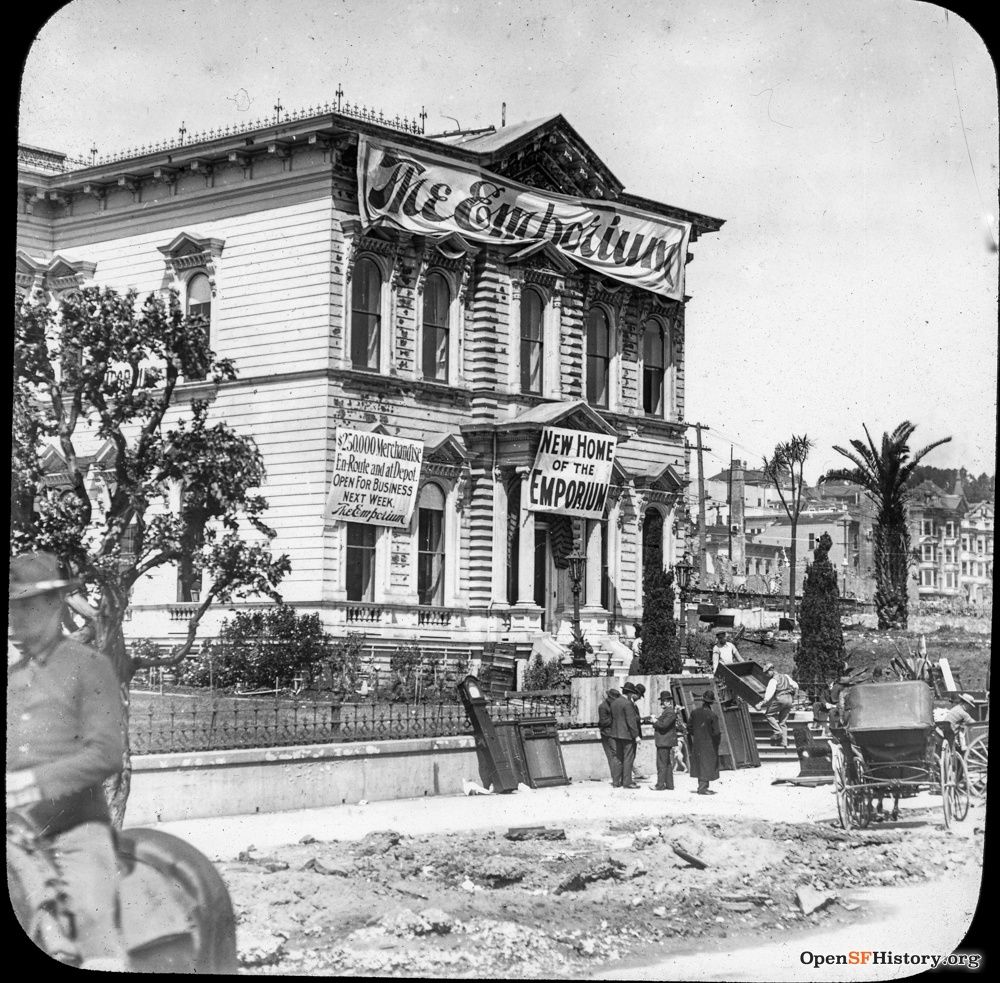 One of my more harmless hobbies is tooling around on Google Street View (or, more pleasurably, on foot) to compare views in historical photographs to present conditions. The Newhall mansion on Pacific Avenue is long gone, replaced by a very nice 1932 Art Deco apartment building and a smaller in-fill residence from the late 1990s, occupying what was a driveway. But I was surprised and delighted to find a remnant of the old Newhall mansion still onsite.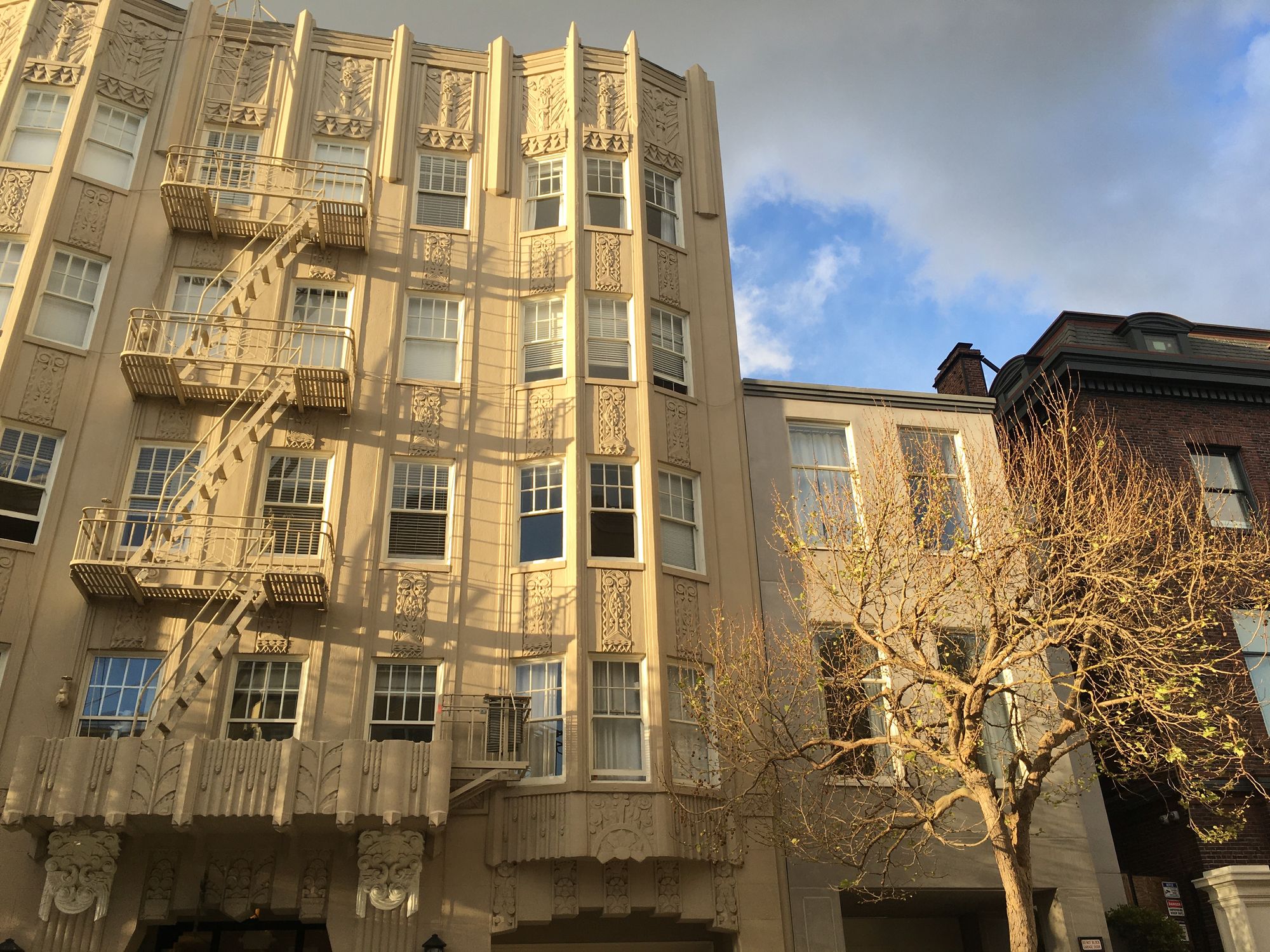 In the 1924 photograph, a low wall separates the property's side yard from the sidewalk and curves back to an entry drive. A tall column is the pivot point for the semi-circular recession from the street. Although only a section of the property's east side can be seen in the photo, a similar matching wall is evident there, framing another driveway. One can assume a twin of the tall pillar existed just off the edge of the image.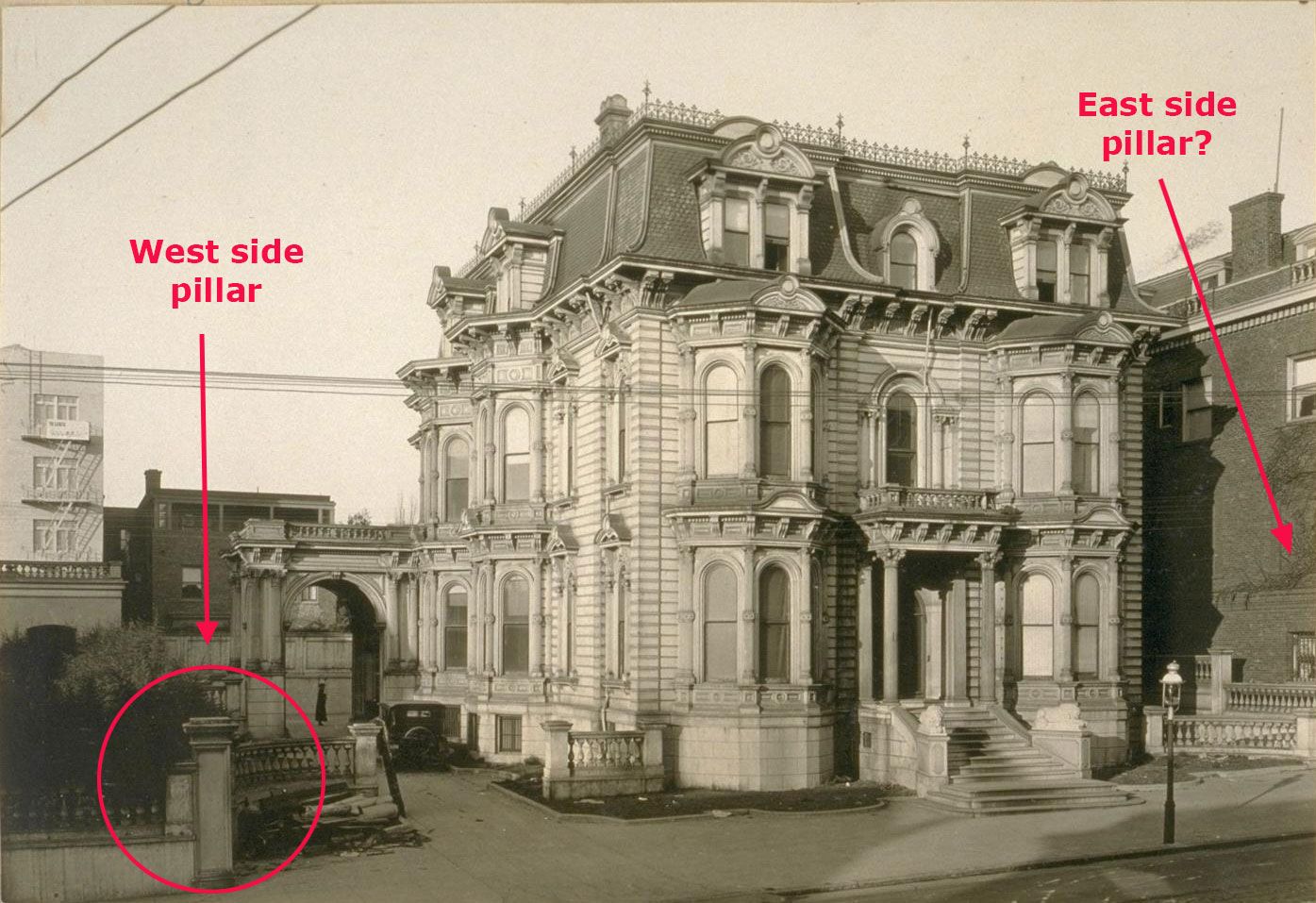 Indeed, a 7-foot-tall east pillar stands there today even though the wall, the western "twin" column, and the grand home they all demarcated are gone.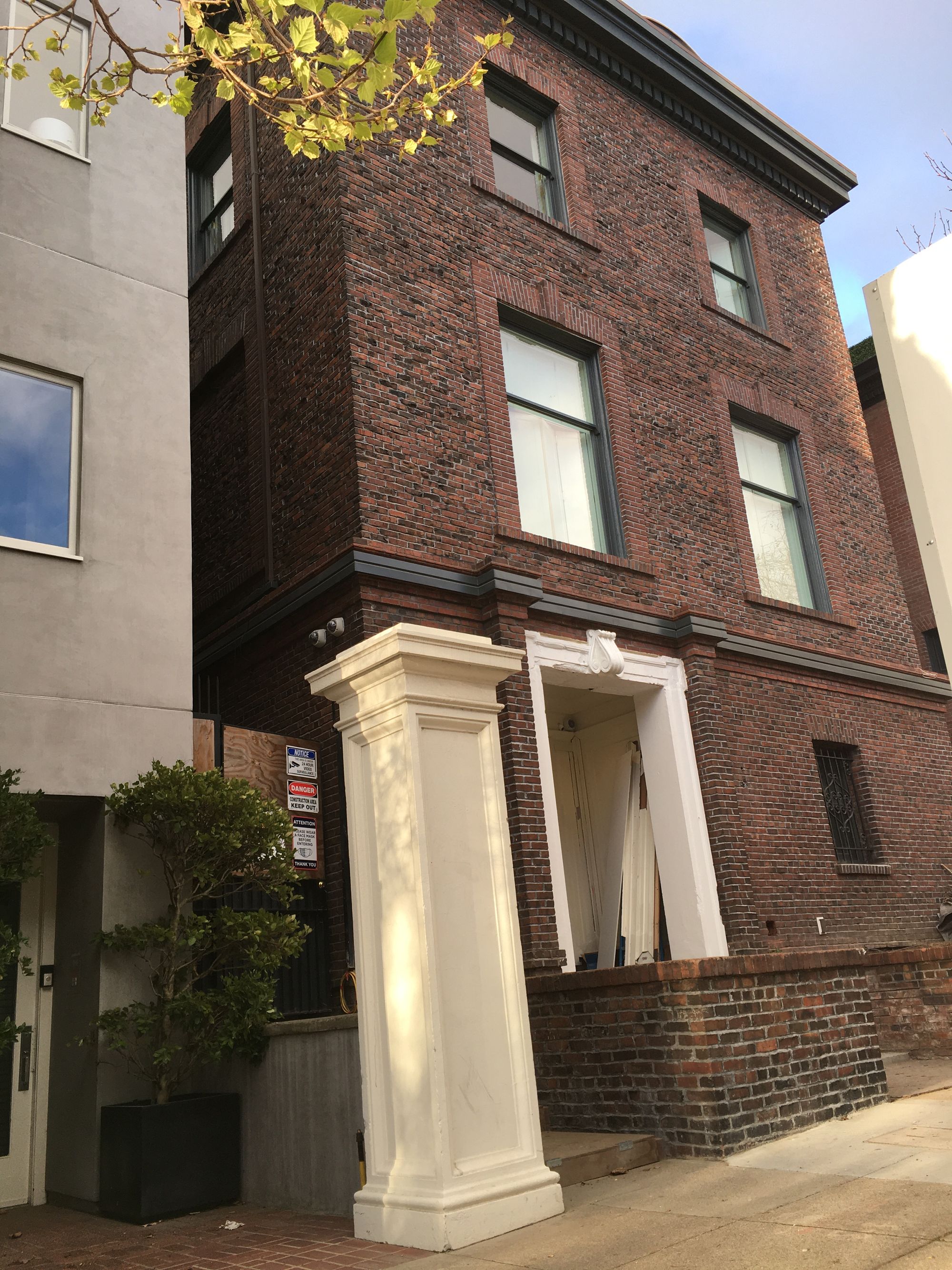 Now the only job of the orphaned pillar is to awkwardly mark the corner of the driveway-filling property—and serve as a point of interest for nosy historians and neighborhood dogs on their daily walks.
---
* The destruction and economic disarray caused by the 1906 earthquake and fire caused Congregation Emanu-El to change its plans. The new temple wasn't constructed until the 1920s and then farther west at Arguello Boulevard and Lake Street.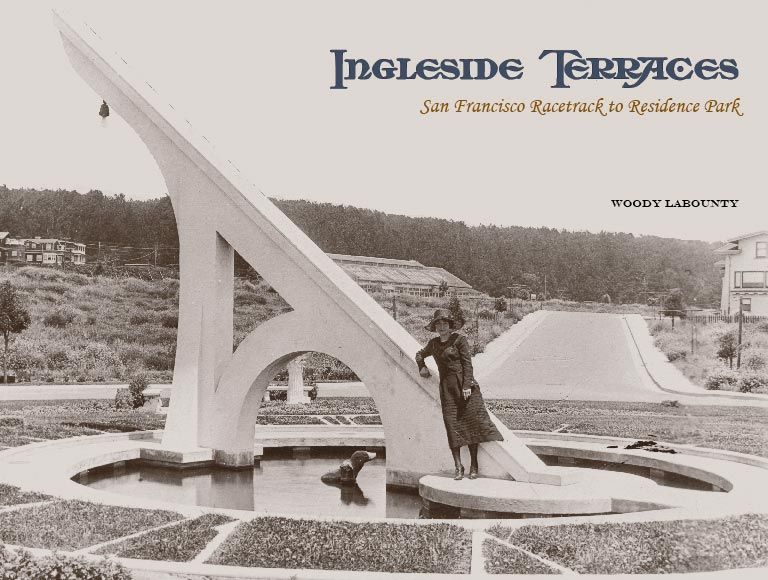 Ingleside Terraces: San Francisco Racetrack to Residence Park (Digital Version)
Available in EPUB and PDF format for $9.99
Get Ingleside Terraces!
Sources
"New Building for Emanu-El," San Francisco Chronicle, October 27, 1902, pg. 16.
"Almshouse Chapel Plans are Submitted," San Francisco Call, September 24, 1903, pg. 6.
"Newhall Residence Damaged by Fire," San Francisco Chronicle, September 15, 1904, pg. 7.
"Defective Flue Causes Fire in Newhall House," San Francisco Call, January 14, 1906, pg. 25.