Riding the Windmill
In the early 1920s, riding one of the blades of Golden Gate Park's Dutch windmill was kind of a thing.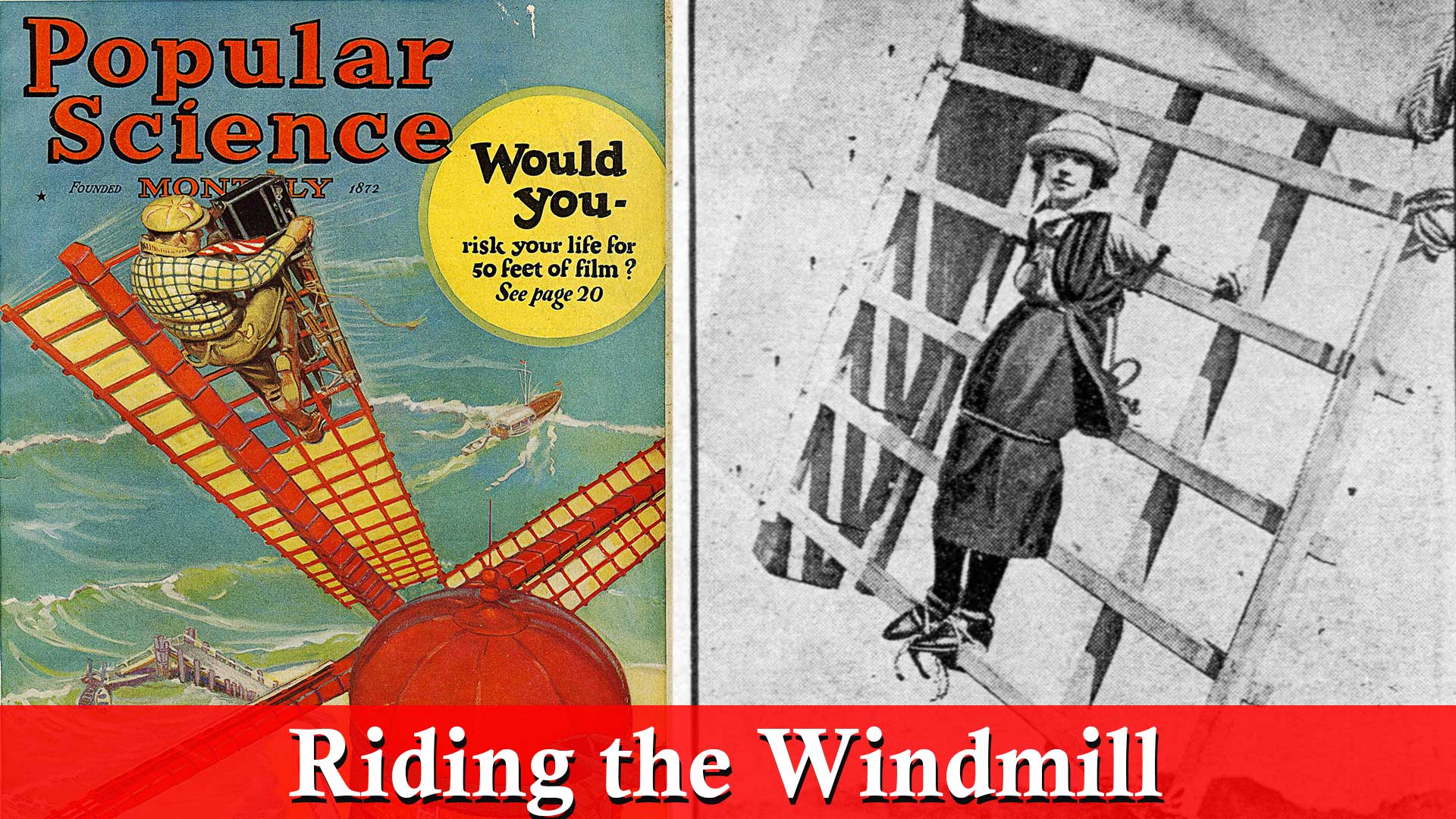 I have a friend who climbed a cable of the Golden Gate Bridge from mid-span to tower top. This was a late-night stunt, decades ago, before the heightened state of security and, yes, alcohol was involved. Another friend, also under the influence of beer and bluster, scaled the Mount Davidson cross. There are similar stories I could tell from my dissipated early-1980s youth in San Francisco. (Director, my suggested soundtrack for the memory montage is The Psychedelic Furs' Love My Way.)
The old newsreel footage below from the 1920s shows we west-side wanderers neglected a much closer target for our life-endangering climbing trespasses: the Dutch Windmill in Golden Gate Park.
I assume the "annual cleaning" of the 50-foot-long blades was a joke, concocted by cameraman Jim Seebach as a stunt to sell to International News (and later be featured in a 1926 issue of Popular Science magazine). But prancing around with a hanky 100 feet off the ground is no joke.
Golden Gate Park has two windmills facing Ocean Beach, the "Dutch" on the north side of John F. Kennedy Drive, and the "Murphy" alongside Martin Luther King, Jr. Drive. They were erected in the early 20th century not as picturesque curiosities, but for the practical purpose of drawing up groundwater for park irrigation.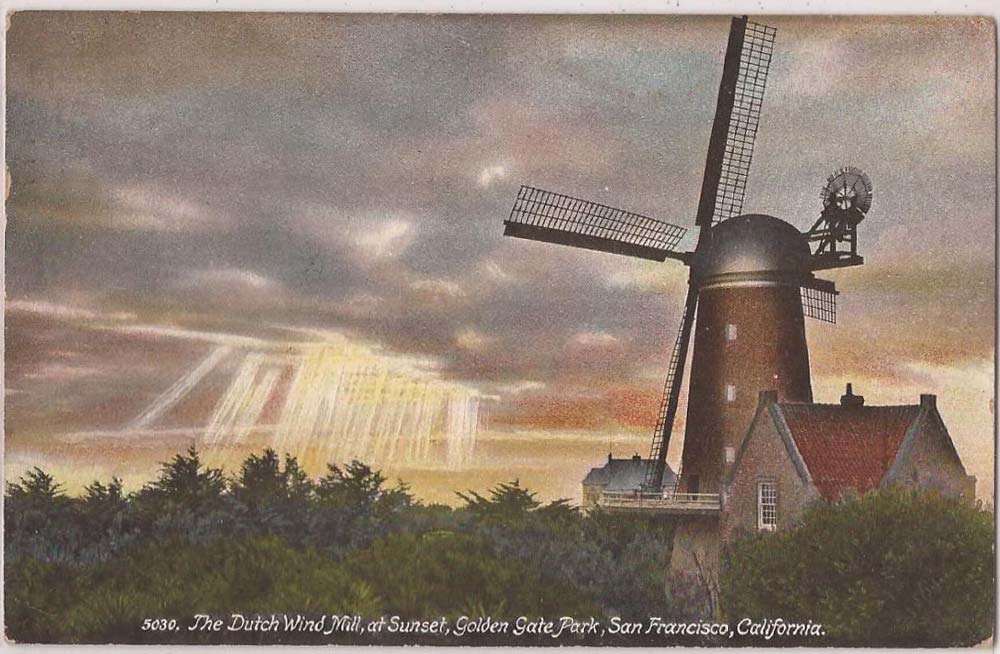 Initially, the city employed a windmill keeper to maintain each apparatus. It was a dangerous job with duties that included furling and unfurling the sails of the windmill wings, often in high winds or stormy weather. On April 5, 1906, keeper John L. Hansen fell 50 feet from the upper platform of the Dutch Windmill while trying to secure the great blades for the night. Hansen died shortly after being discovered with crushed ribs, a broken leg, and a fractured skull.
While postcard-worthy pastoral attractions, the windmills are mostly mentioned in early newspaper articles connected to deaths. Keeper Heliodor Hammerstrom told a reporter in 1920 that in his 14-year tenure he had discovered no less than 25 suicides in the underbrush around the Dutch Windmill.
None of this grisly history stopped Miss Velma Tilden from agreeing to an unusual stunt 101 years ago at the Dutch Windmill. (Nope! See correction below.) A resident of 528 25th Avenue, Tilden was known as "a taker of dares for many a thrilling stunt on sea or land." These included raising enough Himalayan rabbits to make her own mock-ermine coat and hat ensemble (success) and piloting a patented "water walker"—a rickety pallet lashed to pontoons—across San Francisco Bay (thwarted by adverse tides).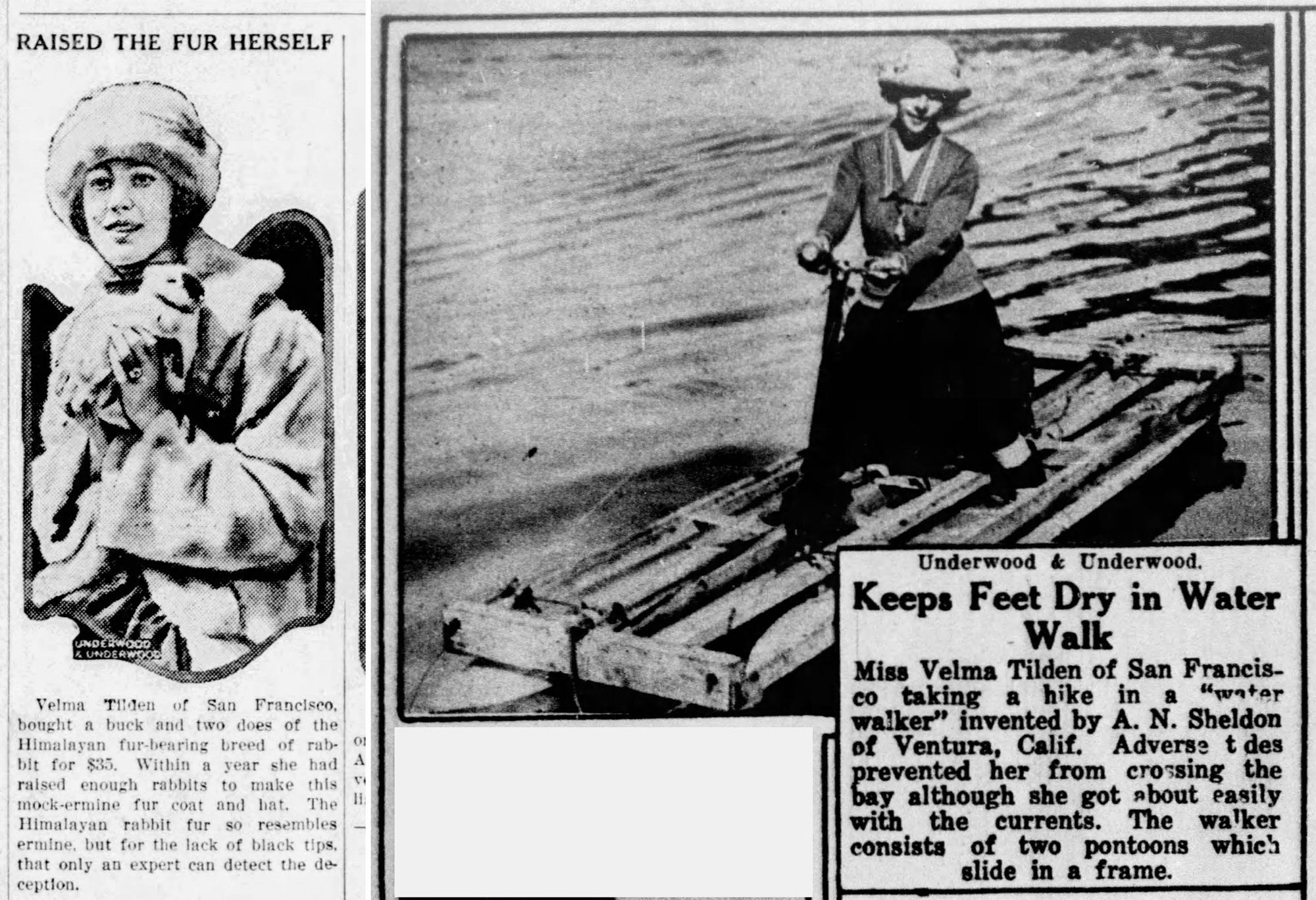 In November 1921, as part of an American Legion publicity campaign for veterans out of work, Tilden agreed to be strapped to a windmill wing for a ride. Her purported reward for the challenge was a box of candy for every rotation endured. The young lady managed 25 revolutions, 116-feet off the ground at the peak of each turn, all while wearing a stylish hat and stole.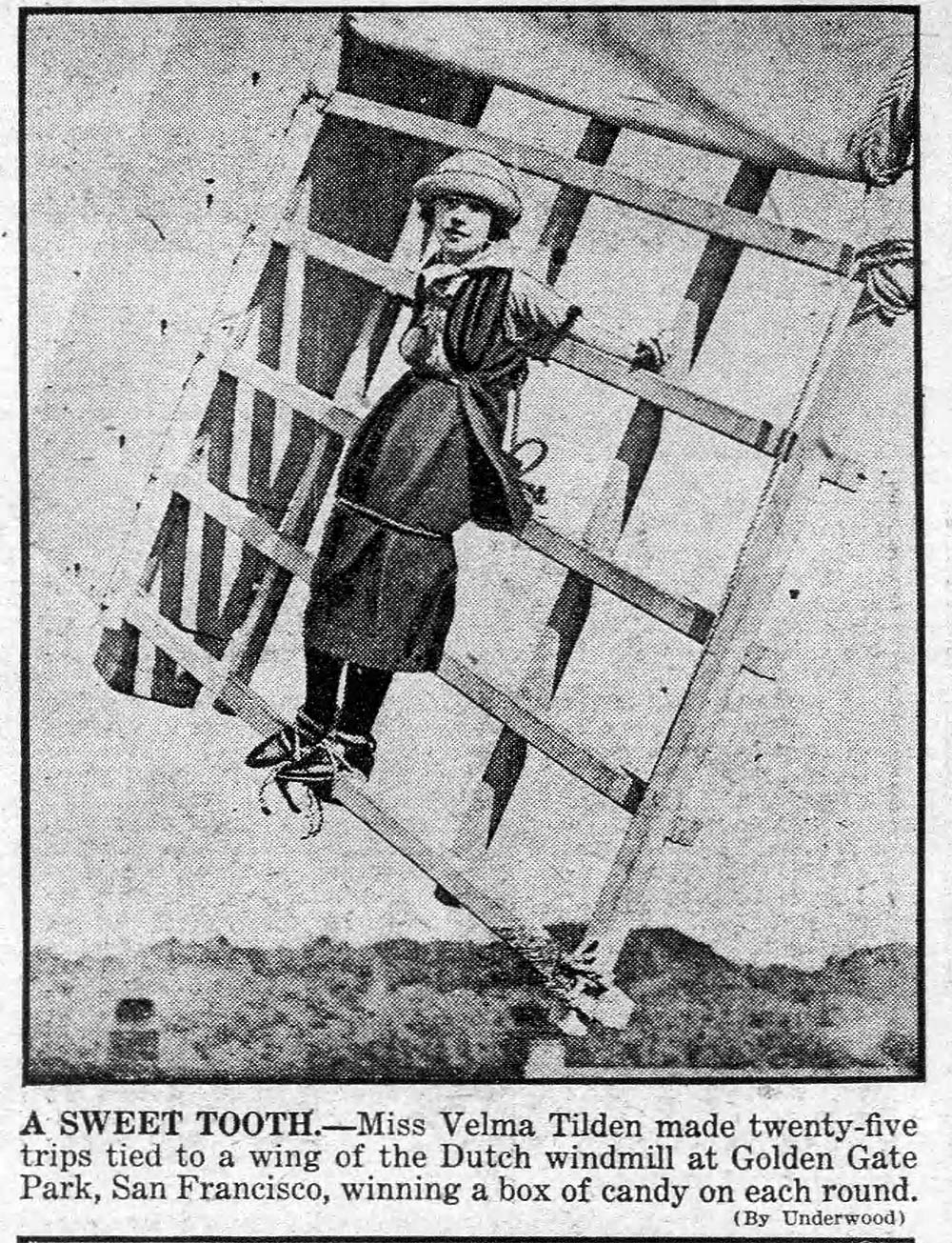 The feat was reported as far as Carbondale, Illinois and Rochester, New York—in some places misreported as the result of a bet she had with friend Mrs. Robert Marsky, thereby completely obscuring any connection to the American Legion.
Whether in the end any unemployed servicemen were assisted, or Velma got her candy, is unknown.
A happy Thanksgiving to all in the United States. I'll see you next week!
Correction and Update!
The good folks at Western Neighborhoods Project produced the image below, which shows that Velma actually rode the Murphy Windmill at the south edge of Golden Gate Park, not the Dutch (North), as the newspapers reported.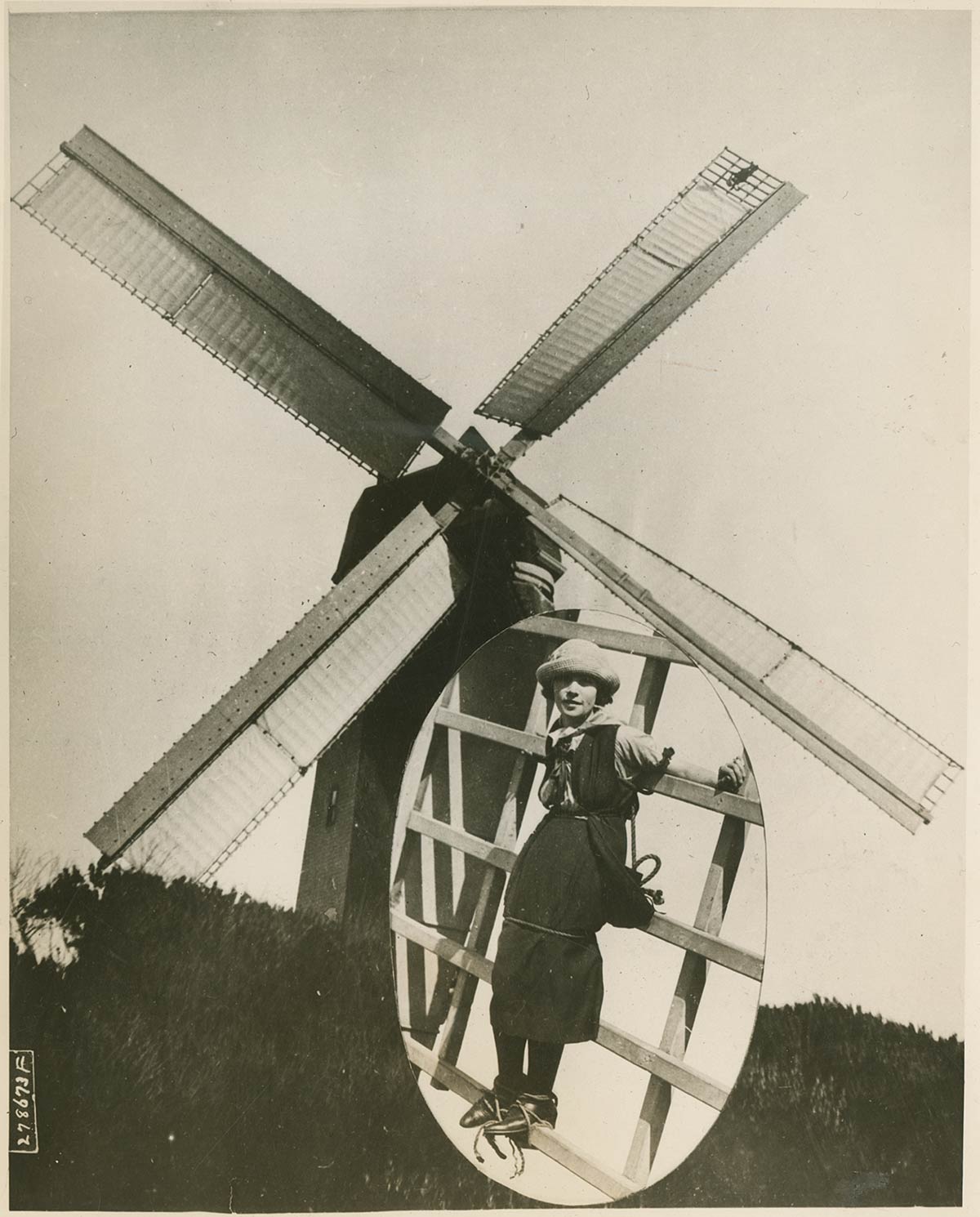 Sources
Robert E. Martin, "Taking Chances is the Movie News Man's Job," Popular Science, April 1926, pg. 20.
"Keeper Meets a Shocking Death," San Francisco Chronicle, April 6, 1906, pg. 7.
Eddie Boyden, "Bossing a Dutch Windmill Heliodor Hammerstrom's Job," San Francisco Chronicle, September 11, 1920, pg. 13.
"Raised the Fur Herself," The Leader Tribune (Laverne, Oklahoma), July 8, 1921, pg. 5.
"Keeps Feet Dry in Water Walk," Minneapolis Star Tribune, October 23, 1921, pg. 80.
"San Francisco Girl Takes 25 Aerial Trips on Dutch Windmill to Win Wild Wager," San Francisco Chronicle, November 22, 1921, pg. 1.