The Girl from Wyoming
Crossing the continent to San Francisco with $2, a horse, and a dog.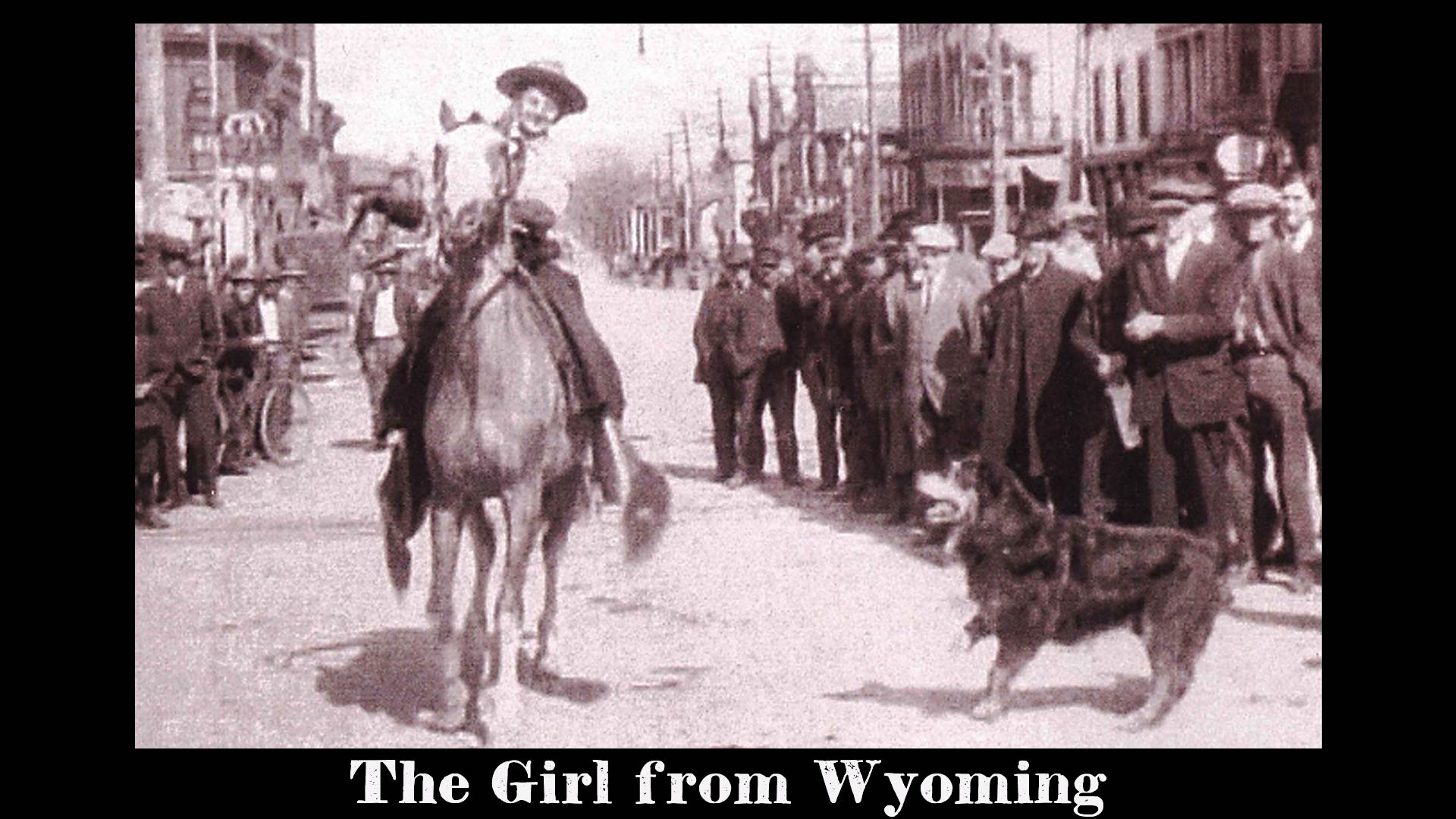 I have a weakness for wanderers. The idea of taking off for the horizon on foot, with open eyes and little else, excites my homebody personality. I enjoy stories of travelers walking to seek enlightenment and while I don't want to glamorize poverty, I do want to learn hobo slang. Who wouldn't enjoy dinner with notable pedestrians Edward Payson Weston or the Peace Pilgrim? Imagine the stories…
Most long-distance travelers that make the news are not truly wandering. A typical feel-good story in the United States highlights a walker (or bike rider) trekking across the country for cancer research, disaster relief, or some other campaign of charity. Some mosey for the sake of the moseying, like Art Garfunkel. There are even online guides now on how to do it.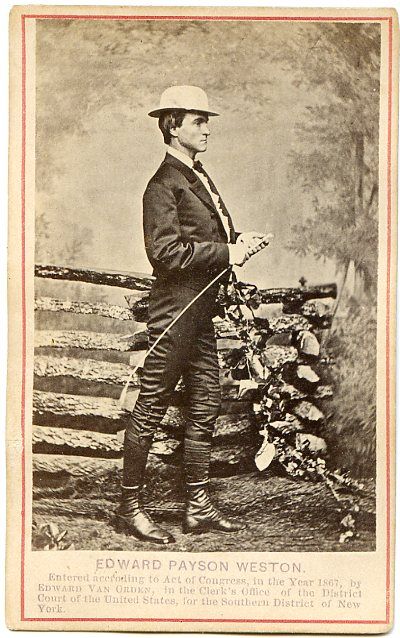 Whatever the motivation, San Francisco is a common starting or ending point for the transcontinental trek.
Today, the iconic Golden Gate Bridge makes for a nice finish line photo, but before the bridge's construction in the 1930s many long-distance wanderers chose the symbolism of dipping their toes in the waves of the Pacific at Ocean Beach.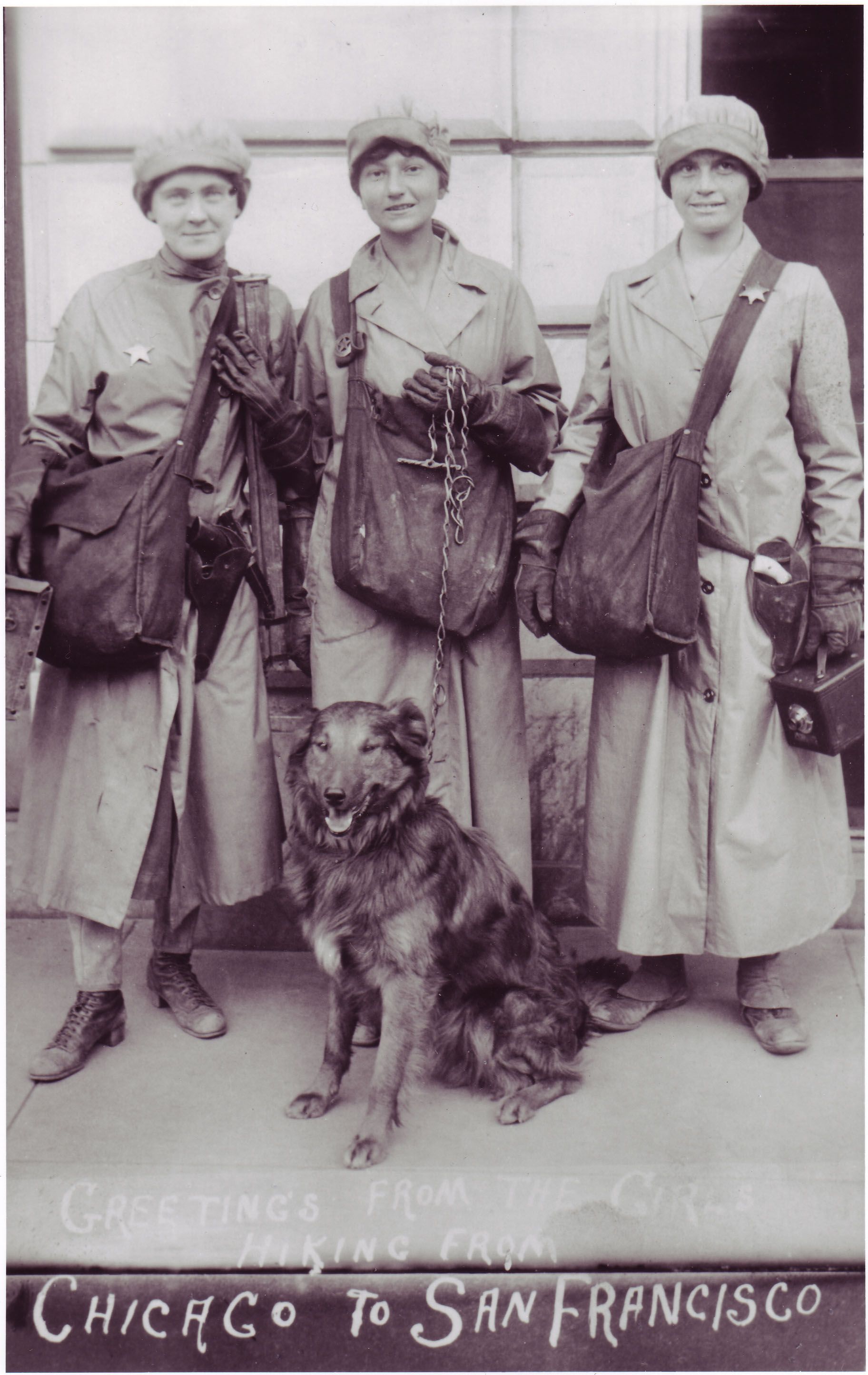 The city's Panama-Pacific International Exposition of 1915 really brought out the ramblers, many of whom sold souvenir postcards to finance their way. Some journeyed alone, others with fellow travelers, and a number with animal companions.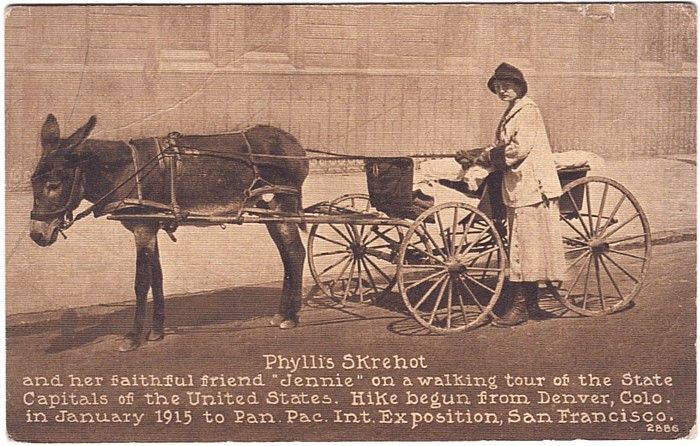 This craze was partly inspired by one of my favorites voyagers, Miss Alberta Claire, generally known as the "Girl from Wyoming." From 1910 to 1912, Alberta took a well-publicized 10,000-mile ramble around the United States on her pony "Bud" accompanied by a half-wolf, half-Newfoundland dog named "Mickie." (Some newspapers claimed Mickie was half-coyote.)
Miss Claire was in her early 20s, just less than five feet tall, and outweighed by her dog in some accounts. She dressed the part of a cowgirl with a wide sombrero, rattlesnake-skin belt, and a six-shooter pistol on her hip.
Newspapers gave varied reasons for her transcontinental sojourn. Most mentioned a bet between two Wyoming ranchers on whether the woman could ride from ocean to ocean on the same horse. Another story claimed the state of Wyoming, in search of publicity, had a standing challenge for a rider to visit all the states. Both tales cited a reward of $1,000 and a cattle ranch awaiting Alberta Claire if she could complete her ride.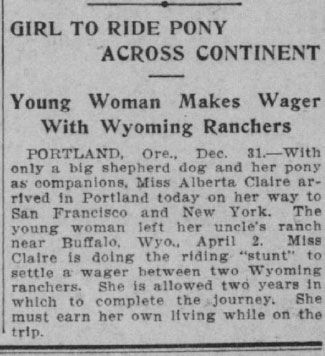 In April 1910, Claire headed west from Sheridan, Wyoming, with $2 in her pocket. A condition of the purported wager required her to support herself on the ride without borrowing or begging. Employment undertaken by Miss Claire on her trip included sewing, domestic service, acting as a nursemaid, and occupations considered less feminine for the time, such as driving cattle and giving exhibitions of expert target shooting.
Through Montana and Idaho and over the Rocky Mountains she camped out, bunked at lumber camps, and told her story in small-town theaters and vaudeville houses. Described as "a little bunch of grit and determination," Alberta Claire was national news by the time she reached Portland, Oregon, in February 1911.
She made it to San Francisco in late March 1911. The Hudson motor company lent Claire one of their roadsters to tool around Golden Gate Park and along the Great Highway, receiving a nice promotional quote in return: "While I would never give up my horse, I must admit that I occasionally desert him for the allurement of an auto spin."
During another publicity event, Bud the pony and Mickie the dog had a freight-elevator scuffle on their way to the fourth floor of a downtown department store. But after fording rivers and surviving snowstorms together, the animals were able to put the disagreement behind them. Before leaving San Francisco, Alberta, Bud, and Mickie posed for a photo postcard on Ocean Beach with the Cliff House behind them.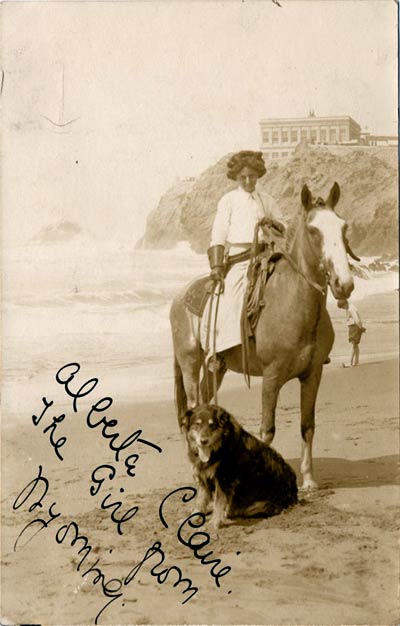 After losing and finding Mickie in Death Valley, having her pistol confiscated in an Arizona hotel, and worrying the entire nation by going missing for days in an Illinois snowstorm, Alberta made a triumphant tour of the East Coast, officially finishing her ride in New York City in June 1912. She was granted the privilege of driving the ceremonial last rivet in the just-completed Woolworth building.
Tough and resilient, Alberta became a symbol of female empowerment in an era when women were still pressured to ride sidesaddle. She used her fame to talk up universal suffrage and pointed to the improvements to her home state of Wyoming after it granted women the vote. On her way west to California she made a detour into Mexico to join, and in some reports direct, a crew filming battles in that country's decade-long revolution. Returning to the United States, Alberta tapped friends met on her travels to start a clothing drive for woman and children held at a Texas detention camp after fleeing the fighting in Mexico.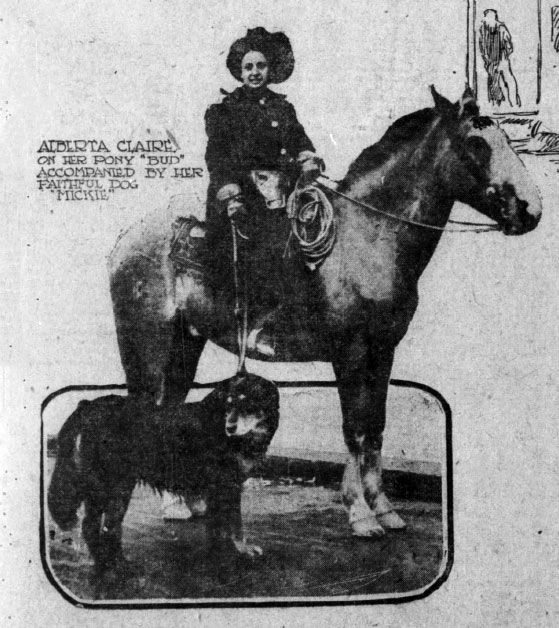 There is a lot of evidence Alberta wasn't exactly what she appeared and was as much actress as cowgirl. She wasn't "Miss Claire," for one. Despite often being described as "alone in the world" and without family, Alberta's excellent publicist, Mr. J. H. Moore, was also her low-profile husband. Moore made sure that his wife was photographed with mayors and dignitaries, and sent these shots to hundreds of newspapers accompanied by letters from Claire about the near-death adventures she always seemed to experience just before her arrival in a new town.
Instead of collecting her winnings of the purported bet and retiring to a Wyoming cattle ranch, Claire acted as an agent for carnivals and vaudeville shows and toured with her footage of Mexico. In later years, as Mrs. Alberta Claire Moore, she taught dancing in Wilkes-Barre, Pennsylvania, and appeared in dramatic plays. No longer the wandering cowgirl, Alberta was billed as having had "splendid training at some of the foremost schools of dramatics and dancing."
---
Woody Beer and Coffee Fund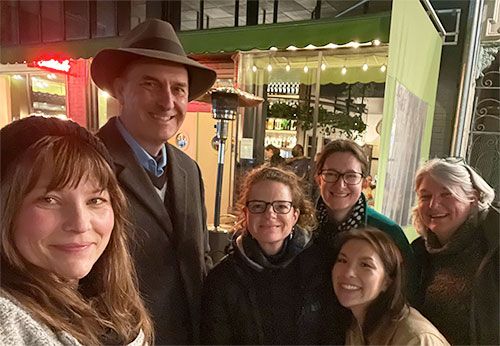 ---
Sources
"This Cowgirl Will Startle New York," San Francisco Sunday Call, February 12, 1911,
"'Cowboy' Girl Has Liking for Autos," San Francisco Call, April 9, 1911, pg. 44.
"Wyoming Girl Rider Lost in Snowstorm," San Francisco Call, February 23, 1912, pg. 4.
"Girl's 8,100-Mile Ride," New York Times, June 29, 1912, pg. 4.
"Capital has a Surprise Coming," Washington Herald, September 17, 1912, pg. 2.
"Girl from Wyoming Rides into Town After Long Trip," Washington Times, September 21, 1912, pg. 4.
"'Girl from Wyoming' Arrives in Washington," Washington Herald, September 22, 1912, pg. 10.
"Clothing for Mexican Refugees is Sent By Miss Claire's Friends," El Paso Herald, March 28-29, 1914, pg. 3-D
"Mexico Makes Bid for Tourists at Travel Show," New York Tribune, April 1, 1922, pg. 11.