Woody Grab Bag #005
A Woody LaBounty salad bar of child pyramids, feminist art, poetry, sandlot baseball, and Mr. Fixit.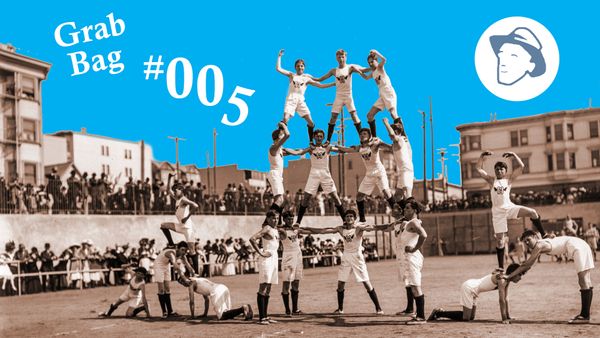 On August 7, 1910, the North Beach playground was dedicated and these boys showed a use for the new park that my friends and I never tried: making a human pyramid dressed in our underwear. (Yes, that's jealousy talking.)
These kids might actually be from the San Francisco Turn Verein, a prominent club in the city before World War I forced all Germanic and Germanic-sounding activities to go on the down-low. The "Turners" originated in the early nineteenth century as a movement to unite independent Germanic kingdoms through democratic reforms and… gymnastics.
Turn Verein centers flourished in the United States as "Teutonic-American" people cultivated and nurtured their shared cultural connection through physical fitness activities, marching bands, choruses, theatrical groups, marksmanship clubs, and what were thought to be other healthy and patriotism-imbuing pursuits. (You can read more Turn Verein history on the website of the still-active Sacramento Turn Verein. )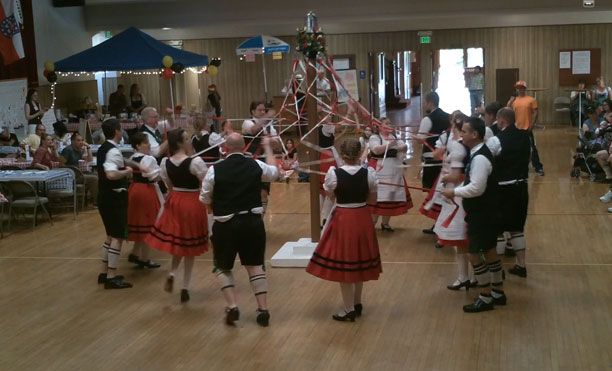 Unusual for such societies of the day, women and girls participated in the Turn Verein groups and not just as singers, actors, or dancers around May poles. Here's an all-female pyramid: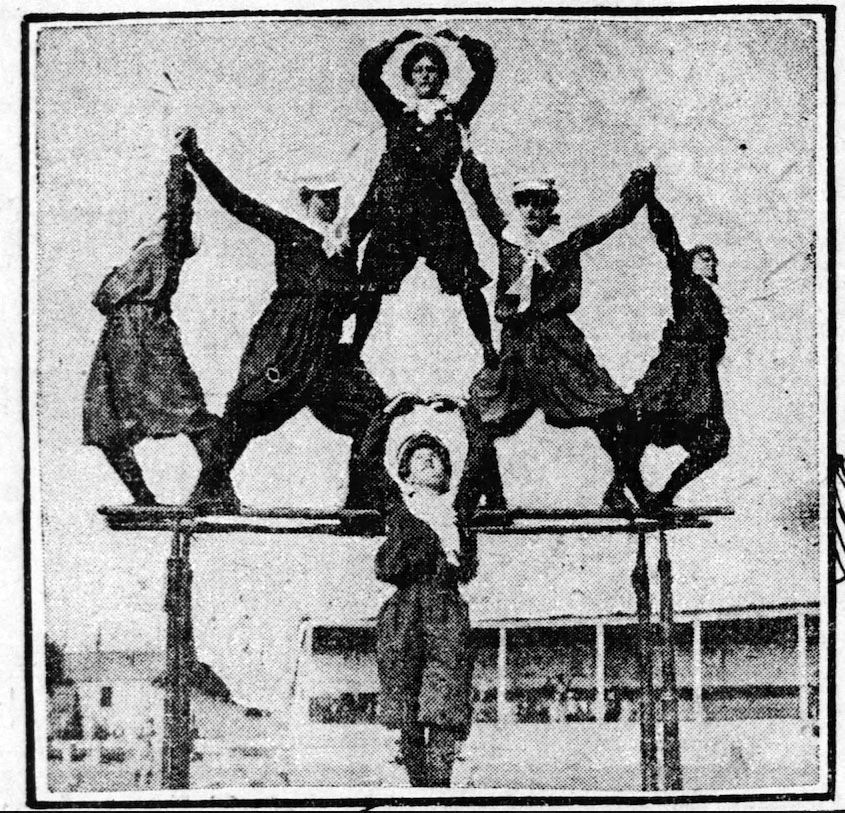 The same year the North Beach playground was dedicated, a cornerstone was laid at 3543 18th Street for a central Turn Verein hall in San Francisco's Mission District, a place where all the neighborhood clubs could convene to tumble, sing songs, and indulge in German-ness while adapting "naturally to democratic standards of liberty."* In 1935, the Sons and Daughters of Norway bought and renamed the building for their own use, renaming it Dovre Hall. (Many of us remember the Dovre Club bar on the ground floor before it moved to Valencia Street.) Today, the Mission-style building has a slightly more colorful appearance as the San Francisco Women's Building: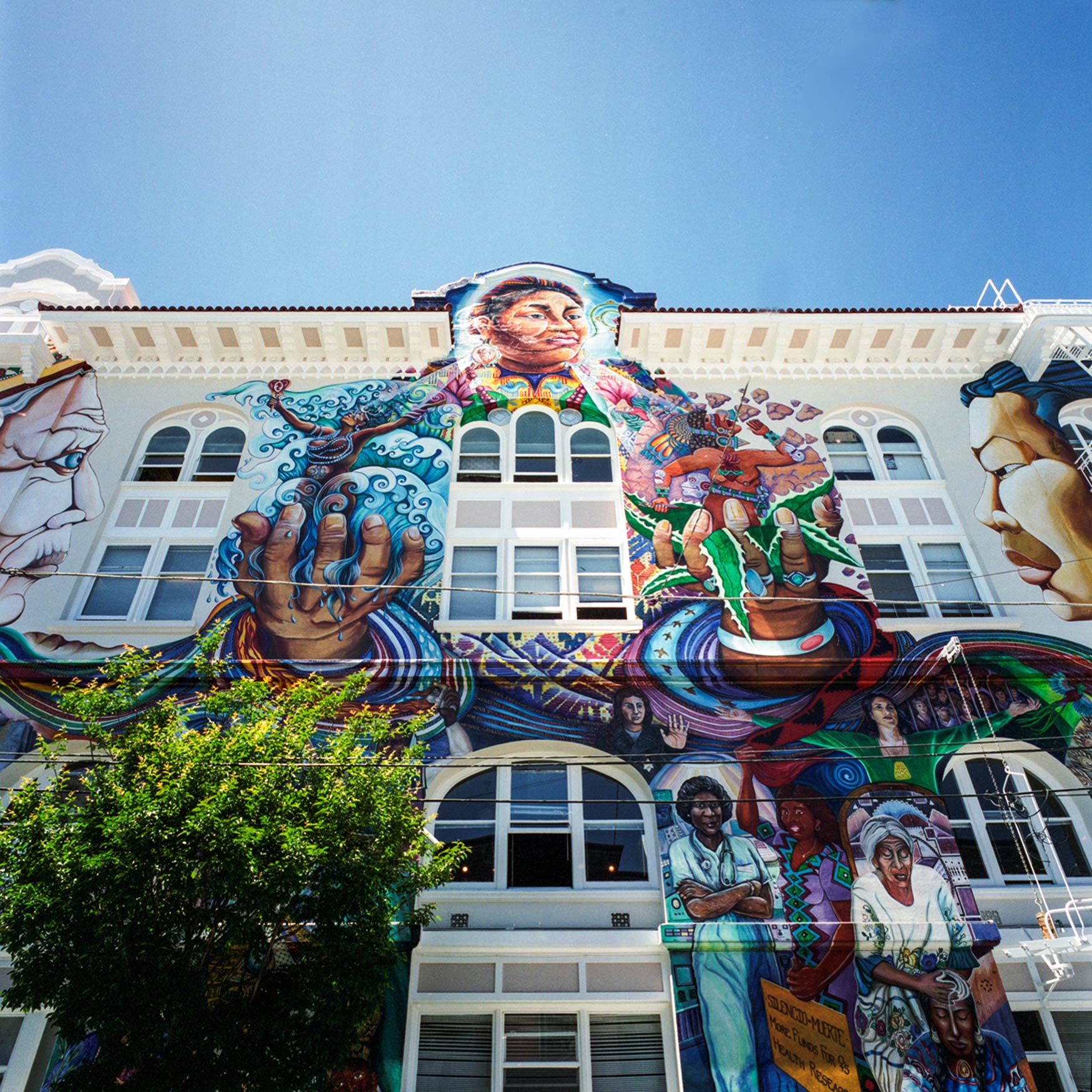 The San Francisco Women's Centers, a collaborative nonprofit formed in 1969 by a number of feminist organizations, purchased the old Turn Verein building in 1979. The monumental mural, Maestrapiece, is the work of seven artists: Juana Alicia, Miranda Bergman, Edythe Boone, Susan Kelk Cevantes, Meera Desai, Yvonne Littleton, and Irene Pérez, who marvelously elaborated the exterior with images of pan-feminist icons such as Nobel laureate Rigoberta Menchú.
Constructed in the Mission Revival style for a German club, then used by a Norwegian club, and now an iconic women's center and significant public work of art, 3543 18th Street oozes with history. It is listed in the National Register of Historic Places (2018) and as San Francisco City Landmark #178.
Inventing the Playground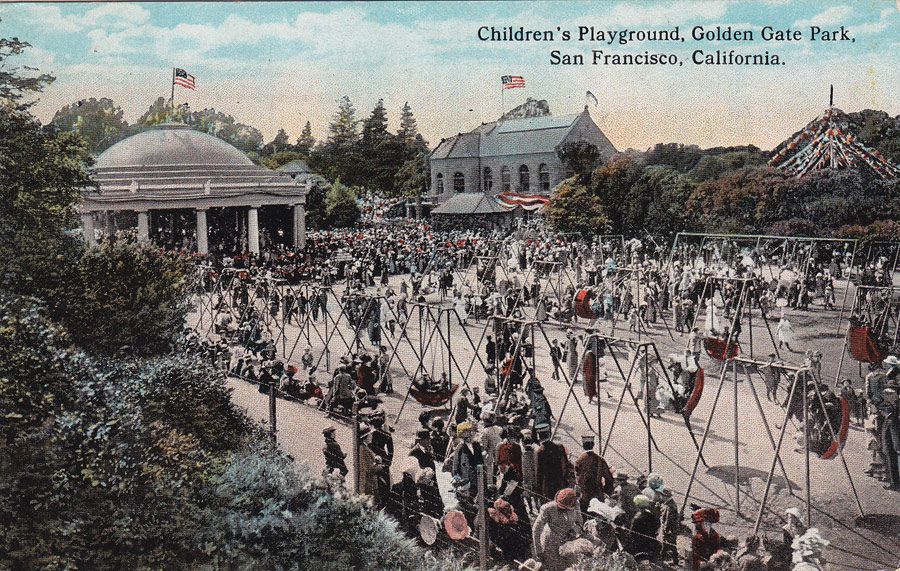 To keep up the stream-of-consciousness that is this week's Grab Bag, I have always been told, and am too lazy to research to the contrary, that Children's Playground in Golden Gate Park is the oldest established playground in the United States. As a kid who spent most of his free time in them, it still astounds me that both public parks and city playgrounds were essentially 19th century inventions born out of theories of social engineering.
Playgrounds couldn't be just pleasant or relaxing; such experiences were seen as non-essential and useless to progress and a production. Recreation had to have some rationale. As with the philosophy behind the Turn Verein movement, promoters of parks and playgrounds meant them to be the cauldrons of democratic virtue and incubators of public health and decency. Running on a field playing tag built the muscles to work in a factory, so the idea went.
At worst, children intermingling in play helped immigrants assimilate, meaning swings and slides advanced American values. The souvenir program for the opening of Children's Playground in 1888 carried a poem on its leveling inclusiveness and also its relative freedom from strictures outside the park:
Welcome olive Española,
With your merry Farandola,
Here no line of caste or color may be drawn;
Welcome, sun-brown Italiano.
And the swarthy Africano
With his hair as short as grass upon the lawn.
Whether black or brown or yellow,
You are welcome, little fellow!
No policeman here to eye you as you pass,
Or to chase you with a club
If you breathe upon a shrub,
Or abuse that ancient sign—"Keep off the grass."**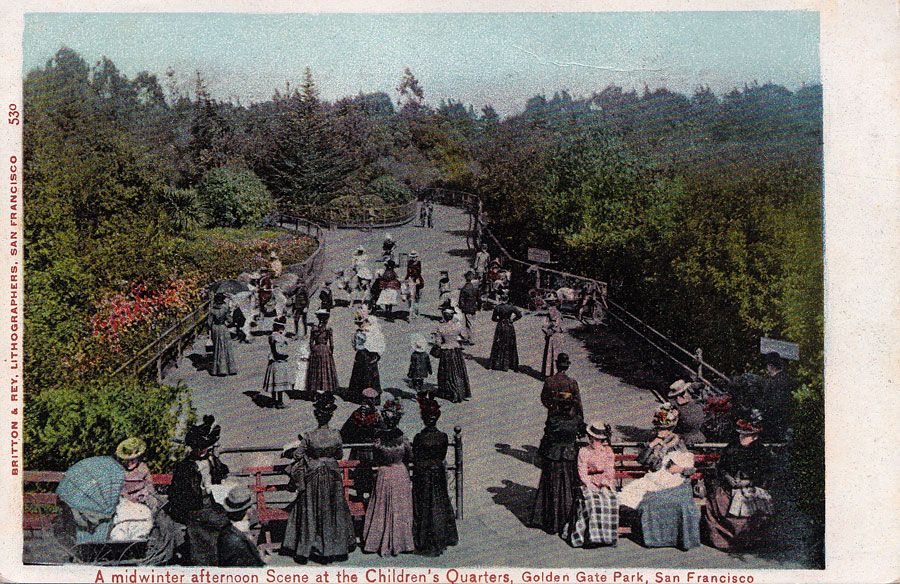 Naming Things, Renaming Things
The funding to create Children's Playground came from the estate of the recently deceased United States senator William Sharon, a guy pretty much no one liked. His name is still attached to the Sharon Building, a rambling sandstone structure where my daughter spent many joyful hours designing and creating stained glass.
Sharon lost his name from the adjoining meadow in 2018, when it was rechristened in honor local actor and comedian Robin Williams. I expect that in a few decades there will be a reason to pull Williams' name off the patch of grass, as that's how things work when the deceased are reevaluated by new standards of heroism, admiration, or respect. Rest in peace, Robin, but don't get to attached to that meadow…
If you are famous and/or rich, fight not to have your name attached to anything (and work on getting unfamous and unrich). I'm with the Spanish poet Antonio Machado:
I have never wanted fame,
nor wanted to leave my poems
behind in the memory of men.
I love the subtle worlds,
delicate, almost without weight,
like soap bubbles.
I enjoy seeing them take color
of sunlight and scarlet, float
in the blue sky, then
suddenly quiver and break.***
Sandlot Baseball and Mr. Fixit
Another oft-quoted historical fact that may not be true is that "sandlot baseball"—a description of amateur engagement in America's pastime—originated in San Francisco. This great shot of boys playing in the Upper Noe playground gives the idea: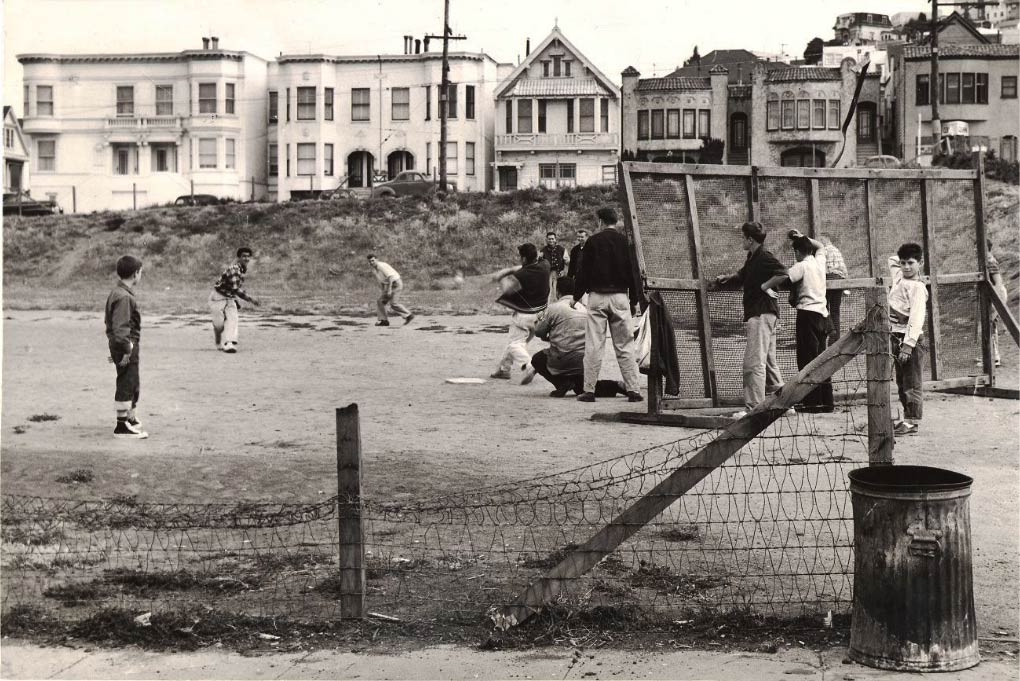 The photograph ran with a recurring San Francisco News feature, "Mr. Fixit." The paper would be alerted to some public works problem along the lines of a pothole or a poorly marked one-way street.
"RUN DOWN-This is the baseball field for Upper Noe playground at Church and Day-sts. The backdrop is falling but thanks to Mr. Fixit and the Recreation and Park Dept. it will be fixed. Permanent facilities will be under construction by next Christmas."
Mr. Fixit used the mighty power of the Fourth Estate to pressure the city for remedies. (This continues to the present day, usually the periodic duty of an opinionated columnist.) Here is Mr. Fixit complaining about an overgrown raspberry bush on Naples Street blocking a sidewalk—and getting results.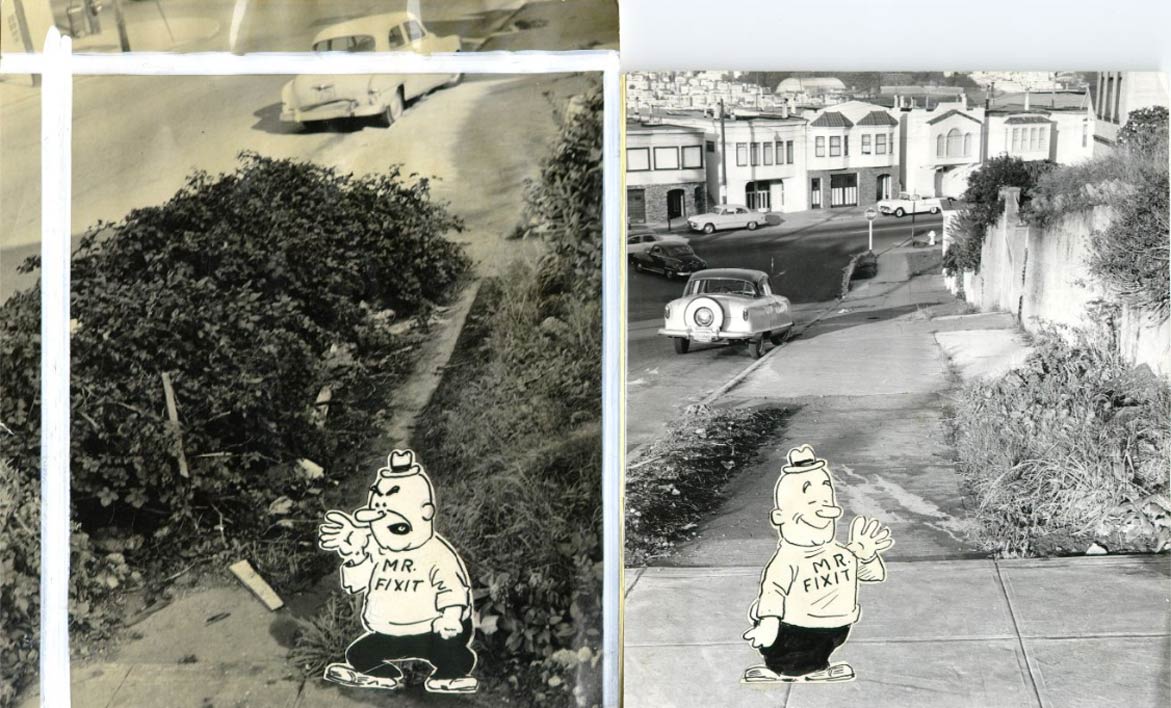 "Before Mr. Fixit took a look, you had to go around the raspberry bush in front of the vacant lot between 25 and 33 Naples st. But DeWitt C. McGovern of 25 Vienna st. asked Mr. Fixit if he would try walking over the bushes to see how it felt. And Mr. Fixit took the problem to Public Works Director Sherman P. Duckel. Shortly after, Duckel had the raspberries mowed down." (San Francisco News, December 12, 1957.)
Today we San Franciscans have 311, with which a citizen can call a central city department to report an illegally parked car, an abandoned mattress on the corner, or a universal solution to homelessness, mental health disorders, and drug addiction.
The service works pretty well on the first two. Lots of money and the labor of many hard-working people are dedicated to the rest, which might be beyond even the power of Mr. Fixit.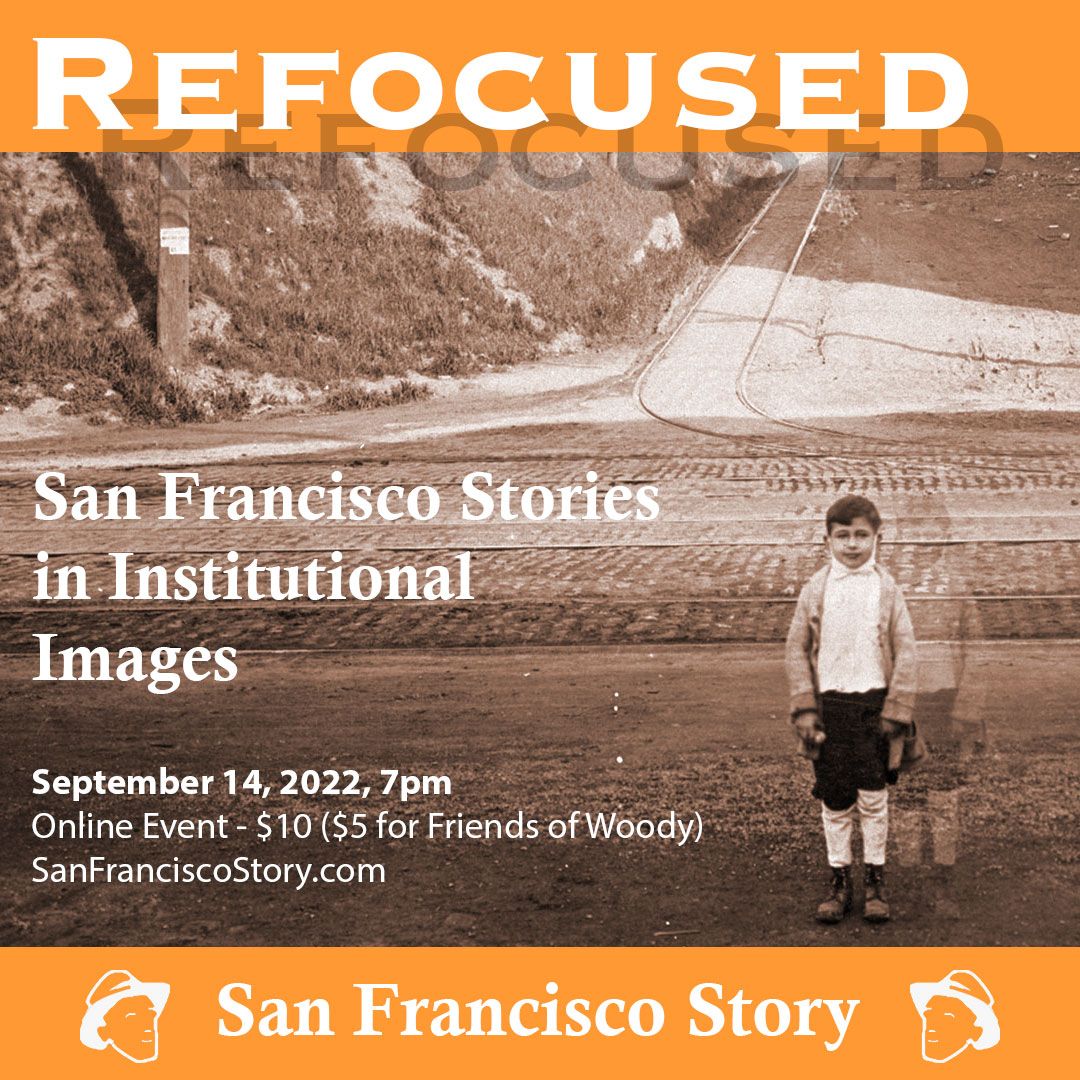 ---
* "Temple of Liberty' to Rise in Mission," San Francisco Call, June 27, 1910.
** Reprinted on page 160 of Building San Francisco's Parks by Terence Young.
*** Translated by Robert Bly and reprinted in The Analog Sea Review, Number One (Austin, Texas: Analog Sea, 2019), pg. 135.