Woody Grab Bag #008
A preview of Woody's San Francisco Story Annual 2022 featuring an excerpt about the larger-than-life diva, Lilian Slinkey, AKA "Madame Durini."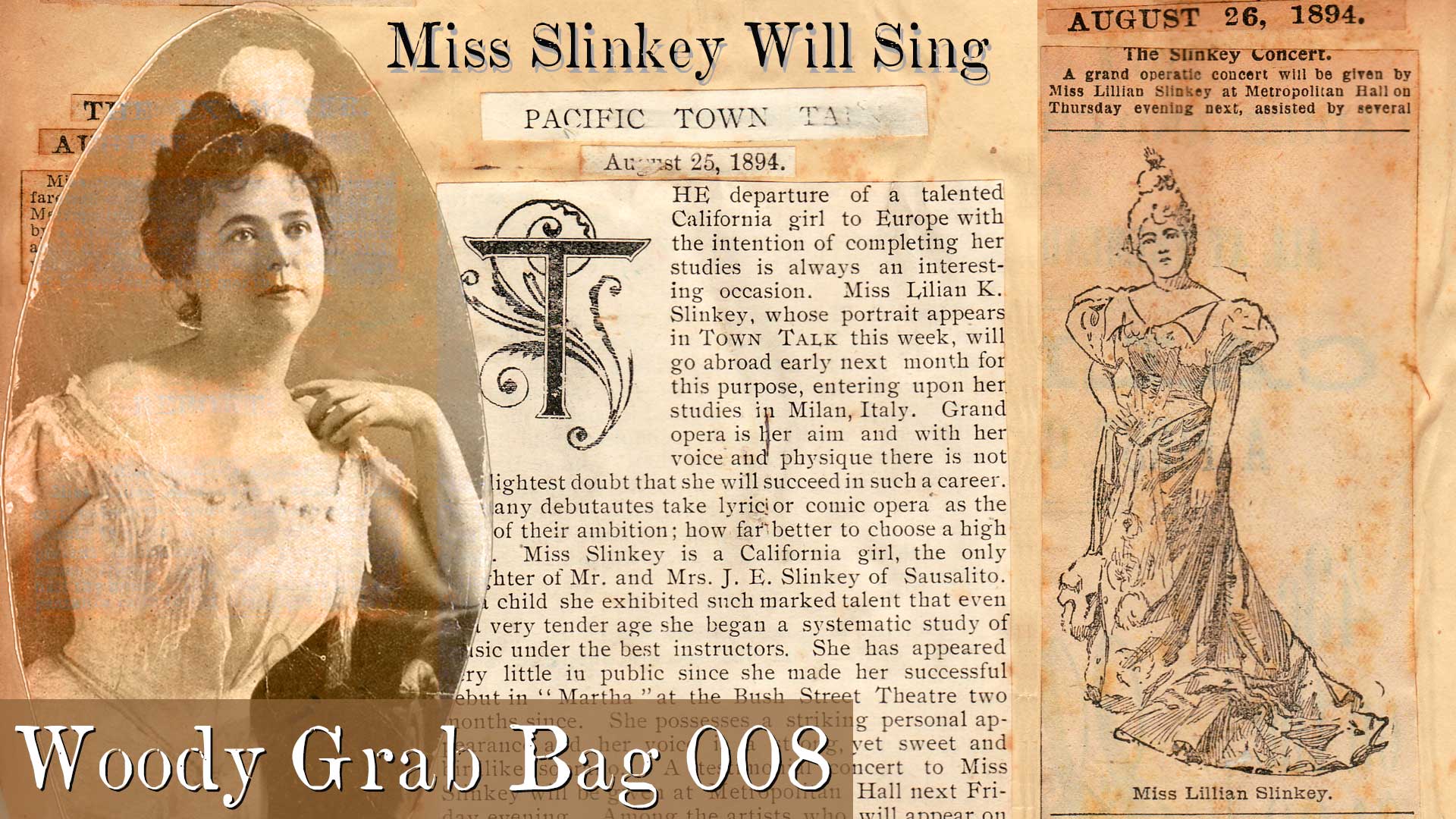 Roadhouse Talk is Tonight, Nov. 16, 2022, 7 p.m.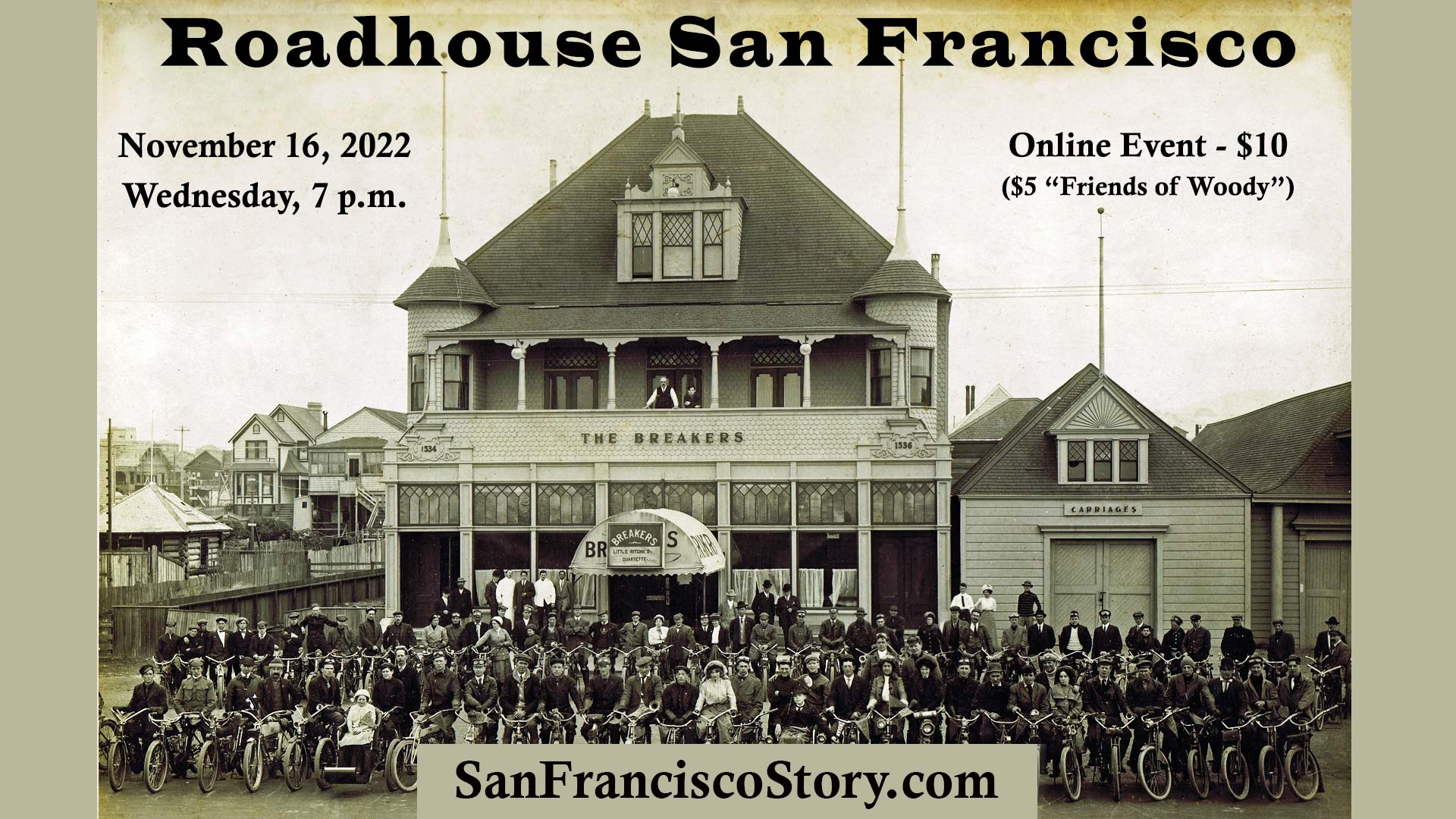 ---
Miss Slinkey Will Sing
(This is an excerpt from one of the articles in San Francisco Story Annual 2022. The full publication will be released on my birthday, November 29, and made available only to Friends of Woody.)
Lilian Slinkey waited behind the curtains. On the other side she could hear people talking, coughing, and laughing, as all audiences do just before the house lights lower. San Francisco's Bush Street Theatre between Kearny and Montgomery Streets was packed on the evening of May 16, 1894.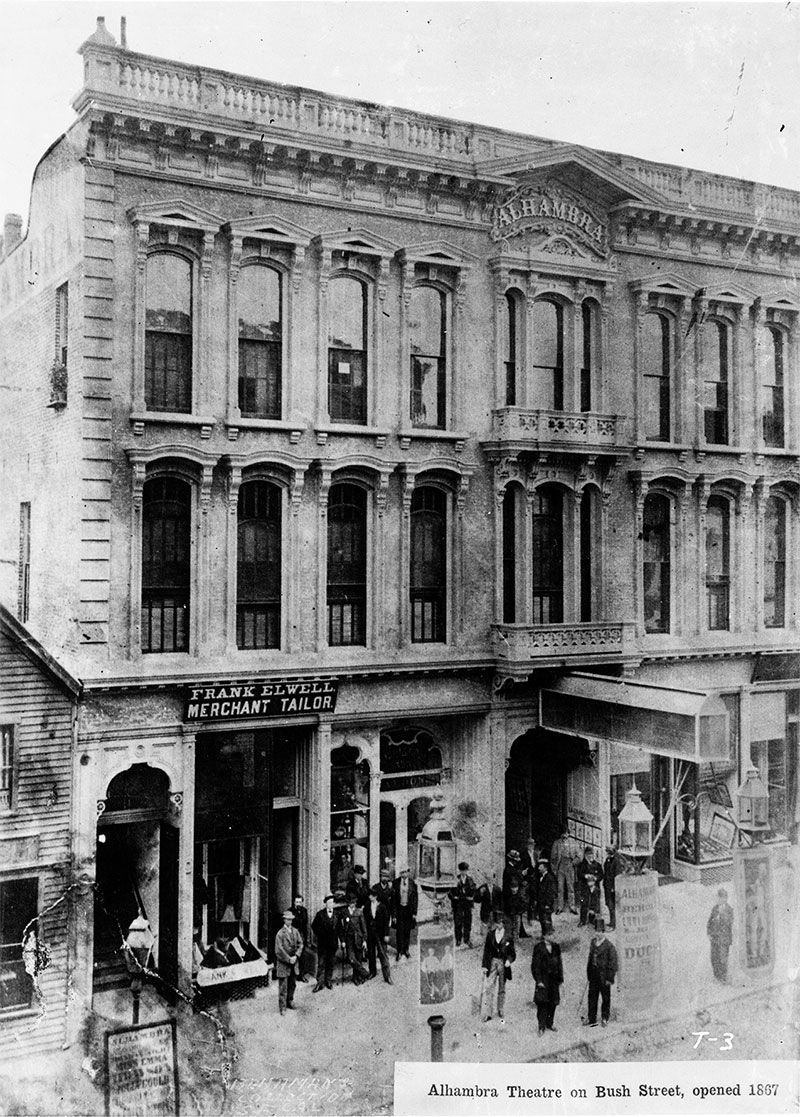 Opened as the Alhambra Theater in 1868, the Bush Street Theatre was a venerable, if dated, venue. It was well known in the city for hosting minstrel shows and occult magicians. The stage was 25 feet deep behind the curtains—lots of space to pace and go over one's lines before the performance. The dress circle, orchestra, and standing room seating could hold an audience of 2,000. In that audience were Lilian's friends, her uncle, her grand­father, her music instructor, newspaper critics, her father's many club brothers and cronies, and most of the town of Sausalito. Her parents likely fidgeted in one of the two private boxes on either side of the 35-foot-wide stage.
Billed as a benefit for the hospital fund of the Italian Benevo­lent Society, the performance was really Lilian Slinkey's coming-out party, her "debut in grand opera." No doubt she was as nervous as she had ever been in her life.
Lilian with Two L's
Some family members take on a legendary status that doesn't diminish through the generations. It may be accomplishment or wealth or connections; it may be chance meetings with those who are accomplished or wealthy or connected. There is the distant link to royalty or a Native American ancestor (which now seems to surpass any Mayflower origins in respectability and prestige). And then there are ancestors remembered because they weren't as well behaved as they might have been, perhaps were even relatively infamous. Over generations, the black sheep or shame of the family is reappraised with modern sensibilities and may acquire if not heroic qualities at least a patina of character.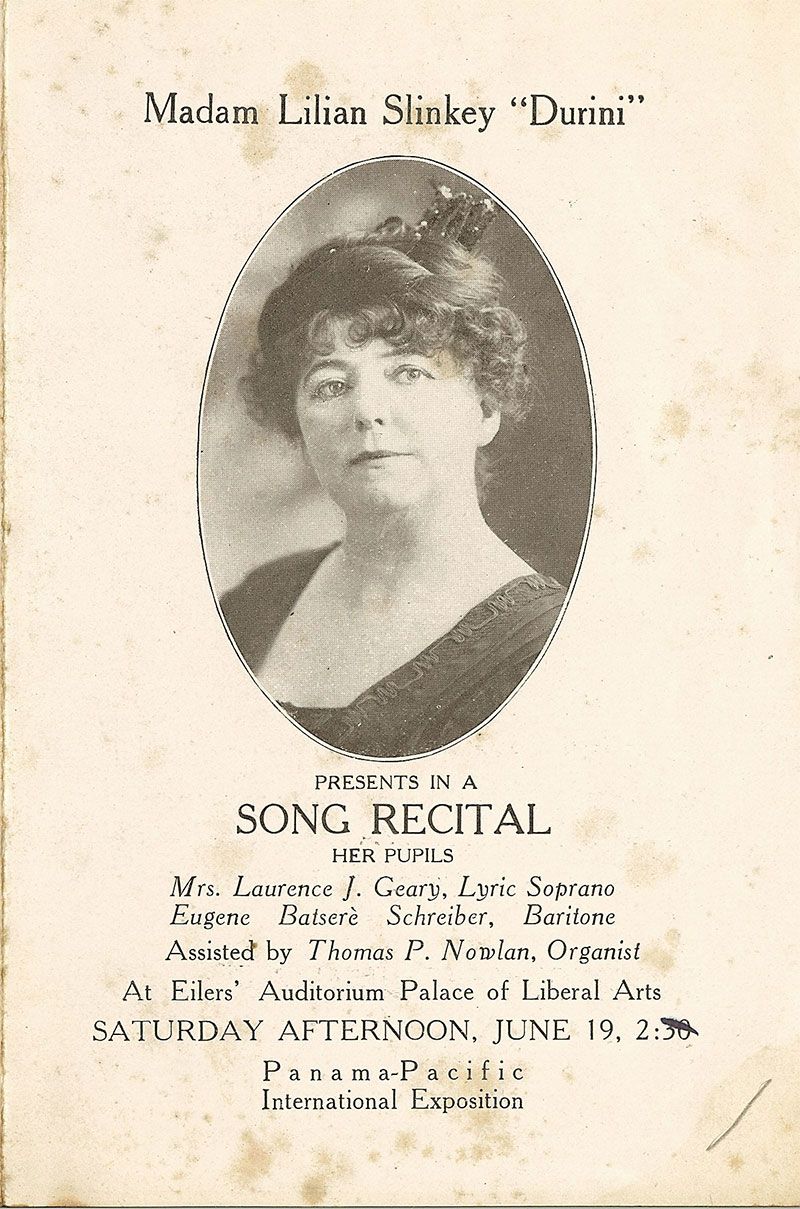 Most of the characters in my family come from my mother's Slinkey side. With a name like Slinkey, how could they not? On that branch my great-grandaunt Lilian Slinkey's outsized personality and colorful life are still talked about, despite no one now alive having known her as more than a collection of stories.
Aunt Lilian bossed people around. She knew best. She lived a life of creative, artistic adventure for herself. She then later played the role of family matriarch and demanded genteel propriety from everyone else. She studied opera in Milan. She taught music as "Madame Durini," a preposterous stage name she created by Italianizing her mother's maiden name of Dern. After a romantic, globetrotting young womanhood, she later in life became a kind of Margaret Dumont character, a preening, comic society matron, or at least she acted that understudy role awaiting her chance for acceptance in the upper echelon. If she'd ever gone into the motion picture industry, the wardrobe department would have provided her with a tiara and a lorgnette.
Aunt Lilian—the preference was for just two L's in Lilian, please—was in all respects a grand diva.
Martha
When the red velvet curtains part before you, the lights make you want to blink and squint. You have to brace yourself to resist that light and not tear up. Before your eyes adjust, the audience is often little more than a rippling suggestion of blackness. In stuffy music halls and theaters predating the age of air conditioning, the collective breath of a full house could wash over a performer like a steam bath.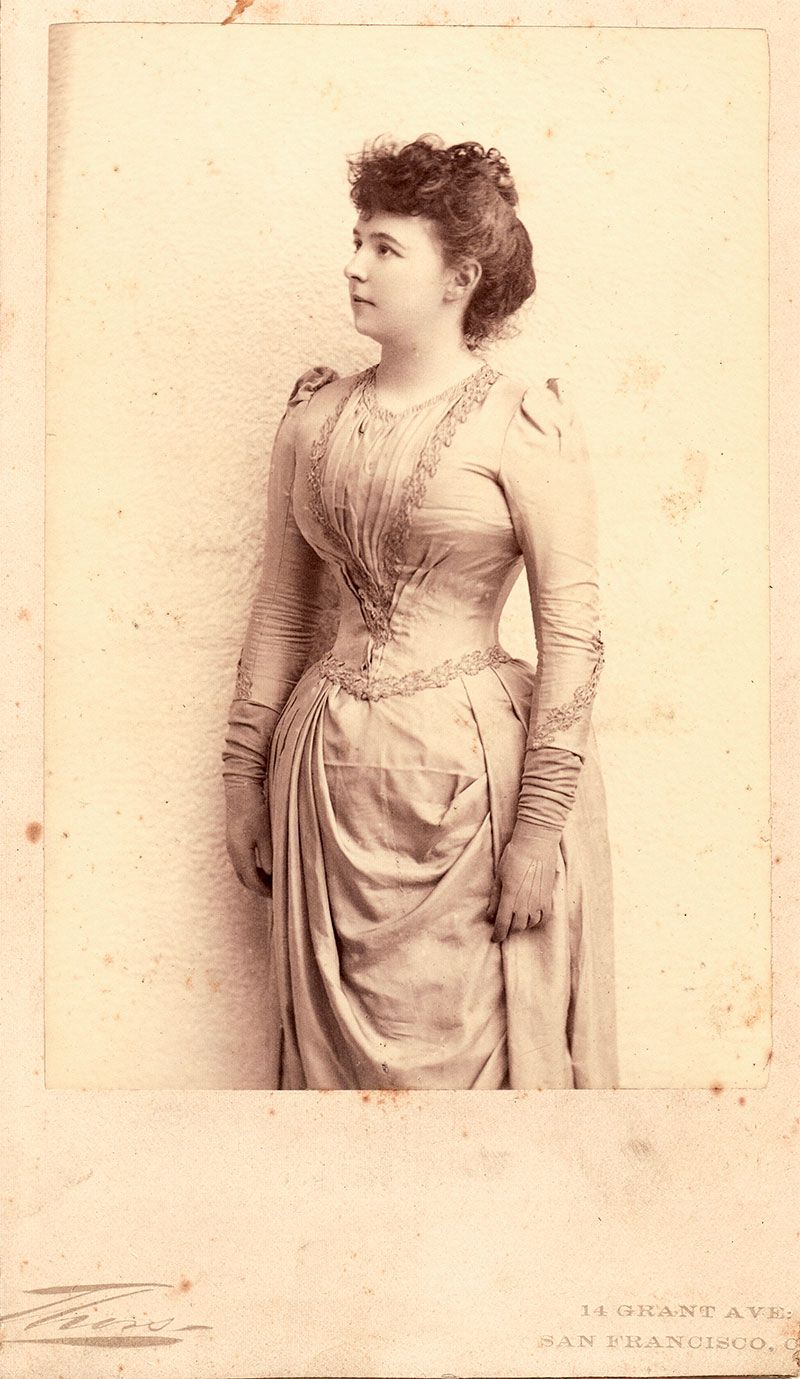 Fifty voices from the chorus energetically filled the Bush Street Theatre and buoyed Lilian, giving her nerves a chance to settle before she let loose her soprano leggero voice in an opening duet with Mrs. Leopoldini Steffani.
For her grand debut, Lilian played the title role in Friedrich von Flotow's comic opera, Martha. Conducting the orchestra was Lilian's music instructor, Professor Faustino Ziliani. No doubt his familiar presence comforted her. The professor anticipated possible hiccups or difficulties to which she might be prone and with a reminding, encouraging gesture or raised eyebrow could carry her through the rocky passages. But the professor, of course, also detected any flaw which Mr. Baraty, the Sausalito grocer, or Judge Ferral from her father's fraternal group, the Society of Old Friends, missed.
Music critics also sat in that dark audience. One had gotten into a fistfight with Professor Ziliani's brother at the last rehearsal, had his hat crushed, and likely was not well disposed to judge this Martha fairly. Somewhere out there were colleagues from Lilian's singing circles. Allegiances can be weak in the performing arts. Were there jealous disparaging whispers that the whole evening was just a put-on paid for by Lilian's father?
Not everyone was there to see her. There were more than 50 people in the production. The benefit drew a large segment of the city's "Italian colony." But as the star, Lilian would draw everyone's attention and judgment.
Martha is about a member of the royal court who, on a lark, masquerades as a peasant at a country fair. Using "Martha" as her alias, Lady Harriet Durham, maid of honor to Queen Anne, disguises her true identity and finds herself accidentally signed up for a year of servitude to a young farmer. It's a very Shakespearean romp of breached social classes, charms and intrigues, mistaken and mutable identities.
The young woman playing Martha at the Bush Street Theatre on May 16, 1894, a privileged prima donna elevated by her father's status and money, was likely born in a Chinatown brothel, with a different name, just a few blocks away from the theater in which she now sang...
---
The Rest of the Story
The full story of Lilian Slinkey and her family—mysterious origins, running from the law, the years in Italy, front-page scandals, murder accusations, and a host of Dickensian plot elements (but real life!)—will appear in San Francisco Story Annual 2022, available only to Friends of Woody. Release date is in a couple of weeks—with a limited number of printed copies—so sign up now if you're not a Friend.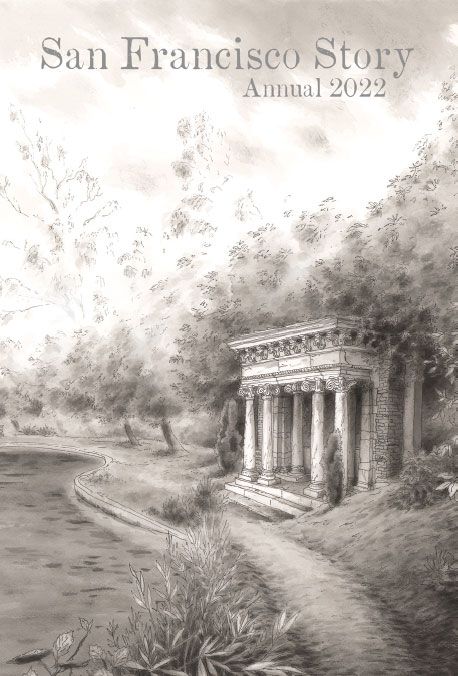 ---
Help Paul!
Two days after Paul Madonna sent me the amazing artwork for my journal cover (above) he was crashed into head-on by a hit-and-run driver. He's lucky to be alive and faces a long recovery back. Of course there are lots of expenses, so if you can help him and his wife, Joen, please do so: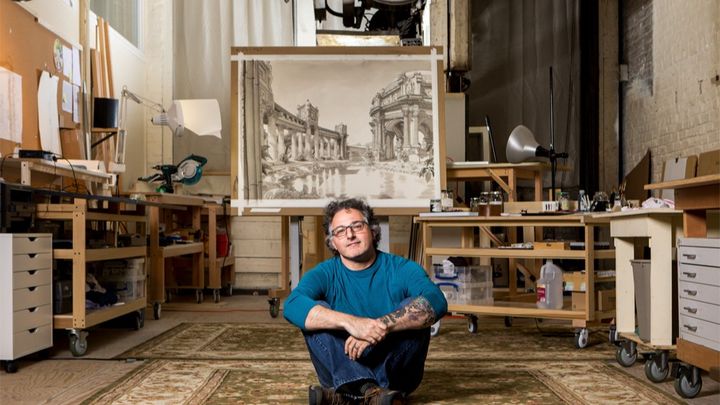 Get well soon, Paul. You have a community of people who love you and are ready to step up and help in any way.