Grab Bag #018
Employment for Woody, free Grab Bags to the people.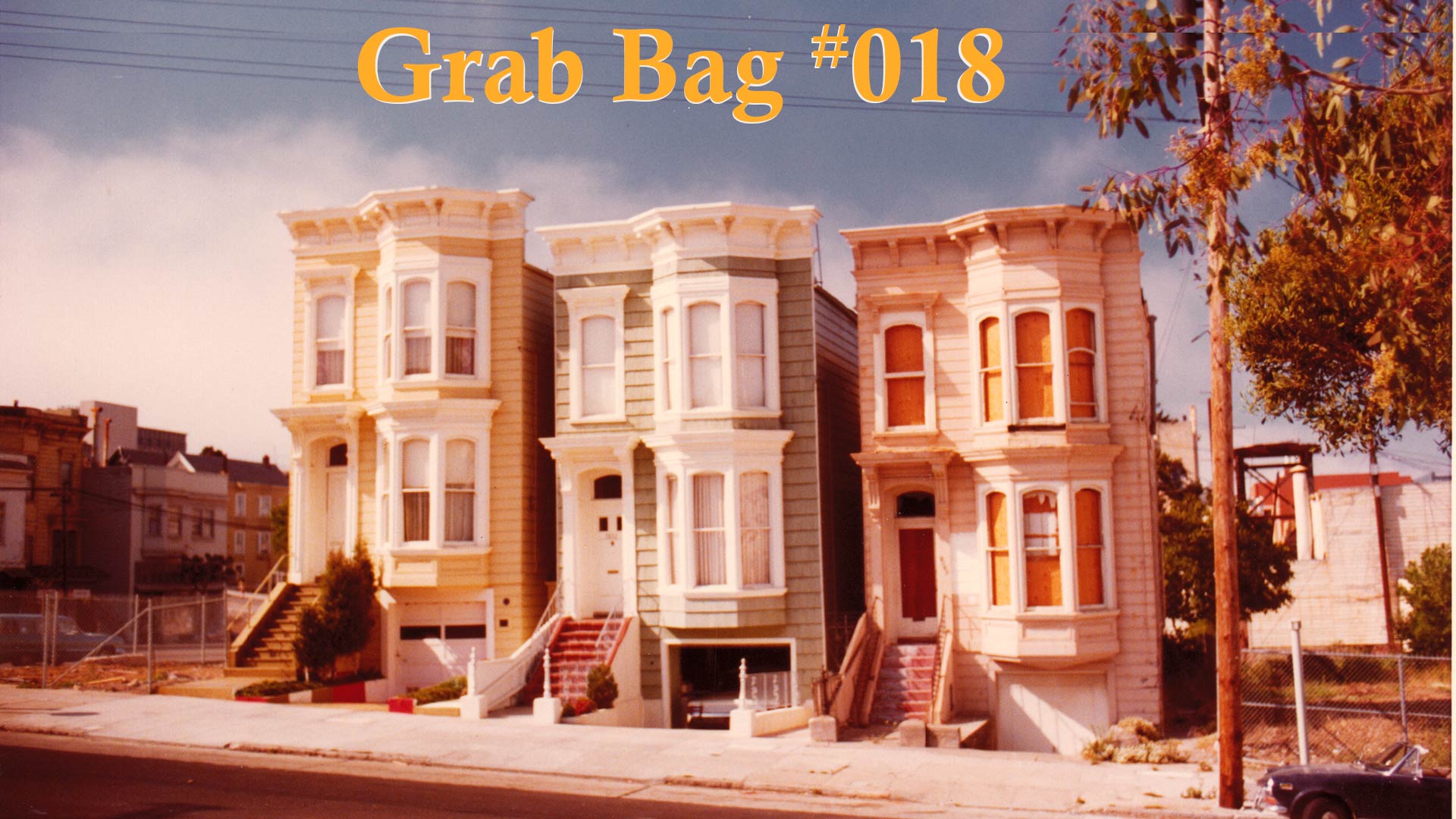 This Grab Bag is open to everyone. In fact, all of them are for the next month. Normally the every-three-weeks Grab Bag email is restricted to subscribed Friends of Woody (everyone else gets a preview), but in honor of the one-year anniversary of San Francisco Story I thought I'd give you all the chance to wade through the F.O.W. secret annals.
This link should take you to nothing but past Grab Bags if you'd like to catch up. Thanks to you all for being here!
Back in the Saddle
The news went out last week: I am returning to San Francisco Heritage as the President and CEO. This capped a crazy three-week whirlwind in which I started a new job in the East Bay, was pulled back to San Francisco by personal circumstances, and suddenly I was again sitting in a window of the Haas-Lilienthal House, chatting with old friends.
As I said in the announcement, San Francisco Heritage is my heart. Its mission to preserve and enhance the city's architectural and cultural heritage is my personal raison d'être. (Which is French for raisin bread, I think, something I find delectable toasted with a little brown sugar).
Like the oldish man I am, I repeat myself, and here's a well-known Woody refrain: I have three primary loves of my life: my wife, my daughter, and San Francisco.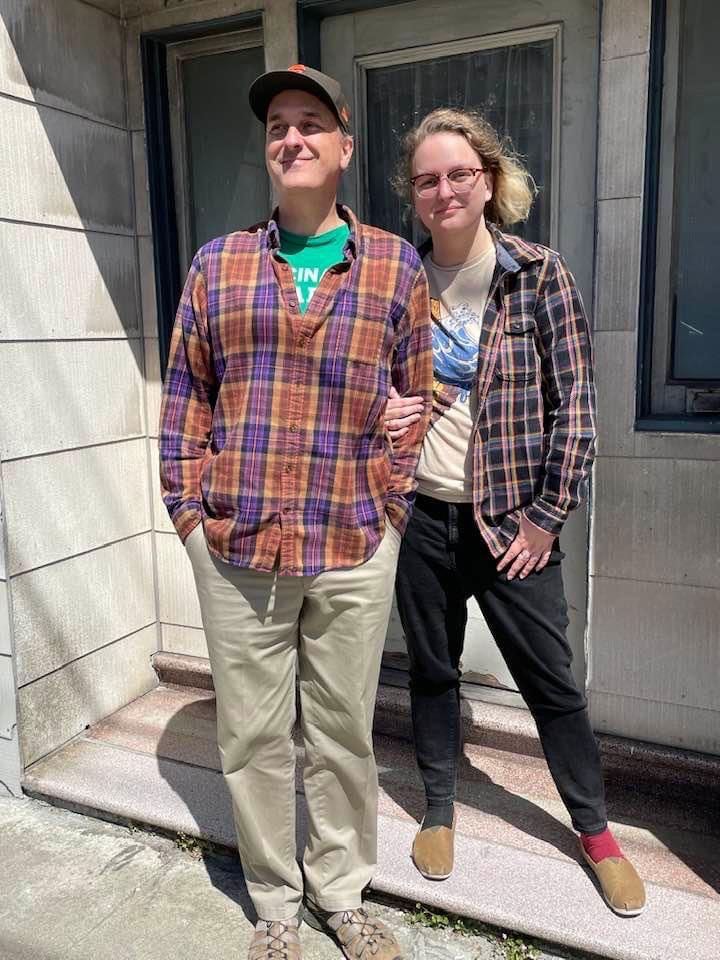 At SF Heritage, I get to work with people who also love this beautiful and exciting city, from elected officials to appointed pastors, from young techies to old jewelry-artist hippies, guys who fish Islais Creek and South End women who swim in Aquatic Park, McAteer grads, former Emporium-Capwell employees, planners, cable car gripmen, archaeologists, park rangers, archivists and activists and architects, Pac Heights scions, Day Street boys, City Guides, poets, proud Italians, proud Armenians, proud Ramaytush Ohlone, the Proud and Out, bartenders, landlords, bakers, tenants, tweeters and IGers, parents, Chinatown social workers, Bayview photographers, Mission muralists, journalists, Modernists, bloggers and golfers, dudes with their baseball caps on backwards and matrons who wear sunglasses in the opera house, librarians, the Park Alliance and the Victorian Alliance, SFAI and AIA, influencers, Tenderloin champions, greenhouse guardians, guerrilla gardeners, the mayor of Ocean Avenue, the Emperor, the Queen of Alta Plaza, SOMA Pilipinas and NOPA Norwegians, Poly Parrots, Mercy girls, designers, foodies, slow streeters and closed streeters and Sunday streeters, surfers, people who say "Porto-LAH" and "Pa-trar-ah" for Portola and Potrero, Native Planters, developers and YIMBYs, Critical Massers and urbanists, Phil Ginsberg, librarians, Telegraph Hill Dwellers, Cow Hollowers, monks, merchants, and the guys on the corner of Haight and Ashbury…hey, can you keep it down fellas?
People love San Francisco. The people in that group you're currently fighting with here in the city? They love San Francisco too. Remembering that is the key, the secret sauce, to getting to a better place.
San Francisco Heritage began in 1971 saving Western Addition houses from "slum clearance." (Toss in coded euphemisms like "urban decay" and "blight" and you BINGO the midcentury redevelopment movement.) The city was in a rough place in the 1970s, but many people stayed and fought for it. And new people arrived and also fought for it. Now, with the "doom-loop" narrative, it's our turn.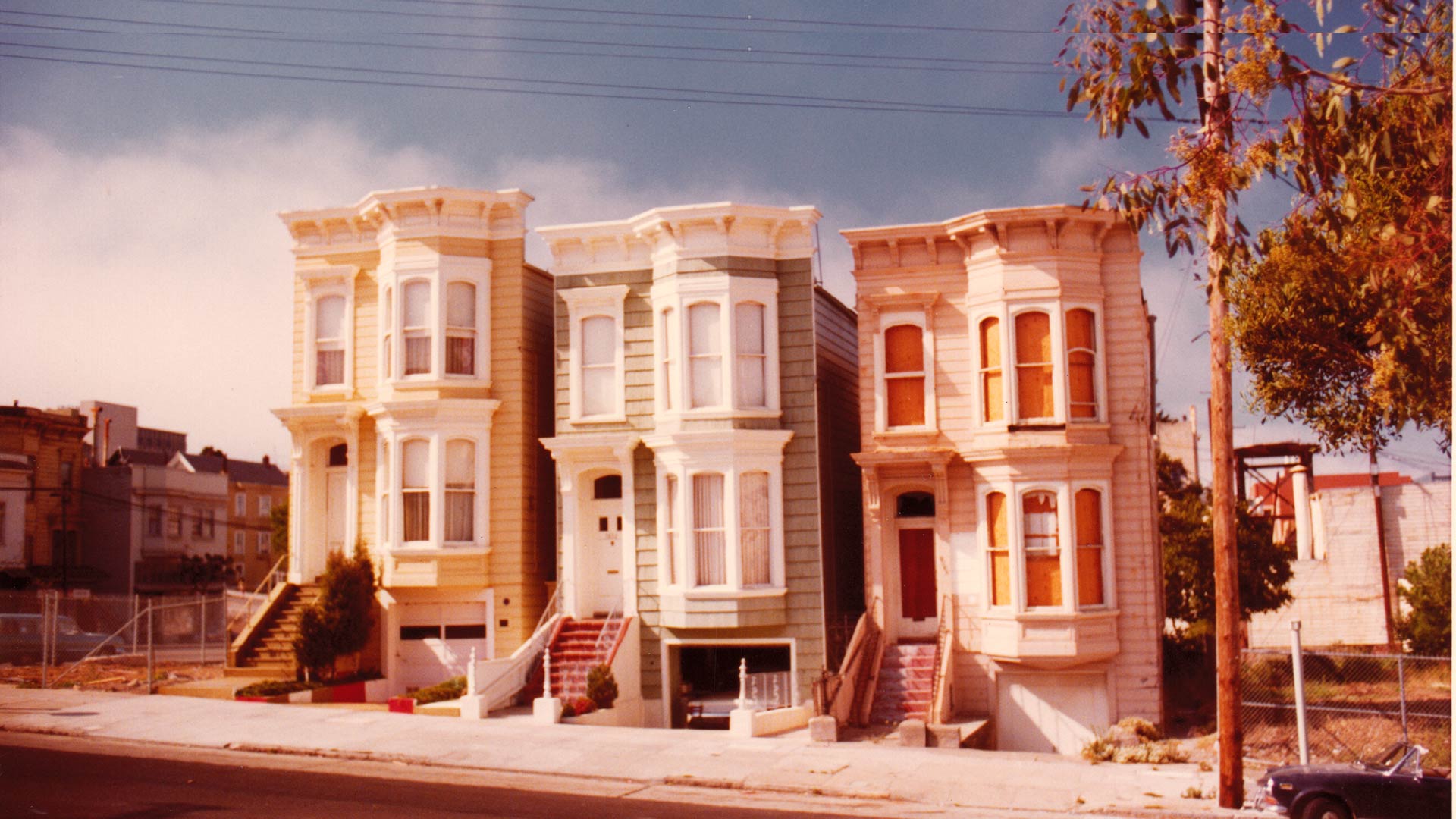 Tidy histories sum up "bad" or "good" decades in San Francisco by defaulting to simplistic measuring sticks such as mayoral charisma or how much money some people are raking in. But it's always a mix for those of us who live here rather than write a column from Walnut Creek or Brooklyn.
I came of age in the "Season of the Witch," the era of the SLA and Jonestown and the Zodiac killer. We had drug addiction crises, cuts to public transportation, dirty streets, and lots of crime. Flipping the calendar to the 1980s didn't change a lot day to day. My mental filing cabinet holds both my cousin Chuck dying of AIDS and 49er Super Bowls, getting mugged on the 21 Hayes and dancing at the I-Beam, barely living off three-dollar burritos while unloading semis in the Bayview and Bono tagging the Vaillancourt Fountain. In the midst of a doom loop one can still have some terrific dim sum.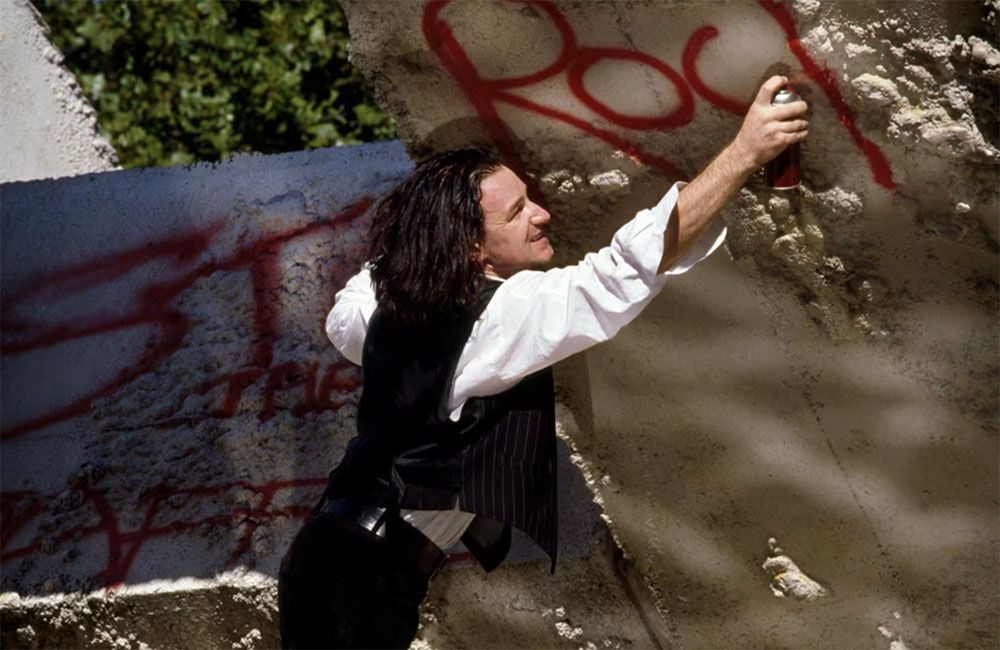 As the descendant of a Gold Rusher, I don't begrudge the kids who come here looking to make money, meet their mate, and escape back to Ohio. I also don't criticize the born-and-bred Excelsior kid who buys a house in Antioch because his family's been priced out of his hometown. When they are here, they're San Franciscans and part of the equation, as is the guy in the throes of addiction and mental illness living in a tent on Division Street.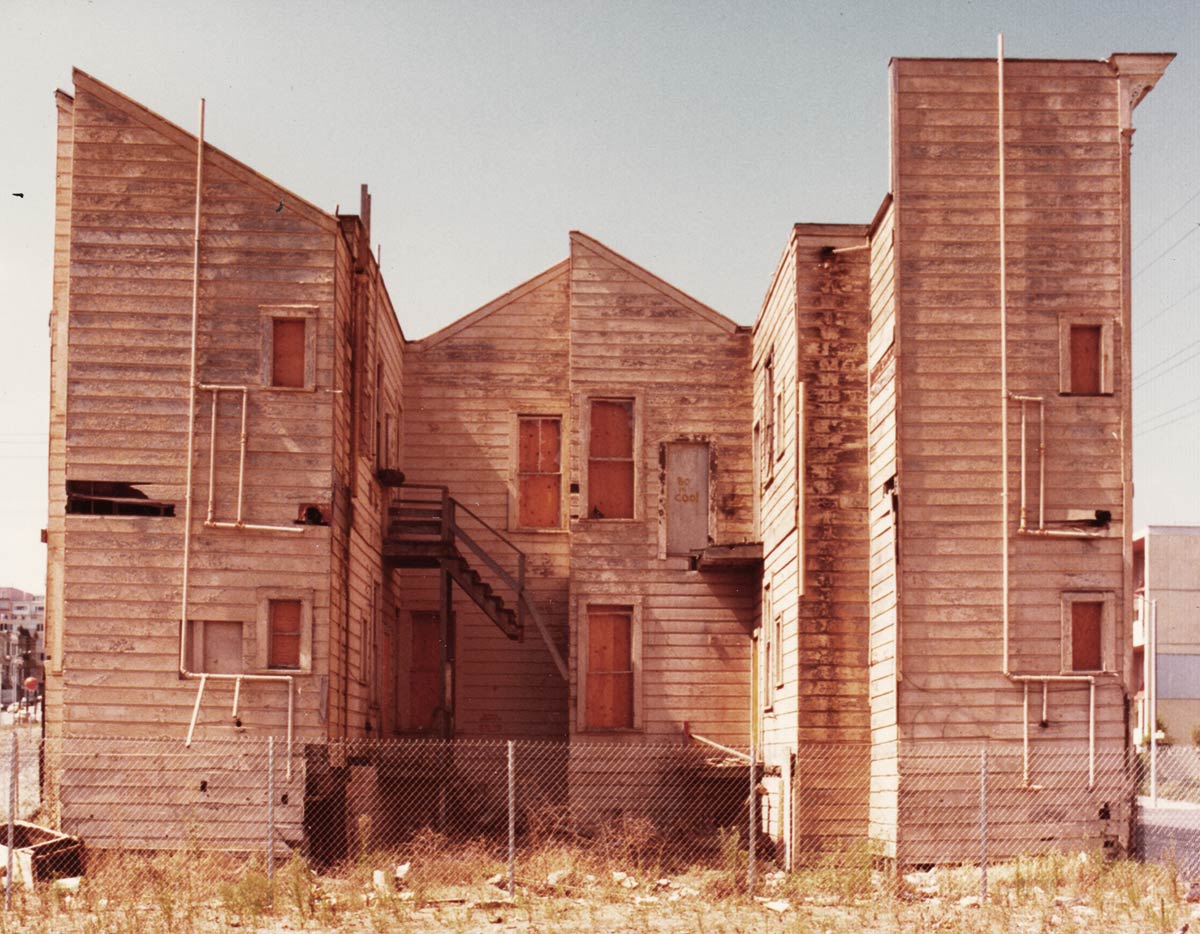 Being a city person is taking the rough with the rich, the poor with the posh, holding fast and committing yourself to making your home the best it can be.
My contribution to this effort—San Francisco Heritage's mission—is to advocate for the unique and special aspects of this beautiful city. Change is life and will come, but we can fight for Li Po Lounge to stay open, for the Trocadero clubhouse to be restored, for 24th Street to be a center of Latino life, for Montgomery Street bank buildings to adapt to new economies, and for stately Tenderloin SROs to keep offering affordable shelter. We are guardians and we are revivers. That's our job as long as we're San Franciscans.
Loops go around by definition. I am here for the full spin and plan to hug tight to all of you with me on the ride.
Results Are In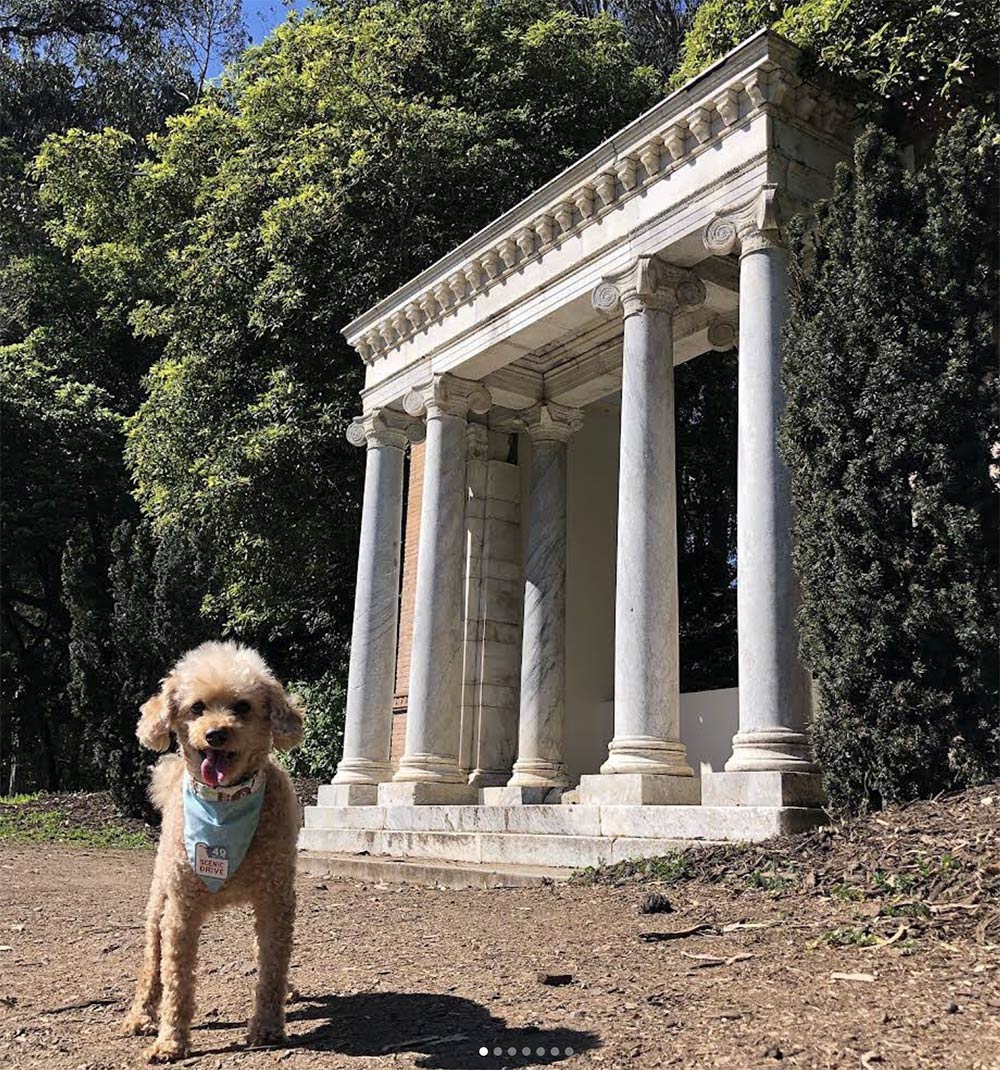 My great thanks to all who shared their thoughts with me on Year One of San Francisco Story. For the curious, 9% of respondents to my survey think I should get a tattoo. Luckily that option lost in preference to my going back to podcasting (33%) or having more live events (41%).
The best feedback I got is perhaps "Be less humble about your greatness." My wife feels this is dangerous and unnecessary encouragement to my ego, however.
I particularly enjoyed the simple comment from Patrick S.: "Success to crime." Mostly I'm delighted by his assumption I'd get the Maltese Falcon reference. Bragging time: I won a call-in radio contest back in the 1980s for knowing the La Paloma was the ship which brought the falcon to San Francisco. (See, there's that ego...)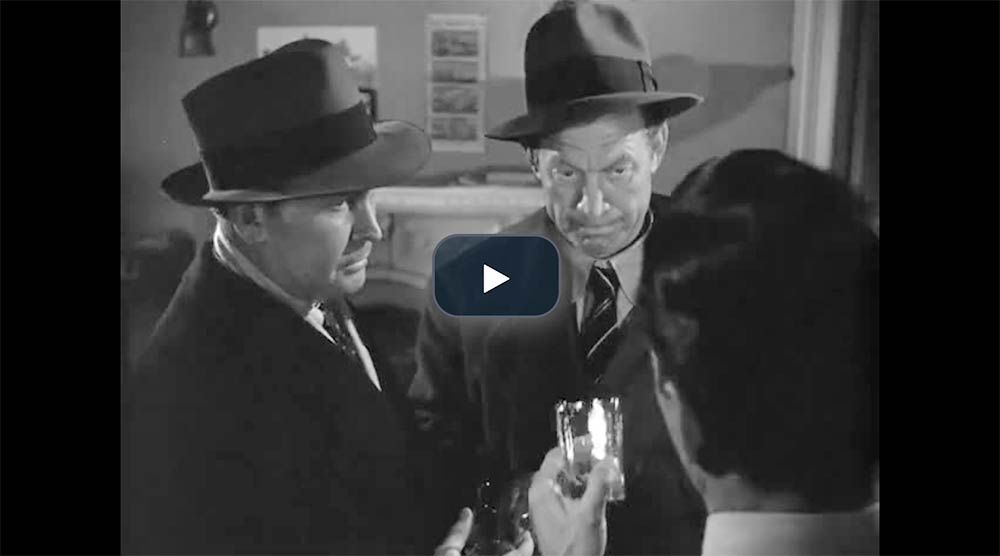 Using a random number generator, the Paul Madonna art was won by… Margaret Ostermann (F.O.W.). As the custodian of local history celebrity, Charlie the Historian Poodle, Margaret is a very fitting winner.
---
Mailbag Time
Peter F. wrote in response to my search for the Atlas figures that used to guard the doorway of the demolished London and San Francisco Bank on the corner of California and Leidesdorff Streets:
"I'm just glad that the iron hitching post is still on the corner, with its empty cylindrical cabinet where the bank stashed filled feed bags for its customers' horses. The customer would open the little iron door, take out the feed bag, and hang it from his nag's neck, so he could munch happily away while his owner counted his gold coins in the bank. Speaking of which, attached is a funny bit from that wonderful 1900s writer, Waldemar Young."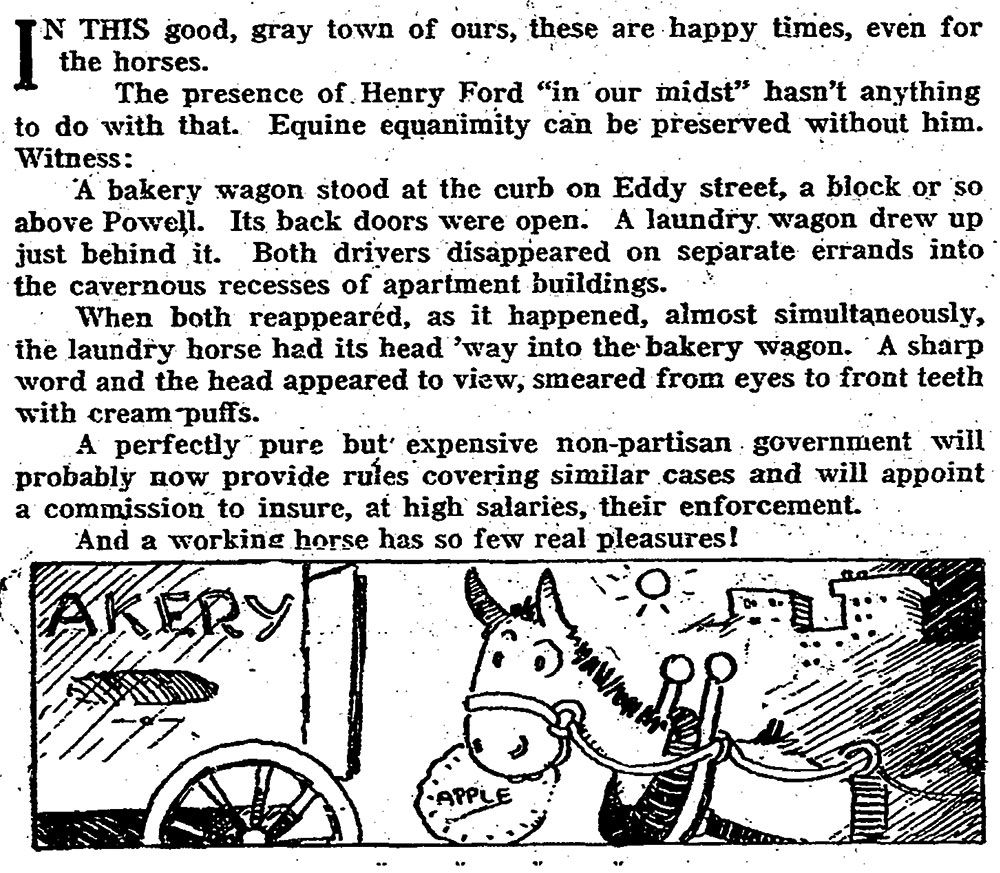 Thanks Peter, but I have bad news... Sometime between 2019 and late 2020 the hitching post disappeared. We were all caught up in Covid-ness and then suddenly it disappeared. Another thing to track down.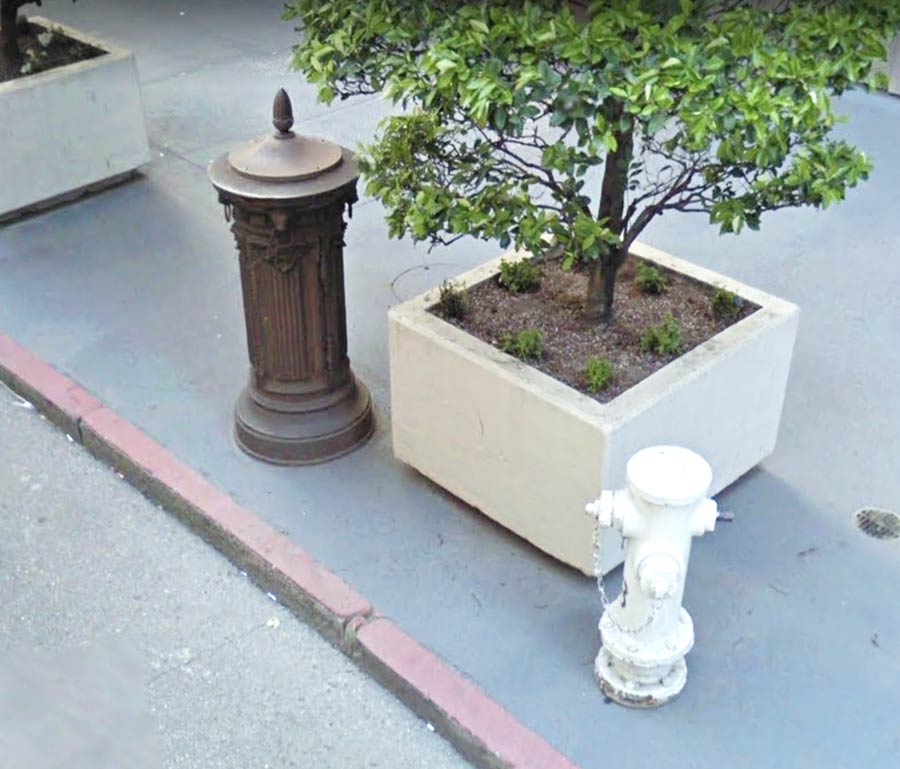 In another tale about city streets, my good friends at the Daly City History Guild, Dana and Rich, emailed me in response to my Mother Minerva piece. They wrote that longtime local historian Bunny Gillespie used to tell stories of being babysat by Minerva and how the old nurse's earthquake-shack domicile was unconnected to the sewage system. The outflow from the elevated home's drain apparently inspired school-kid pranks we choose here not to detail...
---
Beertown Event at the 4 Star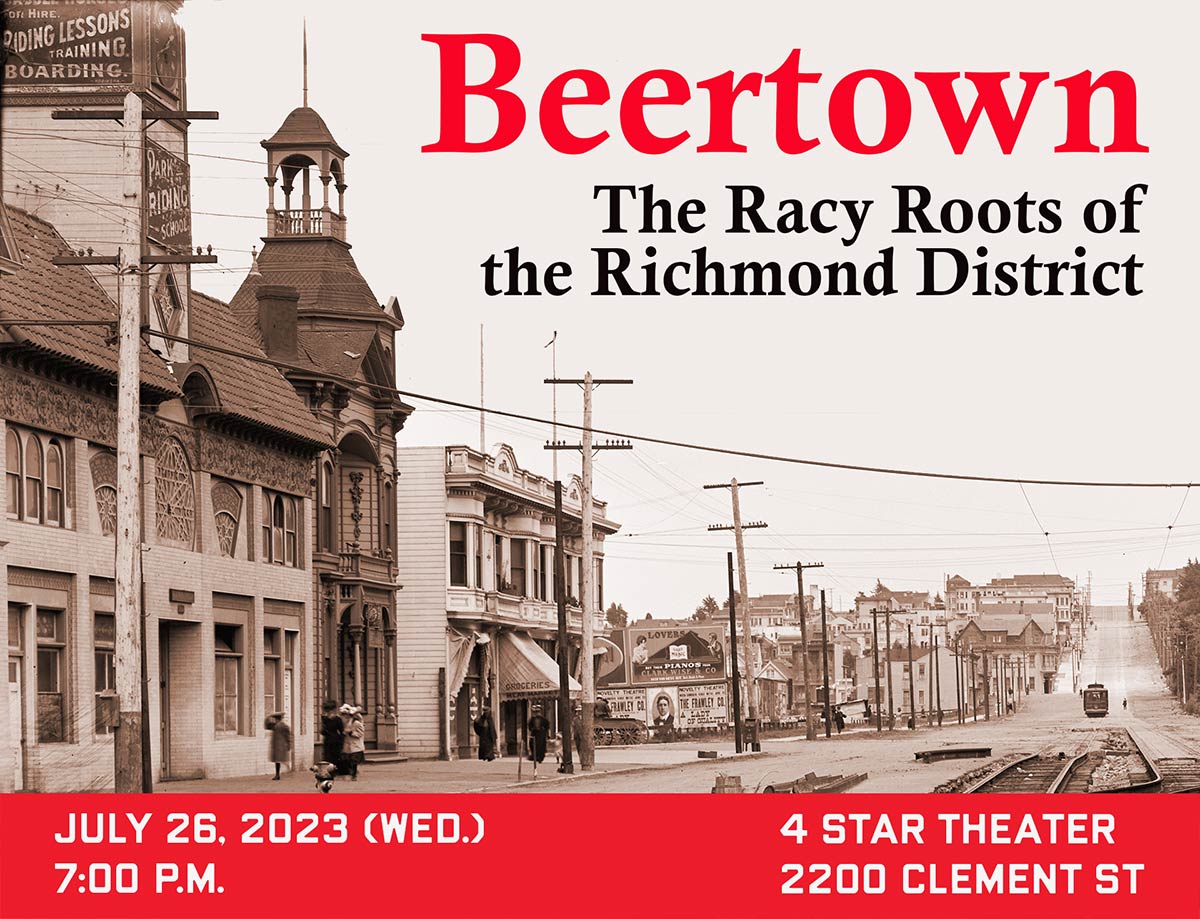 Well, you want more live events, so you'll get more live events. Come learn about the days when the Richmond District was home to roadhouses, racetracks, and infamous women…and people somehow had a problem with that.
So hear about Beertown: July 26 (Wednesday), 7:00 p.m. at the 4 Star Theater at 2200 Clement Street. See you there? My presentations at the 4 Star sell out fast, so grab your seat quick-style! Get your tickets today.
---
Woody Beer and Coffee Fund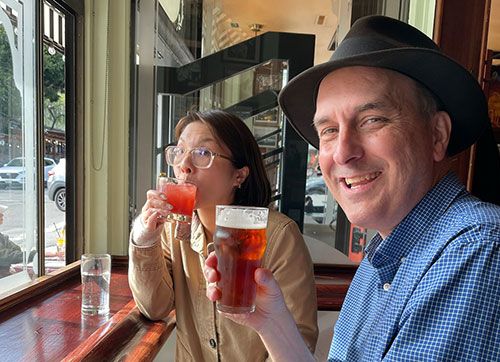 Speaking of beer... Thanks to Paul H. (F.O.W.) for his donation to the Woody beverage fund. Such generosity deserves a toast and I made one to him in meeting with a couple of dedicated readers last Wednesday. They were worried my new job might affect San Francisco Story, but I assured them I will keep on trucking. (They were too young to understand what that meant, but liked that I paid for the drinks.)
Keep my thirst quenched and the next one will be on me!