The Queen of California and the Booster Ball
All a sluggish San Francisco needed in 1921 was some pageantry and one killer dance party.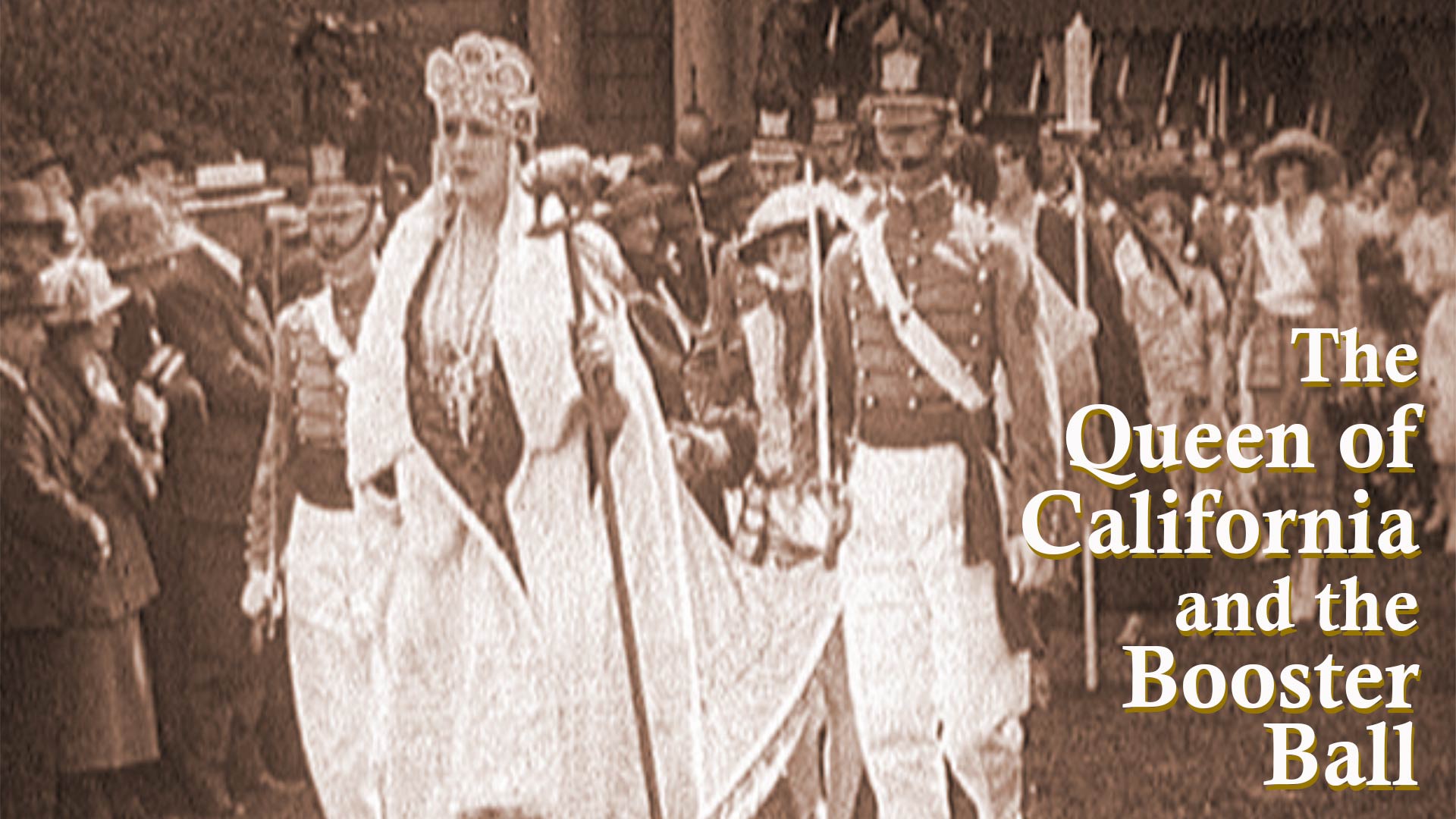 We're all busy and it's difficult to remember to go to the dentist, curate those vacation photos, cancel that Paramount+ subscription, get your oil changed, or buy some new socks.
I almost forgot to recognize the 102nd anniversary of the California Booster Ball.
Perhaps the June 18, 1921 ball would be forgotten forever if it hadn't been promoted in a grainy six-minute newsreel, a copy of which was safe-guarded by my old friend Jack Tillmany, digitized in the early 2000s, and squirreled away by me on an obscure hard drive.
But now I have found it and uploaded it to YouTube to live forever, or at least until YouTube dies. (It will happen people.)
For those unfamiliar with the Booster Ball—a category that may encompass every form of life on earth outside of your author—this video may perplex. For instance, what's the deal with the rooster men?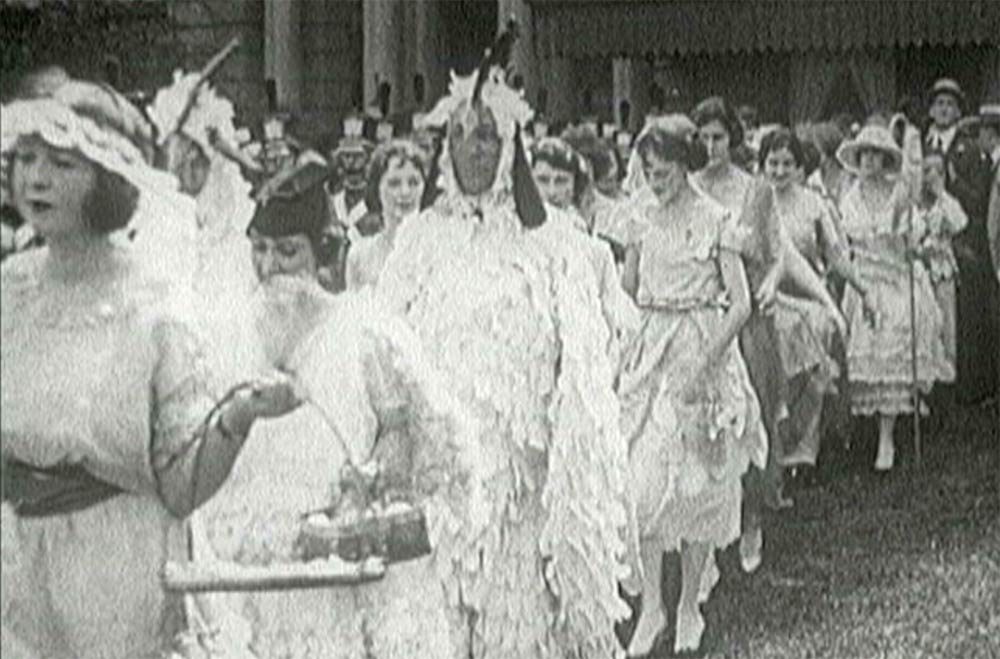 What are the occupational duties of a Butter Maid?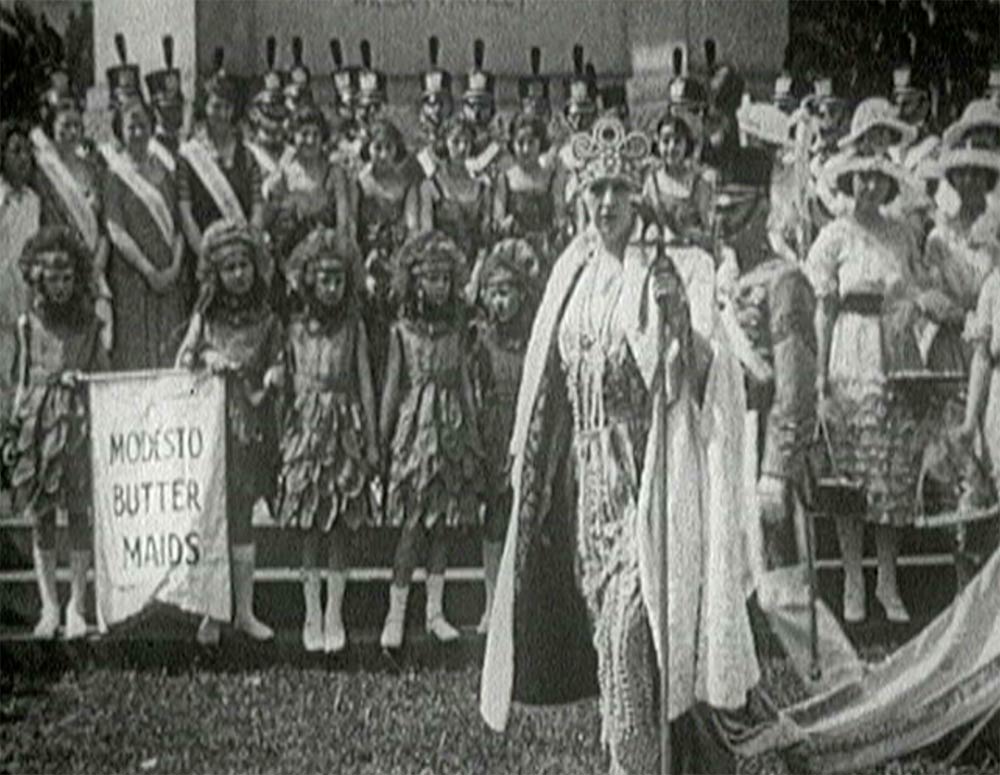 I am here to help.
At the dawn of the 1920s, members of the San Francisco Real Estate Board saw a terrible looming threat to their business and thereby the future of the city of San Francisco: people liked sunshine. Evil men in Los Angeles were capitalizing on that human frailty, drawing hoards to live and work in Southern California, threatening San Francisco's standing as Queen of the Pacific Coast.
The solution? Nothing less than a massive campaign to "boost" San Francisco with rallies, beauty pageants, luncheons, and one killer dance party in the civic auditorium: the Booster Ball. Recruited to the cause were other natural enemies of the southland such as Modesto, Palo Alto, Salinas, and Watsonville—a true Justice League of Northerness.
The Booster Ball was the object of frenzied anticipation. The ball had its own flag designed with mirrored capital letter B's. There were months of front-page articles, strange promotional stunts, and contests for best booster song, suavest dance couple at the ball, and most "beautiful, original, typical, or amusing" costumes. Stalwart San Francisco stores now consigned to fabled memory—I. Magnin, Roos Brothers, Sommer & Kaufmann, and the City of Paris—all contributed prizes. Club women, college students, and businessmen hawked $1 admission tickets across the Bay Area.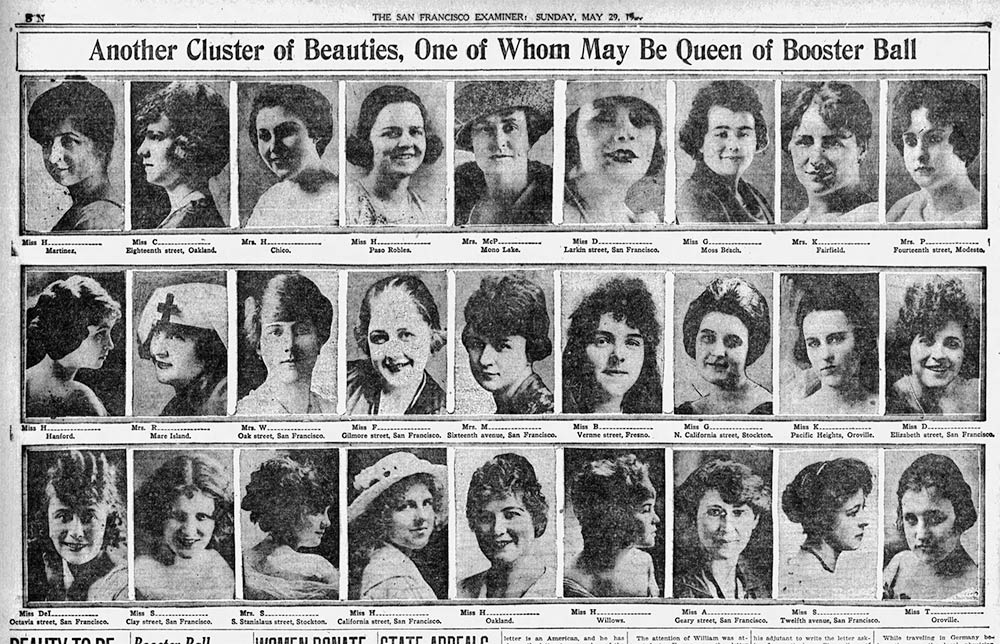 Claire Kennedy Walton won the opportunity to play Queen of California and carry a staff capped with a golden bear. (Where is that staff now, Woody wonders.) Automobile and Marin County interests tagged on a campaign to "Build the Bridge" (Golden Gate) and the Queen obligingly decreed it be done.
The state was caught up in a ridiculous romanticism for Missions and Spanish Colonial days. Miss San Francisco, Leta Todd, dressed in shawl and mantilla as the queen's lady in waiting. A Booster Ball promotion in Ingleside Terraces (at 96 Entrada Court) featured a score of awkwardly swaying "senoritas."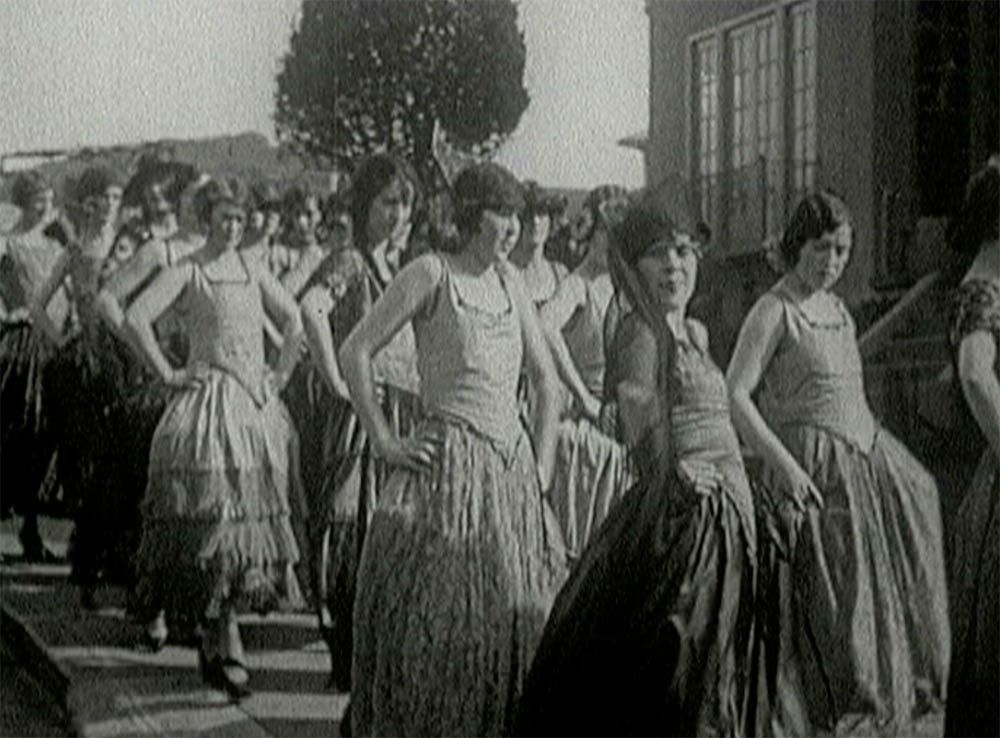 In a "Cinderella" contest, more than 100 young women entered to win a pair of golden Grecian sandals with rhinestone heels. Miss Matyel Root of 723 Haight Street was chosen by the judges after a final "try on" upon the roof of the St. Francis Hotel. Our newsreel cameraman was there and the Examiner noted the film would be shown across the United States, "advertising San Francisco as the home of tiny footed women."
Silent-screen comedian Roscoe "Fatty" Arbuckle, former US. Representative Richmond P. Hobson, and horticulturalist Luther Burbank were all roped in for booster duty and show up in the newsreel.
On the day of the ball, festivities began at noon with a reception at the St. Francis hotel. Queen Claire, robed in ermine donated by Liebes & Co., proceeded to lead butter maids, roosters, and Arbuckles out into Union Square for filmed homage.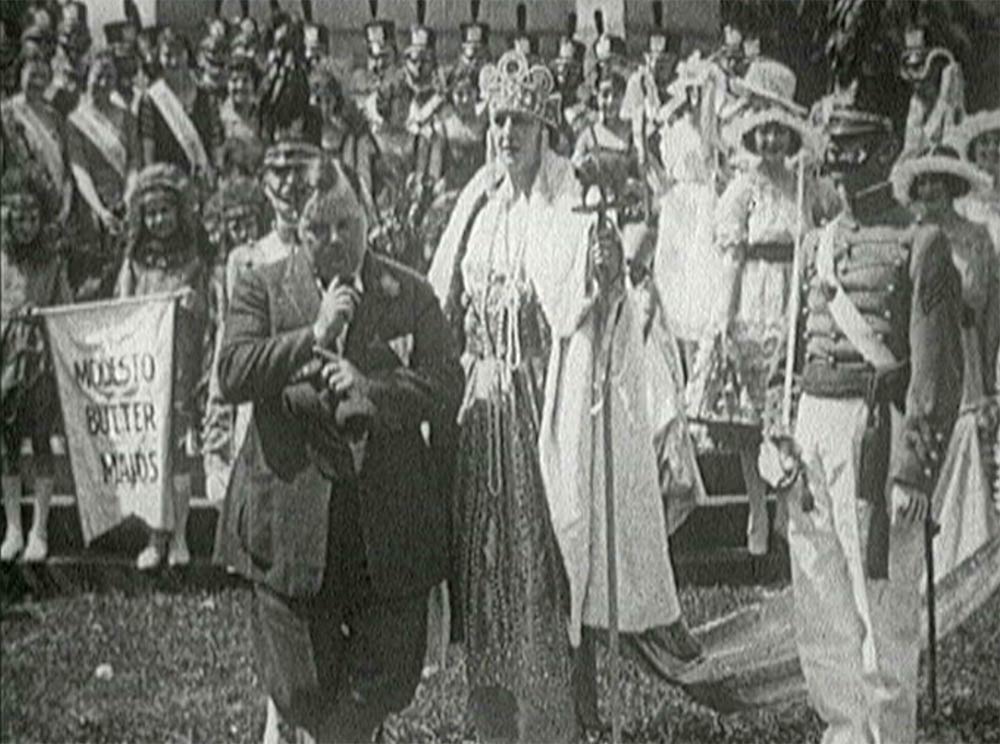 It's a bit creepy seeing Fatty Arbuckle come out of the St. Francis Hotel, because we future-people know he will return to the hotel three months later and host a party in his room. A young woman there will fall ill and die days later. Weeks of front-page trials will follow, with accusations of rape and Hollywood-land depravity. Fatty will be found innocent, but the scandal will effectively end his career.
We know. But Fatty, with his curtsying and mugging for the camera, does not.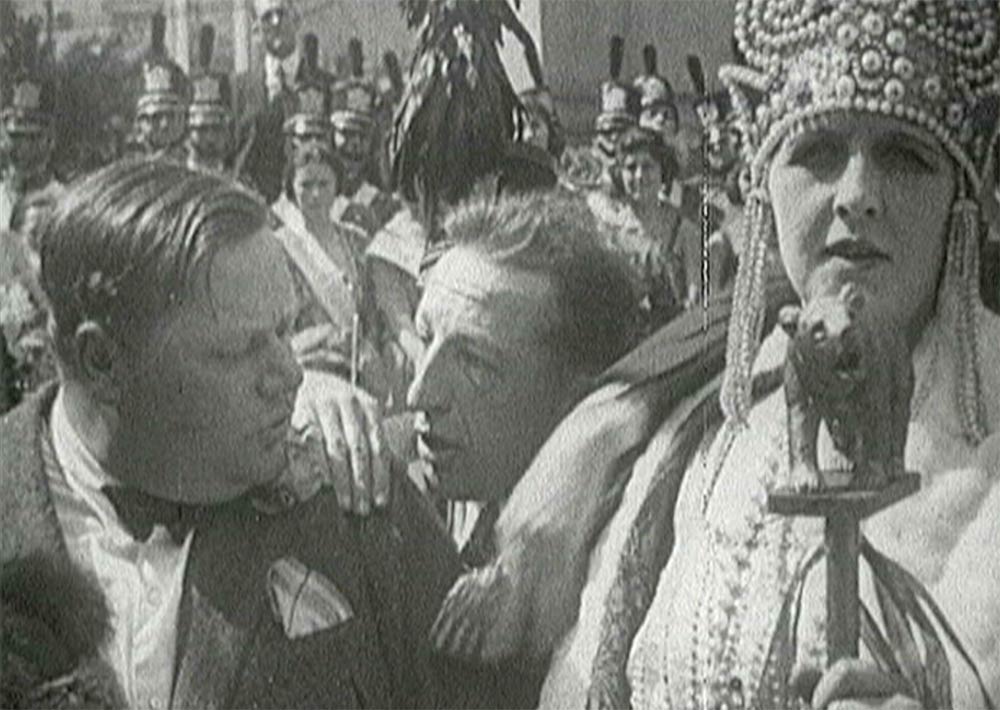 After a dinner at Hotel Whitcomb at Market and 8th Streets, dancing began at the Civic Auditorium at 8:30 p.m. The Queen and her court arrived at 9:30. Theatrical and film stars showed up at 11:30, and prizes were awarded at midnight. People didn't go to bed early in those days.
If the newspaper headline "Queen's Court to Reign at Gay B. B. Ball," doesn't feel like something from contemporary San Francisco, the reported cosplay at the ball may. A group of women dressed as ponies "pranced happily through a series of complex convolutions," driven by "winsome Master Harry Teitel, who wore the uniform of an Eastern military school."
Hmmm... ok.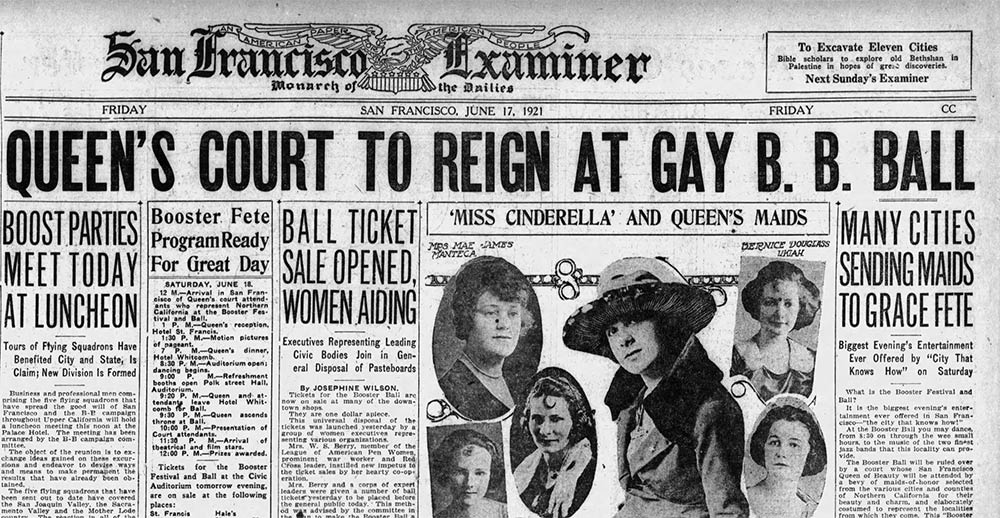 Rooster men promoted Petaluma egg farms. The butter maids ("golden-haired mites") beat the churn for Modesto dairies. A cadre of Redwood trees (women in tight brown satin frocks wearing green veils) represented Redwood City. Cowgirls from Salinas, Cantaloupe people from Turlock, prune-bearers from Hollister… they were all there flogging their towns.
For all the bizarre pageantry, the Booster Ball campaign raised real money to promote Northern California industry, agriculture, and population growth, launching a three-year push of print advertisements, promotional events, and national newsreel placements. No doubt its organizers credited their efforts with the economic boom of the Roaring Twenties, even if Los Angeles still kicked our butts, doubling in size between 1920 and 1930.
Our mayor and groups like SPUR and the Chamber of Commerce are pitching ideas to help revitalize our pandemic-smacked downtown and the city overall. Perhaps just one big, bizarre, booster ball is all that's missing.
---
Beertown Talk on July 26, 2023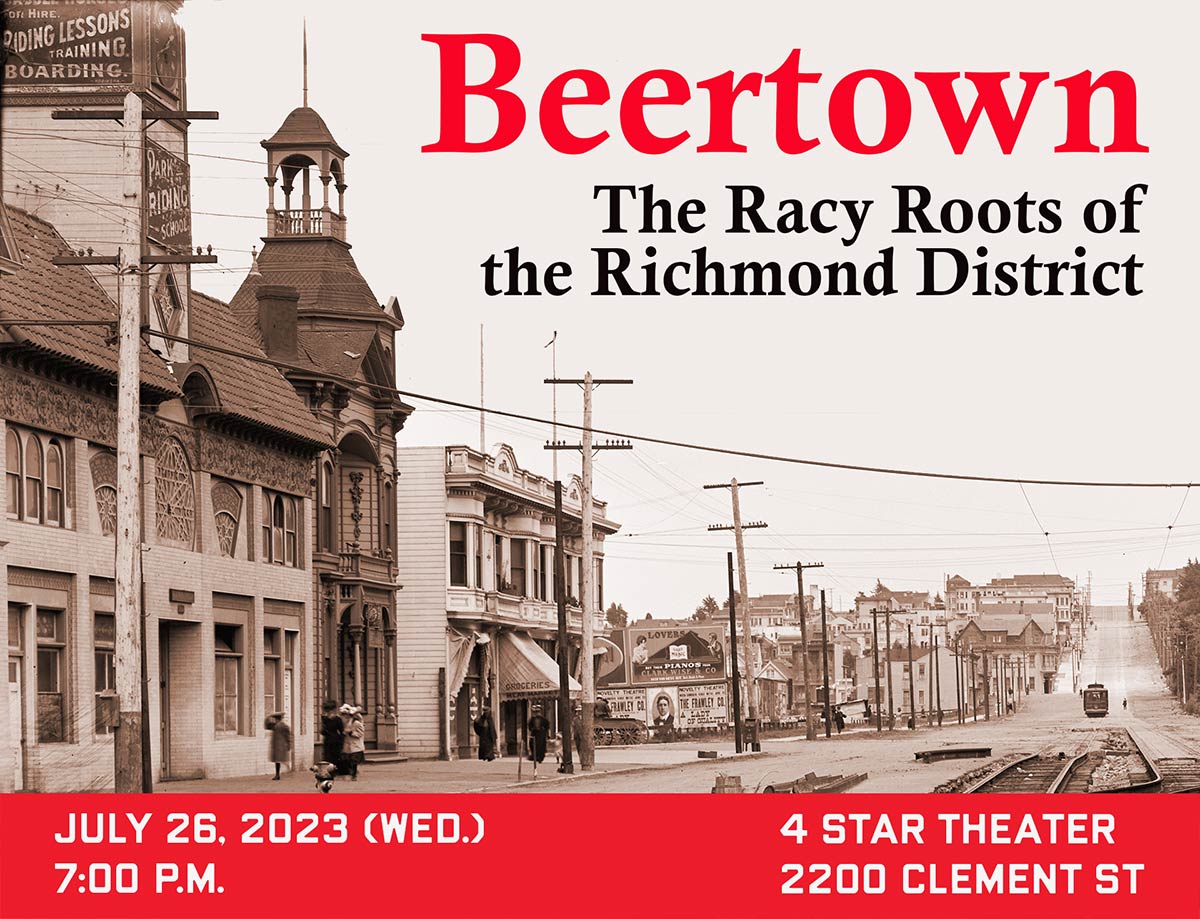 Come learn about the days when the Richmond District was home to roadhouses, racetracks, and infamous women…and people somehow had a problem with that.
I will be talking about Beertown on July 26 (Wednesday), 7:00 p.m. at the 4 Star Theater at 2200 Clement Street. My presentations at the 4 Star sell out fast, so get your tickets today.
---
Woody Beer and Coffee Fund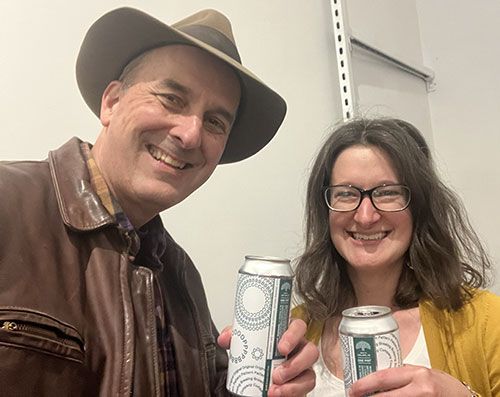 Thank you Woody-beverage-fund-folks for spotting Chelsea S. and me two pilsners the other night. (When did all beers start coming in Fresca soda cans?)
It looks like we were in a utility closet, but it was actually the lobby of the 4 Star Theater. This week's cherished donors to the liquid-refreshment-and-conversation account include Stephanie S. (F.O.W.), Kerri Y., Angus M. (F.O.W.), and Tom H.
I owe a couple of these beautiful people a get-together. And I owe you one too! When are you free?
---
Sources
"Queen's Court to Reign at Gay B. B. Ball," San Francisco Examiner, June 17, 1921, pg. 13.
"S. F. Cinderella to Be at Ball," San Francisco Examiner, June 17, 1921, pg. 13.
"California Beauties Flocking to S. F. for Big Ball," San Francisco Call, June 18, 1921, pg. 1.
Josephine Wilson, "Human Ponies Real 'Hit' at Booster Ball," San Francisco Examiner, June 19, 1921, pg. 8.
Mollie Merrick, "Queen Claire Bids Joy Reign at B-B Ball," San Francisco Examiner, June 19, 1921, pg. 1.