Woody Grab Bag #006
Strange adventures of young men in San Francisco, market memories, a walnut elephant, and recognizing City Cemetery.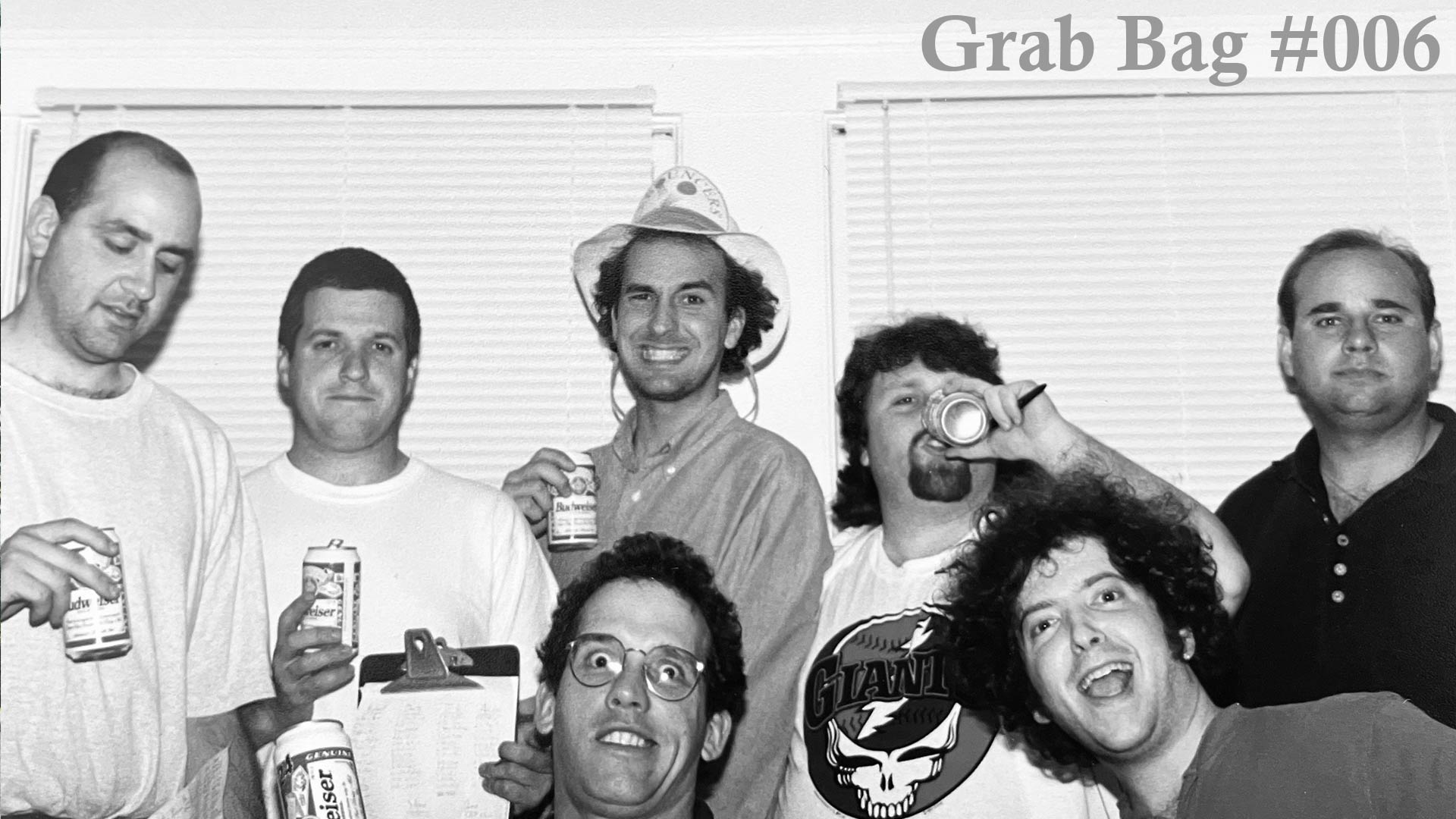 Young men of my acquaintance who were in the habit of voluntarily placing themselves under the influence of alcohol, had often surprised me with their recital of their strange adventures.
—Flann O'Brien, At Swim-Two-Birds
We're all here today but Kevin. He died from cancer on the day Donald Trump was elected president and everything has been pretty bad since then.
Kevin ordered Guinness when we were out, a performative gesture of Irish pride we allowed him to indulge in, but we smirked. He also liked the Celtics, Larry Bird, and because his father once owned or worked or drank at the Cork and Bottle on 24th Street before the yuppies came to Noe Valley, he talked of buying a bar like the ones with our rented stools on the Irish Mile: O'Shea's, Ireland 32, the Plough, Abbey Tavern, and—oh no—O'Keefe's. IRA posters and hunger strikers. Bobby Sands staring at us from under his blanket. The Guinness foam made a buff brother on Kevin's mustache that he didn't notice.
It was foggier then.
I'm talking about thirty, forty years ago.
The Outer Sunset fog ate the Pintos and Cougars parked on the street. Carnivorous ocean drifts left rusty bite marks in chrome bumpers. On summer afternoons when we played pickle in the center of 48th Avenue, using a glove and a manhole cover as bases, the scuffed white baseball could vanish between us, reentering reality only in sound as it hit the blacktop, rolling towards Your Market. Whole seasons were reported missing in white and gray gradients. Cold sinewy wraiths wormed into the pilled collar of your Derby jacket. Sunset row houses showed just one sooty face to the world, stucco, sills, and panes kissed by mist and exhaust.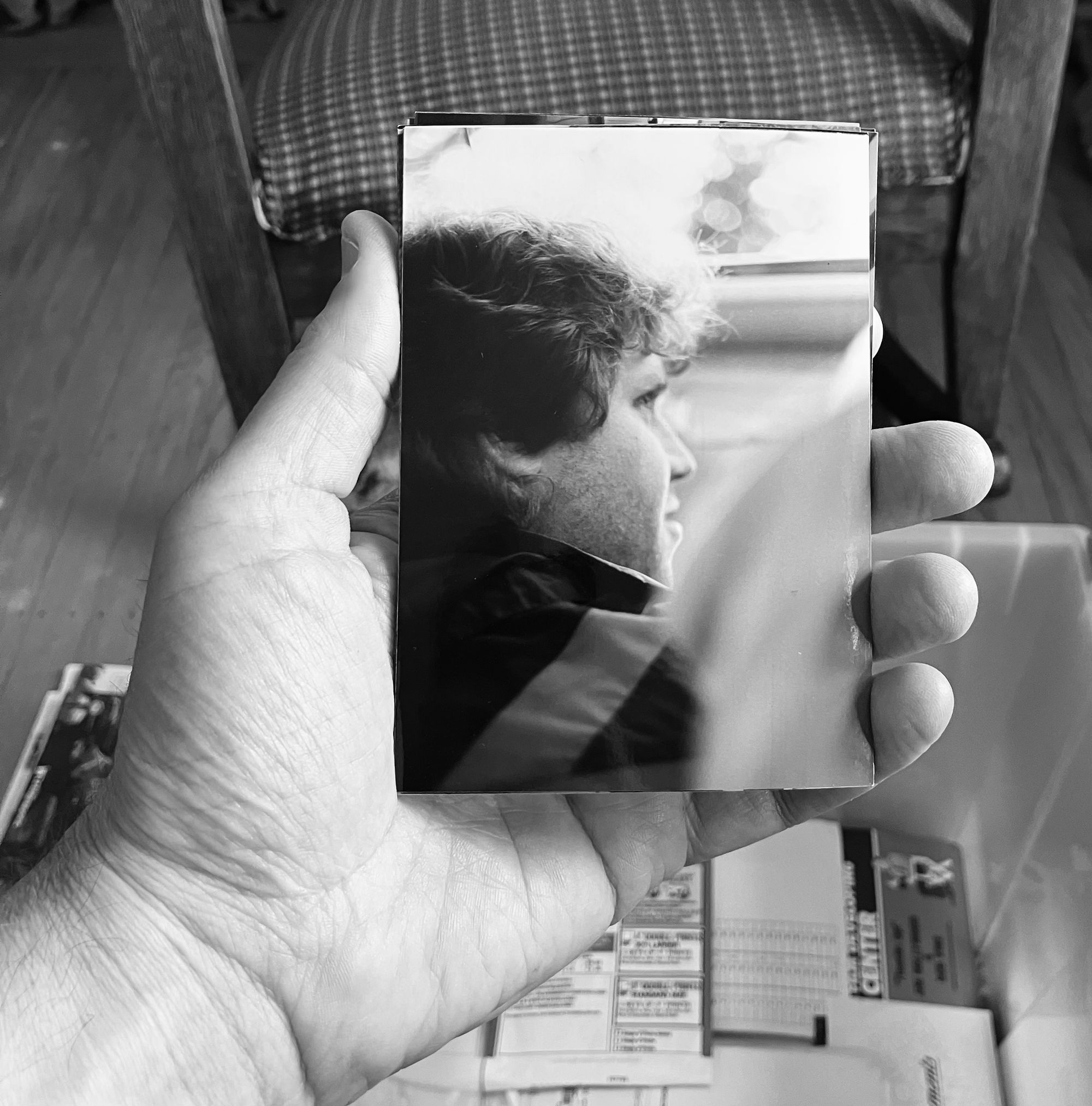 I was the new one. They had known each other growing up in the halls and concrete yard of Holy Name of Jesus, sons or grandsons of Irish immigrants. Their names clumped in the middle of the alphabet—Molloy, Murphy, O'Malley—and it just occurs to me now that theirs may have been friendships born of alphabetical circumstance, birthed from a nun's classroom seating chart.
We all liked sports and we were all fairly good students. We didn't advertise, but our smarts set us apart from the wannabe gangster boys of S.D.I. (Sunset District Incorporated, although some said it stood for Sunset District Irish) and W.P.O.D (White Punks on Dope). We worked on the newspaper at Sacred Heart— today a co-ed college prep, then an all-boys Catholic high school and recognized as the unofficial SFPD internship program.
With a couple of other Holy Name boys, Malaret and Begorre (another son of immigrants, but Basque) we played baseball at South Sunset playground. We played basketball at Sunset Rec Center. We played tackle football at West Sunset playground.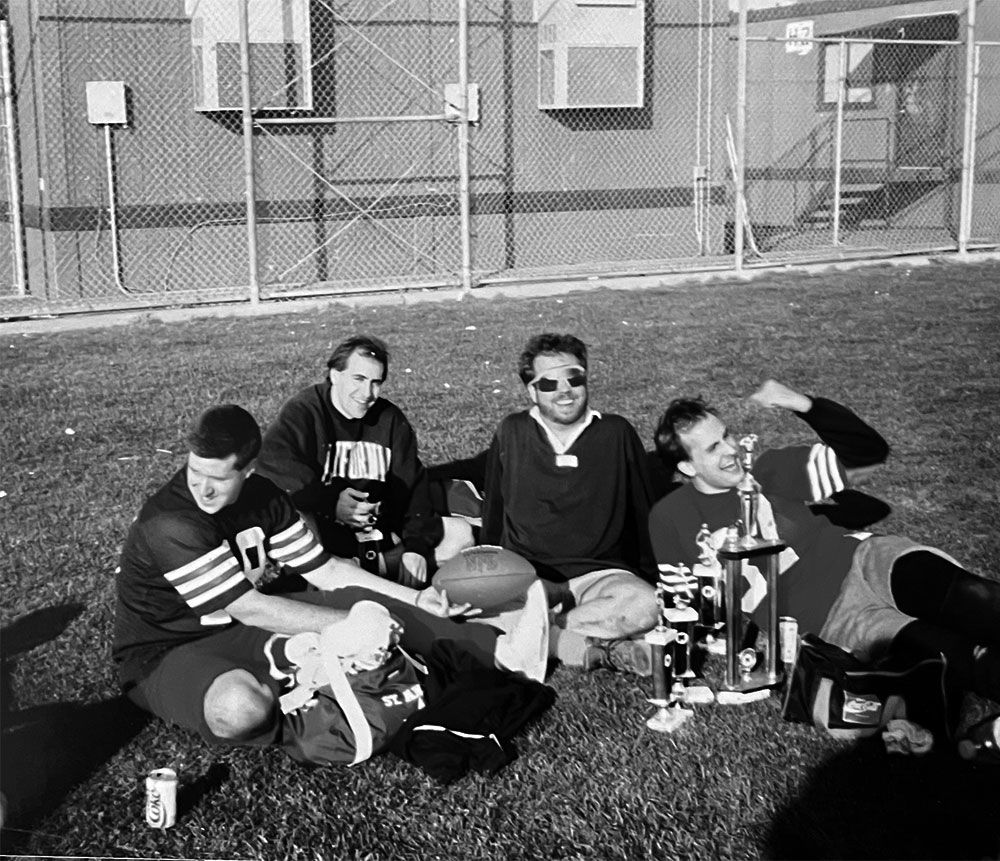 I was the new one, the odd one out if anyone wanted to pick. I grew up in the Richmond, a world away from the Sunset, some place beyond the park with Chinese markets and Russian delicatessens. They all vended at Candlestick, selling malts and then beers in the stands, uniforms of yellow shirts and black Ben Davis pants. They knew how to wrap bills around their fingers ready to deal change, ones on the outside, big bills out of sight.
We played poker, we played hearts. ESPN on the television, MTV on the television. High-low, stud, baseball, lowball—oh no—Honest Injun. If the bathroom was occupied, one of us would piss right out the front window—oh no—onto Lower Great Highway. No one saw the stream in the dark night, the trickle and splatter lost under the mournful, bovine, chesty moans from the bridge and Mile Rock.
It was foggier then.
The great Great Highway, up on the ocean-hiding berm was open and unmediated: four lanes, dividing lines faded and eaten by the ever-damp. Sand drifted with the fog. Ineffectual speckled-concrete cobra streetlights spat a dim yellow glow on the built-in drag strip between Lincoln and Sloat. We didn't race, but in the night we opened up the crappy, smoking '63 Buick Electra, pushing to hit three digits on the dash with no fear of interruption. Up on the berm it was just fog and sand and dark.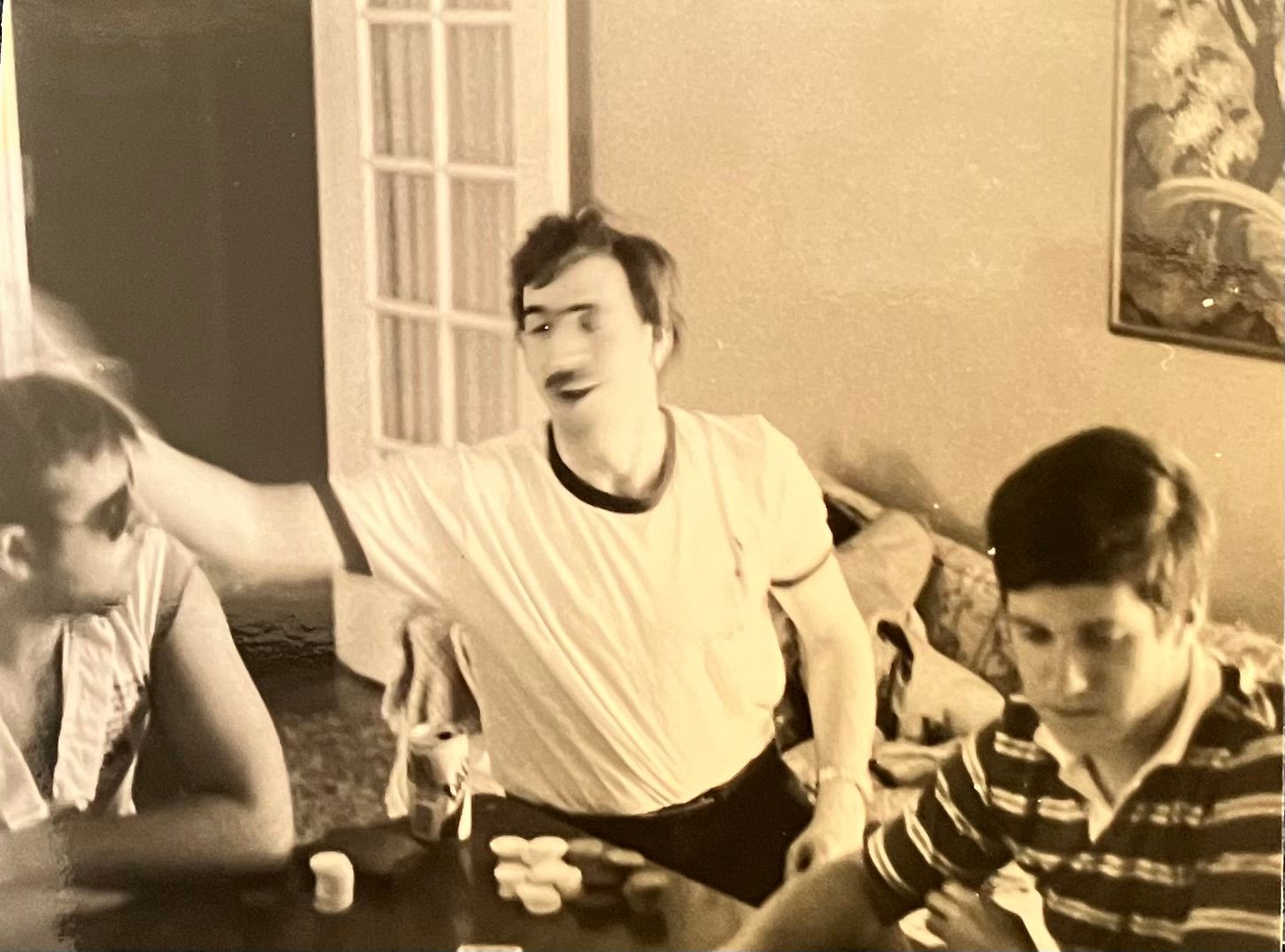 Mr. Novik rented apartments to four of us in "The Building" on the corner of 35th Avenue and Balboa. Adults now, playing poker, playing hearts, playing basketball at Cabrillo playground, playing tackle football in Speedway Meadow. Drinking at Hockey Haven with sheet-rockers, a pinball game with no flippers, and some guy— dead?—in the corner wrapped in a sleeping bag. This is all before they put in that front window, ruining the place. Dancing with divorced women at Silhouettes, dancing with Marina girls at the Pierce Street Annex, dancing with suburban kids at the Oasis, dancing with under-aged, tough, sniffling teens at the Palladium until dawn.
I loved the low, rolling, cold, hurrying fog on the Greens, at Fort Point, above the Baths, at Kelly's, at the Circle, skidding along Sunset's blacktop in the morning.
Kevin worked his whole life in black jeans selling Giants caps but I don't think of him when I'm at games. I think of him when I am at the Plough & Stars and I tell Eoin to drip me a Guinness because I am sure as hell not going to order one of those IPAs the kids like.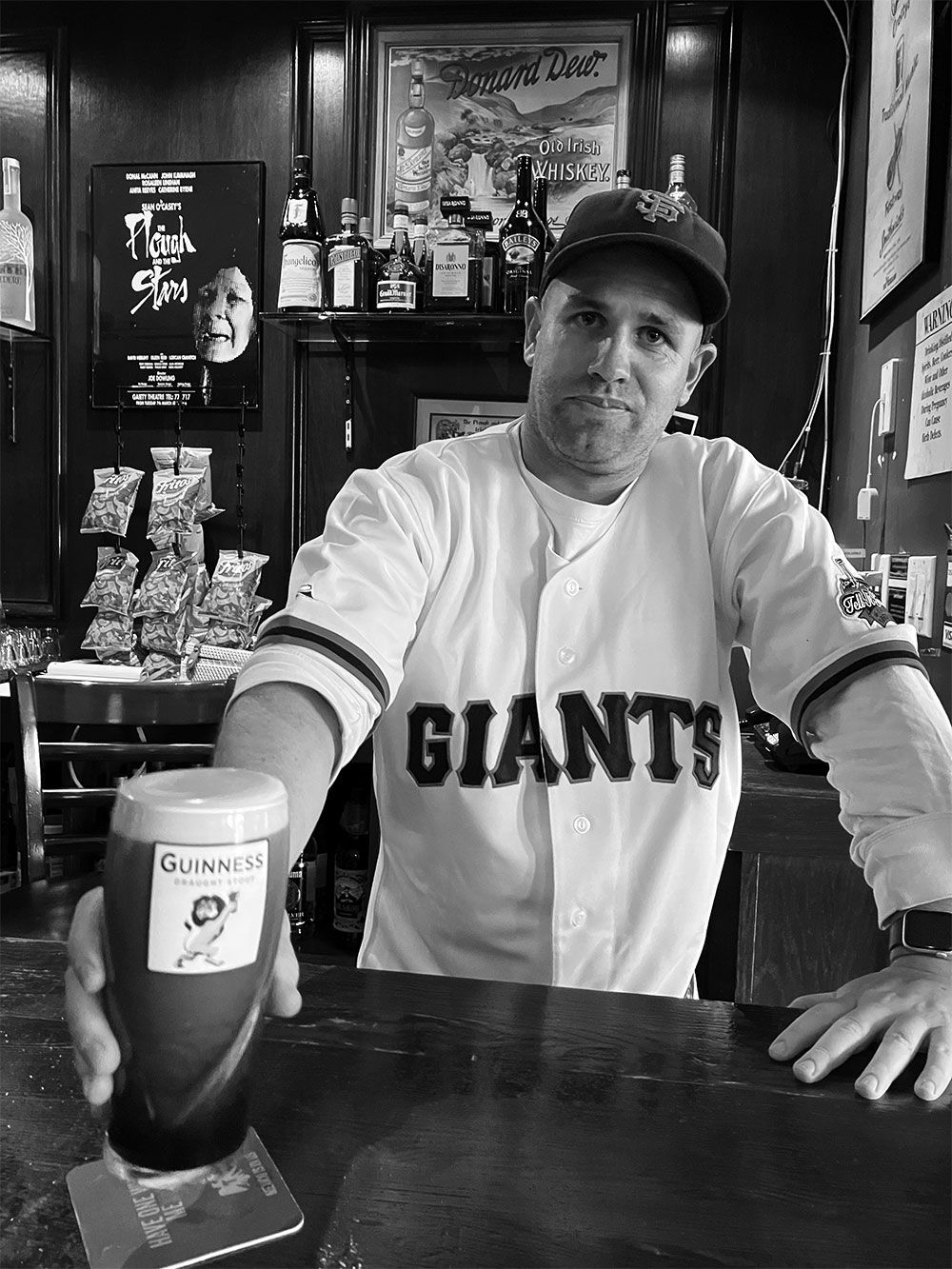 Originally published in The Boardside zine #4, September 2022.
---
Your Market, 1460 Judah Street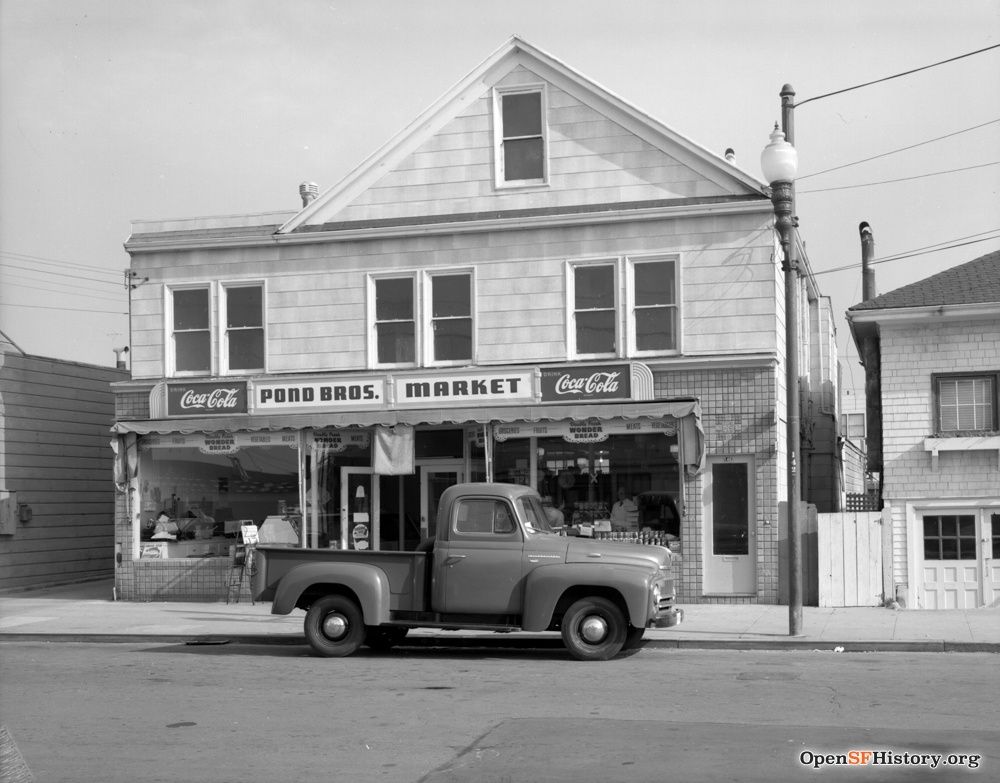 Back in the 70's when all the kids hung out at the ice skating rink on Friday/Saturday night we obtained all our beer from Your Market. They sold me a six pack on more than one occasion. I was 14 or 15 and looked it. Things were really loose in those days. — Rick (Western Neighborhoods Project message board, November 6, 2006.)
"Your Market, Your Deli" opened in 1907 as Quality Market, but as it was owned and operated by Charles and Henry Bruecker into the 1930s, most locals called it "Bruecker's."
Advertising in the neighborhood newspaper in 1925 with the slogan "We believe the future better yet," the Brueckers promised fresh vegetables, "stall-fed" meats (today we like our animals free-ranging and grass-fed, but times change), and fish on Friday. Two delivery runs to neighborhood houses were made every day, rain or shine.
"If it wasn't for that store, I wouldn't be here today," longtime neighbor Frances Larkin told me in 2010. "Every bit of food that went in my mouth to sustain me came from Bruecker's."
Frances grew up around the corner from the store in the 1930s. She recalls that Henry Bruecker's girlfriend, Miss Rector, lived across the street from the grocery and did the store's books in a little room in the back. (The room is still there.) The Brueckers allowed neighbors to keep a tab at the store between paydays. Jake, the market butcher, would give a complimentary bologna slice or hot dog to the local kids. "At Christmas time they sold trees, too. They had everything."
A real San Franciscan, Frances is 97 years old now and still in the same house she bought new with her husband, Marty, in 1947. She cut quite a figure on a motorcycle in the old days.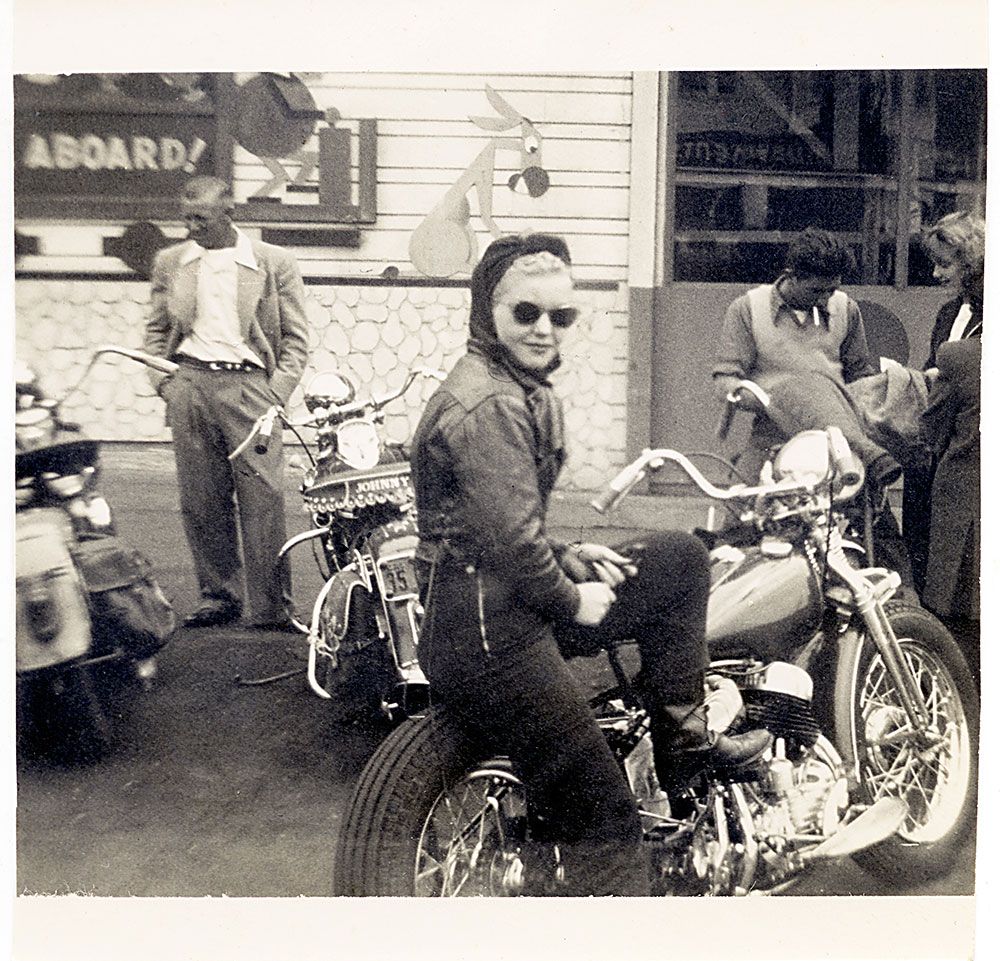 ---
Walnut Elephant Found
In the 10 Highlights from the 1894 Midwinter Fair email a couple of weeks ago I featured an elephant sculpture made of walnuts which was on display in the fair's Horticultural and Agriculture building. Reader Noah Lang tipped me off that a re-creation of "Jumbo" was put on exhibit at the Los Angeles County public library in 2018. Here's a nice article running down the walnut elephant's history and a shot of the staff going nuts to make it.
---
Remembering the Dead at Lincoln Park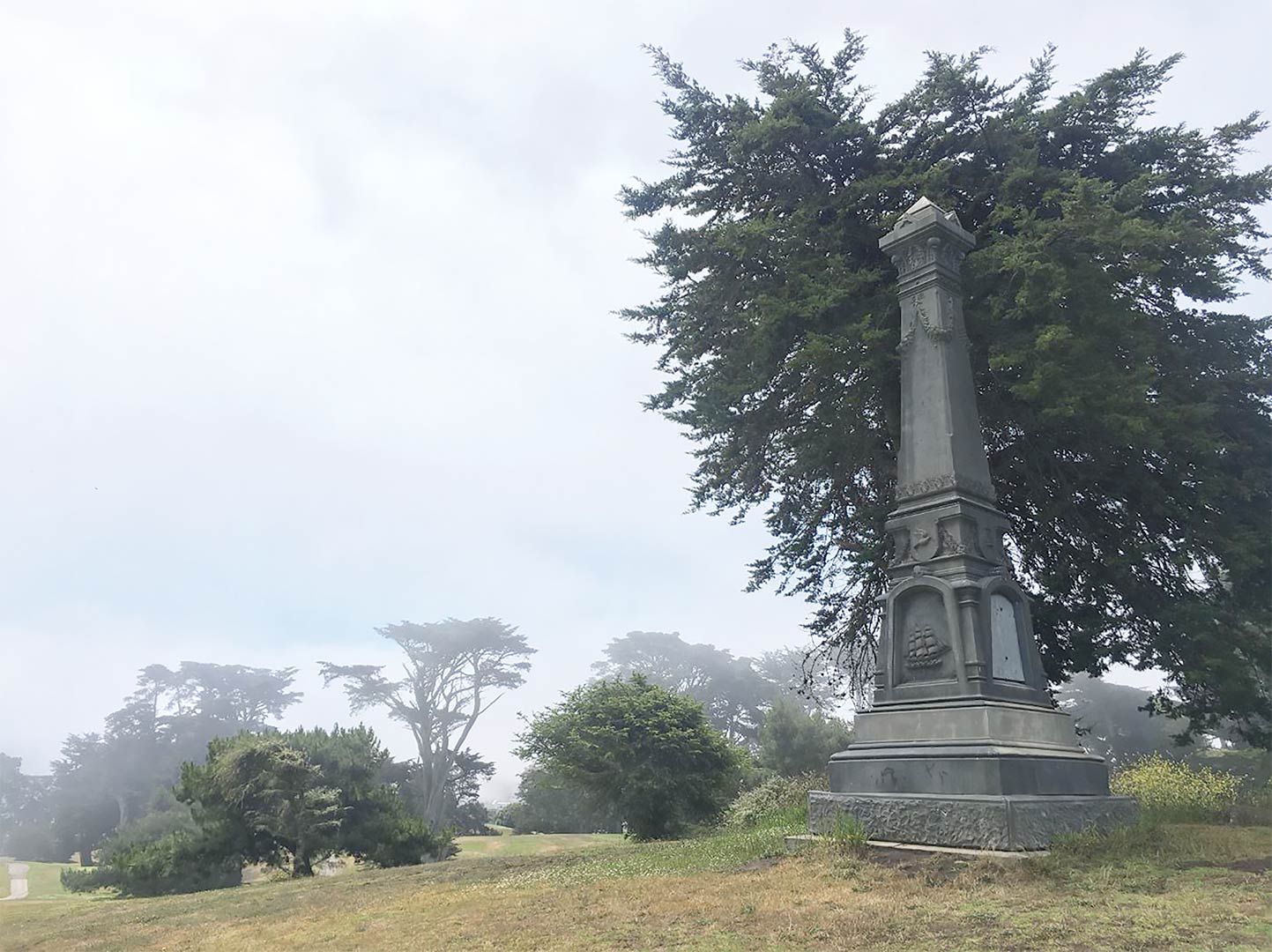 Over the last two years I've worked pretty hard with San Francisco Planning Department staff and some wonderful researcher friends to make the Richmond District's Lincoln Park a city landmark. Why? Not because of the nice golf course or the fabulous California Palace of the Legion of Honor, of which I am a member, but because it is the site of the old municipal cemetery and some 20,000 San Franciscans are still buried there.
The San Francisco Story Annual magazine to be published in late November for Friends of Woody will have lots more history and my own perspective, but Beth Winegarner has already written a terrific article on the whole story you can read right now in Alta Journal: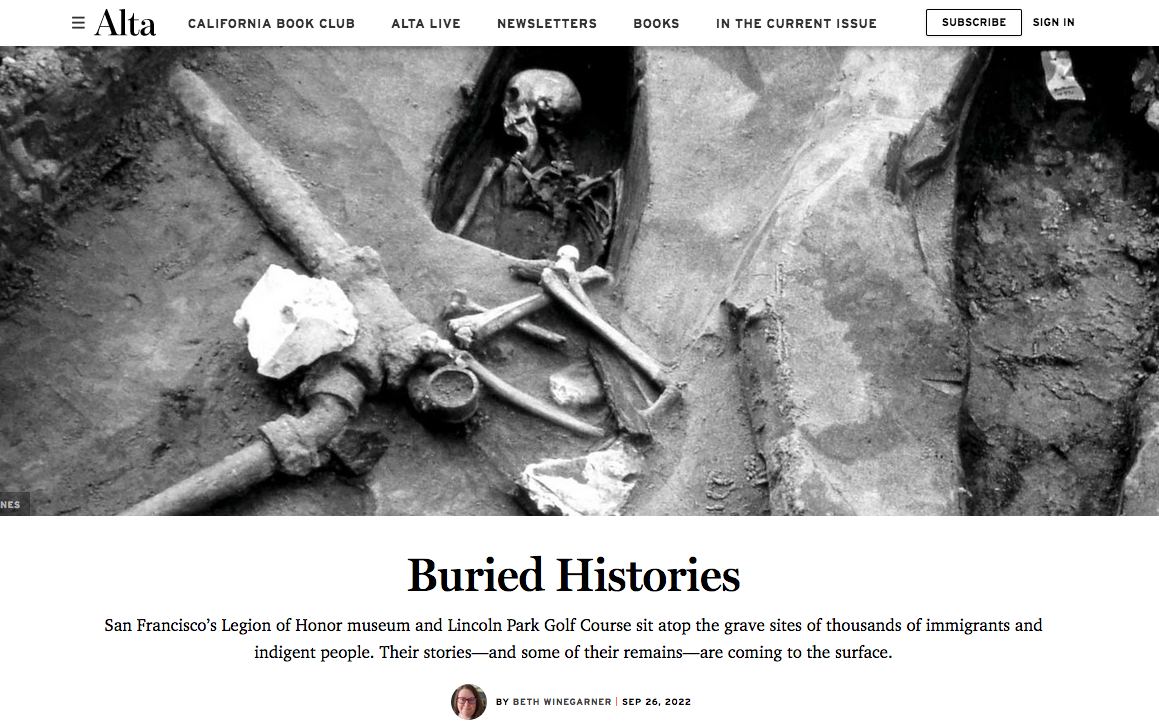 The mayor signed the landmark ordinance just Monday! Beth and I will be talking more about the cemetery online next Wednesday (10/12) at 12:30 Pacific time. I hope you can join us. Register for free right here.
---
Then and Now
My friend Chris Duderstadt has had some fun creating a time traveling aerial overview of the "Outside Lands," and City Cemetery is on the edge of some of them. Check it out.
That's it! Go out and take a walk. And if you want to receive future Grab Bag emails, get discounts to events like the cemetery walk below (16 spots left!), and receive the printed San Francisco Story Annual journal, sign up to be a Friend of Woody!