San Francisco Time Machine
Woody's top 5 trips using a San Francisco Time Machine.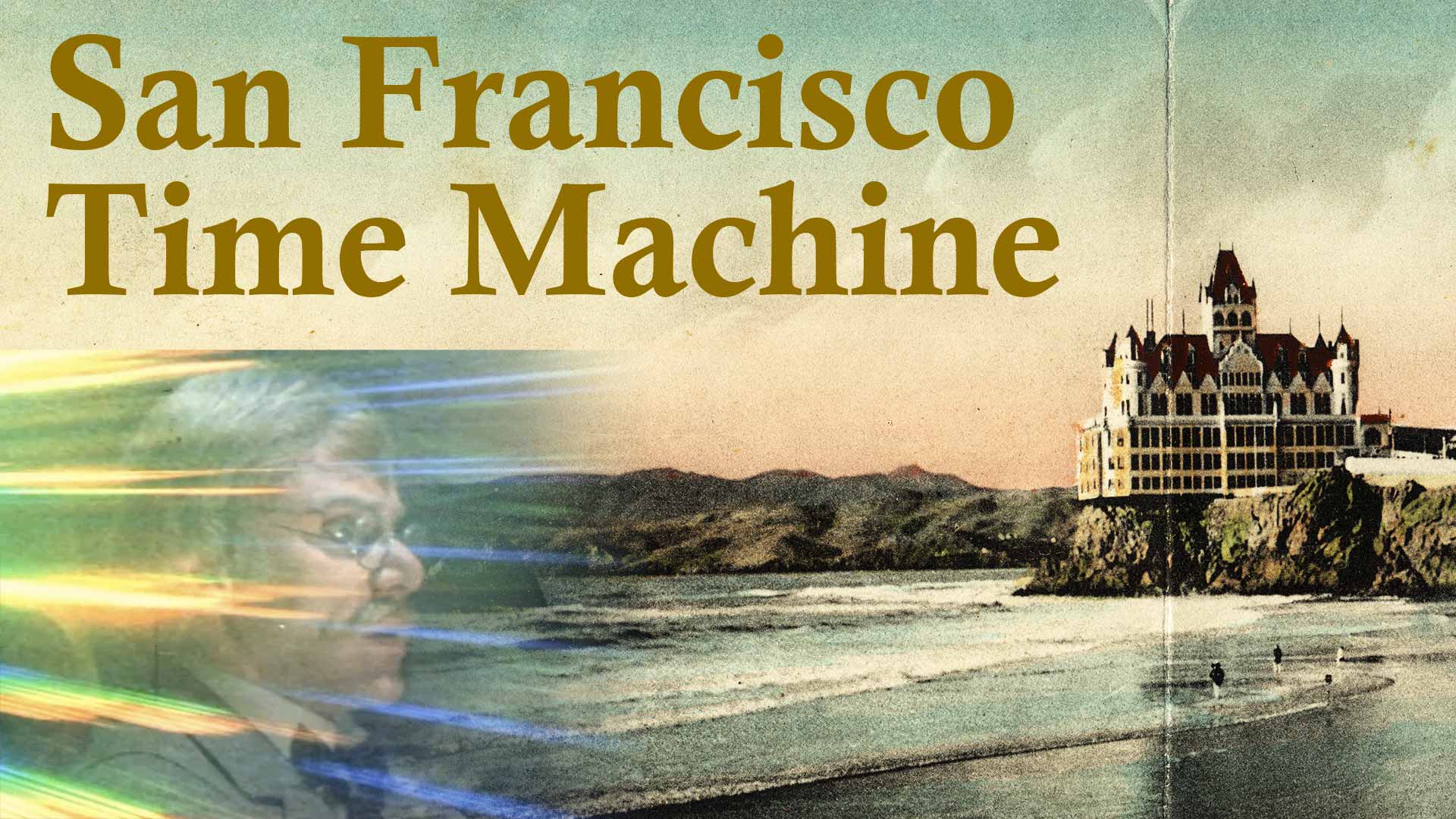 I got the keys. Pulling levers, setting clocks, and spinning the strobe lights I may travel anywhere in time with three simple rules: 1) I can only land within modern day San Francisco city limits; 2) I can only stay for 24 hours; 3) I can't interfere or change history.
Now, anyone who has read or watched a time travel story knows rule number three always gets broken. Time travelers accidentally or subversively muck around. The past gets restored through more time travel. Or the historical events happen, but incorporate the time traveler's actions paradoxically.
But this is the © San Francisco Story universe. I don't want to be an invisible floating ghost. I do pretty much what I want, no consequences. I won't try to change the past by revealing secrets, but I want to have a meal and chat people up if I feel like it. Whatever I accidentally or intentionally do in my 24 hours, my great-grandparents will still meet and fall in love in April 1906 and William G. Harding will still die at the Palace Hotel on August 2, 1923.
Another popular version of the time travel story is to go back in one's own lifetime to correct mistakes or grab missed opportunities. I definitely have tempting potential do-overs on my record, but not enough to tinker with a great life.
Perhaps in a future column I'll play with the what-I-do-matters-plot, but for this one, magic and science-y stuff make sure I don't change or screw anything up. I'm just having an awesome one-day vacation.
Trip #1: Best Seat in the House
June 27, 1929, 10:00 p.m. arrival at O'Farrell and Stockton Streets.
This will be a tricky 24 hours to pull off, but I can catch the last vaudeville performances at the Orpheum Theatre, closing at midnight, and then, the following evening, attend opening night of San Francisco's grandest movie palace ever, the Fox Theatre.
While the Orpheum was remodeled and reopened as the Columbia in 1930 (for Broadway touring shows), the evening of June 27, 1929 was the end of its long run as the prime location for vaudeville in that art form's heyday. Ted Lewis and his Musical Klowns are the headliners the last night.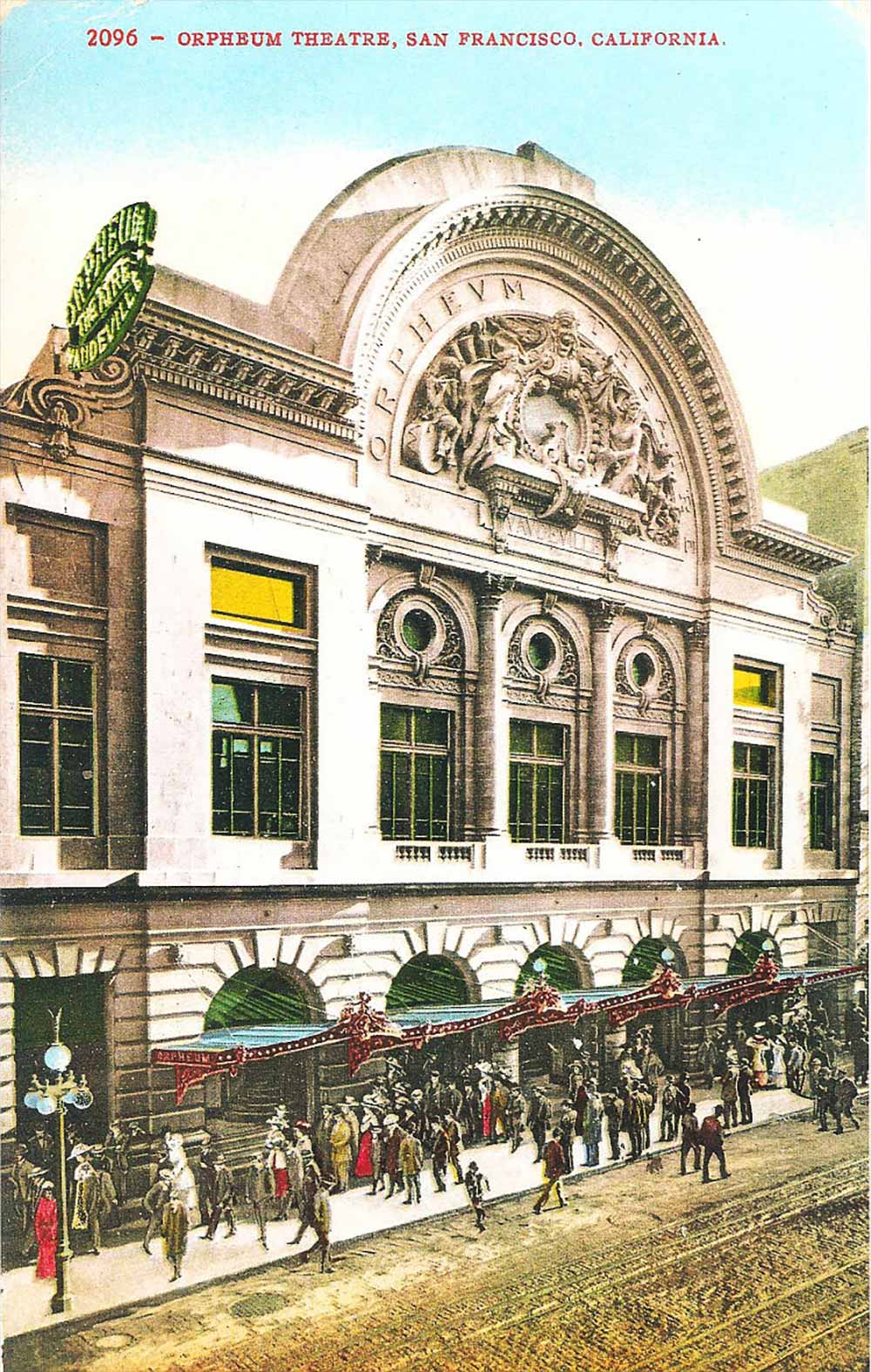 During the day I can catch the Los Angeles Angels drub the hometown Seals 18-5 at Recreation Park at Valencia and 15th Streets. Despite all those runs and 23 hits by the Angels, the game was over in a tidy two and a half hours.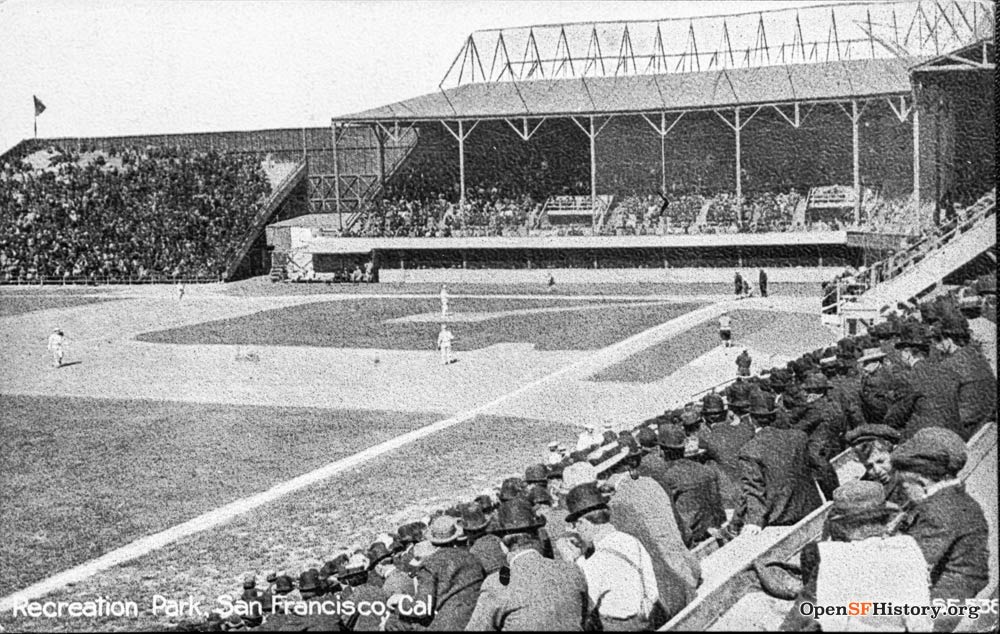 Yes, it will be a mob scene that evening at the opening of the Fox Theatre on Market Street on June 28, 1929, but I might get a peek at attending luminaries such as Laurel & Hardy, Buster Keaton, and Janet Gaynor as I pass through the golden lobby, gawking with everyone else.
Reclined in my elegant seat with an "F" woven into the upholstery, I'll get live music, dancing girls, newsreels, and motion pictures on the big screen before I wink out of time back to 2023.
Trip #2: Fin de siècle Bohemia
March 21, 1896, 8:00 a.m., arrival at Ocean Beach.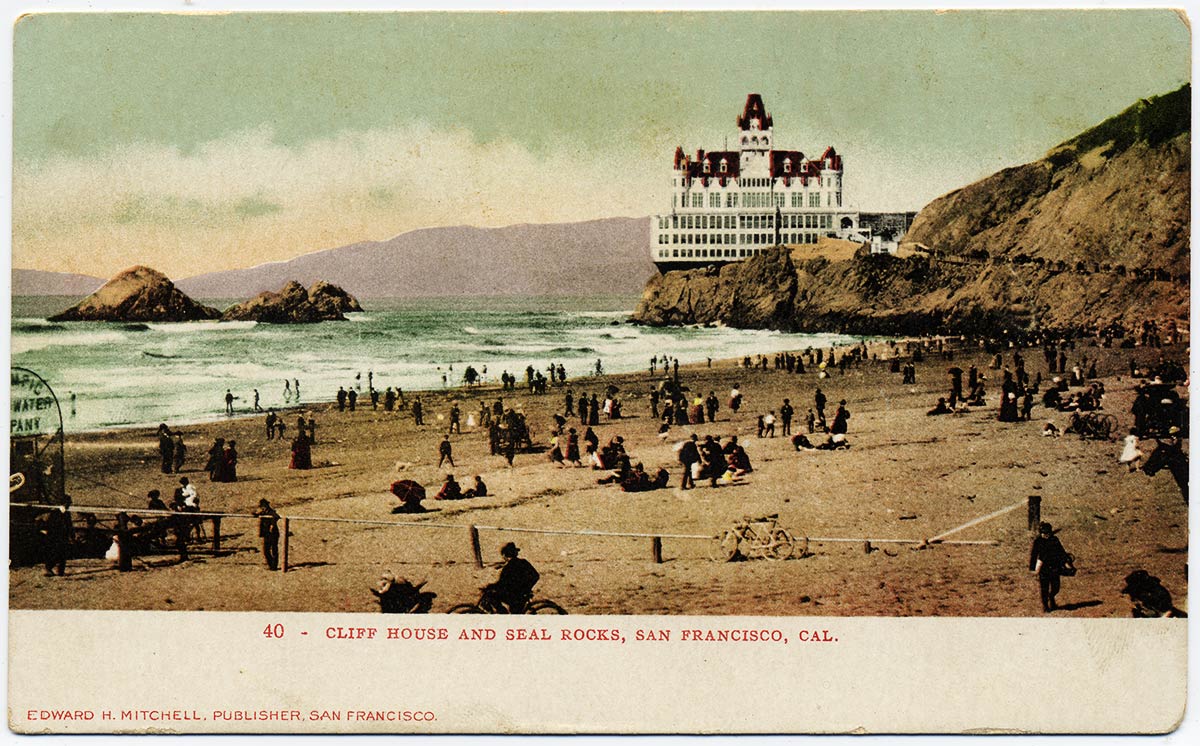 This is going to be a full day. I'm going to see if Colonel Daily has any coffee on the hob at his Annex in the new Carville community. Maybe I can talk my way into the Lady Falcons' clubhouse. I'll stroll up to the spanking new "Victorian Cliff House" for a full breakfast.
Then through Golden Gate Park headed east. I'll make a stop at the "Memorial Museum," the strange Egyptian temple predecessor of today's de Young Museum.
I'll jump on a Market Street Railway "red line" cable car at Stanyan Street to rumble through the developing Haight and go all the way down Market Street to the old Ferry Building depot in its last weeks of existence.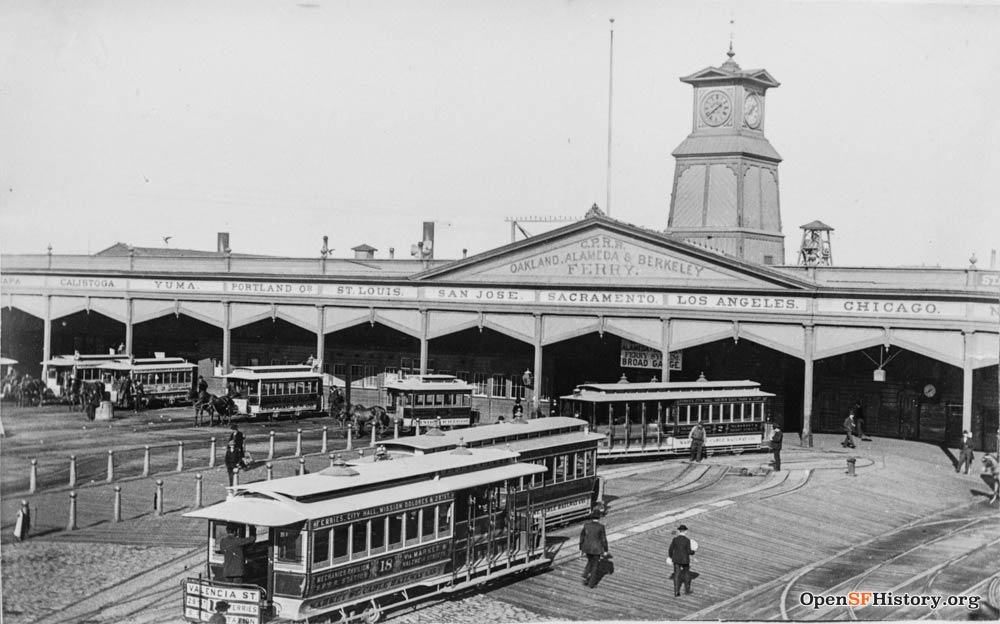 The Sausalito ferry will get me across the bay to my great-great-grandparents' El Monte Hotel, where I will do some family history snooping and get a feeling for my ancestors' personalities before they lose their place in fine society later just a few months later.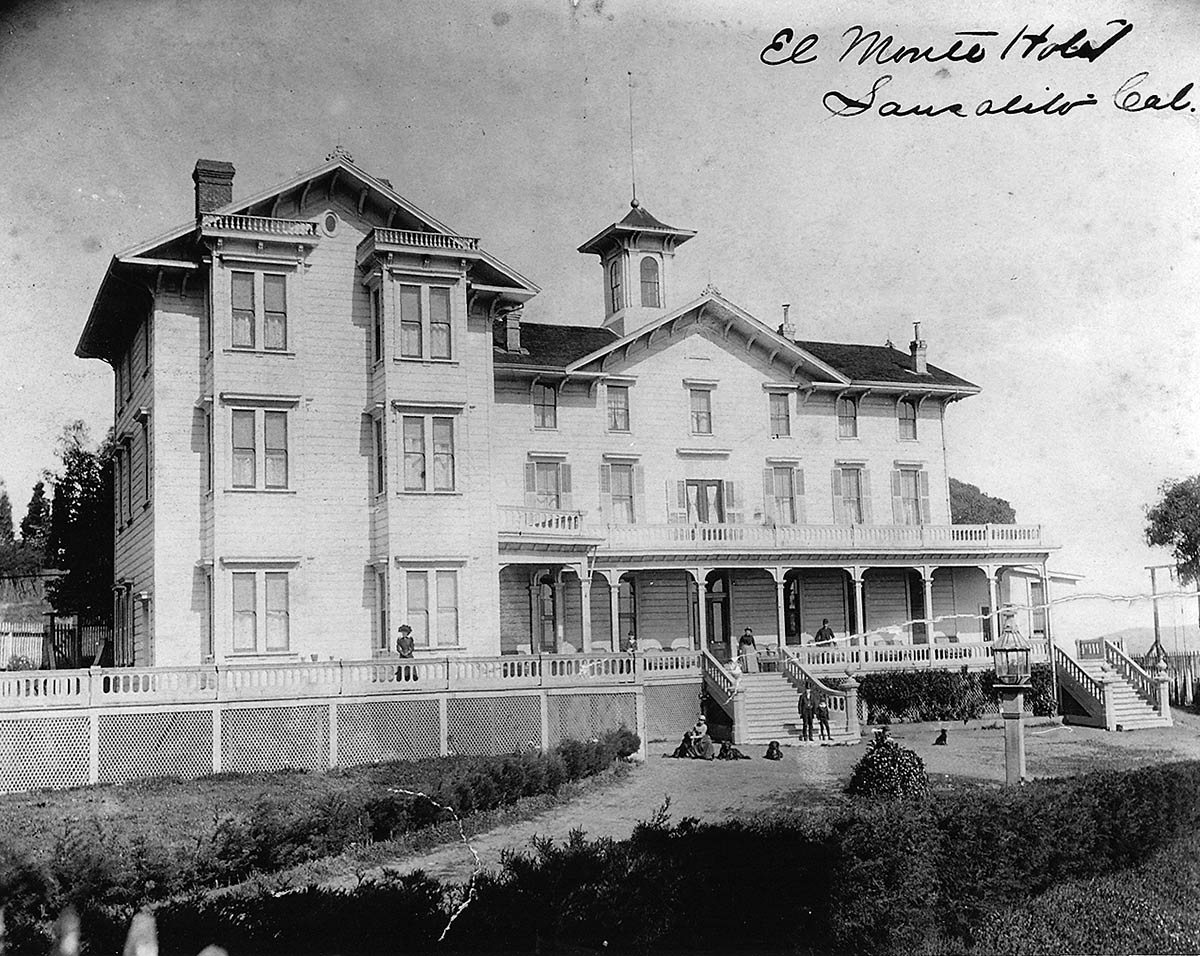 Catching a ferry back to town, I'll elbow my way into a spaghetti dinner with Les Jeunes (also known as the Fuzzy Bunch) at Giuseppe Coppa's Red Paint restaurant in the Montgomery Block. After a few too many drinks and trying to convince Maynard Dixon and Anna Strunsky to climb Telegraph Hill for one more at the decayed Layman's Folly, I'll weave back to the old Palace Hotel to sleep it off.
Trip #3: Yelamu
A fall day in 1510, 10 a.m. arrival at the mouth of Islais Creek.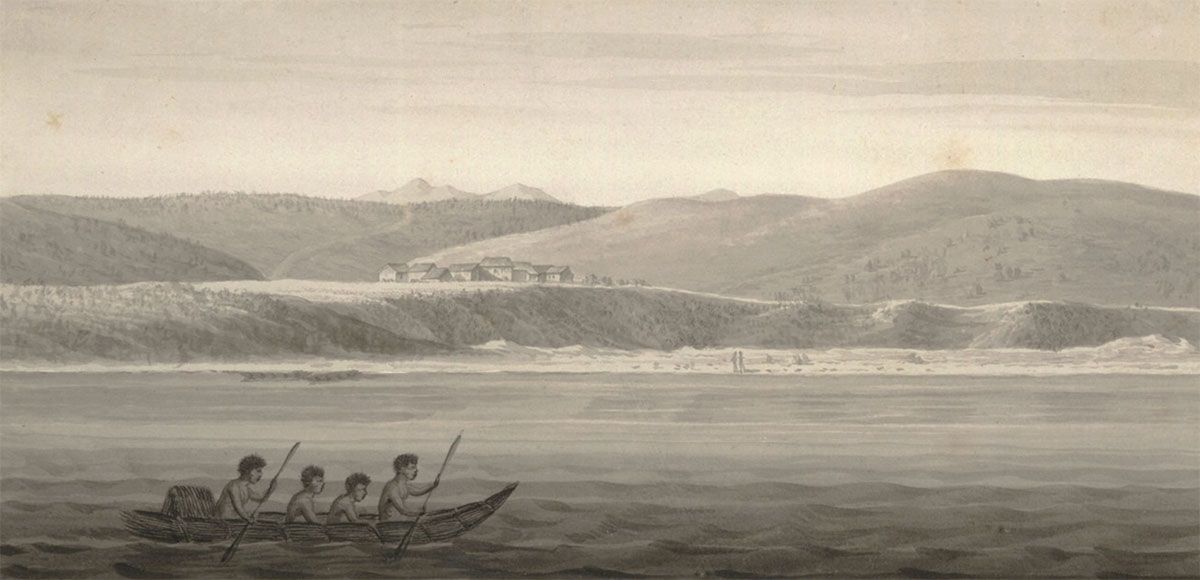 Let me be in the Bay Area on a clear crisp day before the ancestors of the Ramaytush Ohlone see their friends, family, and culture almost completely extinguished in genocide by the Spanish, the mission system, and then the Americans.
This is one where I really should be an invisible ghost. The men and woman living on the sandy peninsula, called Yelamu by some neighboring tribes, would not benefit in any way from me arriving, but let's keep our magic intact. I can hang out, they are fine with it, and the second I've left they all forget I was there.
I have no Rousseauian illusions that this would be paradise, but to have even a few hours immersed in Ohlone life—work, play, hunting, cooking, and general worldview—would be amazing. Give me a universal translator and a chatty guy with some time to talk.
Then there's the pre-colonization environment, especially the marshy bayside, the open creeks, shorebirds, coyotes, rabbits, deer… I wouldn't expect to get lucky enough to see elk, wolves, or a grizzly, but who knows...
My day would involve a lot of arduous hiking, trying to identify my familiar slopes and vistas. No eucalyptus trees, lots of sand dunes. I think I'd pick Bernal Hill to watch the sun rise over the bay.
Trip 4: End of Old San Francisco
April 17, 1906, 4:30 a.m. arrival 20th and Mission Streets.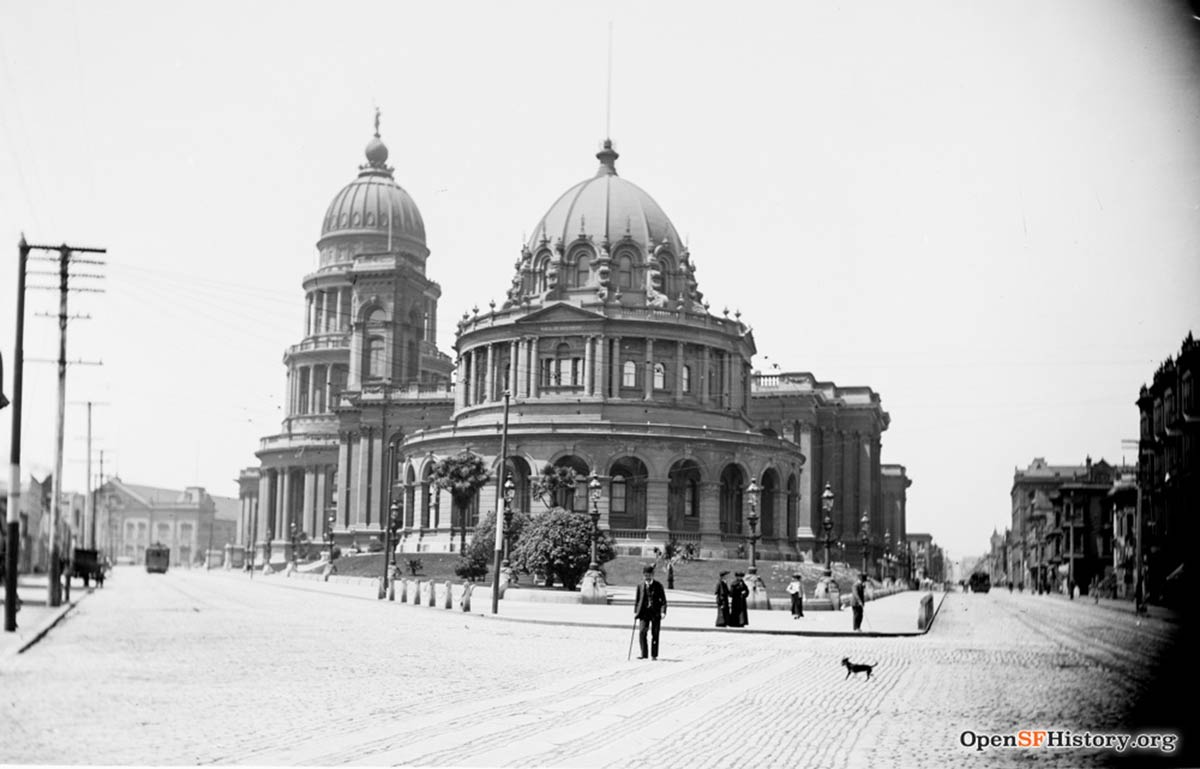 This is just a decade after my Trip #2, but it's a last chance to experience old San Francisco before the April 18, 1906 earthquake and fire destroyed most of town, so I'm going to get granular with my touring.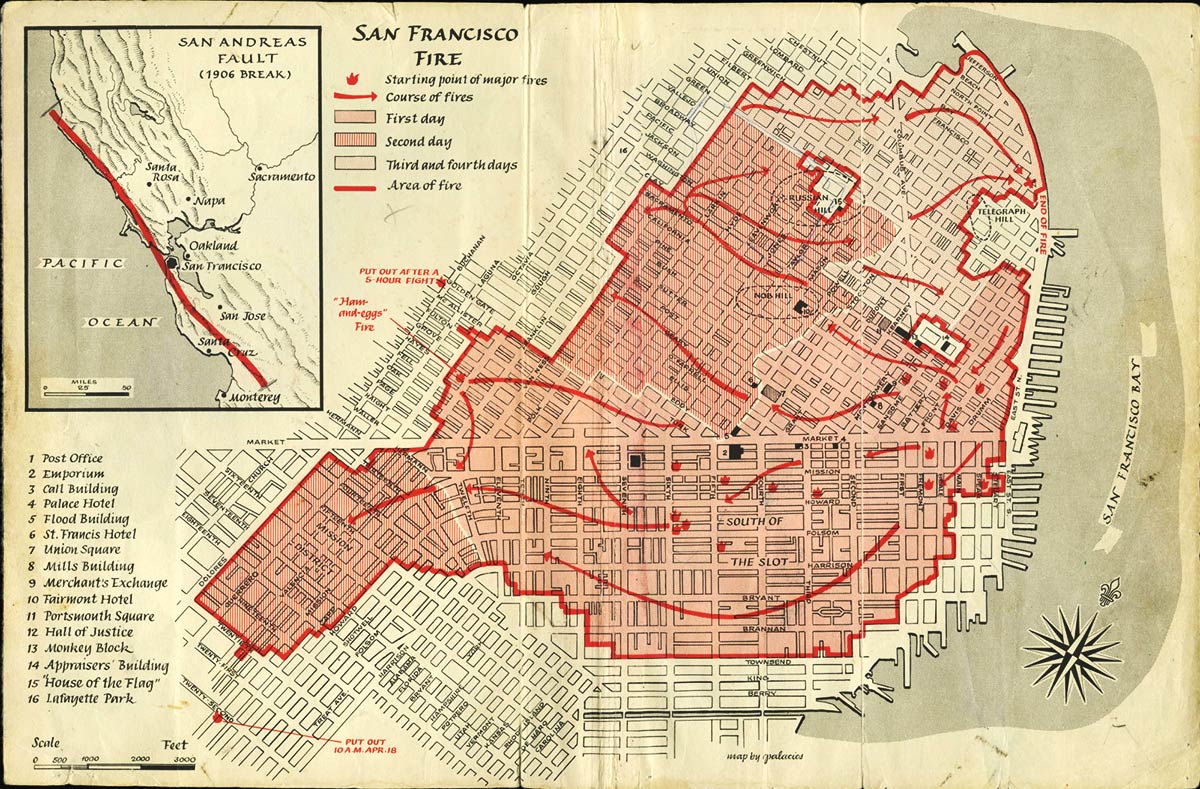 My whole day will be crisscrossing the soon-to-be burned zone from the Inner Mission to North Beach, just drinking in the street life, the transit lines, the churches and halls and the ridiculous City Hall complex. There are a few family records I'd like to look up at the Hall of Records before it burns. But get me out of there before April 18, 1906, 5:12 a.m!
Trip #5: Panama-Pacific International Exposition
June 19, 1915, 10 a.m. arrival at today's Lombard and Scott Streets.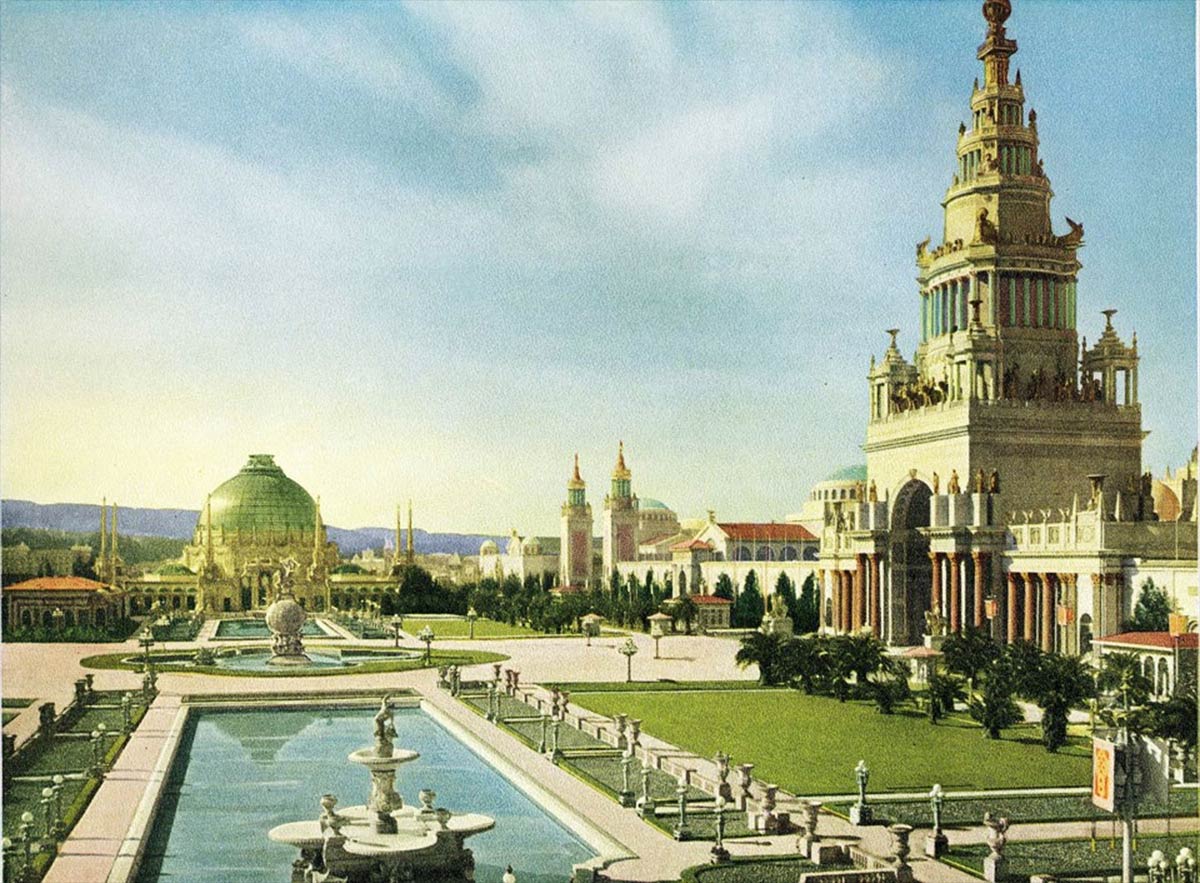 If I only get 5 trips, I have to use one of them to see the Panama-Pacific International Exposition, the most ambitious and fully realized of the San Francisco fairs. I have a suspicion seeing the fair up close will be a disappointment to my 21st century perspective. Reality usually can't live up to colorized postcards. I'd probably skip the cheesy and racist Joy Zone midway, despite the giant ostriches.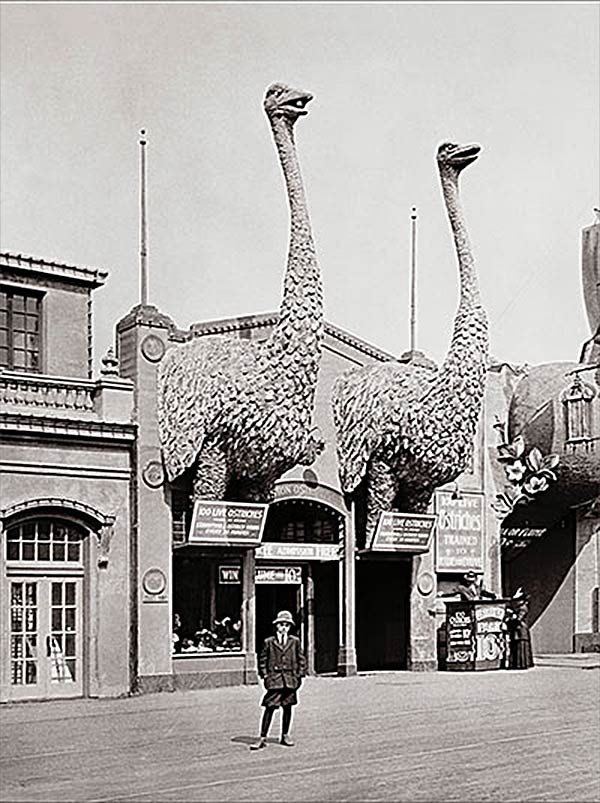 But it would be fun to tag along with Ethel Slinkey, my great-grandmother, who likely attended the day her sister-in-law (or mother-in-law, it's a long story), Lilian Slinkey, a.k.a. Madame Durini, presented her pupils at the Palace of Liberal Arts.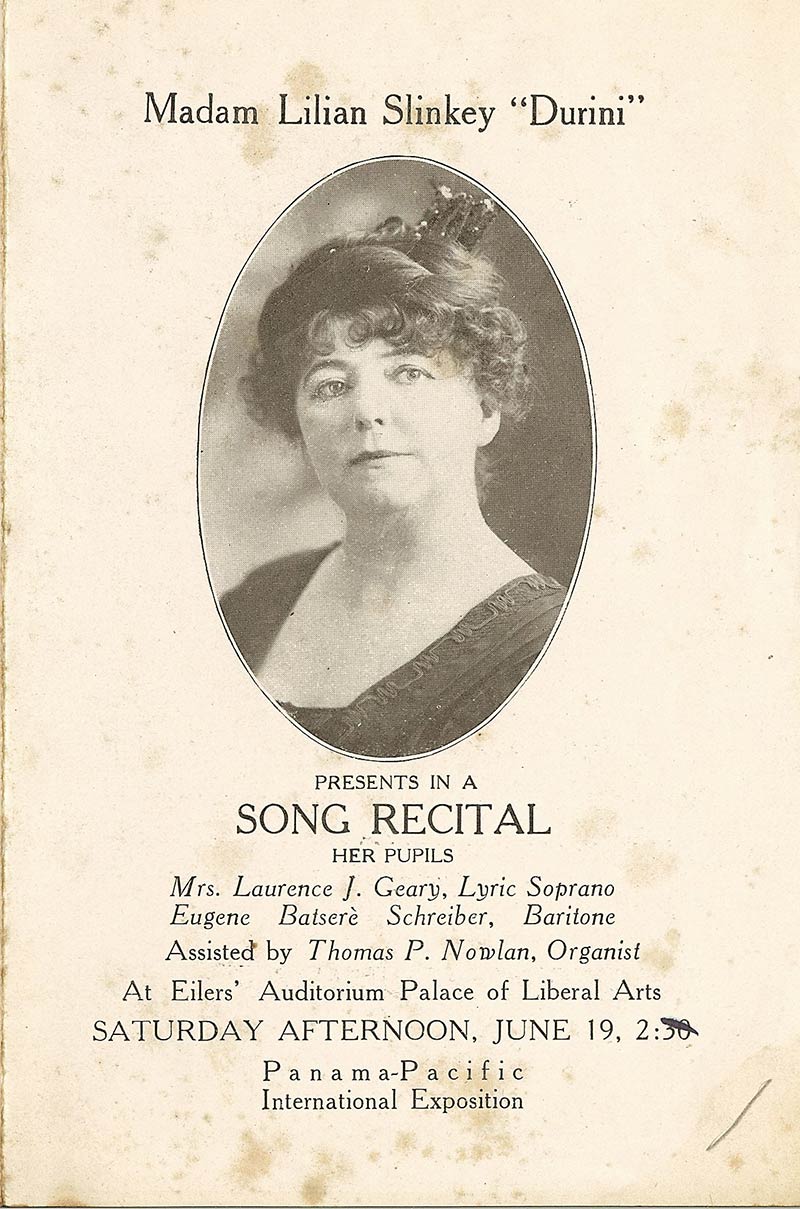 I'd see if I can figure out the identity of Ethel Slinkey's bespectacled female companion, a person who maddeningly shows up a number of times in old family photos. Such small mysteries, such satisfaction in solving them…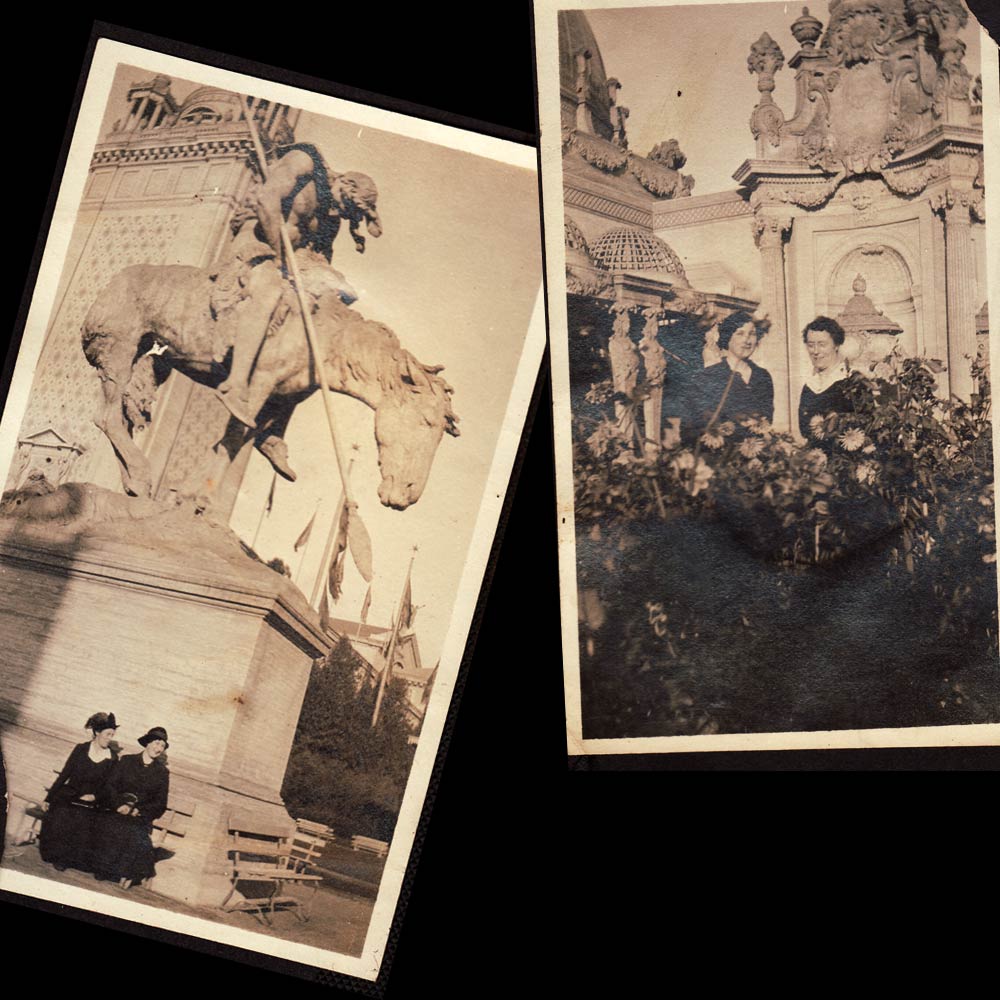 If you missed it, some of my history-inclined friends shared their own back-to-the-past ideas with me in Grab Bag #016. And readers have chimed in, so there will be more to come. Let me know your San Francisco time travel itinerary!
---
Woody Beer and Coffee Fund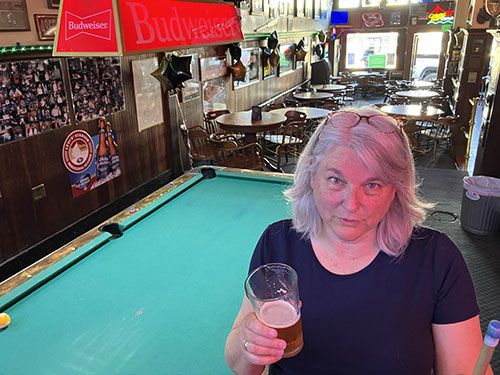 I have a long story about going into Fahey's (R.I.P.) on the corner of Taraval Street and 24th Avenue one innocent afternoon and being roped into a merry-go-round of drink buying from which I barely escaped. People can be generous to a fault, as they say. But I think I've recovered, so if you'd like to stand me a beer or coffee now, I think I can take it.